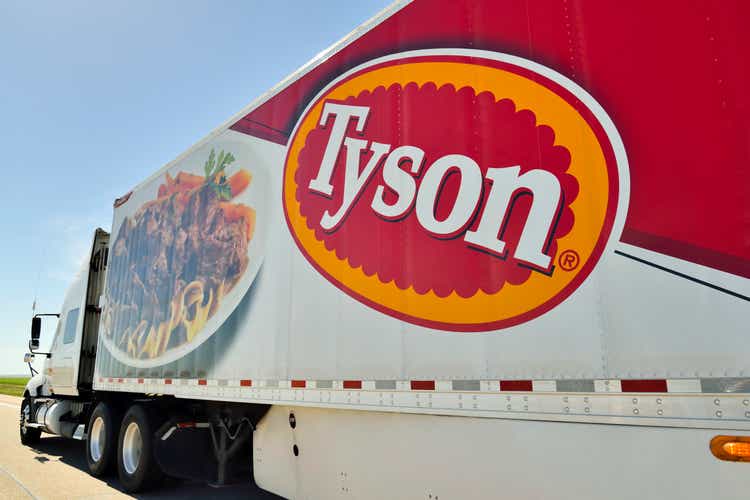 Introduction
As a dividend growth investor, I am constantly on the lookout for additional opportunities that can supplement my income stream. The current market environment has increased volatility and created more opportunities. I add to some existing positions and at the same time initiate new positions in companies in sectors to which I lack exposure.
The consumer staples sector is a sector to which I lack exposure at the moment. Due to the higher level of uncertainty in the markets right now, investors flocked to the segment as it is more defensive. Therefore, it has become hard to find an attractively valued consumer staples company. In this article, I will analyze Tyson Foods (NYSE:TSN).
I will analyze the company using my methodology for analyzing dividend growth stocks. I am using the same method to make it easier for me to compare analyzed stocks. I will look into the company's fundamentals, valuation, growth opportunities, and risks. I will then try to determine if it's a good investment.
According to Seeking Alpha's company overview, Tyson Foods operates as a food company worldwide. It operates through four segments: Beef, Pork, Chicken, and Prepared Foods. The company processes live-fed cattle and live market hogs fabricating dressed beef and pork carcasses into primal and sub-primal meat cuts, as well as case-ready beef and pork, and fully cooked meats. It sells its products through its sales staff to grocery retailers, grocery wholesalers, meat distributors, and more.
Fundamentals
Over the last decade, Tyson Foods has grown its revenues very consistently by 55%. This is a CAGR of roughly 5%, and it is done mainly organically as the company increases production, but also by optimizing its portfolio by acquiring and divesting different brands. In 2017 for example Tyson Foods acquired AdvancePierre Foods to improve its packed food offering. Going forward, the consensus of analysts, as seen on Seeking Alpha, expects Tyson Foods to keep growing sales at an annual rate of ~5% in the medium term.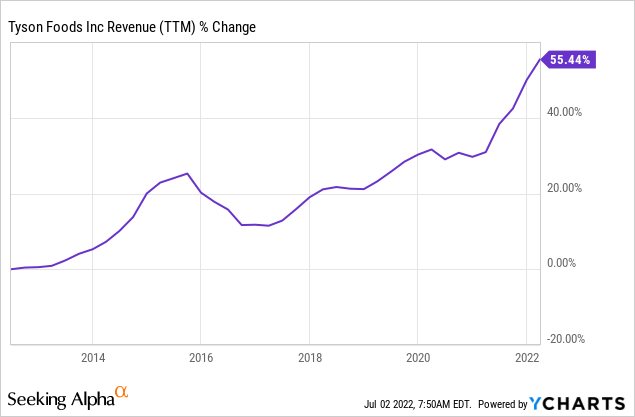 The EPS (earnings per share) has increased much faster during the same decade. The 736% EPS increase is attributed to the combination of sales growth and improving margins. In the last decade, the operating margin of Tyson Foods has almost tripled due to the company's initiatives to become leaner and more efficient. Going forward, the consensus of analysts, as seen on Seeking Alpha, expects Tyson Foods to keep growing EPS at an annual rate of ~3% in the medium term.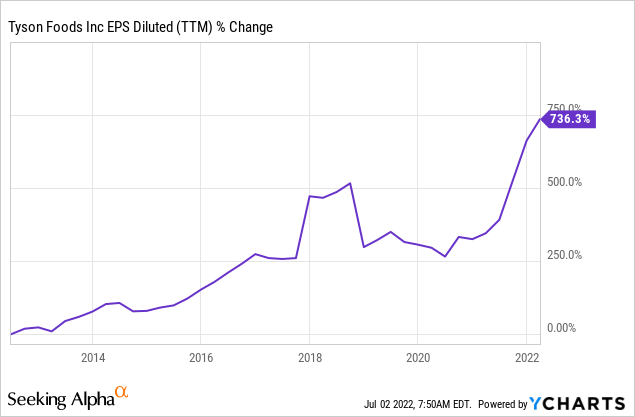 Tyson Foods has been increasing its dividend annually for only the past 9 years. However, it hasn't decreased the dividend payment for more than 25 years. In December this year, the dividend is expected to be increased by the board, and investors can expect another double-digit increase. At the moment the 2% yield is extremely safe with the payout ratio standing at only 16%.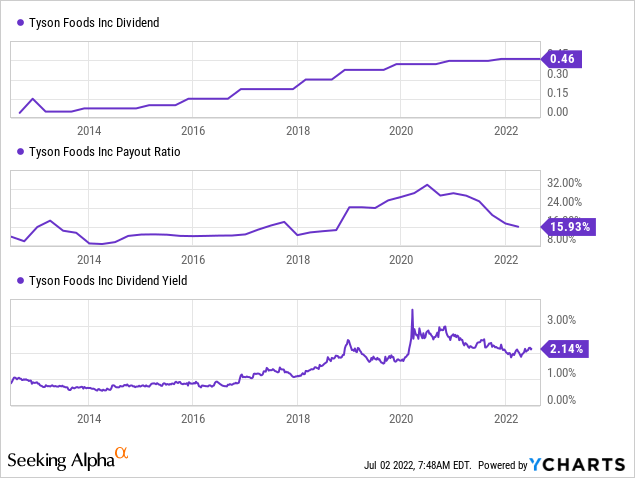 In addition to dividends, Tyson Foods returns capital to shareholders via share repurchases. When a company is growing, buybacks are supporting EPS growth. The graph below shows that over the last decade Tyson Foods bought back shares to negate the impact of acquisitions and stock-based compensation. Over the last two-quarters, buybacks have accelerated as the company bought back over $500M in shares.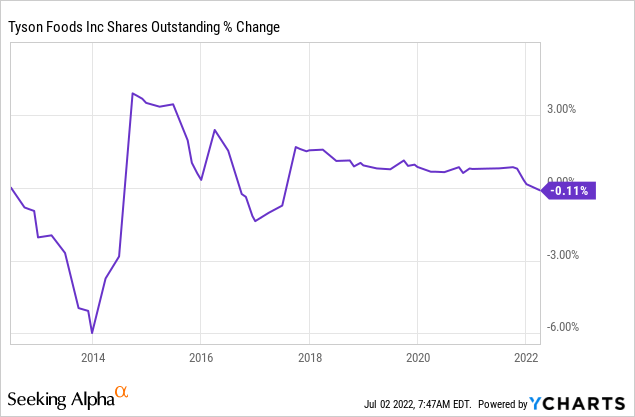 Valuation
The company is trading for an attractive P/E (price to earnings) ratio. At the moment, the P/E ratio when using the forecasted EPS for 2022 stands below 10 at only 9.4. Paying 9 times earnings for a growing company with a long track record of successful execution makes sense to me. The current valuation is low despite being even lower just several months ago.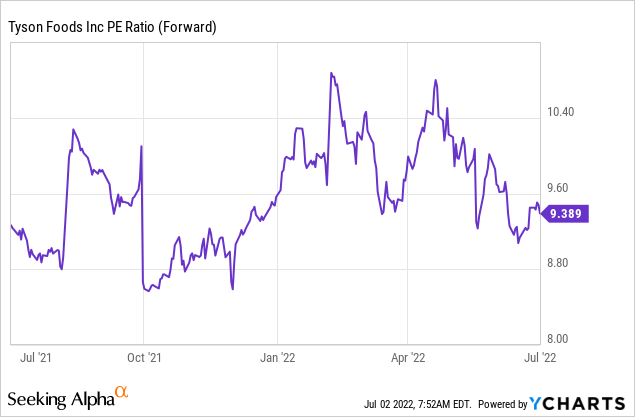 The graph below from FAST Graphs shows that despite the valuation of Tyson Foods being above its lowest point in the last twelve months, it is still attractive. In the last two decades, the average P/E ratio of Tyson Foods was 15, and at the moment the company trades for a much lower valuation. While the growth rate in these two decades was also higher, I still believe that the current discount makes the stock attractive.
To conclude, Tyson Foods is a company that is consistently growing its sales and EPS. The consistent growth is leading to growth in dividends, and buybacks that are negating stock-based compensation. This dividend grower is trading for a valuation that is significantly lower than its average valuation over the last two decades, and patient investors can capitalize on it.
Opportunities
The first opportunity is international sales. In the past quarter, international sales grew by 7%, and it was by far the fastest-growing segment. Tyson Foods sells mainly in the United States and expanding its offering using its scale to international markets is a prominent growth opportunity. The company is targeting markets in Asia where prosperity increases meat consumption.
Another growth opportunity for Tyson Foods in the medium term is margin expansion. Tyson Foods is accelerating its plan to become more productive. The management is aiming for $1B in productivity gains by end of 2024 and now expects $400M of it to be delivered by the end of 2022. This will be done using automation, adoption of digital solutions and optimizing the supply chain.
In addition, the company is also answering the demand of the changing tastes of the American consumer. Plant-based proteins and plant-based products are becoming extremely popular, and as Tyson Foods is focused on meat, it has to adapt. It started offering its own brands for plant-based foods such as hamburgers from pea protein. This can become a significant growth driver.
Risks
Decreasing volumes is the main risk for Tyson Foods at the moment. The company partly due to Covid restrictions that hurt productivity, and partially due to demand challenges, has seen its volumes stagnating. This is temporary as the growth in population will drive demand forward, but a steep increase in interest in plant-based diets can accelerate this risk.
Inflation is another significant challenge for Tyson Foods. As a consumer staples company, the company aims at offering affordable proteins to all clients and particularly in the United States. Higher prices of grain and labor will pressure the company's margins and may force it to increase prices. Higher prices may hinder demand and lower volumes which stagnated, to begin with.
The company is shifting at the moment. The pandemic and the lockdowns were a challenge for Tyson Foods, and together with the challenging tastes of consumers, it has to shift and adapt. Adding vegan options and improving the efficiency within the meat segments takes time, and the process in itself is challenging. A successful process will unlock value, but a slower process may make investors more skeptical and lower the valuation even more.
Conclusions
Tyson Foods is a solid company. The company has a proven track record of growth that is forecasted to continue as the company is shifting, adding plant-based products, and optimizing its meat production. Therefore, investors get to buy shares in the company for what I believe to be an attractive valuation, significantly below the average valuation.
The company is dealing with several risks, but I believe that the opportunities are far greater. The company leverages its scale to expand and become more efficient. I do believe that Tyson Foods is a good addition to a diversified dividend growth portfolio, though I do not believe it will outpace the S&P 500 in the medium and long term.