Investment Thesis
Twitter (TWTR) has many issues, the most pressing of which are its volatile revenues. Having said that, there's still a lot to be positive about Twitter.
In fact, despite reporting negative 19% revenue growth rates in Q2 2020, Twitter was still free cash flow positive. Also, approximately 20% of Twitter's market cap is made up of cash.
Moreover, investors would struggle to argue that Twitter is expensive as it trades for less than 10x sales. Accordingly, Twitter is cheaper than most other social media platforms.
Twitter's Middle of the Road Growth Rates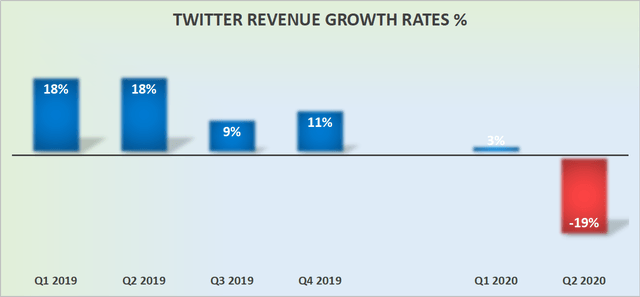 Source: Author's calculations
Looking back to 2019, even when the economy was strong, Twitter's growth rates were not particularly strong.
Twitter's revenue growth rates were mostly middling but arguably more important, Twitter's revenue growth rates were often volatile and unpredictable.
From investors' perspective, investors are typically fairly content with lackluster growth rates, but where Twitter has been failing investors is that investors don't want unpredictable and negative revenue growth rates – and on this front Twitter is guilty.
But there's more here than meets the eye.
A Rare Cash Flow Generating Tech Company, With 20% of its Market Cap Made of Cash
Currently, investors are insatiably in the search for stable, predictable, and rapidly growing tech companies with a seeming disregard for the fact that the majority of these companies lack a clear path to profitability.
On this front, Twitter stands far from the rest of the pack.
On the one hand, Twitter reported negative growth rates during Q2 2020. While on the other, Twitter was still free cash flow positive, despite having meaningfully less revenue to work with.
To illustrate, during Q2 2020 Twitter's free cash flow was $39 million. Of course, this pales in comparison with the $204 million of free cash flow Twitter generated in the same period a year ago.
However, if we take a step back, we can see evidence that Twitter is clearly able to generate some free cash flow.
Also, even factoring in its senior notes of approximately $700 million, Twitter still has more than $7 billion of net cash and equivalents.
Put simply, there are not many companies that are priced with a $32 billion market cap with more than 20% of their market cap made of cash. Twitter is a medium-cap company with a lot of cash on its balance sheet.
It is this combination of generating positive free cash flow, together with its rock-solid balance sheet, that allows Twitter to have plenty of flexibility to improve its trajectory.
Tale of Two Twitters
Twitter's most bullish aspect is that user growth in the COVID environment soared: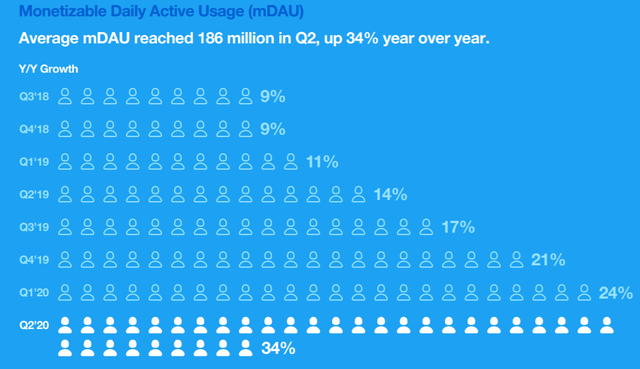 Source: Q2 2020 Shareholder Letter
That's the headline that most investors are talking about.
But what the graphic above actually points to is that Twitter's user growth, as measured in mDAUs has been growing and accelerating over a prolonged period of time.
Indeed, we can see that since Q4 2018, Twitter's mDAUs have been increasing. Why is this important? Because it evidently has nothing to do with COVID.
Twitter's effort to reignite user growth through increases in new and reactivating accounts have been simmering under the surface for a while.
But bears would argue, why is Twitter's revenue growth rates not stronger? That's in part because of the weak ad pricing environment. And while that is largely out of Twitter's control, this headwind is likely to continue for some time, at least into early 2021.
So there is room to improve, but its valuation is already pricing in a lot of negativity.
Valuation – The Cheapest Amongst Social Media Platforms
Twitter trades for less than 10x this year's revenues. Twitter's valuation is cheaper than Facebook's (FB) (11x), and meaningfully cheaper than Snap's (SNAP) (15x).
Of course, one can counter that this valuation is fairly priced, particularly if we consider that Twitter's revenue growth rates are so volatile.
However, this is where bears and bulls disagree.
Twitter contends that every time users return to Twitter for a topic of interest, that Twitter is improving its engagement with users, and that Twitter is better at showing its users everything it has to offer.
Moving on, consider the following: presently, analysts' consensus is pointing towards Q1 2021 before Twitter's revenue growth rates meaningfully solidify.

Source: SA Premium Tools
However, given that Twitter is making so much progress with increasing the scale of its platform, it's only a matter of time before advertisers are forced to return and adopt Twitter as one of a few select ad platforms to reach a large and engaged audience.
What's more, it's no secret that Twitter has had issues with its server. However, during Q2 2020, Twitter has now rebuilt and modernized its ad server which will lead to faster product development and increases stability.
At this junction, Twitter is clearly resonating strongly with its audience, and that's key.
What Twitter now needs is to be able to demonstrate to advertisers that its direct response product tools are compelling, with high ROI for advertisers seeking to launch real-time campaigns.
The Bottom Line
Twitter is not a high growth story. However, investors are not been asked to pay a large premium for a high growth story either.
I make the case that Twitter's valuation is already pricing in a lot of negativity and that once the ad industry strengthens, Twitter's revenue growth rates will benefit substantially.
Twitter is an opportunity worthwhile considering.
Strong Investment Potential
Investing is about growing savings and avoiding risky investments. My Marketplace highlights a strong selection of hugely undervalued investment opportunities.
Stocks with rapid growth potential, driven by top quality management, while these stocks are cheaply valued.
Investing Made Very EASY
I do the hard work of finding a select group of stocks that grow your savings.
Honest and reliable service.
Hand-holding service provided.
Very simply explained stock picks. Helping you get the most out of investing.
Helpful advice together with videos.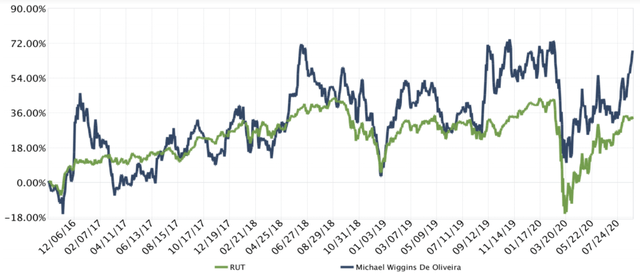 Disclosure: I/we have no positions in any stocks mentioned, but may initiate a long position in TWTR over the next 72 hours. I wrote this article myself, and it expresses my own opinions. I am not receiving compensation for it (other than from Seeking Alpha). I have no business relationship with any company whose stock is mentioned in this article.