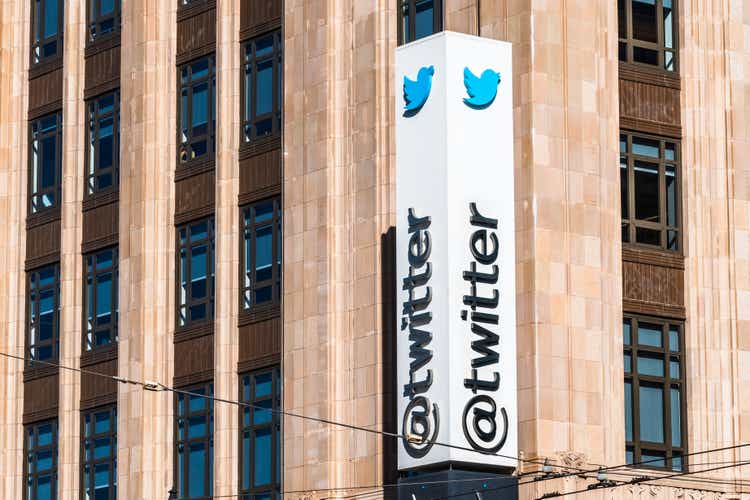 Investment Thesis
Tesla (TSLA) CEO Elon Musk is back at what he does best, creating hype! But, this time, it was not for Tesla's CQ1'22 deliveries. Instead, it was for purchasing a 9.2% stake in Twitter (NYSE:TWTR) on March 14, worth $3.67B at writing. As such, Musk has risen in prominence to become Twitter's most significant shareholder.
While Musk's purchase has nothing material with Twitter's topline growth, the market loved it. TWTR stock was up almost 30% at writing as investors bought into the Elon Musk hype.
However, we think it has also presented TWTR investors with a fantastic opportunity to sell into the rally. The market seemed to be pricing in the possibility of Musk increasing his stake and taking on a more active role moving forward.
Furthermore, the stock has also rallied into a critical resistance zone, in line with the consensus price targets. As such, we encourage investors to sell the rally. We also do not encourage investors to add new exposure.
Consequently, we revise our rating from Buy to Hold for now.
Twitter's Margins Don't Justify High Multiples
Twitter reported revenue growth of 21.6% in FQ4. Notably, it was less impacted by the direct response ad snarls that Snap (SNAP) and Meta (FB) had faced. But, its operating margins continued to be on the low side at 10.7%. In addition, TWTR stock has also been recently trading on the lower end of its valuation range. As a result, TWTR stock's growth premium has also been digested like the rest of its ad tech peers.
However, investors should note that Twitter is not a cash flow machine like Meta. Before the recent surge, TWTR stock traded at an NTM FCF yield of 1.5% (Post-surge: 1.1%). Therefore, it pales in comparison to Meta's 4.4%. Considering TWTR's 3Y mean of 1.75%, the stock seems overvalued now.
Elon Musk's Participation Could Bring Headwinds
Given his outsized stake, the media has been very excited about Musk's potential participation moving forward. However, there's no indication that Musk will be getting involved with Twitter's board yet.
But, the market seemed to be pricing in the potential of that happening. Given Musk's success with Tesla, Twitter investors seemed to be buying into the hype that Musk could also lift Twitter's fortunes.
First and foremost, we are Tesla investors. We appreciate what Musk has achieved with the company and are more than happy with our gains. However, while Musk is an acclaimed Twitter user, we don't think Twitter needs him now.
Previously, Twitter already had Co-Founder Jack Dorsey as CEO, sharing his duties and time as Block (SQ) CEO. Dorsey's passion for Twitter as his "first love" is well-documented. But, his focus on Block meant that Dorsey would be better positioned to serve the needs of Block's customers and investors. As a result, we think it was justified that he relinquished his Twitter CEO role and also from the Board soon in May.
We think having Salesforce (CRM) Co-CEO Bret Taylor as Chairman is already a significant gain for Twitter's board. Twitter CEO Parag Agrawal and Taylor are strong technologists. However, having Musk on board could potentially disrupt the balance of the team, given his prominence and influence.
Therefore, we believe what Twitter needs to focus on now is executing its game plan to achieve $7.5B in revenue and 315M mDAUs by FY23.
Furthermore, given Musk's potential cryptic tweet in December, as seen above, we can surmise that Musk might not be too fond of Agrawal. Hence, we don't think Twitter's board needs a potentially divisive personality right now.
Is TWTR Stock A Buy, Sell, Or Hold?
As explained, the market seems to be pricing in a huge possibility of having Musk being a supportive activist investor in Twitter moving ahead. Even famed Wedbush tech analyst Dan Ives considers it a distinct possibility. He articulated (edited): "This is just the appetizer. Ultimately, we believe Elon Musk will have an active stake over the coming weeks or months."
Therefore, we think it doesn't bode well for Twitter's board should that take place. Having Musk on board could spell trouble when Twitter's CEO and Chairman are barely three months in.
As such, we encourage investors to consider selling into the rally. Furthermore, TWTR stock is also gaining into a critical trendline resistance. Moreover, it has also rallied above its average price targets (PTs), which have proven astute levels to sell previously. Hence, we do not encourage investors to add exposure.
Therefore, we revise our rating on TWTR stock from Buy to Hold.