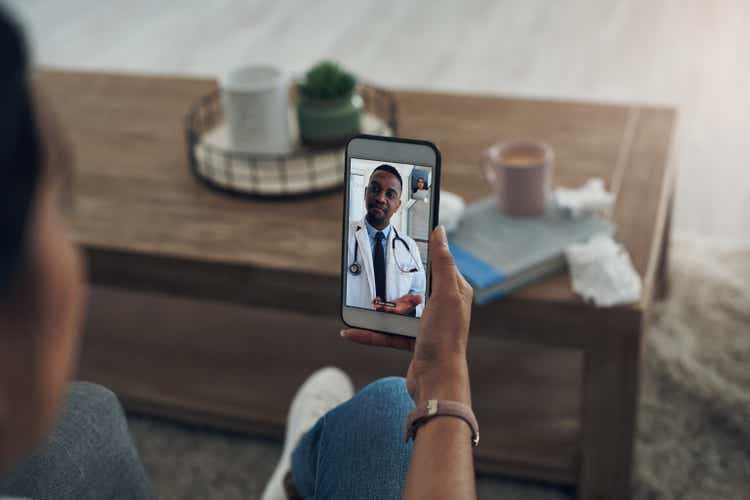 Investment Thesis
Teladoc (NYSE:TDOC) is down nearly 90% from its highs.
There have been a lot of moving dynamics in the past couple of months. Accordingly, many insights have now been priced into the market. Indeed, analysts have now slashed their near-term revenue growth rates estimates for Teladoc by approximately half.
And while the business relies on very elevated stock-based compensation to retain its talented executive team and that continues to be a meaningful overhang for investors, I nevertheless wonder whether 2x sales could now be pricing in too much negativity?
I rate this stock as neutral, up from a strong sell.
Why I Changed My Mind?
Back in April, I rated Teladoc with a strong sell rating. At the time, I believed that there was still a lot of carnage to be had in the market, and believed that the events pertaining to geopolitical risks and high inflation weren't being sufficiently noted by investors. I reported on this here and here.
Today, I believe that many of the considerations highlighted in those two articles linked above are now "known news". Indeed, as the old investment adage goes, if it's in the headlines, it's in the price.
I also recognize the inevitable truth. Not only is Teladoc down nearly 90% from its highs! But also, recall that Teladoc plus Livongo together make up the leading player in telehealth.
Yet, along the way, Teladoc's number of outstanding shares has ballooned, as you know.
In fact, there's still the question of Teladoc's hugely elevated stock-based compensation. Still, putting this consideration aside, momentarily, let's try to get some perspective.
Nobody can time the bottom on a stock's bottom. Investing is an odd's game. Sometimes, you have all the right thought processes, and the outcome is negative. And sometimes you get lucky. But you attempt to tilt the odds in your favor at certain points.
For example, you could seek to sell at the moment of euphoria. And you could also attempt to buy at the moment when investors are no longer interested in buying. That's the theory. And I clearly recognize that this is extremely hard to do in practice.
But having endured the trading environment of the past 12 months, if I'm not able to learn new tricks, I've not able to adapt, I won't survive this market. Consequently, to survive, I to be able to change my mind.
Hence, I'm more neutral in my stance towards Teladoc than I was. I know now that a lot of the insights I previously had have been well disseminated and priced into the market.
Further Reasons Why I'm Changing My Rating
Back in April, I highlighted the following analysts' estimates: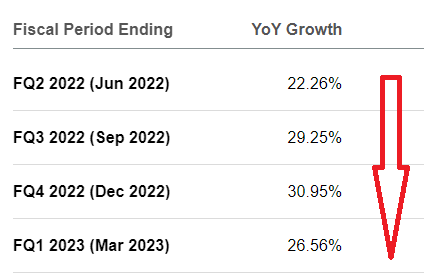 And now see how much analysts have downwards revised their estimates: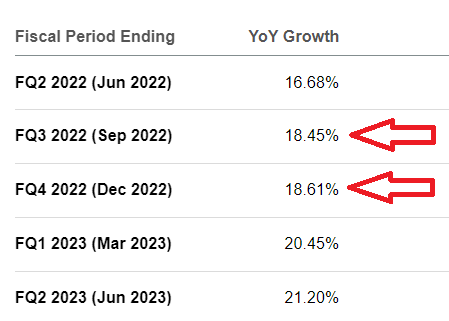 Again, this is the same idea. Investors are very gloomy about Teladoc's stock. Analysts are also gloomy about the stock. In fact, note above how the estimates for Q3 and Q4 have been materially slashed.
The growth rates are now practically half of what they were several months ago.
The pervasiveness of pessimism is very high.
TDOC Stock Valuation – Still Can't Value It
There are two considerations at this juncture. On either side of the scale. There's the bearish consideration and the bullish consideration.
The bearish consideration is that Teladoc is incredibly loose with its stock-based compensation. And as you know, this is a widely known fact known insight amongst Teladoc investors.
What you see above is that more than 100% of Teladoc's EBITDA is made up of stock-based compensation. Consequently, we are looking at a business that in its truest form isn't profitable and is not likely to reach profitability at any point in the next two years. But does that matter? Are investors willing to look beyond that?
And this gets me to the second consideration. We know that Teladoc's US Pain Memberships were up 5% y/y in Q1.
Moreover, we know that this period was up against a really tough comparison with the previous year. For Teledoc to retain and slightly increase its membership patients speaks to the value proposition of the business.
Teladoc is clearly not a home run, "easy" investment. But the business appears to be getting stronger, albeit meaningfully slower than previously thought.
Could it be that paying 2x this year's sales is now already pricing in too much negativity?
After all, stocks don't trade in a vacuum. We now have a lot more data points into the likely outlook of the Q2 earnings season. We know that inflation is running high.
We also know that the consumer appears to be in less good shape than we previously assumed. You can look to RH (RH), Walmart (WMT), and Bed Bath & Beyond (BBBY) for more insights into this line of thought.
But at the same time, given that Teladoc appears able to retain its patients, could Teladoc meaningfully raise the price of its membership plans and not see much push back?
In essence, does Teladoc have pricing power? It may have. And if it does, at 2x this year's sales, it may already be pricing in a lot of negativity.
The Bottom Line
Succinctly put, I do not know whether Teladoc's stock will work out from here. Its lack of GAAP profitability continues to be a significant overhang for investors.
But at the same time, I recognize that with Teladoc down 90% from its former highs, if we are not close to the point of maximum pessimism, we have to be incredibly close to it.