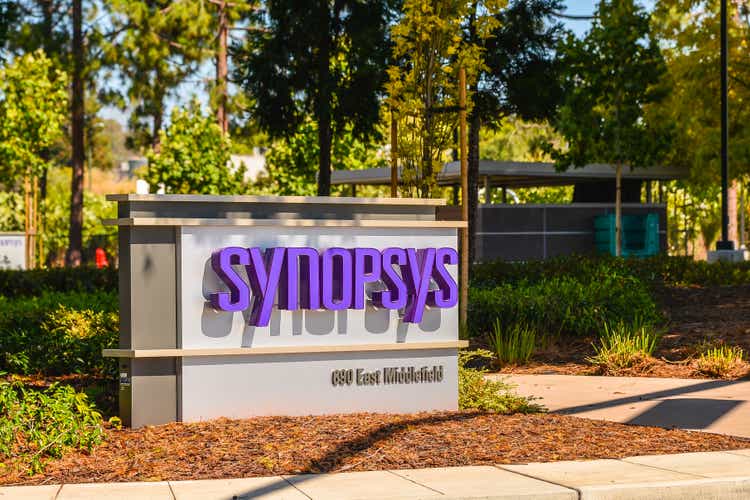 Synopsis's (NASDAQ:SNPS) stock has been through many ups and downs since the last time I covered it on January 28 and has lost 17.6% since the beginning of 2022. During the same period, the Invesco QQQ Trust (QQQ) and the iShares Semiconductor ETF (SOXX) with their tech and semis stocks respectively have suffered from worst underperformances.
Also, as shown in the deep blue chart below, the company is still up by 10% on a one-year basis, while the two ETFs are treading water.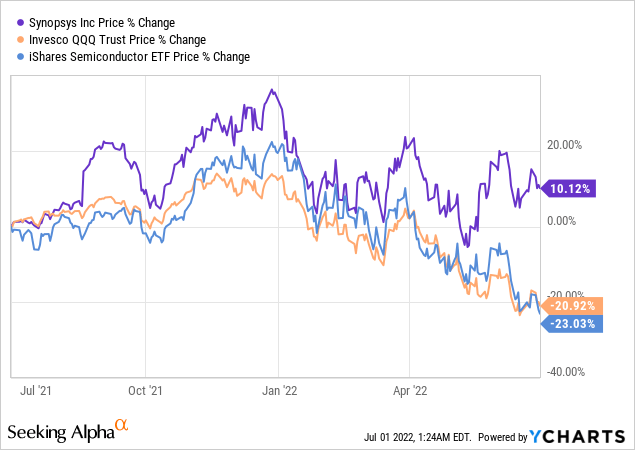 The aim of this thesis is to analyze the reasons for this relative strength by going through Synopsys' Q2-2022 financial results and assess whether it constitutes a buying opportunity. I focus on items like the usefulness of the company's EDA product to reduce costs for customers and revenue diversification.
EDA and Revenue Diversification
Synopsys is an EDA or Electronic Design Automation company. Behind those somewhat complicated words is an American company that designs chips and uses AI tools to automate the R&D process. Now, EDA itself is not new as it has been around for the last 40 years, but with time it has adapted to the requirements for more complex chip designs which contain more transistors. It also has to cater to more functionalities across more industry verticals with chips required to be designed for technologies like AI, autonomous driving, and IoT.
For this purpose, Synopsys' EDA is able to rapidly deliver the blueprint for more powerful chips which consume relatively lower power. The word "rapidly" is key here as the company's products can reduce the time it takes to perform product design and, conversely, accelerate time-to-market, thereby enhancing clients' competitiveness.
As a result, revenues as shown in the table below, have been on the rise, but the fact that gross margins also have increased by 1.2% in Q2-2022 compared to the same period last year shows that the cost of revenues has been kept under control, due to an integrated software platform where fewer tweaks are required as operations scale.

As per the executives, sales are on the upside thanks to both increased orders from existing customers as well as new demand coming directly from new industry verticals like automakers who want more control over the semis they use as supply chain issues have adversely impacted them.
This ultimately means more diversification across industry verticals for Synopsys, in addition to continued adoption of its software by usual large semiconductor companies that design advanced nodes. This design is essential to manufacturing smaller 3 nm (or 3-nanometer) chips which in turn permits more miniaturization while delivering better performance at a lower energy footprint. In addition to containing more transistors, new chip designs are highly interconnected and increasingly driven by software, which is good for the company.
The direct interaction with automobile companies is a strong positive as it means more business for older nodes or those exceeding 22nm. Synopsys is also getting more orders from memory vendors resulting in the company growing by nearly 25% during its last reported quarter ending April 2022, when compared to last year.
More importantly, in view of high inflation concerns which are increasing the cost of doing business for most companies, Synopsys' cost of revenues has grown by only 17.7% as shown in the table below, which represents a decrease both with respect to the April 2021 quarter and Q1.
Profitability and Risks
Along the same lines, operating expense as a percentage of revenue has been brought down from 61% in Q2-2021 to 52.9% in the latest reported quarter. Consequently, operating margins jumped by 9.5% over the last five quarters or a period marked by higher wage inflation.

However, this bright profitability picture should be tainted in the short term.
Thus, looking at the next quarter or Q3, the company expects $1.225 billion of revenues and $990.5 million of operating expenses, both on a midpoint basis. This means an increase in operating expenses as a percentage of total income to 80.9% as the company spends more money in order to expand as part of the normal business cycle. Expenses will be needed as more staff need to be recruited with the company having 2000 open positions to be filled. This means an operating income of 19.1% or a decrease from the 20.5% obtained in the July 2021 quarter as shown in the table above.
Therefore, do expect some stock downside risks when third-quarter results are announced in mid-August, depending on how the market digest the news. Also, in the current bear market, investors have become particularly sensitive to news about earnings as inflationary pressures remain high on the agenda with consumer sentiment having plunged.
However, looking at guidance for the full year which ends in October, revenue is expected to be between $5 billion and $5.05 billion, with the midpoint representing a 20% increase over 2021. Operating expenses are expected to be $3.928 to $3.975 billion range. When dividing the midpoint by revenues I obtain 79%. Thus the company expects around 21% of operating margins, which, interestingly, will beat last year's figure by around 4%.
Discussion
Now, double-digit growth and higher profitability are key factors for choosing to invest in a stock, but, the company is relying on sustained demand from customers for this purpose. This positive outlook somewhat contrasts with a recent report by analysts at BofA pointing to weakness in the semiconductor space as a result of some sectors like 5G reaching maturity, high inventories, and a tighter monetary supply.
However, BOFA is optimistic about EDA which, according to the report, should continue to be in high demand as part of semiconductor design companies' research efforts. In this respect, Synopsys caters to a highly competitive marketplace where it helps clients achieve product differentiation, which means that it is well-positioned in the semiconductor value chain.
I further confirmed this optimism through the backlog, or orders which have not yet been fulfilled. This has been growing by about 50% on a year-over-year basis and currently sits at 2.5 to 3 years. This is a high level which means that even if some customers cancel orders due to reduced demand or excess inventories, the company can rely on secular growth for EDA to drive more sales in the longer term. This means better valuations.
Valuations and Key Takeaways
As evidenced by the table below, Synopsys has better valuations metrics when compared to peer Cadence Design Systems (CDNS) which is also a rapidly growing company with very good gross and operating margins metrics. The two compete in the EDA space. Now, considering the trailing price-to-sales multiple, Synopsys is significantly undervalued with respect to Cadence. Effecting an adjustment based on a more reasonable P/S of 11x, I obtain a target of $339 (11/9.76 x 301) for Synopsys based on its share price of $301. This is within Wall Street's target of $334 to $445.
I am also bullish on Synopsys because of pricing power, or the ability of the company to pass on costs to customers without losing them to competitors during a period characterized by rising costs. Here, the fact that it was able to increment revenues more rapidly, namely at an average rate of 19.35% during the last five quarters compared to only 12% for Cadence shows its ability to squeeze more sales numbers from its customer base. For this matter, the company is also managing to drive more intellectual property-related sales in addition to software tools that enable clients to circumvent the usually-lengthy semis design process.
Finally, after considering growth, diversification, profitability, and valuations, Synopsys should continue outperforming the wider semis, and tech sectors. This makes the stock a buy, but investors are also warned that in the current uncertain macroeconomic environment there are also downside risks, especially when Q3's results are announced, as well as the possibility of adverse news pertaining to other chips stocks being contagious to the semiconductor design and automation play.