Introduction
When last discussing Suncor Energy (SU) that currently sports a moderate dividend yield of 4.40%, the recovering operating conditions throughout 2021 had seen them enter the golden age of dividend growth, as my previous article explained. A follow-up analysis is provided within this article that not only covers their recently released fourth quarter of 2021 results but more importantly, also considers what reward shareholders can expect during 2022 that excitingly sees a high 7% shareholder yield at worst, which instead realistically could be a very high 15%+.
Executive Summary & Ratings
Since many readers are likely short on time, the table below provides a very brief executive summary and ratings for the primary criteria that were assessed. This Google Document provides a list of all my equivalent ratings as well as more information regarding my rating system. The following section provides a detailed analysis for those readers who are wishing to dig deeper into their situation.

*Instead of simply assessing dividend coverage through earnings per share cash flow, I prefer to utilize free cash flow since it provides the toughest criteria and also best captures the true impact upon their financial position.
Detailed Analysis
Now that 2021 has ended, their operating cash flow closed out the year with a massive result of C$11.764b despite oil prices pulling back during December due to Omicron Covid-19 fears, which is more than four times higher than their result of C$2.675b during 2020. Unsurprisingly, the resulting immense free cash flow of C$6.875b provided very strong coverage of 443.55% to their dividend payments of C$1.55b. After increasing their dividends back to their former pre-Covid-19 quarterly rate of C$0.42 per share, their dividend payments will cost C$2.412b per annum given their latest outstanding share count of 1,435,748,494 and despite being a sizeable increase versus 2021, they should still easily be capable of providing very strong dividend coverage given their guidance, as the graph included below displays.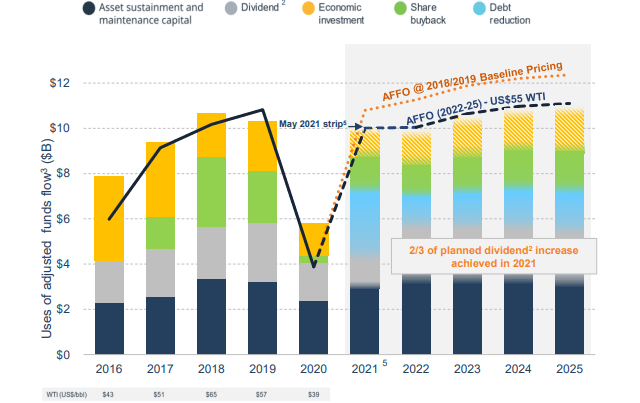 It can be seen that their guidance forecasts adjusted funds flow of circa C$10b during 2022, which is the equivalent of their operating cash flow excluding the temporary impacts of working capital movements. This sees their estimated free cash flow at a very solid C$5.3b during 2022 given their guidance for capital expenditure of C$4.7b, as per slide fifteen of their fourth quarter of 2021 results presentation. Although this would provide very strong dividend payments of over 200%, their forecast operating cash flow only assumed that Western Texas Intermediate oil prices average a mere $55 per barrel and given their current level of circa $90 per barrel and frequent talk of oil prices climbing well into the triple-digit levels soon, this appears to be essentially a worst-case. Their guidance also states for every $1 per barrel that oil prices increase, their operating cash flow should increase by circa C$200m and thus there stands to be a tidal wave of shareholder returns during 2022 at these very strong oil prices given their capital allocation strategy, as per the commentary from management included below.
"On the capital allocation, after dividends, the CapEx we're allocating free cash flow 50-50 between buybacks and debt reduction. So we would expect to see similar if not higher cash return to shareholders than you saw in 2021 based on current stock prices."
-Suncor Energy Q4 2021 Conference Call.
Whilst 2021 already saw management restore their dividends back to their former glory of before the Covid-19 pandemic, they are not stopping at this point with their capital allocation strategy set to return half of their excess free cash flow after dividend payments through share buybacks with the remainder lowering their net debt. These will only be relatively modest when oil prices are at circa $55 per barrel, although at the higher oil prices that appear likely throughout 2022, they stand to see a very high portion of capital returned as their operating cash flow scales dramatically with the very strong oil prices, as the table included below displays.
It can be seen that based upon their guidance and capital allocation strategy, their shareholders are poised to see share buybacks range between C$1.45b and C$5.95b during 2022, which at their current market capitalization of approximately C$55b amounts to seeing between 2.63% to 10.81% of their capital returned. When combined with their current moderate dividend yield of 4.40%, this sees a high shareholder yield during 2022 of circa 7% at worst but in the seemingly more likely outlook whereby oil prices continue performing very strongly, it could even be a very high 15%+ yield. This sets up their shareholders to see a tidal wave of cash sent their way during 2022 with relatively more likely to follow in later years given their subsequently discussed financial position.
Following the fourth quarter of 2021, their net debt continued sliding lower and finally ending 2021 at C$13.299b and whilst only a relatively small decrease versus its previous level of C$13.784b at the end of the third quarter due to the short length of time, it still represents a very solid decrease of 21.34% year-on-year versus its level of C$16.906b at the end of 2020. When looking ahead, their net debt should decrease between a modest C$1.45b and a massive C$5.95b or between 10.90% and 44.74% year-on-year during 2022 given their previously discussed capital allocation strategy and resulting estimations, whereby their net debt reductions equal their share buybacks. Even if only the midpoint of this estimated range comes to pass, it would still see their net debt decreasing by C$3.7b and thus end 2022 at circa C$9.6b, which would be near the lower end of their 2030 net debt target range of between C$9b and C$12b, as per slide six of their previously linked fourth quarter of 2021 results presentation.
Quite unsurprisingly, their leverage has once again improved following another strong quarter of free cash flow and lower net debt with their net debt-to-EBITDA and net debt-to-operating cash flow both slightly lower to 1.07 and 1.13 respectively, thereby now only marginally above the bottom threshold for the low territory of 1.01. Unless there is a sudden and largely unexpected crash for the oil and gas industry, their leverage will obviously slide down into the very low territory during the first half of 2022. Once they reach their 2030 net debt target range, which appears likely heading into 2023, it would only be natural to see even more of their free cash flow directed towards shareholder returns because they clearly would not require any further deleveraging. This means that during 2023, their shareholders should see relatively higher dividends and share buybacks than versus during 2022 for the prevailing operating conditions.
After seeing their very strong performance elsewhere, it was no surprise to see that their liquidity has remained strong with their respective current and cash ratios of 1.06 and 0.21 both remaining barely changed following the fourth quarter of 2021. There are no reasons to suspect this will change during the foreseeable future thanks to their large operational size, ability to generate free cash flow and very healthy financial position, which ensures that they can continue finding support in debt markets to provide liquidity and refinance any upcoming debt maturities whenever required even if central banks tighten monetary policy.
Conclusion
Whilst oil prices are notoriously volatile and difficult to predict, their outlook for 2022 appears very strong with triple-digit levels now only a whisker away and given their prospects to generate immense free cash flow, they appear poised to provide a shareholder yield that could even reach a very high 15%+. Since they should still provide a high circa 7% shareholder yield at worst during 2022 that appears poised to grow relatively higher during subsequent years as they reach their 2030 net debt target range way ahead of time, it should be no surprise that I believe maintaining my buy rating is appropriate.
Notes: Unless specified otherwise, all figures in this article were taken from Suncor Energy's SEC filings, all calculated figures were performed by the author.