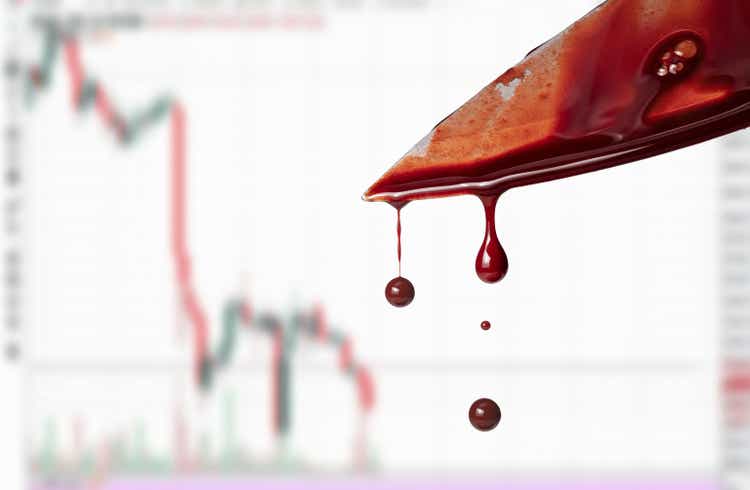 Introduction and Investment Thesis
In a world of rapidly spreading entertainment services in the form of streaming platforms, the market share of this industry has substantially tightened. It seems that everywhere you look, there is a new streaming service, and every corporation is hopping on this wave. In the case of Netflix, Inc. (NASDAQ:NFLX), this has hindered its growth outlook and performance, and investors wonder if Netflix will ever be back to its consistent double-digit top and bottom-line growth seen since its inception.
With market share being eaten up by forces like Amazon (AMZN) (prime video), Disney (DIS) (Disney+), HBO (HBO max), Hulu, and Apple (AAPL) in the form of Apple tv, it has been a tough year for Netlfix's performance. However, being down 70% YTD and much lower than its near 700 print in November of 2021, I believe it is time to pull the trigger on NFLX.
Contrarily, fuboTV Inc. (NASDAQ:FUBO) is a stock that I feel has a strong chance of going bankrupt and losing its market value. Although I think the business model is solid and a decent alternative to traditional cable, fuboTV has not proven that it can control its cash burn distress in the slightest and are on a trajectory to go bust by 2024. I recently covered FUBO stock and rated it a hold on June 7th, and since then, the stock has been down 22% compared to the S&P 500's retreat of 8.5%. Nonetheless, I am reconsidering this rating and will downgrade fuboTV as a sell, as thoughts of avoiding a recession have diminished recently. I feel this stock will underperform significantly in a macroeconomic slowdown.
Because Netflix continues to generate cash flow on a quarterly basis and churn out a net income with reasonably wide margins, I believe it is a great candidate to outperform the broader market moving forward. FUBO has struggled to control its threatening cash burn, which suggests that they might have to dilute shareholders even more moving forward, which is undesirable. In this pair trade, I will go into depth on fundamental valuations, the entertainment and media service industry, and several risk factors hindering both companies' outlooks.
Fundamental Comparison of NFLX and FUBO
When viewing Netflix, it is clear that its fundamentals have cooled off substantially since its all-time high in Q4 of 2021. NFLX currently holds a P/E multiple of 15.85x, which is much lower than the Nasdaq average of around 22x and the S&P 500 multiple of roughly 20x. Because of NFLX's recent price collapse, it might offer a great buying opportunity given that the P/E ratio it holds right now is at levels not seen before in the company.
With a P/E ratio of 15.85x, they hold a multiple that is very competitive within the entertainment and streaming service industry. Given that the stock has significantly underperformed other names in the industry, I felt it deserved a deeper fundamental dive. Another fundamental multiple that caught my eye was the price-to-sales ratio. Although it is significantly higher than the likes of fuboTV, being at 2.613x for NFLX and 0.477x for FUBO, this ratio is much lower than the traditional multiple of around 8x that it has had over the past five years.
In a market that has been entirely risk-off for the past six months, it is understandable for stocks like FUBO and NFLX to underperform the broader markets. On the surface, with a 0.4x P/S multiple, FUBO might look like a great buy; however, they haven't reported a quarter of net profit yet, and continue to burn cash at an alarming rate. FUBO has showcased triple-digit top-line growth for several quarters, which isn't surprising why they have such a low P/S value. FUBO has had hardships converting its rampant sales growth into profit, making me question FUBO as an investment in a potential international recession.
From a growth standpoint, Netflix has impressively grown its revenues by an average of 25.1% this past decade. That is an exceptional number that has outpaced most of its competition, and even as NFLX matured, it proved to sustain this growth. On the other hand, FUBO has also done an outstanding job in sales performance/growth.
While I commend FUBO for its robust revenue growth, it has yet to prove any EBIT, EBITDA, or Net Income. FUBO hasn't marginally come close to profitability, and while it continues to expand its business model to things like sports betting, shareholders continue to be diluted. Limited dilution is something that is exceptional at NFLX in that the management has scarcely diluted shareholders in the last five years. From Q1 2021 to Q1 2022, fuboTV diluted its outstanding shares from 118,000,000 to 157,000,000, or by 33%, without any indication of slowing these practices. Contrarily, NFLX has grown its share count at a much slower rate of only 1.38% annually since 2012.
Sell FUBO at a loss and Avoid Catching the Falling Knife
F UBO offers a streaming service platform that contrasts most of the other services in the industry in that fuboTV replaces traditional cable, offering live sports and everyday channels. Classic cable TV ranges from $60-85 per month from providers like Spectrum and Xfinity. At FUBO, the company offers three different packages ranging from its Pro package ($69.99/month), Elite package ($79.99/month), and the Ultimate package ($99.99/month). With prices similar to regular cable competitors, there is not much incentive to switch over from providers like DirectTV and Xfinity. fuboTV offers most of its business domestically; however, they do have significant markets in Europe, which is another massive marketplace for sports.
While fuboTV can increase the prices of its packages, this also threatens the optimization of potential subscriber growth. Because FUBO is doing a fantastic job at growing its platform in subscriber growth, raising prices amidst a recession would be problematic.
On fuboTV's Q1 2022 earnings call, David Gandler (co-founder and CEO) said, "In our first quarter, against a challenging macro environment, fuboTV achieved strong growth in subscribers and revenue, with North American subscriber growth of 81% year-over-year." On the surface, this looks great. However, coming from such a low comp in the previous year, an 81% subscriber increase is not too significant in infancy. With around 220 million subscribers, NFLX is much further down the road of maturing, and they once bolstered subscriber growth that rivals that of FUBOs today.
Burning cash at nearly $200 million a year is something that concerns me the most here. From a growth standpoint, FUBO has done a fantastic job at growing its top line and even making the bottom line somewhat closer to positive. As seen below, their net loss margin has improved slightly, and not enough to combat losing cash. Operating expenses continue to increase notably, and their net loss inflated by over 100%. The sad truth is that I feel they will have a callous time getting these expenses under control.
Gandler also stated on their latest earnings call, "Importantly, we strengthened fuboTV's balance sheet, ending the quarter with over $456 million in cash. This increased financial flexibility is expected to take us through 2023, and we are targeting positive cash flow and Adjusted EBITDA (AEBITDA) in 2025, with a relatively modest cash requirement anticipated in 2024." It is important to note that the strengthening of the balance sheet Gandler denoted is accredited to dilutive practices to raise capital and not in the form of FCF from operations. Also, the cash requirement in 2024 that'll be required will likely come from dilution as well, although management can look toward non-dilutive practices in the future.
Nonetheless, positive cash flow out to 2025 is a long time from now, and it is very uncertain if FUBO can continue its trajectory. Yes, they can go on with raising capital through shares to combat their cash burn woes, however, this is extremely painful for shareholders and a process I suggest staying away from. In my eyes, I feel that FUBO is acting like a falling knife right now, and it is best to avoid getting stabbed moving forward.
Once in a Decade Buying Opportunity for Netflix
While looking at the history of a company's valuation can help in investing, it is more important to look into the future, especially with Netflix and the growing competition in the streaming service playing field. The battle of getting subscribers has heated up substantially, likely due to the past two years of streaming services getting more recognition as more people stayed home. It is important to note that with Netflix, we likely will never see revenue and earnings growth like we have seen this past decade, though, with the share price collapse, NFLX doesn't need these numbers to justify its valuation.
Netflix recently raised its prices, bringing the basic plan to $9.99/month (from $8.99 or an 11.1% jump), its standard plan to $15.49/month (from $13.99 or a 10.7% jump), and its premium tier to $19.99/month (from $17.99 or an 11.1% jump).
Comparative pricing:
With Netflix's recent price hikes to combat the inflation of over 8% in the U.S., NFLX is among the more expensive options by a couple of dollars a month. Although the price hike might turn away some subscribers due to recessionary fears, I feel it is unlikely someone would cancel a subscription because of a $1 increase or $12 over a year. When comparing services with competitors, Netflix does not offer an ad-supported membership, so all subscribers get to watch without ads. This provides a seamless experience and prices in line with other ad-free competitor subscriptions.
Moreover, management talked about a month ago about potentially releasing an ad-free option as a membership. After years of constantly saying commercials/ads would never be in the program, Reed Hastings (CEO) said that Netflix would "figure it out over the next year or two." I believe this would be a great thing to release if we go into a full-swing economic downturn, as people will look towards cheaper alternatives. An ad-free option in line with something like Peacock's $4.99/month membership would be a solid idea, as it will offer the same shows and movies. Still, people will have their experience interrupted a few times by advertisements, but many feel it is worth saving the money.
A significant thing to note is that last quarter's 200,000 subscriber loss shock was likely credited to their one-time charge of the impact in Russia. In March, Netflix suspended its services in Russia, accounting for 1,000,000 subscribers. So, in reality, Netflix didn't lose 200,000 subscribers; it gained 800,000 subscribers last quarter. The concerning thing is that management highlighted a projection of a 2 million subscriber loss for the next quarter. This will likely continue as consumers are switching platforms or cutting down on spending amid this economic slump. However, an ad-supported revenue package could grow revenues significantly and compensate for the deprivation in growth.
Something noteworthy that I found in my research was that prevalent streaming giant, Hulu, has about 60-70% of its viewers on an ad-supported plan. This could be huge for NFLX because it would offer present subscribers a cheaper alternative during a potential recession and also open up a more affordable service to the majority of America still using linear television. A survey was done last year by BusinessWire and shared that 44% of American consumers have gone cordless and use streaming media as an alternative. If we enter a recession, a lot of the cable user market will shift into streaming, as it is much cheaper, which means more subscribers for NFLX, as they are still the face of the industry. I think investors are overreacting to the news about slowed growth at Netflix, and they have a lot of prospective ideas to cover these losses.
Potential Risks and Threats Moving Forward for FUBO and NFLX
There are several threats for Netflix and fuboTV moving forward, including:
Continued password sharing and a failure to crack down on this issue (NFLX and FUBO)
Faster growing competition in the streaming media business (NFLX and FUBO)
A looming recession can turn consumers away from premium streaming services (NFLX and FUBO)
Hastings remains resilient and chooses to keep his word on never having an ad-supported package (NASDAQ:NFLX)
Password sharing has been a lingering issue for Netflix since its inception. All it takes is a friend or a relative giving out their password to you and your family, and that is several potential customers taken away from Netflix. Hastings has not been shy about this idea and said:
"in addition to our 222m paying households, we estimate that Netflix is being shared with over 100m additional households…Remember, these are over 100 million households that already are choosing to view Netflix. They love the service. We've just gotta get paid in some degree for them."
I agree entirely with Hastings here and feel like this is a threat that must be attended to right now, as it is hindering potential growth. Allowing for "sub accounts" to be added for current subscribers could suppress the issue of password sharing.
There are threats of massive competition in the streaming and sports media space. Netflix fears faster-growing competition from names like Disney with its Disney+ service that added 8 million subscribers last quarter vs. NFLX's loss of 200,000 subscribers. On the other hand, fuboTV faces competition from companies like Sling T.V., which is much cheaper at $35/month. Obviously, conventional cable is also a threat to the growth of both business models, as the majority of the U.S. market still uses it daily. Netflix either can continue ramping its business by reinvesting nearly all of its free cash flow into its movies. Or Netflix can return this value to shareholders. Of course, the wheel model that Netflix uses maximizes growth; however, shareholders never get dividends, but Netflix can decide to grow at a slower rate than its competitors and turn its FCF into solid dividends. FUBO, on the other hand, also wants to penetrate the sports betting market, home to a ton of competition as well in the form of Draftkings (NASDAQ:DKNG) and many more. It'll be tough for FUBO to continue spending at the rate they are without risking going to 0 in a potential recession.
Concluding Remarks: A Golden Opportunity to Long NFLX and Short FUBO
As a viewer and buyer of Netflix's streaming service, I love the technology they offer and genuinely think it's top of the line for the industry. While it is evident that Netflix likely will never be the growth beast it once was and hold a share price of $700, that doesn't mean it won't continue to keep the streaming service crown and make a huge run at $180/share. Also, it is sometimes essential to follow the investment philosophy of investing in what you love and understand, which couldn't be more accurate in this scenario. As a long-time supporter of Netflix, I think if Hastings plays his cards right with controlling password sharing (potentially monetizing this), creating an ad-supported subscription (anywhere from $4.99-$6.99/month), and continues to work on some of the video game adaptation projects like Resident Evil and Assassin's Creed, Netflix will remain as an integral role in our lives.
Contrarily, fuboTV, in my perspective, will struggle to stay afloat in the coming year. Although fuboTV has boasted nearly five consecutive years of triple-digit+ sales growth, it struggles to have any bottom-line hopes. fuboTV's current cash on hand and other cash equivalents on its balance sheet as of late are not where it needs to be if FUBO continues to operate at losses they have been reporting in recent quarters. While there is a ton of potential with Fubo's live synch technology with fuboTV services and the Fubo Sportsbook, this will remain as a market that needs a ton of R&D, which is something FUBO will struggle to support. With over 1 million subscribers, it has a decent market reach; however, expanding its efforts to sports gambling can take the focus off what needs the most help, which is its streaming service, and improving the line.
All in all, I think Netflix is an outstanding buy, trading around a 15x price-to-earnings multiple and a 2.6x price-to-sales ratio. As long as Netflix continues to limit dilution and mitigate threats through the actions described above, I think it will be able to grow at a modest pace allowing for a convincing investment. FUBO's struggles with cash burn and constant dilution to combat its operating losses will continue to harm shareholders, so I would lay off of FUBO as an investment and allocate funds elsewhere.