Steelcase (SCS) is expected to announce its second-quarter earnings numbers on the 21st of this month. Shares of Steelcase have been consistently making lower lows since the 8th of June this year. We have written about Steelcase in the past and commented on the company's strong profitability and growth profile coming into this fiscal year. Revenue, EBIT and net income of $199 million in Steelcase's latest fiscal year were the best numbers we had seen for quite some time. Since Steelcase starts its fiscal year in March, its first quarter felt the full brunt of the coronavirus pandemic.
Shares remain down over 50% from their 2020 highs and the jury is still out on whether the company can recover anytime soon. The reason being that the dynamics of this sector have changed dramatically since the onset of COVID-19. Furthermore, the cyclical nature of this industry demonstrates to us that shares may have more downside before we see a firm bottom in this stock.
In the long-term chart below, for example, shares stooped to ultra-oversold levels in 1998 but didn't form a multi-year bottom until four years later in 2002. At present, we have the same conditions (oversold), but the MACD indicator which provides a good read on trend is nowhere near to giving a buy signal.
As stated, the firm is expected to announce its second-quarter numbers at the back-end of this month. As we can see from the implied volatility chart below, implied volatility is now up towards 70% and we would expect this number to keep on climbing until Q2 numbers are announced. This brings opportunity, in our opinion, as it gives us the possibility of selling rich option premium right before the bell.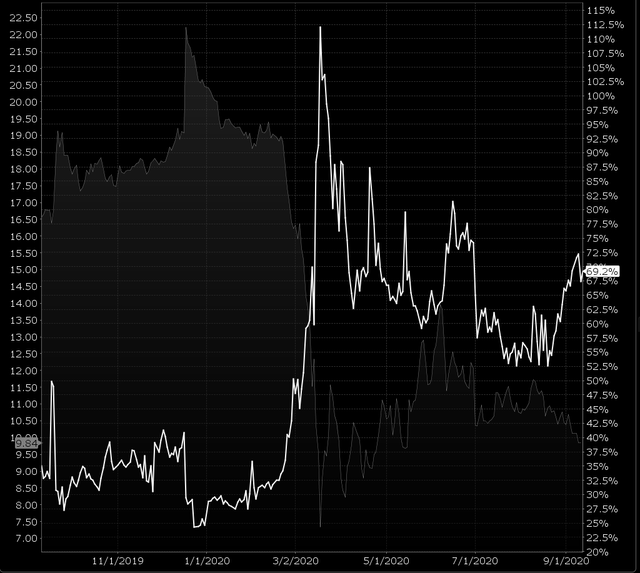 Source: Interactive Brokers
Although Steelcase reported probably its best financial results in more than decade last year, this industry has been literally turned on its head because of the pandemic. The industry to a large part has pivoted to home furniture instead of office furniture which has left Steelcase with major logistical challenges.
Management cut the quarterly dividend by 52% back in March to $0.07 per share when lockdowns started, but since then has increased the dividend back up to $0.10 per share. Although the payout is well below that of last year, management still went ahead with the increase due to the expected rebound in earnings for the remainder of the year. $0.21 in earnings per share is the expected bottom-line number for Q2, for example, which, if met, would be twice the quarterly dividend amount.
Earnings, though, does not pay the dividend but rather cash does. Due to the demand shock in the first quarter, it was no surprise to see inventory levels increase by almost $33 million. Due to lack of preparation, the firm did not generate any positive cash flow in the first quarter. Management drew down $250 million of debt from which the cash balance was added to, $42 million of shares were bought back and $8 million went towards dividend payments.
Book value dropped to $881 million and the debt to equity ratio increased to 0.82. Furthermore, due to the negative EBIT print in the first quarter, the interest coverage ratio now comes in under 7.
Despite these negative trends, Steelcase still has all the hallmarks of a value play. Shares are trading at only 0.3 times sales and the firm is expected to be profitable this year ($0.45 expected). The company is in the process of pivoting by reducing the headcount which will entail restructuring costs over the near-term. Furthermore, in order to give the firm the maximum opportunity of selling into the office market going forward, relationships and agreements with other brands will most likely be the norm.
As with everything in the stock market, when trading, it is all about risk/reward. If, for example, we get elevated volatility in equity markets over the next couple of weeks, Steelcase's implied volatility numbers could easily rise above 100% prior the announcement. If this were the case, we could stack the odds more in our favour by selling far out of the money options. Remember, Steelcase's book multiple is presently around the 1.3 mark, so we could potentially put on a trade which would give us a cost-entry underneath the company's book value. Therefore, we will monitor share price action before the earnings announcement and then put on something accordingly most likely before the bell.
———————-
Elevation Code's blueprint is simple. To relentlessly be on the hunt for attractive setups through value plays, swing plays or volatility plays. Trading a wide range of strategies gives us massive diversification, which is key. We started with $100k. The portfolio will not not stop until it reaches $1 million.
———————–
Disclosure: I/we have no positions in any stocks mentioned, and no plans to initiate any positions within the next 72 hours. I wrote this article myself, and it expresses my own opinions. I am not receiving compensation for it (other than from Seeking Alpha). I have no business relationship with any company whose stock is mentioned in this article.