This research report was produced by The REIT Forum with assistance from Big Dog Investments.
The New York Mortgage Trust (NYMT) preferred shares have an interesting market failure. (NYMTM) is a better deal than (NYMTN):
Source: The REIT Forum
We also like shares of (NYMTO) more than shares of (NYMTP).
The preferred shares from NYMT carry a risk rating of 4 which is quite high. We will be showing individual index cards for each preferred share. Remember prices change, so double-check the preferred share prices for comparison and beware the bid-ask spread.
A Common Misconception
New York Mortgage Trust is not holding a concentrated portfolio of mortgages in the state of New York. Many investors assume this from the name, but it simply is not the case.
Index Cards – NYMT Preferred Shares (Risk 4)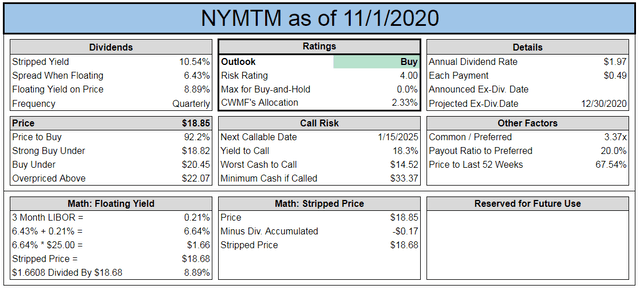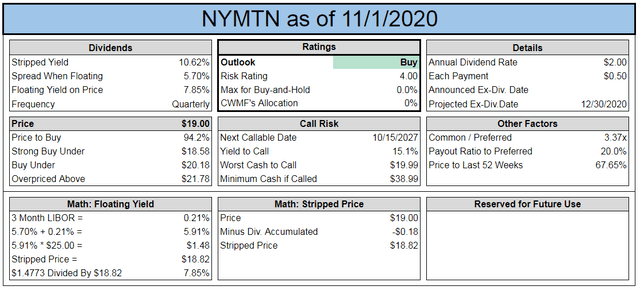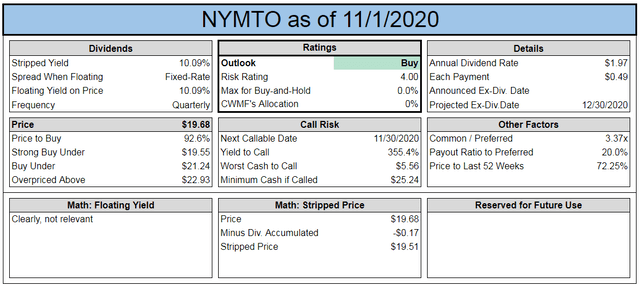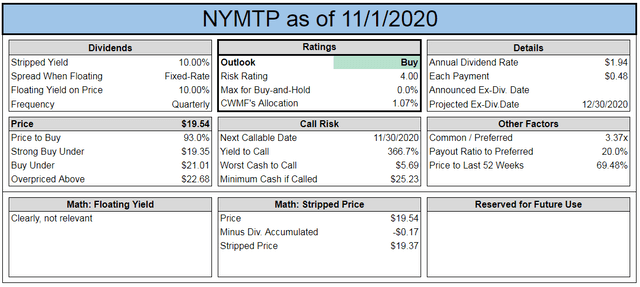 Source: The REIT Forum
The market continues to price these shares as being very risky. It looks like the market is simply pricing in too much risk. However, we will note that the macro environment remains concerning. We're seeing volatility pick up at the end of October, as expected. Investors should be aware of the potential extra volatility. When shopping for preferred shares, tossing out lowball bids can be a great way to take advantage of the poor liquidity. Letting the other party cross the bid-ask spread.
NYMTO leads here, though it isn't a huge gap. The stripped yield is slightly better than NYMTP and it remains fixed (unlike NYMTM and NYMTN) so it gets the nod.
Yield
NYMTM: 10.38%
NYMTN: 10.45%
While NYMTN does have more call protection on the calendar by more than 2 years, NYMTM has a more attractive floating spread:
NYMTM: 6.43%
NYMTN: 5.70%
This is pretty interesting because the market has often undervalued NYMTN. In fact, NYMTN was undervalued compared to the other shares for the majority of the last 2.5 years. If investors are willing to invest in fixed-to-floating preferred shares, NYMTM is the clear winner here.
The fixed-rate preferred shares
NYMTO and NYMTP both have a fixed rate. The current stripped yield is very similar:
NYMTO: 10.09%
NYMTP: 10.00%
The risk level is still high for the NYMT preferred shares, but we are comfortable with some exposure. We have even been comfortable with the common shares because the company reduced its risk profile significantly during the pandemic. The company sold off several positions that were complicated. These positions were consolidated on the financial statements and resulted in confusion for most investors and far too many analysts. We understood precisely what was happening in these positions because we have Scott Kennedy. If you've evaluated other mortgage REIT analysts, you'll know that his accounting knowledge is significantly more thorough than other analysts. In the short term, some investors may still be concerned by the large changes in the income statement. A significant impact simply comes from removing those more complicated positions.
Our recent purchase of NYMTM – 10/21/2020
We purchased 675 shares of NYMTM with a weighted average price of $18.97 per share. The preferred shares from New York Mortgage Trust carry one of the higher preferred share risk ratings, but we see plenty of potential for gains here.
Our execution is shown below:

Source: Schwab
Our open positions are shown below: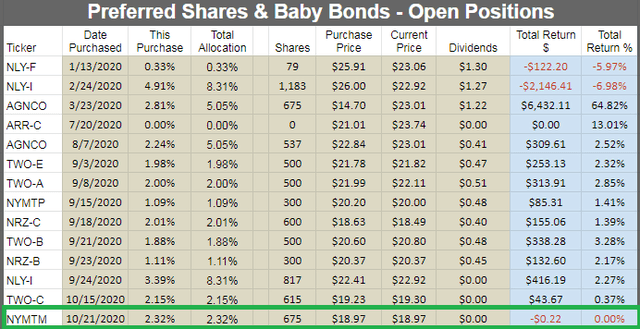 The green box highlights the newest position.
Besides this position in NYMTM, we also have a position in NYMTP and in the common shares of NYMT (not shown since the chart above only has preferred shares and baby bonds).
The total allocation in NYMTP is 1.09% and the total allocation in NYMT common shares is 2.83%.
The $100k chart demonstrates how much needed to be invested on any prior day (at the closing price) to reach $100k as of 10/21/2020 during market hours: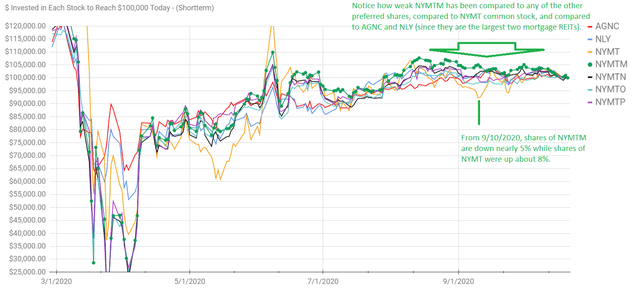 Source: The REIT Forum
The green line for NYMTM gets some circles to help it stand out even more. You'll notice that over the last 3 months or so shares of NYMTM have simply underperformed. That underperformance is even more obvious if we emphasize early September.
Outlook on the Common
We're also bullish on the common shares, but we're not going to do a full analysis on the common shares in this article. Based on today's price of $2.62, shares are trading at about a price-to-book ratio of .56 based on an estimate of $4.65 for book value per common share as of 10/30/2020.
Note: This estimate is not provided by the company. We have Scott Kennedy running analysis on the common shares and regularly providing updated targets and book value estimates.
Final thoughts
Recent weakness in shares of NYMTM makes them significantly more attractive. They even dipped into the strong buy range. If shares put in a solid rally, we would be happy to take the profits and walk away. Currently, at around $19, they are offering a materially better value than many of the other preferred shares. Consequently, we think it is more likely than not that they will outperform over the near term. For investors who are looking for a fixed rate preferred shares, NYMTO is one of our top choices for investors who can stomach the risk rating.
Ratings
Bullish on NYMT, NYMTO, NYMTM
Our method works. We know because we buy the same shares we recommend. We track our results on a real portfolio and we compare our returns with the major ETFs for our sector: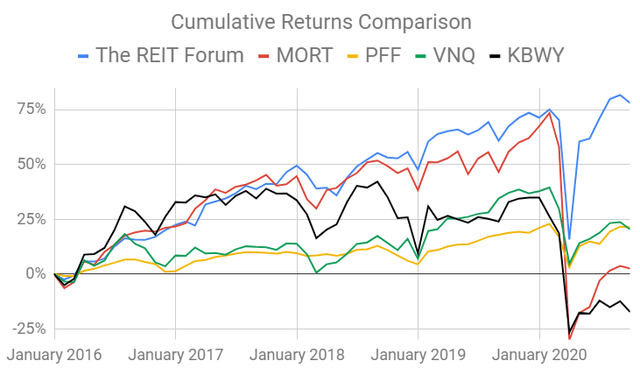 Those four ETFs are:
MORT – Major mortgage REIT ETF
PFF – The largest preferred share ETF
VNQ – The largest equity REIT ETF
KBWY – The high-yield equity REIT ETF
Try our service. See how much better investing can be.

Disclosure: I am/we are long NYMTP, NYMTM, NYMT. I wrote this article myself, and it expresses my own opinions. I am not receiving compensation for it (other than from Seeking Alpha). I have no business relationship with any company whose stock is mentioned in this article.