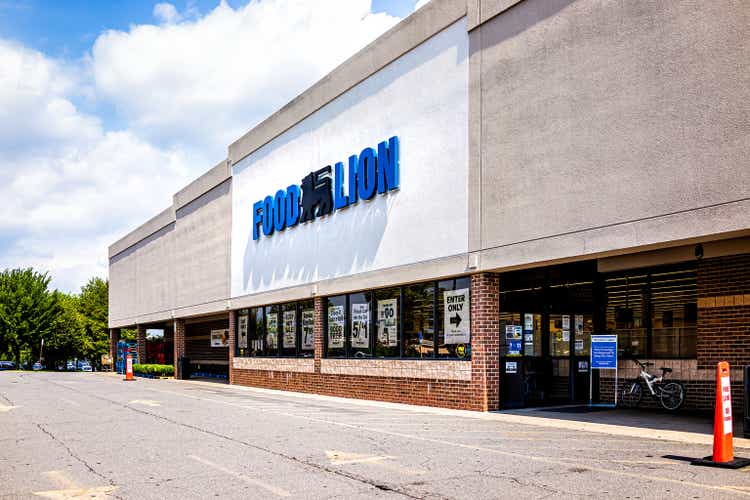 Introduction
Slate Grocery REIT (OTC:SRRTF) is a Canadian REIT focusing on owning grocery-anchored commercial real estate and leasing it to strong tenants. The REIT has aggressively expanded its asset base in the past few years and recently announced another US$425M acquisition. As the dividend yield now stands just shy of almost 8%, I wanted to have a closer look to see if Slate's dividend is sustainable.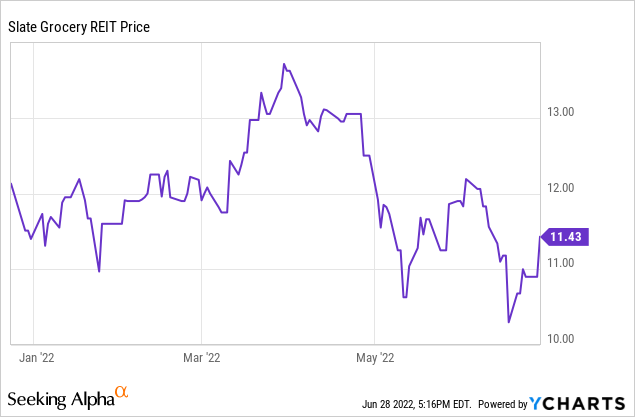 The US listing of Slate has an adequate liquidity for smaller investors with an average daily volume of almost 10,000 shares per day. The Canadian listing of the REIT offers superior volume though with the CAD listing trading as SGR-UN showing an average daily volume of almost 200,000 shares while the USD listing in Canada, trading as SGR.U has an average volume of a few thousand shares per day.
To keep things simple, I will refer to the REIT's USD listing as it reports its financial results in USD. Should you decide to buy the CAD-listing, you can convert the USD results into CAD using the spot price.
The FFO and AFFO are increasing nicely in the first quarter
Slate Grocery REIT isn't just "any" commercial REIT: It's focusing on grocery-anchored properties with the majority of its tenants classified as offering "essential items" – in excess of 95% of its properties have a major grocery chain as anchor tenant while almost 70% of the tenants across all properties are classified as "essential."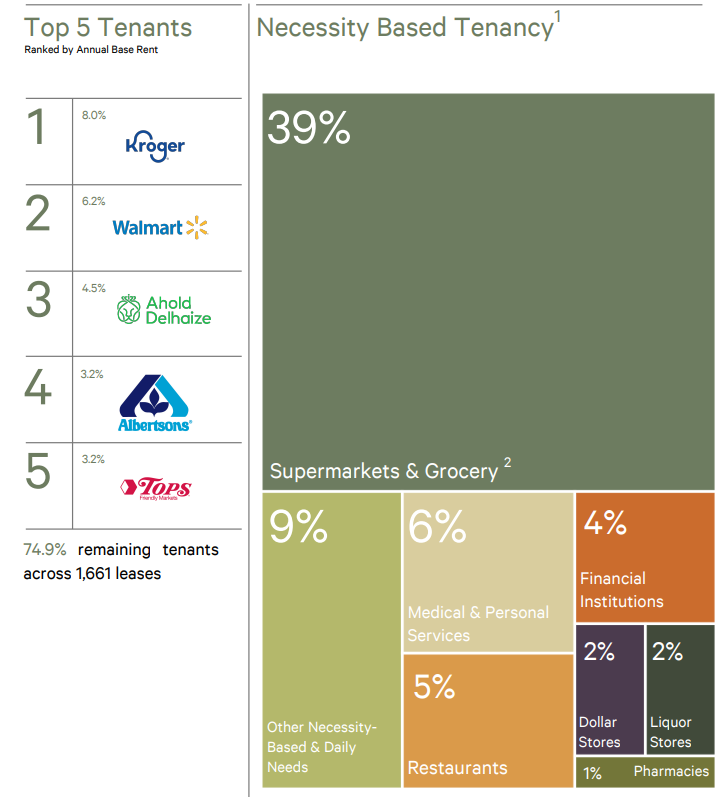 Another important factor is to see when the leases expire. As you can see in the image below, about 5.3% of the portfolio is up for lease renewal in the current financial year followed by almost 14% in 2023. This could be interesting as you can see the grocery anchored leases up for renewal in 2022 and 2023 have an in-place rent that's substantially lower than the average so we could reasonably expect to see an uptick in the rental income per square foot which should provide a boost to the total rental income. On the Q4 2022 conference call, the Slate management confirmed it expects all anchor tenants to renew their leases.

Additionally, Slate Grocery can look forward to an increased net operating income thanks to the completion of several (low-cost) development projects. As you can see below, the REIT is working on a US$34M investment program which will increase the NOI by $4.1M per year for an industry-leading 12% yield-on-cost. Only $19.2M still had to be spent as of the end of Q1 2022 and this can easily be funded from the retained cash flow generated by Slate Grocery while covering the shortfall with debt.

One of the main metrics for REITs is obviously the FFO and AFFO and its ability to cover the dividend payments. In the first quarter of the current financial year, Slate Grocery REIT generated about $16.2M in FFO.

This subsequently resulted in an AFFO of $13.25M for an AFFO/share of $0.22 based on the average share count of 60 million units.

This actually explains why I haven't initiated a long position in Slate in the past. While the AFFO still covers the dividend (US$0.072/month), it's barely covered. Using the 60 million units outstanding, Slate needs about $13M to cover the dividend which means it only generates a surplus of just $0.25M per quarter or $1M per year. This also means the payout ratio based on the AFFO is approximately 98%, quite high.
Fortunately, the AFFO should increase as A) the projects in the development pipeline will be completed and have the potential to increase the AFFO by 4-5% and B) Slate should be able to increase the rent on the properties that are up to be re-leased.
Slate continues to execute on its very aggressive growth strategy
Slate has been growing pretty aggressively in the past few years as it completed in excess of US$500M in acquisition s in 2020 and 2021. This was underpinned by raising in excess of C$200M (US$150M) in equity to help fund these acquisitions.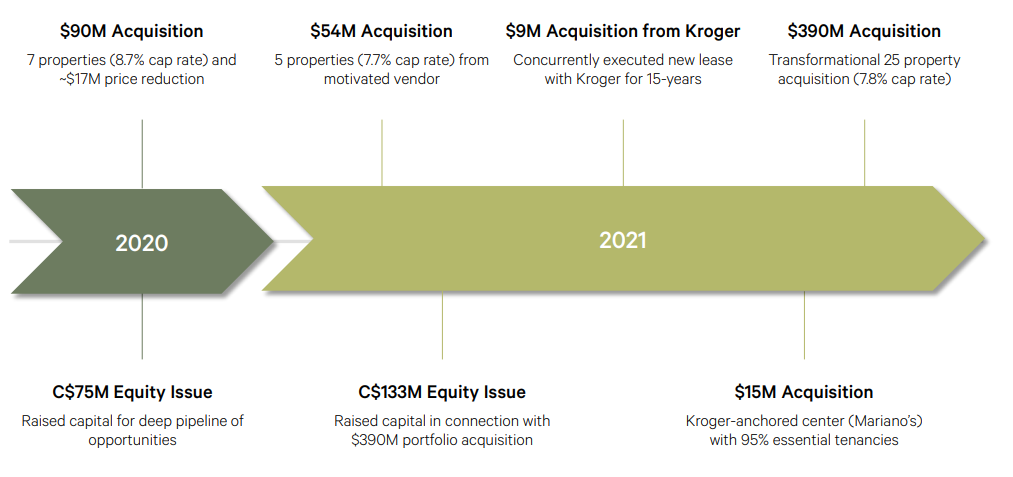 The REIT has a good track record of fitting in acquisitions in the existing corporate structure and although I initially expected Slate to leave more time in between acquisitions, it announced another large, US$425M acquisition of grocery-anchored commercial real estate in the second quarter of this year.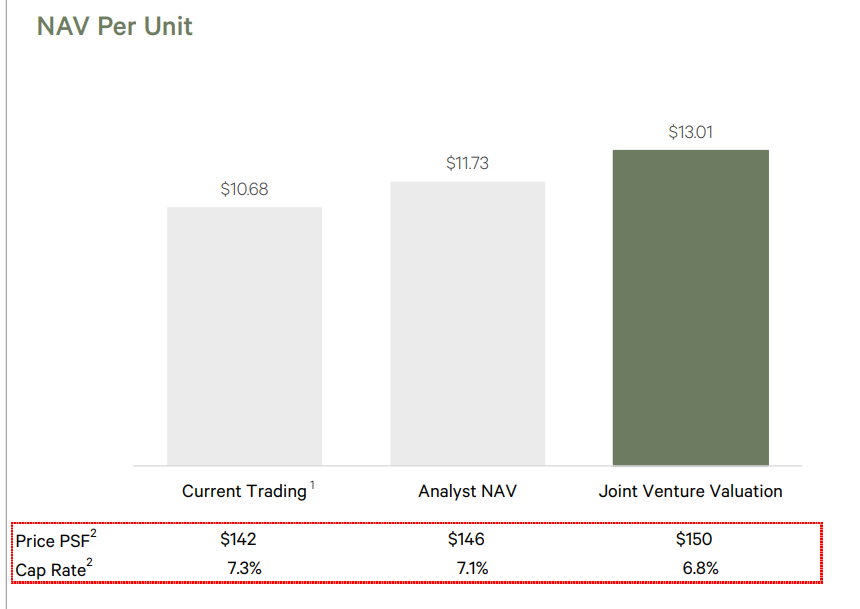 A total of 14 properties will be acquired at an average capitalization rate of 6.8-6.9%, and Slate Grocery will fund a substantial portion of the acquisition through debt, while new joint venture partner and related party Slate North America will contribute US$180M in cash to form a joint venture on all of Slate's assets. Upon the completion of this joint venture Slate's NA Essential Fund will have a 18.4% economic interest in Slate Grocery REIT.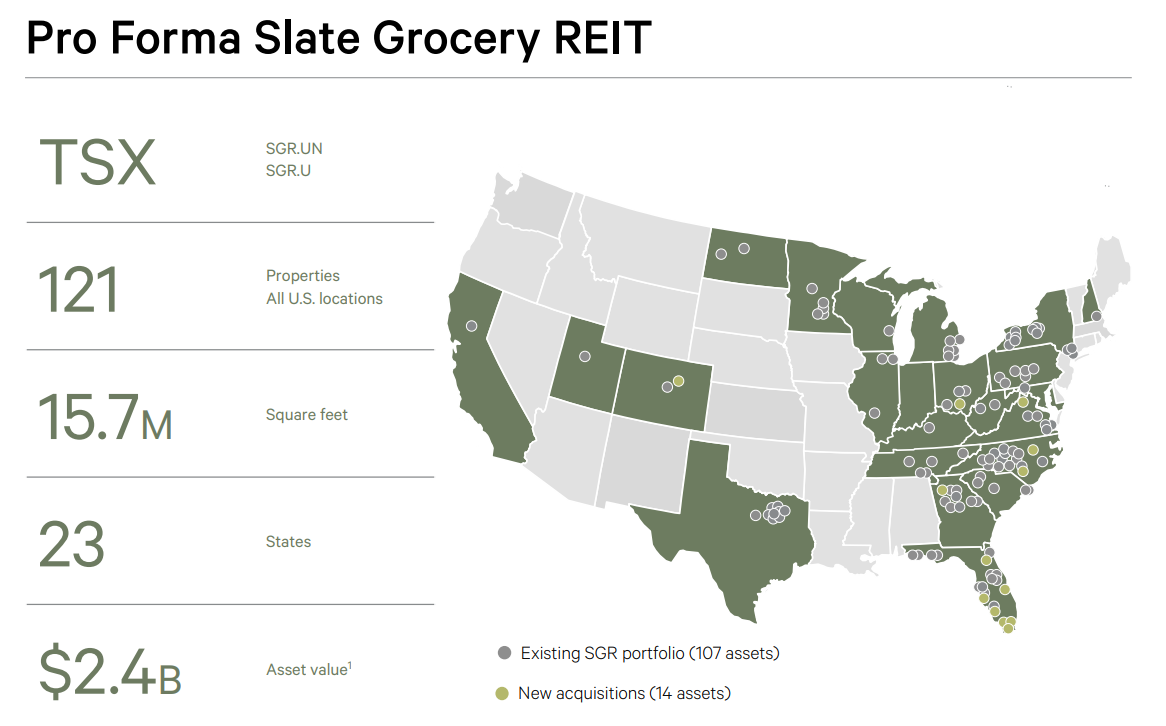 Due to the structure with the NA Essential Fund, Slate's debt ratio will be just under 54% as it will only need a $275M term loan to cover the remainder of the acquisition. This sounds like a suspicious structure but the NA Essential Fund is acquiring the 18.4% economic interest based on a pro forma value of US$$13.01/unit, which is a premium of in excess of over 10% compared to the current share price.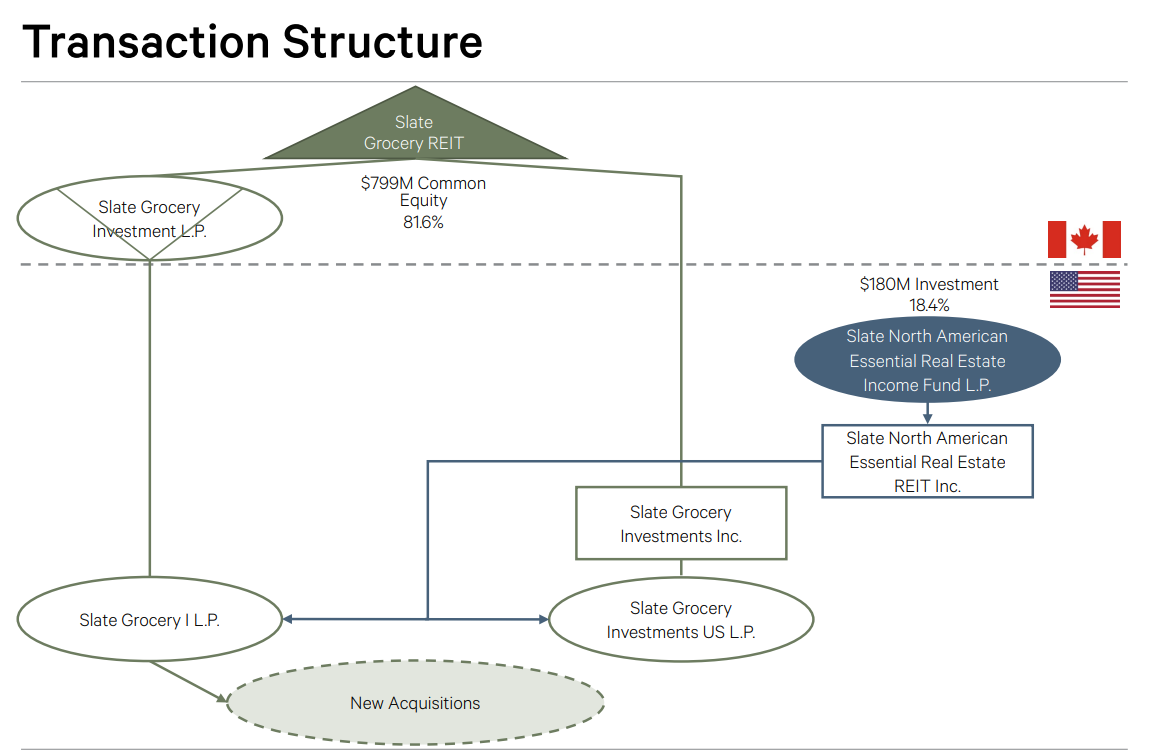 Investment thesis
Slate Grocery continues to grow and this should help to improve the distribution coverage ratio. Standing at 97.5% of the Q1 2022 AFFO, the payout ratio is a bit too high for my liking but the expanded portfolio and completion of development projects should reduce that payout ratio. I also expect the rents to be hiked, but once the fixed rate mortgages will have to be refinanced, one should expect the interest expenses to increase again.
I'm willing to give Slate Grocery REIT the benefit of the doubt, and although I'm not keen in investing in REITs with a payout ratio in the high 90% range, I like how the new deal was structured with a (related) joint venture partner agreeing to cough up the equity portion of the acquisition in a structure which essentially is an above-market financing. I will likely initiate a small long position sooner rather than later but I will not make it a core position until I see better distribution coverage ratios.