Former work-from-home star Slack (WORK) has burnt out in recent weeks. Shares were already underperforming the tech market. Then the company announced Q2 earnings Tuesday afternoon and the stock dove another 18% in after hours trading.
At $24, Slack is now trading at March 2020 levels; any gains from the pandemic are long gone. In total, shares are now down a quick 40% from their June peak.
What's interesting is that, to be honest, Slack's quarterly earnings weren't even that terrible:
Source: Seeking Alpha
Both revenues and earnings beat expectations. 49% revenue growth is nothing to sneeze at. In a non-pandemic world, investors would likely be pleased with these results.
However, expectations had been set too high on the billings front. People foresaw a massive number thanks to similar blowout quarters from Zoom Video (ZM) and other companies that benefited the most from work-from-home. Instead, Slack only modestly topped revenues and billings came up well short of expectations.
Slack can point to this as incrementally positive quarter. There's a lot of good here in terms of signing up new large customers and generating more cash flow than expected. But folks were expecting a fireworks show like Zoom's breath-taking results. Moderately upbeat numbers weren't going to cut it given the anticipation coming into this report.
So is Slack cheap now? At around 17x sales (as of this writing), no it's not. But in SaaS-world 17x sales for something growing at 50% is still a deal right? Potential dip-buyers should consider a few factors before hopping in, however.
The Softbank Effect
It's worth noting that Softbank has been a long-time investor in and proponent of Slack. In fact, earlier this year, analysts were hailing Slack as a bright spot in Softbank's otherwise dour investment portfolio which included fiascos such as but not limited to OneWeb, Uber (UBER), WeWork, and Zume. As recently as mid-2020, it seemed like Slack could be a potential source of strength for the flailing tech fund.
Instead, Slack has now gone sour as well.
As a result, hedge funds may help push Slack down even more. It's common knowledge that managers like to pick on the weak — when an investor runs into trouble, there's often good money on Wall Street to be made pressing bets against the losing investor.
Softbank's multi-billion dollar tech call option bet was the top investing story this weekend, and could have been a clever way to bail out Softbank's underwater positions if the Nasdaq had rallied enough. However, that's now in doubt, and Softbank stock is down 10% over the past week in Japan: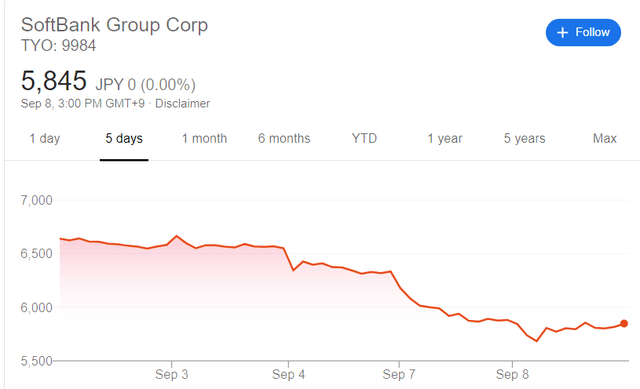 Source: Google
Many of Softbank's U.S.-listed holdings are diving, with Slack taking an especially steep tumble. These sorts of capitulation moments can make for profitable rebound trades. Beware of being early though, traders are often merciless in punishing an ailing investors' positions before the low is reached, and Softbank has a target on its back now.
Furthermore, the hits keep coming, Softbank's Chief Compliance Officer just left the firm on Tuesday. If you take a flier on WORK stock bouncing here, take into account that you're facing a sharp short-term headwind as folks continue to bet against Softbank.
Don't Write The Eulogy For Offices Just Yet
This specific earnings miss highlights a broader question: What if the claim that offices will never be the same again post-Covid was a little overblown? Leading office REITs like Boston Properties (BXP) are still in the dumps: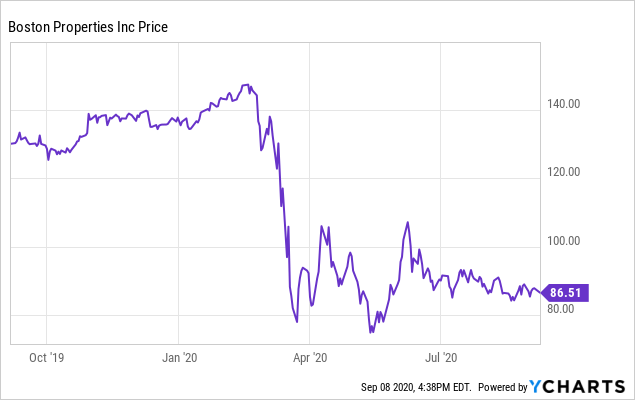 Wall Street is still (at least for now) treating offices as if they are nearly as undesirable as malls and shopping centers in the post-Covid world.
Yet look around, and you'll find plenty of companies — some of them quite tech-focused — starting to push back on the accepted wisdom. For example, take Reed Hastings of Netflix (NFLX), who is hardly an old economy dinosaur. Consider this from a recent interview with the Wall Street Journal:
WSJ: Have you seen benefits from people working at home?

Mr. Hastings: No. I don't see any positives. Not being able to get together in person, particularly internationally, is a pure negative. I've been super impressed at people's sacrifices.

WSJ: It's been anticipated that many companies will shift to a work-from-home approach for many employees even after the Covid-19 crisis. What do you think?

Mr. Hastings: If I had to guess, the five-day workweek will become four days in the office while one day is virtual from home. I'd bet that's where a lot of companies end up.
That's right, Hastings sees zero positives whatsoever from work-from-home. In particular, he says that not getting together in person has crushed creativity.
For what it's worth, I haven't worked out of an office since 2013. While there are certainly many positives, there are a ton of negatives as well, particularly since my first child was born. Even as a successful work-from-home person myself, it's not a lifestyle I'd recommend to most people. Willpower is a finite human resource, and working in a non-monitored home setting with a ton of distractions is not going to be a good fit with many peoples' personalities.
And there are the factors that Hastings discusses as well. I got some of my best investing ideas talking to other analysts at our hedge fund while we ate lunch together or were gathered around the espresso machine. Slack and Twitter (TWTR) direct messages simply aren't a one-for-one replacement for that sort of environment. It's particularly hard to debate controversial or unpopular ideas in forums such as Slack where everything is permanently recorded and can be brought up again at a later date.
There's also the broader mindset to consider here. Many people consider 2020 one of the worst years of their lives. That worst moment is forever associated with working from home while being quarantined. Is it a good bet to think that people are going to have a positive association with one of the key features of the worst year of their life?
Many people just want a return to normal, and that doesn't involve Zoom conference calls from the living room while your kids are struggling to connect to their online classroom and yelling at you from the next room over. I suspect much of the positive work-from-home marketing image has been set by predominately tech-savvy male engineers who might not have a full picture of the pros and cons that the broader workforce is facing.
Investing Takeaways
I've been and remain skeptical of just how far the work-from-movement will go in the near-term. It's true that things will evolve toward more flexibility in the long-run. Four days in the office, one day from elsewhere could easily become the standard in coming years, as Hastings proposes.
But the Nasdaq priced in many of its leading stocks as if offices would be abandoned permanently. That's not going to be the case, and you're about to see some sharp valuation compression across leading SaaS stocks.
Slack is now back to where it traded in March. Stop and think about that for a second. Are most of the other SaaS stocks worth 200%, 300% or more than they were in March? That while Slack, a direct beneficiary of stay-at-home, has no gains to show for it whatsoever.
With Slack, investors are getting a firm warning of just what might come from the broader tech sector going forward. If Slack couldn't make hay while the sun was shining, what happens to tech companies that had less of a direct benefit from the virus? Some on-premise software companies in particular should draw investor concern, as they didn't even get a pandemic boost in the first place.
Back to Slack. WORK stock is now bombed out enough that there could be a near-term trade here. As mentioned, it's now down 40% since June. If you believe the core product is fine and investors simply had too high of expectations, it's not hard to draw a path back to $30 in coming weeks. I'm personally not keen on trading this, as I don't see Slack being worth more than 20x sales in the current environment and at 17x as of this writing, that's not a ton of upside in the near-term. Even at this price, Slack still has to grow a lot more to justify the valuation.
But more open-minded speculators might be willing to bid it back up to 22-23x, at least for a time, which would make for a decent bounce: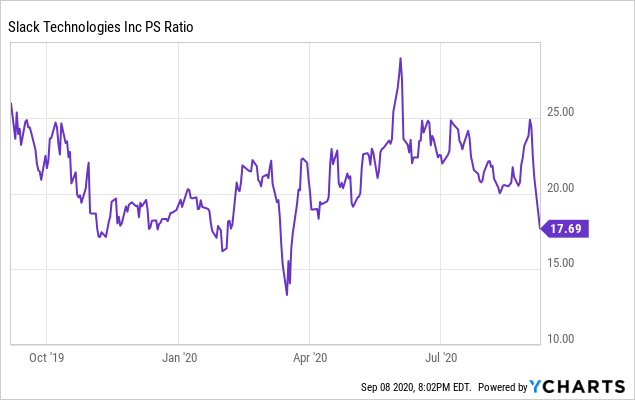 Finally, what does it mean for the competition? There's a possibility that this a good read-through for Microsoft's (MSFT) Teams product. Slack has a fraught relationship with Teams. At times, Slack has suggested that they aren't really competitors but serve somewhat different roles. At other times, however, Slack has sued Microsoft for anti-competitive behavior.
If you're buying the dip on tech stocks here, Slack's underwhelming earnings results have to be at least a modest plus when considering what sort of quarter Microsoft will put up going forward.
Microsoft has been on a massive winning streak in recent years, and it appears they're getting the better of Slack in the workplace communications market as well. I'm in no rush to buy either stock tomorrow, but I'd rather own Microsoft than Slack if I had to pick one.
If you enjoyed this, consider Ian's Insider Corner to enjoy access to similar initiation reports for all the new stocks that we buy. Membership also includes an active chat room, weekly updates, and my responses to your questions.
Disclosure: I/we have no positions in any stocks mentioned, and no plans to initiate any positions within the next 72 hours. I wrote this article myself, and it expresses my own opinions. I am not receiving compensation for it (other than from Seeking Alpha). I have no business relationship with any company whose stock is mentioned in this article.