SharpSpring, Inc. (NASDAQ:SHSP) is a small player in SaaS-based marketing automation tools, allowing customers to nurture potential customers from an early stage of contact until they become qualified sales leads. The company competes against much larger players such as HubSpot (HUBS) and Salesforce.com (CRM).
There are several things that I like about SharpSpring, including its performance so far during the pandemic, the improved gross margin, and its very low stock valuation. The company had a very good YoY Q2 2020 revenue growth of 31.7% in a difficult economic environment. The revenue growth does include results from recently acquired Perfect Audience, an online advertising retargeting company.
The company management appears to be committed to improving margins, and in the most recent quarter, the gross profit margin jumped 6% from 66% to 74%, primarily as a result of increased product price increase, expanding customer base, and the acquisition of Perfect Audience.
(Source: Portfolio123)
SharpSpring ended the quarter with more than $15 million in cash and cash equivalents, which should be enough for the company to survive the pandemic and recession and still be in good shape. The strong cash position is a result of the combination of reduced spending, 10% salary cuts, bonus suspensions, drawing down $1.9 million on its line of credit, $1.6 million tax refund, and a $3.4 million loan from the Small Business Association under the SBA Paycheck Protection Loan program.
Stock Valuation
The plot below illustrates how SharpSpring stacks up against the other stocks on a relative basis based on forward EV/Sales versus forward revenue growth. Note: Please refer to a recent article for more information on the scatter plot-relative valuation technique.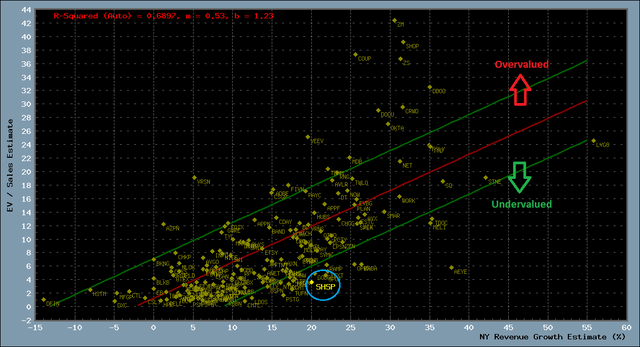 (Source: Portfolio123/private software)
SharpSpring is situated well below the best fit line on the scatter plot, suggesting that the stock is extremely undervalued on a relative basis relative to its peers based on expected future revenue growth and its forward sales multiple.
The Rule Of 40
The industry metric that is often used for software companies is the Rule of 40. It is an industry rule of thumb that attempts to help companies ascertain how to balance growth and profitability. For a further description of the rule and calculation, please refer to one of my previous articles.

(Source: Portfolio123/MS Paint)
In SharpSpring's case:
Revenue Growth + FCF margin = 25% – 36% = -11%
SharpSpring fails miserably on the Rule of 40, suggesting that it does not have a healthy balance between growth and profitability. Note that this metric is calculated on a trailing-twelve-month basis. The extremely negative free cash flow margin of -36% makes investing in this company a non-starter for me.
This level of negative free cash flow ultimately requires the company to refuel on a regular basis, either via share dilution or increased debts. In SharpSpring's case, it has been diluting shares over the years.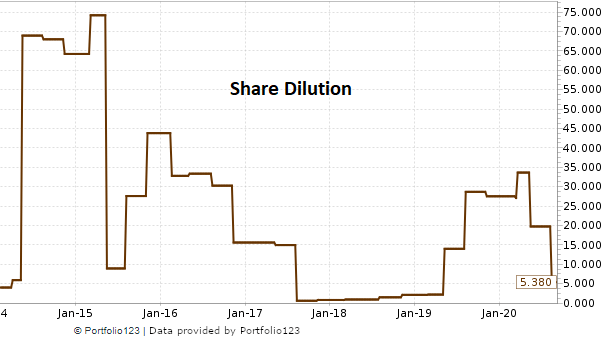 (Source: Portfolio123)
The figure below illustrates why share dilution is not a good thing. The three charts show sales divided by the number of diluted shares for SharpSpring, HubSpot, and Salesforce.com over the last five years.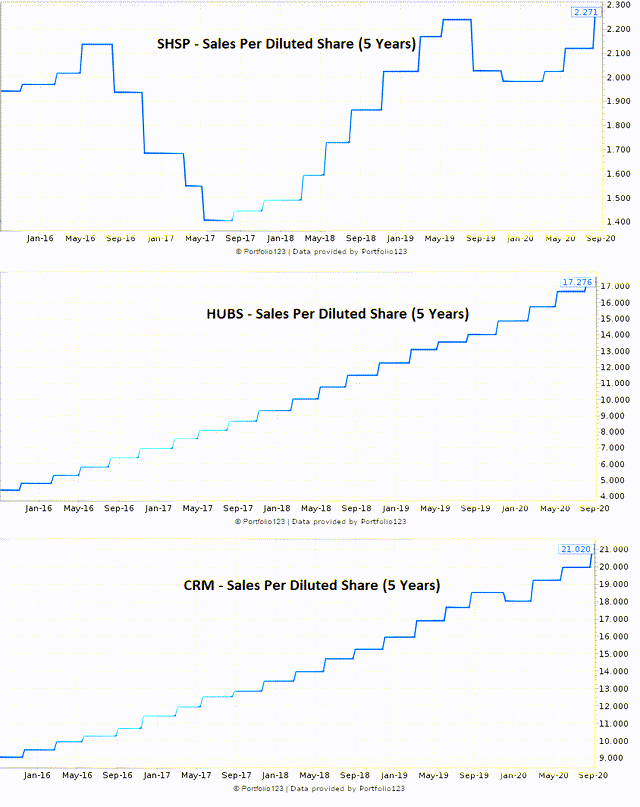 From the above charts, you can see that SharpSpring's competitors have consistently grown sales per diluted share over the years, while SharpSpring has not. This lack of growth is not beneficial to shareholders.
Share dilution traces back to negative free cash flow, which currently sits at -36%. Let's keep in mind that this is a very small company, and some "chunkiness" in results should be expected. But the negative free cash flow can't be explained away by the size of the company. The phenomenon has persisted for many years and has to be built into the company management style. SharpSpring needs to do better if it wants my vote of confidence.
Summary and Conclusions
SharpSpring is a small player in SaaS-based automated marketing tools, allowing companies to engage with customers at an early stage in their relationship. The idea is to nurture the company/customer relationship to the point where it becomes a qualified sales lead.
SharpSpring has a lot of things going for it, including great revenue growth in a difficult economic environment, a large pool of cash that will allow it to survive the pandemic and recession, and a very low share price valuation.
Despite these positive attributes, the company has one glaring issue, and that is its extremely negative free cash flow margin of -36%. This causes it to fail the Rule of 40 software metric by a wide margin and, ultimately, has translated into share dilution. Despite fairly substantial sales growth, the sales growth per diluted share has been stagnant. Therefore, I am providing a neutral rating for this company. I look forward to the day when SharpSpring takes positive action in improving its free cash flow.
Digital Transformation is a once-in-a-lifetime investment opportunity. Businesses need to convert to the new digital era or risk being left behind. And the pandemic has dramatically accelerated this paradigm shift.
You can take advantage of this opportunity by subscribing to the Digital Transformation marketplace service. Tap into four high-growth portfolios, industry/subindustry tracking spreadsheets, and three unique proprietary rating systems. Don't miss out on the digital revolution. We are still in the early innings and there are plenty of high-growth investment opportunities out there waiting for you!
Disclosure: I/we have no positions in any stocks mentioned, and no plans to initiate any positions within the next 72 hours. I wrote this article myself, and it expresses my own opinions. I am not receiving compensation for it (other than from Seeking Alpha). I have no business relationship with any company whose stock is mentioned in this article.