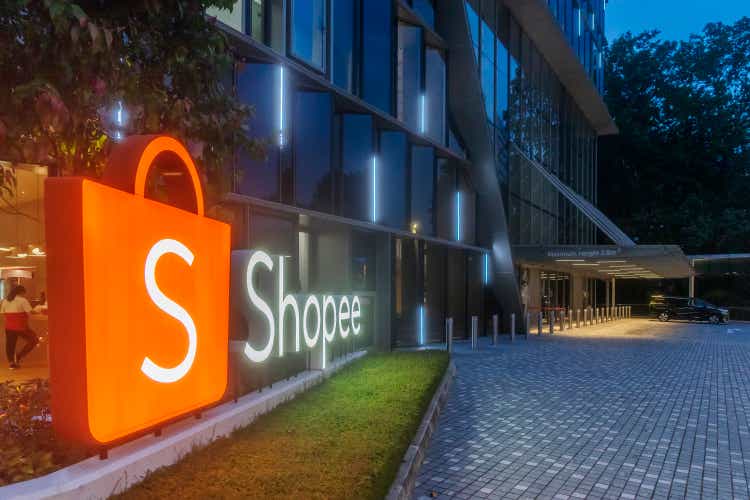 Introduction
If last Monday, you only looked at your portfolio at the end of the day, you missed the high volatility of Sea Limited's (NYSE:SE) stock that day. It was down about 10% in the early market hours but it ended up 0.93% if you added the after-market move. During market hours, it was up 0.74%.
In the meantime, the stock continued to climb after this news and at the moment of writing, it's up 13.5% in a week.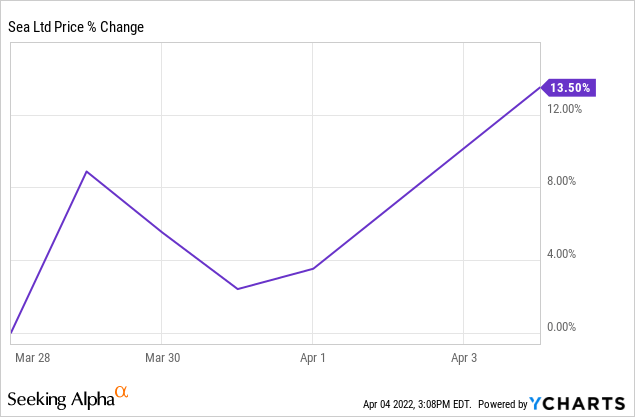 Shopee India had just launched a few months earlier, in October 2021, when it started recruiting sellers in the country. It offered very interesting conditions to attract sellers, such as free shipping and zero commissions.
The Confederation of All India Traders or CAIT had filed a complaint that Shopee used predatory pricing tactics. The complaint actually summarized well how Shopee can grab so much market share so fast in new markets.
Shopee's deep discounting tactics, including flash sales of products for Re.1, Rs 9 and Rs 49, were aimed at attracting a large base of customers and consumer preference data which the company could use to its advantage.
The CCI (Competition Commission of India) had dismissed this claim. The CCI confirmed the tactics but it said that Shopee didn't use these tactics to kill competition, as its position didn't allow that yet. CAIT had also claimed that Shopee should be banned from India, just like Free Fire because of its ties with Tencent (OTCPK:TCEHY). As far as I know, there has been no news about that part of the claim. Tencent still owns 18% of the shares and it has committed to holding substantial ownership for the longer term. Its voting power in Sea is now less than 10%, which is a crucial threshold.
The pieces of the puzzle
While the first reaction I had (and maybe you and the market as well) was that this had to do with the Free Fire ban, this paragraph of the Tech Crunch article seems to suggest otherwise:
A source familiar with the matter told TechCrunch Shopee's India shutdown decision is not linked with the Free Fire ban in India.
Shopee India is not the first market that was closed a few months after the launch. Shopee France followed the same trajectory and that adds to the probability of this being true, although there could have been some form of trade-off behind the scenes. Something like: "If you withdraw Shopee from India, we might be much more willing to allow Free Fire again." Free Fire is a cash machine, Shopee India is a money-losing initiative so that trade-off would probably be a no-brainer for Sea. But this is pure speculation. I'm not trying to launch any conspiracy theory here.
The real reason to shut down Shopee India is probably much simpler. Just look at this statement from Sea that Tech Crunch cited (my bold).
In view of global market uncertainties, we have decided to close our early-stage Shopee India initiative.
This is business talk and quite vague, but I think it's quite clear what's going on if you look at the context. Remember this quote from the Q4 conference call?
We currently expect Shopee to achieve positive adjusted EBITDA before HQ cost allocation in Southeast Asia and Taiwan by this year.
And this one:
In Brazil, where Shopee was launched in late 2019, we have already achieved strong traction with meaningful commercialization and improving efficiency.
And this one:
However, we strongly believe that by investing prudently and sustainably in Shopee Lat Am and Brazil in particular, we will generate significant value for our shareholders in the long run.
Sea also expects SeaMoney to be cash-flow positive next year already (2023).
Let's put the pieces of the puzzle together here.
(1) Sea will focus much more on profitability.
(2) There were 19 mentions of Shopee Brazil on the conference call and none of Shopee India
(3) Shopee India would be a vast money-losing operation for years to come.
(4) Shopee Brazil is much further down the road than Shopee India.
(5) The company sees that what it does is working in Brazil.
If you put everything together, I think that there is logic in the statement of Sea that looked so vague. So I'll repeat it here:
In view of global market uncertainties, we have decided to close our early-stage Shopee India initiative.
I think it's obvious that Sea sees what the market wants right now: more profitability, less money-losing growth. If the circumstances change, companies should change.
Learning from the past
When the dotcom crash hit Amazon, this is how its EBITDA changed.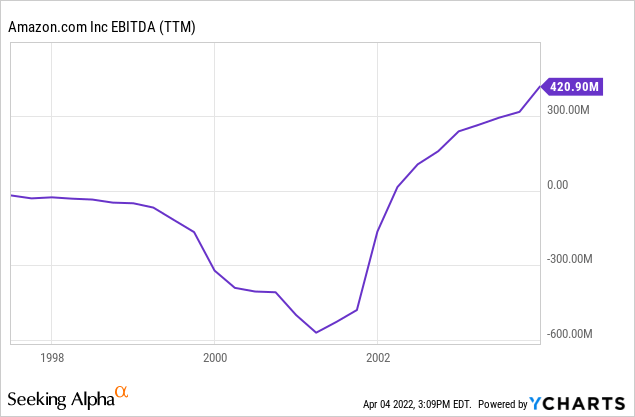 As you can see, the EBITDA of Amazon (AMZN) was negative all of the time, went down much more during the crash and then Amazon said that it would focus more on profitability and did so. Does this sound familiar? From that point on, Amazon's EBITDA just kept growing.
Mind you, it took a few years after the dotcom crash started before Amazon showed its power by posting positive EBITDA.
Is this a management mistake?
There are still a lot of other new Shopee markets, including Mexico, Colombia, Chile, Spain and Poland. Over the short term launching in so many countries at the same time has big implications for Sea's profitability. The fact that the market seems to have turned, that inflation is high and that interest rates will go up makes that we have a new situation. That's what's meant by
In view of global market uncertainties, we have decided to close our early-stage Shopee India initiative.
Sea adapts to the new situation very fast. I would not be surprised if it closed its Spanish arm as well. And who knows, maybe even a few others, where Shopee doesn't see the traction that it had expected. In this new situation, that's not a mistake by the management, to the contrary. Adapting to new circumstances very fast is what the best companies of our time have always done. Netflix (NFLX) was going to launch Quikster and shut down the initiative after just a few weeks when it saw the reaction of customers and the market. Amazon focused on EBITDA when the market demanded that. Google (GOOGL) (GOOG) has also an impressive list of mistakes and failures and even Apple (AAPL) has scars.
If you want the perfect company, one that never makes any mistakes, you should probably invest in a company that has gone bankrupt. If you have to make decisions, you will make mistakes.
The number of errors that Amazon made is legendary and inherent to its business culture. The legendary Fire Phone was just the tip of the iceberg. You can read this list of 56 other failures. Here's a list of 50 Google failures. And here are 23 Apple mistakes. If you are still not convinced, Microsoft (MSFT) has probably wasted more money on failures than any other company. These are just 15 on the list.
Of course, no single mistake is identical. There are hardware and software mistakes. Usually, software mistakes are much less expensive. What you see is that hardware is shut down much faster; for software, it's often a few years, for the hardware failures, it's often in months. With its investments in zero commission and free shipping, Shopee resembles hardware failures much more and closing fast makes a lot of sense.
With hindsight knowledge, mistakes always look obvious. What was Microsoft thinking with its Nokia acquisition? Why did Amazon try to launch the Fire Phone? What was Google thinking when it launched the Google Glasses? Well, often, these companies had excellent reasons at the time. They saw a trend that they wanted to join, they saw an opportunity for competing, and they thought they could address a new market.
How I think about this
The same goes for Shopee. With the fast expansion, it thought that it made the best decision with everything known at the time. Don't forget that Sea went into these markets before October 2021. Only in November there was talk about inflation getting out of control and maybe not being transitory. It made a lot of sense going into new markets with the numbers Garena put up and the low-interest environment we lived in. Now that the circumstances have changed, the company has changed its strategy. That makes sense to me.
You can always interpret this kind of news in two ways. You can say that management screwed up, or you can say that management tried out a great opportunity.
Sea still has a lot of cash on its balance sheet, about $10B.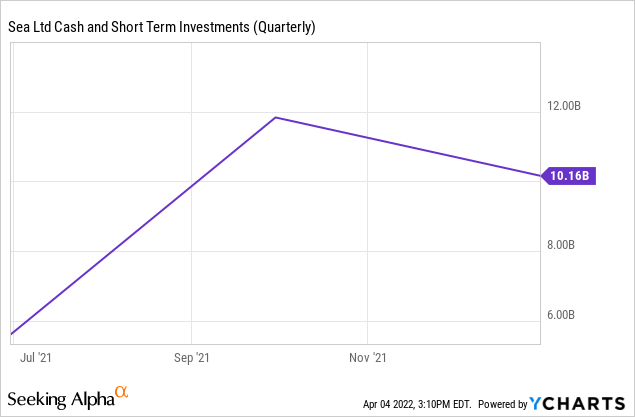 At the same time, Garena remains a cash cow, even though it's not expected to grow anymore. But it adds to Sea's money pile. In an environment that looks suspiciously at companies investing huge piles of money for growth, and that only changed a few months ago, Sea changed its strategy. It will now focus on fewer markets where it has seen proof of traction, which can bring the scale of economy that Sea wants and it will focus on EBITDA profitability much faster than it had probably foreseen. That's more a sign of excellent management than poor management, in my opinion.
India probably only adds low single digits when it comes to Shopee's GMV (gross merchandise volume, the total dollar amount of all the products sold on the platform). Probably just 1% or 2%. Usually, Shopee beats that guidance. Maybe it just meets now, we'll have to see, but to me, this doesn't change the long-term thesis.
Shopee is still in a dozen other growth markets. It may shut down one or maybe a few others, but it will remain focusing on its 7 core markets: Singapore, Malaysia, Indonesia, Philippines, Taiwan, Thailand, and Vietnam. I am sure that it will keep investing heavily in Brazil too, as it clearly sees early signs of success there, with revenue up by 626% YoY in Brazil.
Mexico, Colombia and Chile are less certain and much earlier but I expect them to continue to invest there, but in declining order of certainty: Mexico, Colombia, Chile. I'm not sure about Poland, although there are positive signs there, and even less sure about Spain as these are even much earlier and in a completely different market environment, resembling France a bit. I think there is a fairly high chance that Spain could also see Shopee leave, but we'll have to see. It is also possible that India was the last pull-back. As an outsider, you can't judge as well as the company, with its vast data points that it can use to make the necessary decisions.
Conclusion
We are in a different environment now and Shopee adapts to that new environment. I think that's more a strength than a weakness, although I'm sure enough people will explain it as a failure of Sea's management. That's OK; everybody is entitled to their own opinion.
Shopee is still a very young company, just 6 years old (launched in 2015) and it has already shown impressive results in that short journey. It overtook Lazada and all other local players and became the number 1 in all of the Southeast Asian markets and Taiwan. I'm confident that many other achievements will follow, but there will always be mistakes and stumbles. Knowing that Sea's management is not afraid to lose face by turning back the clock on what doesn't seem to work in the current circumstances doesn't lower my conviction.
In the meantime, keep growing!