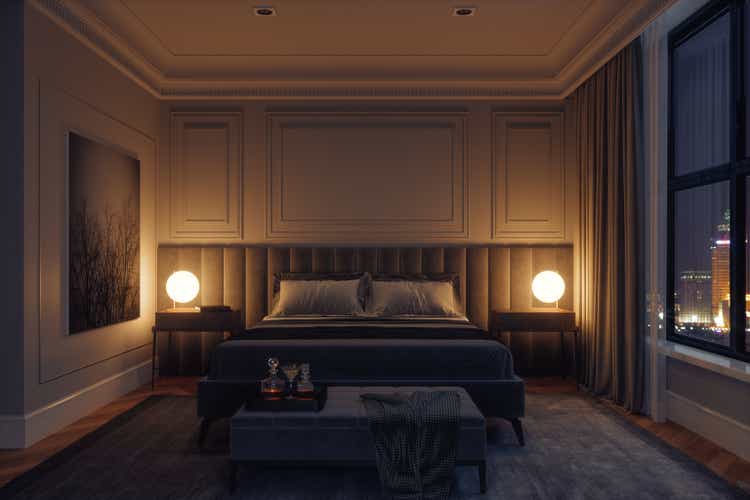 The enormous amount of selling we've seen in particular sectors of the market this year has created a lot of pain among investors, but also opportunity. If you've got cash to invest, right now I see opportunities all over the place in just about everything. I believe the bottom is in, and as such, I've been shopping.
One area I think will do very well in the next year or so is consumer discretionary. The area had a huge amount of demand pulled forward during the pandemic, as consumers spent stimulus checks, vacation and entertainment budgets, and discretionary income on stuff. During the early stages of the pandemic, there wasn't much else to spend money on, other than home improvement, perhaps. One stock that hits both of these categories is RH (NYSE:RH), one of my favorite growth stories for many years.
The stock has been obliterated this year as demand has softened, and investors fret about a recession. However, keep in mind stocks always bottom ahead of the news cycle, so it certainly appears to me that RH is being punished for what has probably already happened. The stock is also at cyclical lows in all kinds of valuation metrics, and I also happen to think this company's model is well proven. With all this in mind, let's take a look at the bull case for RH.
Ugly Chart, But Signs Of Life
Of course, RH is in a massive downtrend, given it is oriented to growth, consumer discretionary, and home improvement. There aren't many worse combinations for a stock in 2022, and RH has felt the pain, plummeting more than 70% this year. The outlook update from late June sent the stock reeling once more, resulting in yet another low.
None of this is good, but I see signs of life. The accumulation/distribution line has turned higher, moving up since the May low about seven weeks ago. Investors only accumulate stocks they believe will go higher.
Second, the PPO bottomed back in January, if you can believe that, and has been putting in positive divergences since then. This most recent low was accompanied by another higher low in the PPO, which is a very good sign for the selling pressure to be abating, rather than accelerating. Stocks can only bottom when there are more buyers than sellers, and it looks like that's what's occurring, although it's early and we'll need confirmation from price.
Finally, while RH has performed poorly this year, the home improvement sector has actually beaten the S&P 500 since the bottom in late March. You want to own stocks in leading sectors, and I think RH is one of those, but with its own powerful tailwinds.
The bottom line on the chart is that RH is in a downtrend until proven otherwise, but I see cause for optimism that we've already bottomed, or are very close to doing so. We'll get confirmation when RH breaks out of its channel to the upside, and in particular, when it crests the 50-day SMA and turns it higher.
Let's now take a look at what I believe is a compelling fundamental case for RH.
Growth Levers Everywhere
RH reinvented itself several years ago when its sales were lagging, and profitability was weak. The management team divested and invested as necessary to rebuild the brand, expanded to new product lines, and made its galleries destinations, rather than furniture stores. The point is the management team is willing and able to do whatever it takes to drive results, even if that means doing things differently to everyone else. In addition, when something doesn't work, they don't simply hold the bag; they kill it and try something else. This kind of innovative and continuous improvement mindset is something I value a lot in a management team, and I feel this is something that has driven the results the company has produced in recent years.
Now, the current outlook isn't great because estimates were ahead of reality during the pandemic, and because we're now facing a consumer-led recession in 2022. Behold the tremendous weakening of expectations, and if you were wondering why RH shares have cratered this year, wonder no more.
This is just unpleasant to look out as estimates have been destroyed in recent months. While this hurt if you held RH during 2022, if you're buying now, the odds of upward movement in the years to come are now much higher than they were six months ago. This is the kind of opportunity I mentioned above; buying when there's proverbial blood in the streets is optimal, and this is just ugly.
The company said in its outlook update that it is seeing lower demand than expected due to economic headwinds, and that it expects demand to soften further in the second half. That would result in full-year revenue contraction of 2% to 5%, with adjusted operating margin in the range of 21% to 22%. The company noted the second quarter outlook was unchanged.
RH noted higher mortgage rates and high-end home sales declines as causes for softening demand. I'm not sure any of that was a surprise, but perhaps more worryingly, RH said the next several quarters would pose a short-term challenge. RH is still divesting products and lines that don't support high margins and/or the vision of the brand, and it expects some of the demand that was pulled forward during COVID to come home to roost starting now.
All of this adds up to a weakening revenue environment, and the principal risk of owning RH right now is that the company's update isn't bearish enough. If conditions deteriorate further into 2023, this stock could go a lot lower, so keep that in mind. This is not a buy-and-forget stock; it's volatile so you have to pay attention and if we see further deterioration, get out.
This is a trailing-twelve-months look at gross margins and operating margins, which is one of the best stories in retail, in my view. I mentioned a few years ago RH reinvented itself, and this is the result. The company focuses now on high-margin, sustainable businesses, and rids itself of everything else. Operating margins are in the low- to mid-20s, which is tremendously high for a furniture company. Gross margins continue to rise, and the company is leveraging down fixed costs, resulting in larger and larger black bars on the chart above.
Operating margin guidance was for low-20s for this year, which is obviously a deterioration. RH is still grappling with supply chain constraints (like just about every other company in the world) and softening demand. Both of those are headwinds to operating margins, so don't be surprised to see two to four quarters of below-trend operating margins. However, on a long-term basis, we have no reason to believe RH has suddenly forgotten how to operate. Recessions and pullbacks in consumer spending happen, and they will always take a toll on RH. This is one of those, but it also means the stock is cheap.
We've looked at revenue and margins, which are two ways to boost EPS. The third way is what we'll look at now, and that is simply to reduce the number of shares that are outstanding, which juices EPS whether actual earnings grow or not. Below is a look at RH's share count for the past several years to get a baseline.
RH has repurchased shares in the past, but unlike more mature companies that buy back some each quarter or each year, RH does big bang repurchases all at once. We can see fiscal 2018 was such a period, with the share count declining by about 40%, before the share count gradually moved higher to ~25 million shares as of the end of the most recent quarter.
RH had $450 million remaining on its prior buyback authorization before it added a further $2 billion about a month ago. If you're keeping score at home, that's $2.45 billion in share repurchase authorizations for a market cap of $5.9 billion. That's good for another 40% reduction in the float, and I think it could happen quickly, as it did in FY2018.
Interestingly, when the company updated guidance on June 29th, it noted it hadn't purchased any shares on its new authorization, which had been in place for four weeks at that point. In hindsight, that seems pretty brilliant since shares are a lot cheaper now, but it also means we can be very sure there's still $2.45 billion remaining. At the current price, RH could buy ~11 million shares, which would leave the retailer with ~14 million outstanding. We may not get 11 million shares, because I think the price will run higher before the company can spend that much, but it should be a huge reduction in the float, and therefore, EPS leverage.
You may be wondering how RH could possibly afford to buy back 40% of its float, but the company has the cash right now to do so.
We can see cash is ~$2.2 billion, and it produces strong free cash flow every quarter. That means it really could start buying back enormous numbers of shares immediately. Long-term debt is ~$2 billion, which is more than serviceable for RH, and it's critical to note RH does not need to take on more debt to fund share repurchases. We see some companies do debt-for-equity swaps, essentially, by borrowing to buy shares. This is not that.
Valuation Is Already Pricing In A Recession
As you may expect, RH's valuation is in the trough. That tends to happen when market leaders fall 70% in the space of less than a year. However, RH is truly scraping the bottom at this point, and it makes the stock all the more attractive.
Price-to-forward earnings is at ~10X right now, compared to a peak of 34X and a COVID panic low of 6X. I doubt we'll see 6X earnings so the bottom is likely very near; the COVID panic was an extraordinary event in human history with extraordinary valuations as a result. On the other side, I don't think we'll see 34X earnings anytime soon either. But the average at 19X? Absolutely. All we need is for recession fears to pass (and they will), and RH should be back towards, or even into, the 20s in terms of forward P/E.
If it's cash flow you fancy instead, the stock is very cheap on that measure as well.
The valuations are similar since earnings and cash flow closely match each other with RH, so I won't go through the whole thing again. The point is that this is a very valuable business with favorable long-term prospects at a very cheap valuation. Will it require patience? Yes, but that patience could be rewarded enormously.
Final Thoughts
Higher interest rates, slowing housing sales, and fears of a recession are all taking a toll on RH. However, those things are temporary and this company has proven itself an extremely profitable leader in a space that will never go away. People aren't going to stop furnishing their homes, and RH will be there to grab that revenue in the years to come. The stock is still very much in a downtrend, but for a long-term buy, there aren't many better values out there right now, in my opinion.