As important as hustle is, grit and resilience are equally as important. – Troy Carter
Despite Reinsurance Group of America's (RGA) reporting a 22% net income decline on its Q2 2020 earnings report, RGA managed to snag an A+ (Superior) Financial Strength Rating and an "aa-" Long-Term Issuer Credit Ratings from AM Best. The insurance industry as a whole is embattled by the current low-interest environment, a spike in mortality leading to higher than expected claim payments, regulatory and operational challenges, and slumped consumer finances. But there might be gains to be had in RGA.
RGA is one of the top global providers of traditional and non-traditional life and health reinsurance products with $3.5 trillion of life reinsurance in force and $76.7 billion of assets as of December 31, 2019. It has operations in the U.S., Latin America, Canada, Europe, Middle East, Africa, and the Asia Pacific. Its core products and services include life reinsurance, living benefits reinsurance, group reinsurance, health reinsurance, facultative underwriting, and product development.
Figure 1. RGA 12-month Share Price
Financial Performance
Notwithstanding the current economic crisis and the adverse net foreign currency effects, RGA reported a 1% increase in consolidated net premiums totaling $2.8 billion. Year-to-date revenue grew by 2% to $5.6 billion. Investment income, on the other hand, decreased by 1%. Because of higher claims and benefits and accelerated other insurance expenses, second quarter net income declined $158 million from $202 million for the same period last year. COVID-19 claims were estimated to be $300 million on a global basis. This is a reduction of $200 million from the original estimate. The company expects the U.S. will continue to be the key driver of COVID-19 mortality claims in the near term.
Dividends, Price Forecast, and Valuation
The company adopted a stable dividend policy in the last ten years. Payout is consistent, and dividend per share has grown at approximately 23% per year. The current dividend yield stands at 2.7%. RGA one-year return lags behind the industry and market benchmark, but its 17.1% 90 days return outperformed the 6.6% industry return and 12.6% market return. Analysts estimated RGA to be 30% undervalued than the current market price and 12-month median price forecast is at $105.
Figure 2. RGA 12-month Price Forecast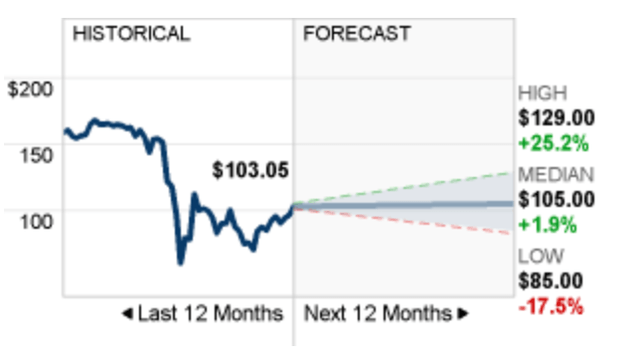 Source: CNN Money
Resilience and Growth
AM Best's superior financial strength rating for RGA reflects the strength of its balance sheet. In the face of COVID-19, the company's consolidated risk-adjusted capitalization remains at the strongest level. Its high-quality investment portfolio and adequate liquidity provide a buffer for the crisis. The company experienced a material level of excess mortality claims from its U.S. segment, but its diversified global platform partly offset this. 45% of RGA's revenues come from international operations. RGA is recognized for its innovative solutions. It is expected to continue global expansions by creating leading-edge service offerings to new and existing clients. Analysts forecast earnings to grow significantly over the next three years. The digital disruption in the insurance industry is also an opportunity for operational efficiency.
Summary
RGA may not be as dazzling as other A-lister stocks, but the stable dividends coupled with a strong financial position are a reasonable value proposition. It is well worth adding to investors' watch list. At times like this, resilience is indispensable.
Like this article? Don't forget to hit the Follow button above.
Disclosure: I/we have no positions in any stocks mentioned, and no plans to initiate any positions within the next 72 hours. I wrote this article myself, and it expresses my own opinions. I am not receiving compensation for it (other than from Seeking Alpha). I have no business relationship with any company whose stock is mentioned in this article.
Additional disclosure: This writing is for informational purposes only and Lead-Lag Publishing, LLC undertakes no obligation to update this article even if the opinions expressed change. It does not constitute an offer to sell, a solicitation to buy, or a recommendation regarding any securities transaction. It also does not offer to provide advisory or other services in any jurisdiction. The information contained in this writing should not be construed as financial or investment advice on any subject matter. Lead-Lag Publishing, LLC expressly disclaims all liability in respect to actions taken based on any or all of the information on this writing.