Rattler Midstream (NASDAQ:RTLR) survived the second quarter despite a stock market price that figured otherwise.
Source: Seeking Alpha Website September 4, 2020
Clearly, the market appears to believe that the distribution was in danger. Mr. Market has been a slow learner about midstream results in a downturn. Unless that downturn persists for years, the midstream crowd will be relatively unaffected by the downturn. Yet the price action suggests a major future impediment to business that necessitates a distribution cut followed by a long struggle. Even a cursory review of the financial statements reveals that nothing could be further from the truth.
Leverage
Rattler Midstream has the lowest midstream leverage of the partnerships that I follow on a regular basis.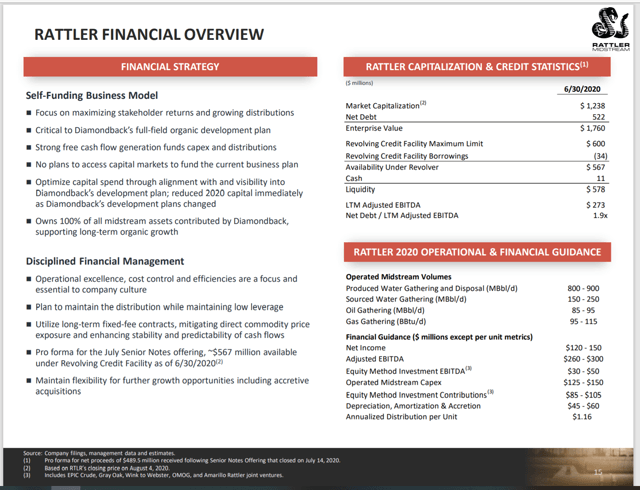 Source: Rattler Midstream Second-Quarter Earnings Conference Call Presentation July 2020
The leverage ratio shown above is far less than what Mr. Market considers a conservative leverage. Enterprise Products Partners (NYSE:EPD), which has long been considered a low financial leverage partnership, reported the financial leverage ratio of 3.4 recently. Admittedly Rattler has one main customer and is not diversified to other basins. Those are additional risk factors. But this does not take away from what is clearly one of the best balance sheets in the midstream industry.
Furthermore, while earnings took a considerable hit as Diamondback Energy (NASDAQ:FANG) idled production and stopped completing wells, the contract minimums protected the business as planned. Mr. Market focused on the falling activity and immediate volume declines that accompanied that lower activity.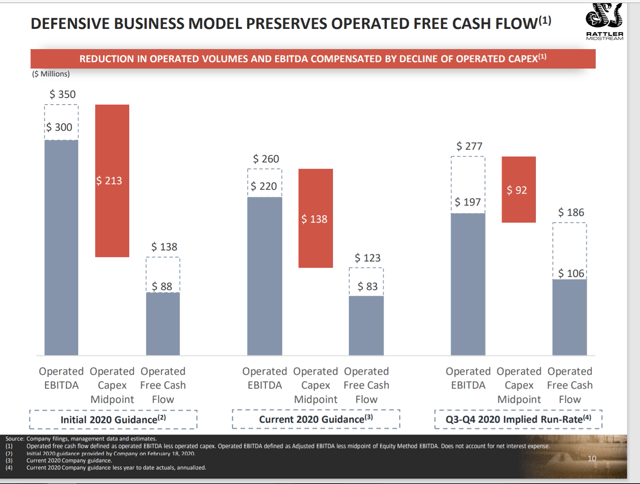 Source: Rattler Midstream Second-Quarter Earnings Conference Call Presentation July 2020
Mr. Market missed the fact that capital requirements will decline even during the recovery period of the industry. The result is that available cash flow after capital expenditures remains relatively the same.
More importantly, this low-leverage midstream has the ability to borrow to maintain the distribution in very financially comfortable fashion. Any potential distribution cut would likely rapidly be undone during any recovery. As shown above, the business itself remains in place. The real question is how long it takes to recover from the coronavirus issues.
Capacity was being added rapidly to aid the relatively rapid growth of Diamondback Energy. Obviously, that rapid growth has come to an end currently. How long it takes for "normal" and the accompanying oil demand growth to resume is really anyone's guess. In the meantime, a low-cost producer like Diamondback Energy can make it through the current downturn in a relatively decent shape.
Diamondback Energy generally made acquisitions for stock while drilling within cash flow. Management relegated any outspend to the acquisitions. The use of stock did add to outstanding shares. But it also allowed for a low debt balance sheet and hence strong credit rating by the credit agencies. All of this points to a company that will lead the industry recovery from the coronavirus demand destruction.
Rattler Area
Rattler currently services the major basins of Diamondback Energy only.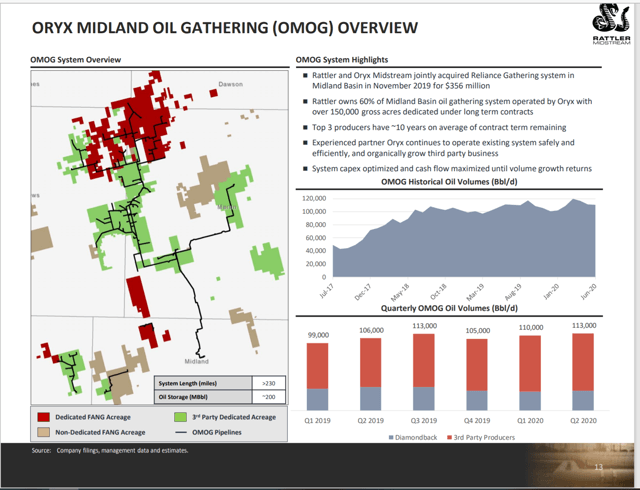 Source: Rattler Midstream Second-Quarter Earnings Conference Call Presentation July 2020
However, within those basins, Rattler is beginning to acquire customers other than Diamondback Energy. There had been a management goal to service other customers. That management goal appears to be underway now. Diamondback Energy is still by far and away the major customer responsible for much of the revenue.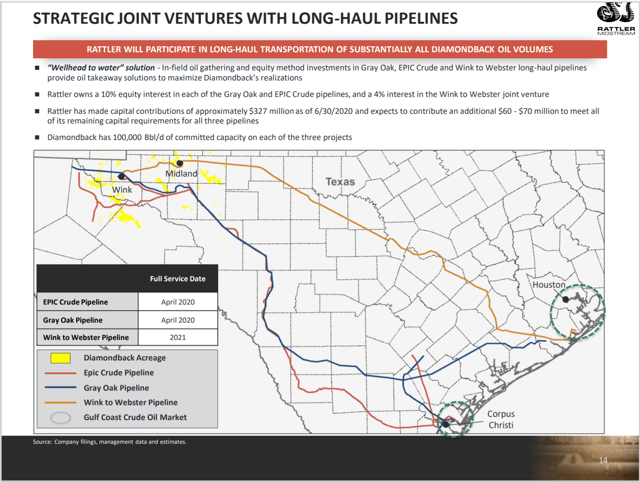 Source: Rattler Midstream Second-Quarter Earnings Conference Call Presentation July 2020
The other evolution is that Rattler will get the production to market. The initial emphasis of Rattler was to service the midstream needs of the Diamondback leases while connecting to other pipelines. Now Rattler is entering joint ventures to secure future capacity while participating in the midstream profits.
Much of what Diamondback produces needs to be exported. The United States refining system generally uses heavy oil to make products. The oil produced by the unconventional industry usually (not always) needs to be exported as a result. Clearly Rattler now has the capacity to get the oil to a market or for export. No longer is Rattler simply a "gathering system" that connects to another pipeline. The participation in these long-haul pipelines combined with acreage dedication allows the Diamondback organization more assurance of available pipeline capacity when extra pipeline capacity becomes scarce.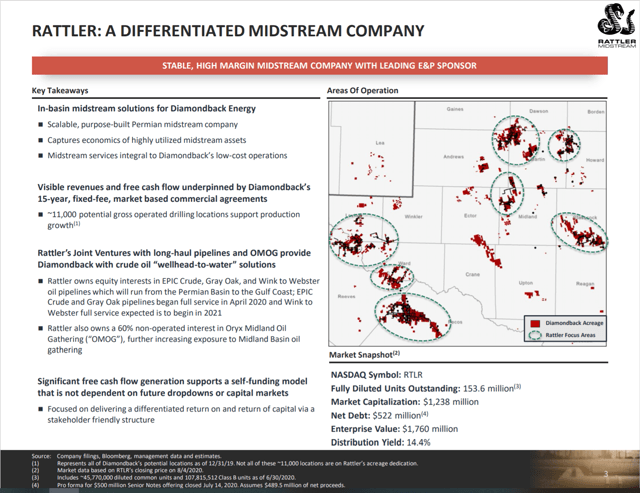 Source: Rattler Midstream Second-Quarter Earnings Conference Call Presentation July 2020
Rattler also manages the water handling system, which also keeps costs low for Diamondback Energy. Rattler also helps the market value the midstream part of the Diamondback business. Diamondback owns most of the outstanding shares of Rattler. The value of the business is also part of the value of owning Diamondback Energy shares.
The steadiness of this business even when Diamondback Energy stopped completing wells helps when the upstream cash flow falls. This subsidiary and Viper Energy (NASDAQ:VNOM) form a recession-resistant cash flow that makes the earnings of Diamondback Energy a little less volatile during downturns.
But that makes an investment in Rattler a little safer knowing that the main customer has reduced earnings volatility due to the substantial midstream ownership.
Conclusion
Rattler Energy has a lot of growth ahead as does Diamondback Energy. As a low-cost producer, Diamondback Energy will be among the first companies in the Permian to recover as the coronavirus demand destruction fades.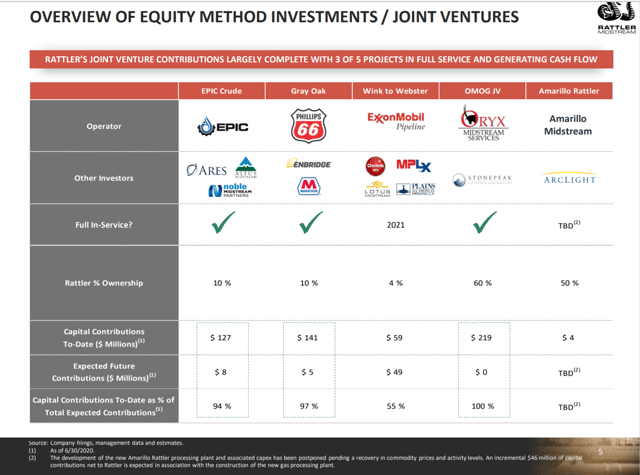 Source: Rattler Midstream Second-Quarter Earnings Conference Call Presentation July 2020
Free cash flow will be robust for a while. The unexpected demand destruction has made the current capacity adequate for a while. Rattler will have the choice of further reducing debt or increasing the dividend during the demand recovery period. Most major expansion projects have been delayed to give the whole industry time to recover from an extraordinary situation.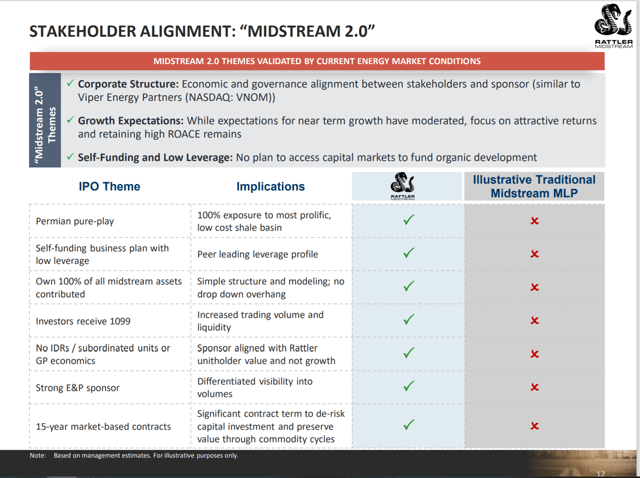 Source: Rattler Midstream Second-Quarter Earnings Conference Call Presentation July 2020
Location in the oil industry is every bit as important as location in the real estate business. Rattler and Diamondback have great locations and as a result decent profitability and growth prospects.
Rattler itself has the strongest midstream balance sheet I have ever seen in the industry. The dependency on Diamondback ties the prospects of Rattler to the prospects of Diamondback. In the past, Diamondback Energy tended to grow production quickly. Current pricing has put a pause to that growth rate. But that growth rate will be back when business conditions normalize.
The unconventional industry is a very young one. There is still a lot of improvements sweeping the industry. That is likely to continue for a while. Rattler itself can grow both through increasing Diamondback production and by servicing other customers. The diversification away from Diamondback has begun. Investors should expect more careful moves like that in the future.
In the meantime, this midstream offers a nearly 15% yield, plus price appreciation to previous levels as midstream partnerships recover. Then Diamondback is likely to resume its 20% to 40% annual production growth within a few years. Very seldom are investors paid such a generous distribution while waiting for a very fast growth rate to resume. This limited partner is an excellent bargain for many types of investors.
I analyze oil and gas companies and related companies like Rattler Midstream in my service, Oil & Gas Value Research, where I look for undervalued names in the oil and gas space. I break down everything you need to know about these companies – the balance sheet, competitive position and development prospects. This article is an example of what I do. But for Oil & Gas Value Research members, they get it first and they get analysis on some companies that is not published on the free site. Interested? Sign up here for a free two-week trial.
Disclosure: I am/we are long VNOM, FANG, RTLR. I wrote this article myself, and it expresses my own opinions. I am not receiving compensation for it (other than from Seeking Alpha). I have no business relationship with any company whose stock is mentioned in this article.
Additional disclosure: Disclosure: I am not an investment advisor, and this article is not meant to be a recommendation of the purchase or sale of stock. Investors are advised to review all company documents and press releases to see if the company fits their own investment qualifications.