Welcome to the 29th quarterly review of DivGro, my portfolio of dividend growth stocks.
In quarterly reviews, I summarize the transactions executed in the past quarter and provide a summary of dividend income and dividend changes. Moreover, I include charts showing various portfolio statistics. The reviews are mostly informational and help to track progress over time.
DivGro generated $7,013 in dividend income this quarter and I'm projecting dividend income of at least $7,610 per quarter going forward.
The year-to-date dividend income total is about 26% of my 2020 goal of $27,000. DivGro's all-time dividend income total is $98,000.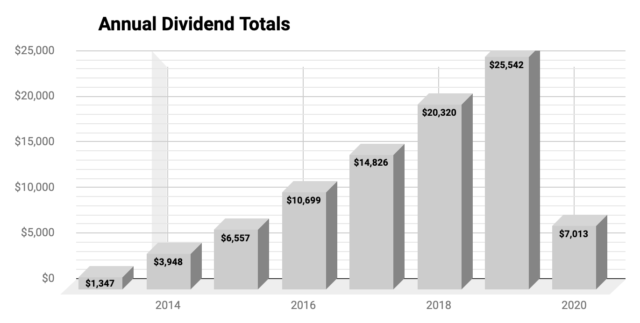 Dividend Income
In Q1-2020, I collected dividend income totaling $7,013, up 18% from the dividends received in Q4-2019 and up 4% from the dividends received in Q1-2019.
I received quarterly dividends from 73 different stocks:
I also received two quarterly dividends from the following fund, one payment in January and one in March:
Additionally, I collected monthly dividends from 2 different stocks:
Finally, I received one semi-annual dividend payment:
The following chart shows DivGro's dividend income by quarter:

Dividend Changes
Last quarter, I reported a projected annual dividend income (PADI) of $26,358. This quarter, PADI increased to $29,432 and relative to the total capital invested, DivGro's projected annual yield is 4.89%.
The following table shows the stocks in DivGro that announced dividend increases in Q1 2020. I'm including the new annual dividend and yield on cost (YoC).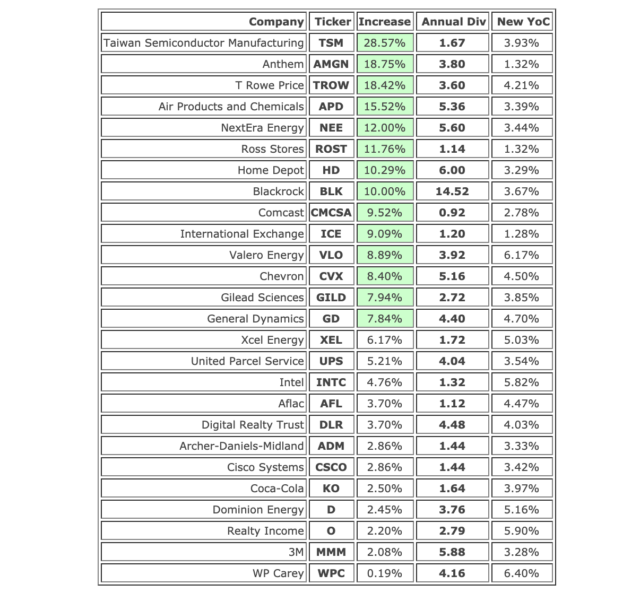 DivGro's average YoC is 3.78%, up from the 3.65% reported at the end of Q4 2019.
I'd like to see dividend increases of at least 7% and I'm happy to see fourteen such dividend increases! The arithmetic average of the increases in Q1 2020 is 7.66%.
Dividend Growth
Some stocks announce dividend increases more than once per year, so when considering dividend growth, it is better to look at year-over-year increases. Here is a chart of the one-year dividend growth rates of stocks in DivGro, as of 31 March 2020: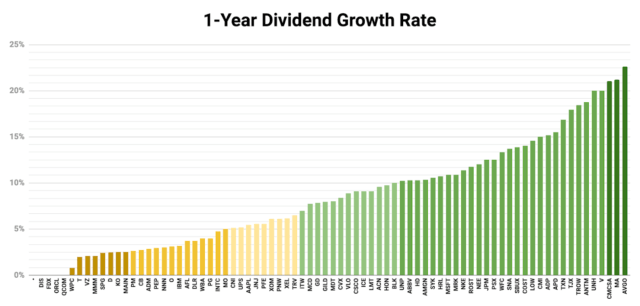 At 8.61%, the (arithmetic) average year-over-year dividend growth rate of dividend growth stocks in my portfolio is well above 7%, which makes me a very happy dividend growth investor!
And here is a chart of the 5-year dividend growth rates of my dividend growth stocks: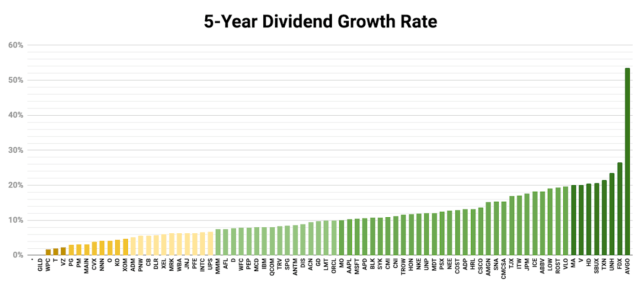 Generally, I would expect stocks with smaller dividend growth rates to offer higher yields.
Here is a summary of the dividend yields offered by stocks with the lowest 5-year dividend growth rates, and a column showing the so-called CDR number, which sums the dividend yield and the 5-year dividend growth rate [DGR]: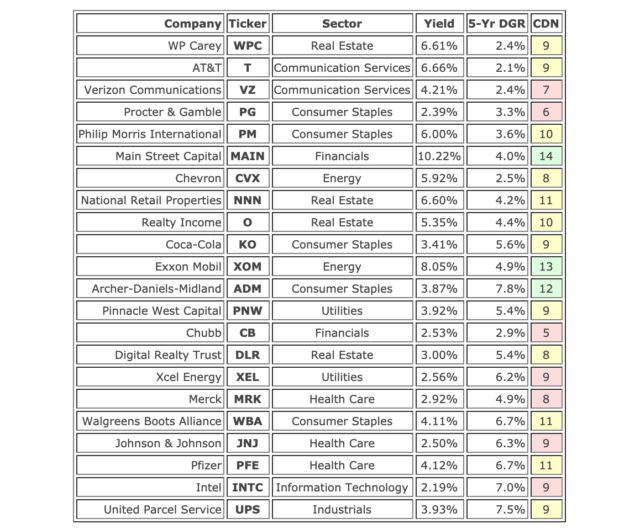 I color-code the CDN column to indicate a stock's likelihood of delivering annualized returns of at least 8%. Green means likely, yellow means less likely, and red means unlikely. I consider green CDN's favorable.
This year I'm focusing on increasing DivGro's growth prospects, and I'm doing so by targeting stocks with favorable CDNs. I avoid increasing my holdings of stocks with yellow CDNs, and stocks with red CDNs are candidates for reduction or elimination.
Transactions
This quarter I deployed new capital and options income to add new positions and to expand existing positions. I also trimmed and closed some positions.
New Positions
Closed Positions
Increased Positions
Reduced Positions
I covered these transactions in monthly reviews and other articles on my blog, so I won't rehash details here. Some transactions resulted from options assignments, while others continued my effort to strengthen DivGro's risk profile.
To assess risk, I utilize Dividend Safety Scores provided by Simply Safe Dividends (SSD):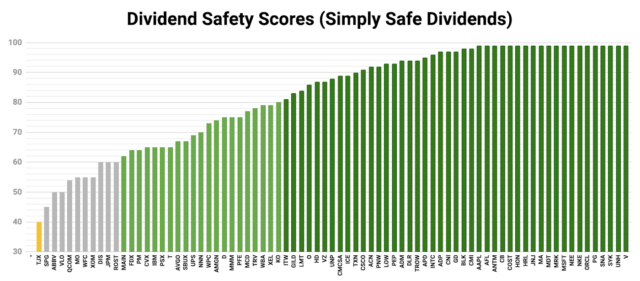 From left to right, the colors represent Unsafe, Borderline Safe, Safe, and Very Safe dividend safety scores. (I no longer own Very Unsafe).
DivGro now contains 90 different positions. Of these, 77 are dividend growth stocks, six are dividend-paying stocks, and two are CEFs (closed-end funds). I also own five stocks that do not pay dividends.
Here is the distribution of DivGro's holdings by sector: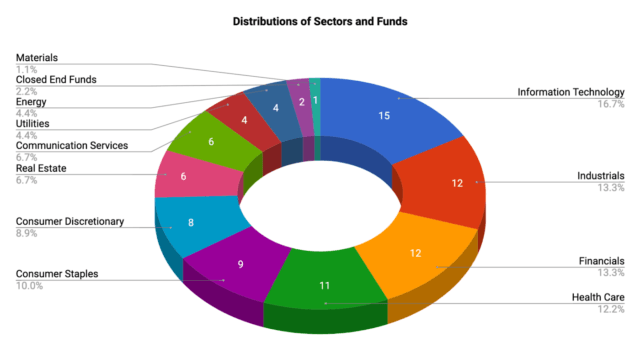 Market Value
At the end of Q1 2020, DivGro's market value represented a simple gain of 28% on the total amount invested. Of course, this does not take into account the timing and size of cash deposits. DivGro's internal rate of return since inception is 7.6%.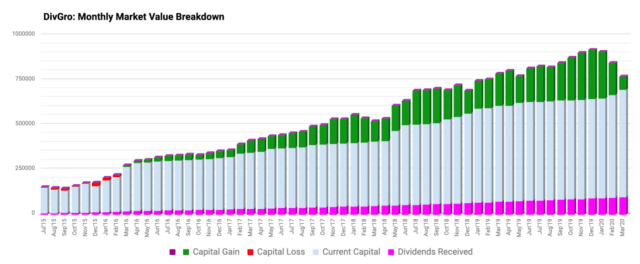 Portfolio Statistics
In quarterly reviews, I like to present general portfolio statistics.
First, let's consider the weight of individual holdings in DivGro. I prefer to see equal weights, but this is difficult to achieve because I sell covered call options and to do so I need 100 shares (or multiples of 100 shares). Quite naturally, therefore, my portfolio will not be ideally weighted.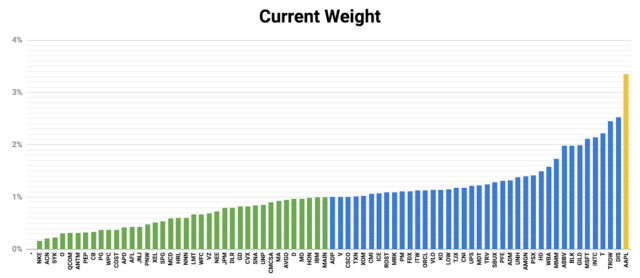 At 3.35%, AAPL is my largest position by far. I don't like having positions much larger than about 3.5% of portfolio value, and I'm happy to see that all my positions are less than 3.5% of portfolio value.
Next, let's look at the contribution of each position to DivGro's PADI, which depends not only on the stock's yield but also on the size of the investment. Here, T dominates with 4.27%:

Single positions that contribute more than 6% to DivGro's PADI make me nervous. Fortunately, I have none at this time.
Here is a chart showing the distribution of dividend yields of stocks in my portfolio: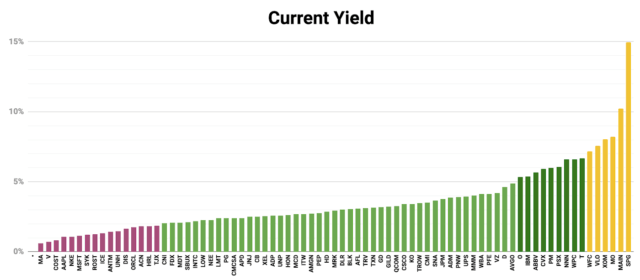 At 14.97%, SPG is the top-yielding position in DivGro. I'm getting nervous about SPG if the coronavirus pandemic causes a protracted recession. We'll have to see how it goes.
The arithmetic average yield of my portfolio is 3.54%, way up from last quarter's 2.82%. If I weigh yields based on each position's contribution to PADI, then the average yield is 4.80% (versus 3.69% last quarter).
The downturn experience in Q1 2020 certainly impacted my portfolio, as the higher average yields indicate!
About half of the stocks in my portfolio fall in the lower half of the 52-week trading range, as shown in the following chart: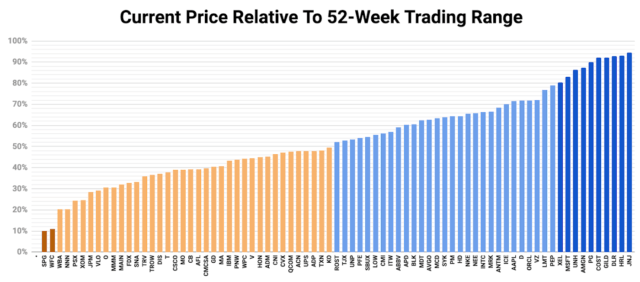 I find this chart particularly informative as it highlights positions that have stayed relatively strong despite the market's poor performance. Notice that JNJ is the best performer!
Concluding Remarks
Q1 2020 was a tough quarter, and DivGro's performance suffered along with that of the market.
These are tricky times, but such times create lots of opportunities! Many high-quality dividend growth stocks that traded at premium valuations just two months ago are available at discounts now!
And I'm getting my buy lists ready!
Thanks for reading and stay healthy, everybody!
Disclosure: I am/we are long AAPL, ABBV, ACN, ADM, ADP, AFL, AMGN, AMZN, ANTM, APD, AVGO, BLK, BNS, CB, CMCSA, CMI, CNI, COST, CRM, CSCO, CVS, CVX, D, DIS, DLR, ETO, FDX, GD, GILD, GOOG, HD, HON, HRL, IBM, ICE, INTC, ITW, JNJ, JPM, KO, LMT, LOW, MA, MAIN, MCD, MDT, MMM, MO, MRK, MSFT, NEE, NFLX, NIE, NKE, NNN, O, ORCL, PEP, PFE, PG, PM, PNW, PSA, PSX, QCOM, ROST, RTX, RY, SBUX, SNA, SPG, SYK, T, TD, TJX, TROW, TRV, TSM, TXN, UNH, UNP, UPS, V, VLO, VZ, WBA, WFC, WPC, XEL, XOM. I wrote this article myself, and it expresses my own opinions. I am not receiving compensation for it. I have no business relationship with any company whose stock is mentioned in this article.
Editor's Note: This article discusses one or more securities that do not trade on a major U.S. exchange. Please be aware of the risks associated with these stocks.