Pioneer Natural Resources (NYSE:PXD) managed to show stable results in Q2 2020. Despite lower realized oil prices, free cash flows were higher on the back of flat production and decreased capex. Pioneer is on track to generate $600 million of free cash flow in 2020. This will enable payment of $0.55/share quarterly dividend without any need for tapping into credit facilities. We believe that Pioneer will be a prime shale beneficiary of a recovery in oil from here on the back of its low-cost drilling activities and strong balance sheet.
Q2 2020 recap – $165 million FCF generation
Despite an extremely challenging oil price environment, Pioneer showed steady results during Q2 2020. FCF in Q2 at $165 million was better as against $100 million in Q1 2020 primarily on the back of lower capex. Pioneer lowered capital expenditures in Q2 to $235 million compared to $620 million in the preceding quarter. Cash flow from operating activities declined 60% to $325 million. This occurred because Pioneer's average price of oil dipped massively to $23.16/bbl in Q2 compared to $45.60/bbl in Q1. On a major positive note, average Q2 oil production slightly declined to 215,000 MBOPD vs 223,000 MBOPD previously. Moreover, Pioneer's controlled cash costs declined to $4.11/BOE compared to $5.81/BOE during 2019. The decrease in production costs is attributable to reductions in Lease Operating Expenses (LOE), lower workover activity, and reductions in production taxes. Specifically, LOE has declined substantially over the last year or so. LOE was $2.17/BOE in Q2, 13% and 27% down on QoQ and YoY basis, respectively. Pioneer believes that 60% of the Q2 2020 cost decrease is sustainable.
Q3 2020 guidance could be exceeded amidst sustained drilling activity
Pioneer has provided guidance for consistent drilling activities during 2H 2020. The average rig count will remain between 5 and 8, and the average frac fleet count will be between 2 and 3. Pioneer expects continued production curtailment of 6 MBOPD. Looking at the guidance for Q3 2020 (Chart 1), total production is estimated to range between 341 and 356 MBOEPD, 5-9% lower QoQ. Oil production is anticipated to be in the 191-201 MBOPD range, 7-11% down QoQ. Comparing the guidance for items such as production costs, DD&A, G&A, interest and other expense, we do not see any material deviation. We think that there could be positive surprises on the pricing and production fronts. Pioneer has partial production hedges, and as a matter of fact as we are already through two-thirds of Q3, average realized oil prices will be at least 65-70% above Q2. This in turn could also result in higher than expected production possibly emanating from higher completions. We thus believe that the management guidance for Q3 2020 could be exceeded.
Chart 1 – Pioneer Q3 2020 Guidance
Source: Pioneer Natural Resources, Q2 2020 Earnings Presentation
Pioneer expected to maintain quarterly $0.55/share dividend
We believe that Pioneer is on track to maintain $0.55/share quarterly dividend for the remainder of 2020 and through the first half of 2021. This is despite considering the downside risk in oil prices. Given the disciplined and curtailed capital expenditures and resilient production levels, the free cash flow guidance of $600 million for 2020 is comfortably achievable in our view. Pioneer's balance sheet is extremely strong. As at June 2020, Pioneer's unrestricted cash on hand and net debt amounted to $180 million and $2.0 billion, respectively. This unrestricted cash depicts a nearly $600 million dip compared to March 31, 2020. Pioneer has an unsecured credit facility of $1.5 billion that was undrawn as on June 30, 2020. However, in our view, it will not need to tap into the credit facility for dividend payments.
Pioneer's low drilling cost an advantage in the prevailing low oil price environment
Pioneer has one of the lowest breakeven cost among shale plays. A key reason for this is that its acquisition cost in the Permian basin is remarkably low at around $500/acre. This is substantially higher for peers (Chart 2). Pioneer has a first-mover advantage. This gives it enormous low-cost drilling prospects in the most prolific counties and reservoirs in the Permian basin. Pioneer continues to focus on efficiency improvements and cost optimization. This is reflected in the ever-decreasing production cash costs, which we have talked about earlier. We feel that this gives Pioneer an inherent advantage, given that the oil demand outlook is unclear, and prices are hovering around the $40/bbl level.
Chart 2 – Pioneer Resources: Permian Acquisition Cost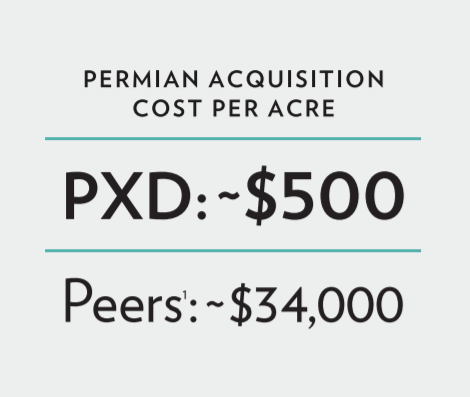 Source: Pioneer Natural Resources, 2019 Annual Report
Pioneer's FCF yield is close to 4%. This is in line with the historical average of larger peers such as Exxon Mobil (NYSE:XOM), Total (NYSE:TOT), and BP (NYSE:BP). We consider this to be significant because most of the companies, including the larger ones, have depicted negative cash flows during 2020. Another important thing is that Pioneer's FCF yield is substantially higher than its prevailing dividend yield, which is slightly over 2%. This shows that there is substantial cushion for an increase in shareholder returns. Pioneer has extremely low debt. It has a net debt to EBITDAX of 0.6x, and there are no major maturities before 2023. This gives it leeway to increase capex and pursue its production growth plans whenever oil prices improve. Pioneer has guided that its reinvestment will be 70-80% of cash flow, considering a number of factors, including commodity prices and economic outlook. We are positive on Pioneer because its healthy free cash flows and cost advantages are strengths in an uncertain and somewhat low oil price environment. Further, with a strong balance sheet and production enhancement prospects, Pioneer could actually prove to be a lucrative way to play an increase in oil prices.
Disclosure: I/we have no positions in any stocks mentioned, and no plans to initiate any positions within the next 72 hours. I wrote this article myself, and it expresses my own opinions. I am not receiving compensation for it (other than from Seeking Alpha). I have no business relationship with any company whose stock is mentioned in this article.