Orange (ORAN) has recently entered into a collaboration with Google Cloud Infrastructure (GOOG) as part of its corporate digital transformation strategy. The company intends to use artificial intelligence to extract useful information from its customer databases in a bid to enhance competitive advantage.
Also, despite the falling share price, the balance sheet remains resilient with diminishing liabilities. The company had cut dividends for 2019 back in April of this year as a precautionary measure because of COVID-19. Therefore, cash dividend payout ratio has also declined and is currently at 43%.
Figure 1: Orange's share price, quarterly total liabilities, dividend yields and cash payout ratio.
From the wider perspective, when compared to others, the telecommunication sector is playing a strategic role during this crisis in ensuring functioning of the economy by providing reliable networks which enable working from home and functioning of video conferencing apps like Zoom (ZM).
On the other hand, the COVID-19 pandemic persists and an element of politicization may also have blurred the dividend outlook as I will explain later but for now, it is important to provide investors with an overview of growth drivers which are powering the French company as well as the challenges which lie ahead.
Growth drivers
First, in FTTH (Fiber to the Home), despite COVID-19 led confinement measures, Orange posted good second quarter in terms of net sales of 238,000 subscriptions in France and 44,000 in Poland. As a result, as of June 30, Orange had a total of 8.1 million high-bandwidth internet customers.
However, in order to achieve higher market share, the product prices proposed by the French operator are still relatively low emerging from the price war which had previously engulfed competitors in France.
Figure 2: Comparing the prices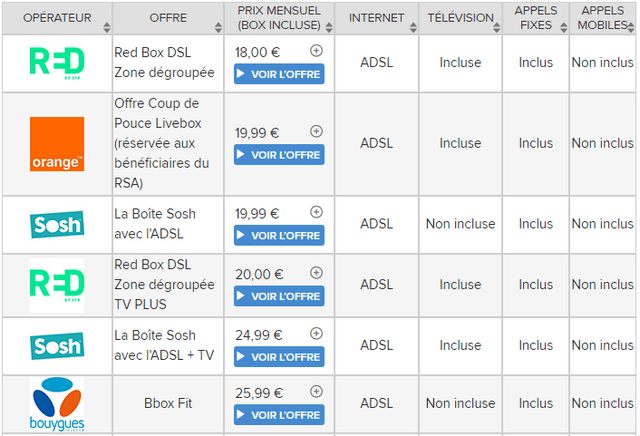 Source: quechoisir.org
Additionally, the COVID-19 pandemic will probably increase the pressure from political decision-makers for more investments by providers in fiber in order to support working-from-home, implying additional capital expenditures.
However, Orange has proved that increase in fiber coverage does not necessarily mean more investments as during H1-2020, the company was in fact able to reduce its capex by -9.9% through the use of co-financing in its fiber business in France.
Co-financing or co-investment is a contract signed between two operators to jointly deploy optical fiber infrastructure, one example being the one signed with Free, a competitor and subsidiary of iliad (OTCPK:ILIAY). In this case, while Orange is bearing the deployment costs, the French regulator has ensured that Free is granted a right of use on the FTTH lines in exchange for a fee.
Revenue from these fees generated an additional 350 to 400 million euros as part of the wholesales account according to Ramon Fernandez, Deputy CEO Finance.
Also, going forward and till 2023, co-financing revenues are expected to grow as Orange further monetizes its FTTH infrastructure and obtains wholesales revenues on the 13 million lines which is being co-financed.
Figure 3: Different Orange FTTH deployment scenarios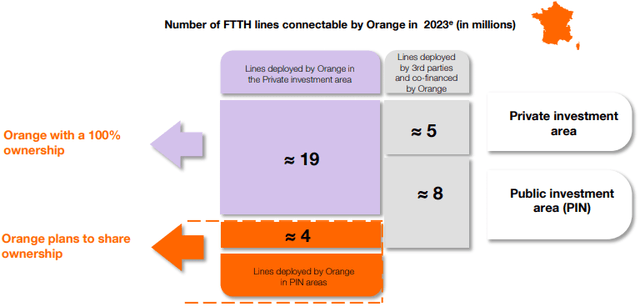 Source: orange.com
Considering FTTH retail this time, with 19 million lines still scheduled to be deployed by 2023 on top of the 8.1 million lines currently available, Orange should potentially double revenues.
Furthermore, the fact that Orange has been able to ramp up its European FTTH customer base by 800K from 7.3 million in December 2019 to 8.1 million at the end of June despite coronavirus-induced restrictions puts it in a position of strength as one of the old continent's leading contenders in the deployment of high-speed internet.
The second growth driver is the Africa & Middle East ("AME") region which grew by 3.8% over one year. More importantly, this region recorded a 7.2% increase in earnings which Orange measures as the EBITDAaL (Earnings Before Interest, Taxes, and Amortization after Leases).
When viewed from a geographical perspective, growth in the AME region and France almost offset the decline in other regions consisting of Spain, Europe as well as the Enterprise (Business) segment.
Figure 4 : Revenue and EBITDAal variation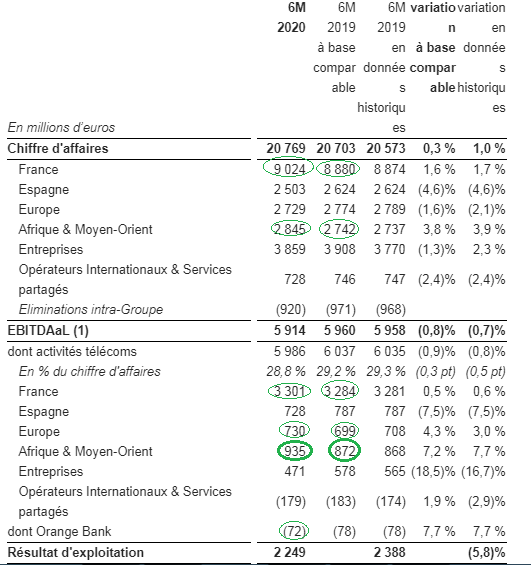 Source: Zonebourse.com
The AME region has been a successful growth story for Orange with a large 4G customer base spanning 19 countries and growing at 40% y-o-y and on top of which Orange has deployed vertically integrated data services growing at a rate of 26% per year. The group even planned a spin-off of its AME operations but that was before the pandemic struck.
Figure 5: Orange's Africa and Middle East love story.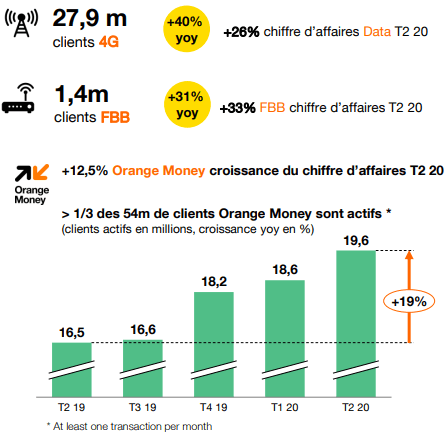 Source: orange.fr
On the other hand, Orange continues to suffer in Spain as a result of strong competition from Telefonica (TEF) with the telecom market sliding towards low-cost services.
More recently there have also been woes caused by the outbreak of the coronavirus pandemic.
Disappointments and risks
Disappointingly, the enterprise segment which I viewed as leading Orange's growth story in the future in my previous thesis on Orange back in December last year, suffered a decrease in turnover by -3.3% and this, after six consecutive quarters of increase. As a result, EBITDAaL fell by -18.5% with two thirds of this decrease being due to a decrease in mobile roaming and fall in data services.
First, roaming data which is a high-margin segment for telcos has been impacted heavily due to decrease in mobility after many countries closed borders. Same was the case with data services which depends on traffic generated by activities like sports events which were cancelled during the months of March, April and May but are gradually back in the second part of the year with soccer.
This said, revenue from IT and integration services recorded the first decline in its history (-2.6%) in the 2nd quarter while remaining positive over the entire half-year by 1.9%. The company attributes the decline suffered in the second quarter to delays in project deployments by client companies.
In response, the CEO mentioned that there has been a catch-up of activities after lockdown measures were lifted but given the second wave of pandemic infection in France and the rest of Europe as from October, there is some uncertainty.
Another activity which has suffered from lockdown is equipment sales, an area where other telcos have suffered too.
Here, Orange with its 1000 stores (including partnerships) has not been spared. While there was a pickup in activities as from May, things may not improve if curfews currently in force mostly during the night are extended to daytime hours.
Thinking aloud, it is important that Orange finds new ways to increase online equipment sales while finding innovative techniques to carry out the activation of mobile subscriber accounts remotely.
On a more positive note, there were two bright spots with the cloud business and cyber security being up by 8% and 11% respectively. This growth is in line with what is being experienced by software businesses offering cloud and security services and should increase further with that partnership with Google.
In this case, my thoughts go to Orange Business Services ("OBS"), the subsidiary which is driving the cloud business using a supplier-agnostic strategy. Having a partnership with Google in addition to the other big ones including Microsoft AZURE (MSFT), Amazon (AMZN) and IBM (IBM) surely helps.
Figure 6: Cybersecurity and cloud performance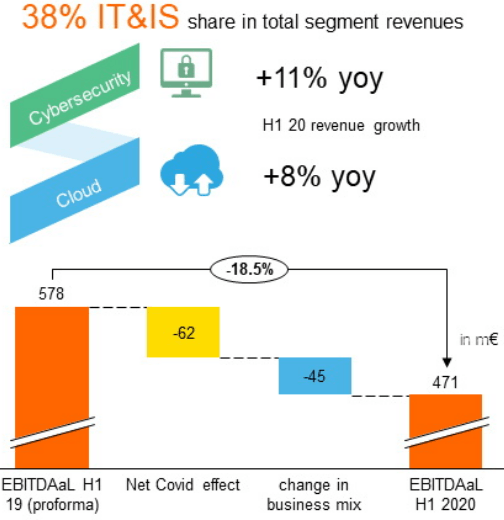 Source: orange.mu
Exploring further, OBS was named a strong performer as a Hosted Private Cloud Services in Europe by The Forrester Wave recently. In this case, the Orange subsidiary was recommended as a cloud services provider for its "breadth of infrastructure options", strong SLAs (support agreements) and regulatory compliance.
Valuations and key takeaways
In its guidance for FY-2020, the company expects EBITDAaL to decrease by 1% compared to 2019 as a result of COVID-19 related impacts. However, this decrease should be offset by lower capital expenditures as a result of disposal of non-strategic tower assets in Spain, RAN sharing agreements in Europe and also due to coronavirus-induced spending delays.
As for cash position, it is expected to exceed 2.3 billion euros for FY-2020. Net Debt to EBITDAal ratio should be maintained at 2x.
Now, when comparing with peers, with a revenue growth of only 1.78%, Orange is growing significantly less than Deutsche Telekom (OTCQX:DTEGY) or iliad. On the other hand, a comparison with Telefonica and especially the latter's negative growth reveals the extent to which the pricing pressures prevalent in Spain are impacting on telcos' top-lines.
Moreover, with only 40% gross margins, there is considerable progress to be made in increasing profitability through digital transformation and greater use of software in the company.
Additionally, the French telco is developing the Orange Money service (digital payment platform) which has a base of 19.6 million active customers as well as Orange Bank (an online bank) boasting 1 million customers and now also offering insurance services.
Figure 7: Comparison with peers
Source: Seeking Alpha
With a debt to capitalization ratio of less than 50, Orange's leverage is at a reasonable level.
Moreover, as for dividends, an interim of €0.30 per share out of a total of €0.70 will be paid on December 9 with a decision as for the remaining balance to be made by the fourth quarter. I noted some genuine intent in the tone of the CEO's (Stephane Richard) voice as he said that they want to be back to the €0.70 level but it will depend on visibility.
Also, in all fairness, the decision is not yet made and France's government remains one of the major shareholders of Orange.
In this context, as per some of the other French stocks I have covered where the government is present in the shareholding structure, there has either been pressure to reduce or in some cases suspend dividend payments altogether. I believe that despite current exceptional circumstances, the government should be careful in not alienating the shareholder community which has invested hard-earned cash in Orange.
Also, in case the government interferes too much in the normal functioning of the board of directors, there may even be a backlash from the capital markets as some form of retaliatory measure and France could suffer as a marketplace.
Finally, given its current growth, Orange remains rightly valued based on trailing Price to Sales ratio when compared to Deutsche Telekom and iliad.
Also, the company possesses two strong growth drivers with FTTH in France and the AME region. In addition and to a smaller extent, OBS should play a more prominent role in boosting profitability.
In this case, while not being a high-profile cloud company, Orange remains a leading choice in the telco sector, given forthcoming improvement in the pricing environment in France, the strength of its balance sheet and its fiber infrastructure.
Also, unlike other European mobile network operators, Orange does not have Huawei's equipment in its 4G/LTE infrastructure and does not need to carry out any costly equipment swapping. As a result, it can calmly dedicate resources on 5G roll-out in December of this year.
Therefore, at a price of $10.75 Orange is a hold and with a potential upside only as from 2021 as the company executes on 5G launch. Also, news with respect to dividends in November or December could induce some volatility in the stock price, constituting an opportunity to buy.
Disclosure: I am/we are long ORAN. I wrote this article myself, and it expresses my own opinions. I am not receiving compensation for it (other than from Seeking Alpha). I have no business relationship with any company whose stock is mentioned in this article.
Additional disclosure: This is an investment thesis and is intended for informational purposes. Investors are kindly requested to do additional research before investing.
I am long TEF, DTEGY