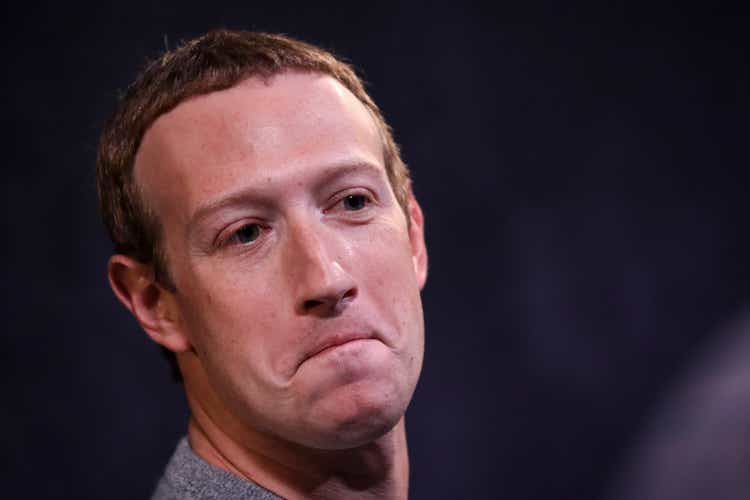 Investment Thesis
Meta Platforms, Inc. (NASDAQ:META) just continues to drop, but with a 15% prospective return, we're calling bottom on the shares. At a time like this, we'd like to remind investors where outperformance comes from, with the words of the legendary Sir John Templeton:
"To buy when others are despondently selling and to sell when others are greedily buying requires the greatest fortitude, but pays the greatest reward."
Meta's Tailwinds
Meta is the beneficiary of a world that continues to move to online advertising. The online ads market is expected to grow at 14% per annum through to 2027. Marketers around the world want the highest return on investment possible, and Meta's been giving it to them. Essentially, Meta's targeted ads provide a higher return on marketing than traditional ads from newspapers, magazines, and television.
Along with this industry growth, Meta's users are still growing:
There are structural tailwinds for Messenger and WhatsApp as well. Instant messaging is projected to grow at 10.6% per annum through to 2027.
The Metaverse
Mark Zuckerberg's entrance into the Metaverse split investors and contributed to sparking the recent selloff in Meta shares. However, the market's negative reaction may actually be a boon for Meta's long-term competitiveness in this industry. Because of the negative reaction by Wall Street, other big tech players are likely to watch from the sidelines, giving Meta a huge first-mover advantage.
The Metaverse is expected to grow at 51% per annum through to 2030. Citing the reasons for this growth, GlobeNewswire referenced a "rising focus on converging digital and physical worlds operating the internet." Fortune Business Insights referenced a similar Metaverse growth rate of 48% per annum. As you can see, this opportunity is real, and investors should eventually take notice.
What's Working
Meta's family of Apps, namely Facebook, Instagram, WhatsApp, and Messenger, is a very profitable group. These apps are at the core of social connection throughout much of the world. When you take out the $10 billion loss from reality labs, Meta's family of apps sports a profit margin of nearly 50%:
Facebook Marketplace
Facebook Marketplace is quietly crushing the likes of eBay (EBAY), Craigslist, and Kijiji. As consumers begin to buy and sell on Facebook Marketplace, eBay's active users are declining. eBay made $13.6 billion in 2021. Essentially, consumers pay eBay to boost their listing. Facebook Marketplace is positioned to copy eBay's model and rake in more ad revenue.
WhatsApp
Meta is just in the beginning stages of monetizing WhatsApp, with its two billion users around the globe. WhatsApp and Messenger are slowly displacing the world of text messages, mainly because they are free. Free cross-border communication is exceptionally useful for international business and consumer travel. We believe Meta would do well to study Tencent's (OTCPK:TCEHY, OTCPK:TCTZF) WeChat. WeChat is a social media, messaging, and mobile payments super app out of China that generates nearly $20 billion a year and is growing rapidly. WhatsApp could do the same and is already developing WhatsApp Pay.
Instagram Reels
Instagram Reels is a rapidly growing and addictive short-form video source. We believe Instagram Reels is doing well to compete with TikTok, and that both are a thorn in the side of YouTube. Meta will learn how to better monetize Reels in the future, keeping traffic and profits within the Instagram app.
The Very Real Risks
When it comes to social media, consumer tastes are constantly changing. In 2005, Myspace was the fifth most visited site in America, with 25 million active users. The world has gone through several social media websites over the years. Facebook wiped out Myspace, and now it appears Instagram is beginning to wipe out Facebook. If Meta had not acquired Instagram, the company would not be what it is today. Meanwhile, TikTok entered the scene in 2021 in a big way.
The good news is, Meta still has 3 of the world's top 4 apps. It also helps that users have invested so much time and effort into building their Facebook and Instagram pages, which makes the product sticky.
Competition is coming from everywhere for online advertising leaders like Meta. The Netflix (NFLX) CEO has discussed offering a free version of Netflix, that includes commercial advertisements. Meanwhile, Spotify (SPOT) is growing in popularity and runs radio-style advertisements on its app. Spotify was the 10th most downloaded app of 2021, and benefits from its users being able to multitask while listening to podcasts and music. Snapchat (SNAP) remains competitive as the 6th most downloaded app of 2021. And of course, there's TikTok, YouTube, and Google (GOOG, GOOGL). The 3rd biggest player in the space is actually Amazon (AMZN), which is capitalizing on its enormous e-commerce website and gaining share rapidly:
Then you have Apple's (AAPL) IOS changes, allowing users to block the cross-app tracking that Facebook and Instagram relied on for delivering targeted advertisements. Android could follow suit, although it's reported they'll give advertisers two years to adapt before making the privacy changes. This is the most concerning risk out there in the short term, and it comes with a lot of uncertainty over where Meta's earnings are headed.
Meta could previously charge a premium to advertisers because its ads were so accurately tailored to consumers on its sites. It was uncanny how Facebook and Instagram always knew what you'd been shopping for online. We've personally noticed a drop-off in the relevance of Meta's ads, with cross-app tracking blocked.
Lastly, there is the ongoing risk of regulation. Big tech has benefited immensely in a world of unregulated tech monopolies, but that may be about to change. Meta needs to fly under the radar, and its huge stock sell-off may help in that regard.
Future Returns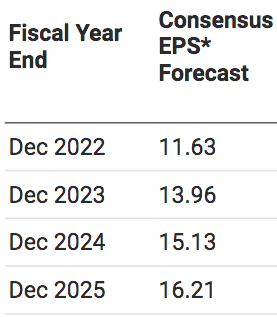 Analysts expect Meta to grow its earnings per share at 11.7% per annum through to 2025. Notice the earnings are expected to drop off a bit this year.
After messing around with revenue growth, margins, and shares outstanding for a couple of hours, we came to the conclusion that Meta should grow at a low-teens rate through to 2032. For once, we agree with analysts. We believe that 12% annual growth is conservative and appropriate. But, for this to materialize, Meta must keep competition at bay.
Our 2032 price target is $632 per share, indicating a return of 15% per annum over the decade ahead.
This is the result of growing forward earnings at 12% per annum, resulting in 2032 earnings of $36.12 per share. We believe Meta will lose market share and see a decrease in margins, but that the monetization of WhatsApp and Reality Labs will make up for this. We've applied a 17.5x multiple for a business that must fend off competition but should maintain superior growth, margins, and returns on capital if it does.
Conclusion
Meta has a lot going for it, in a world of very real risks. Privacy changes and regulation may hurt the company in the short term, but we expect Meta to outgrow the market in the long term. The development of WhatsApp, the Metaverse, Instagram Reels, and Facebook Marketplace are all positives for the company. We project Meta to deliver a market-crushing return of 15% per annum, and we're calling a bottom on the shares.