Good businesses will survive good times and bad times. − Theo Paphitis
A global leader in the U.S. healthcare and pharmaceutical supply chain, McKesson Corporation (MCK) operates a low-margin, high-volume business. The company is expected to witness a solid rise in volumes in Q4 2020 because it has partnered with the U.S. government on vaccine distribution. However, two issues are lurking around the bend: (A) a forthcoming goodwill impairment charge in Q4 2020, and (B) an opioid settlement of $6.9 billion that can disrupt its profits and operating cash flows.
The good news is that the company is adequately geared to manage the forthcoming hits. Here is an analysis:
Goodwill Impairment Charge
MCK has $12.5 billion of goodwill and intangible assets in its balance sheet as of June 30, 2020. The company employs a market approach and a discounted cash flow (DCF)-based income approach to value goodwill.
Image Source: MCK's SEC Filing
MCK has realigned its operating structure and it will have to assess the impact on goodwill because of this change. Additionally, the company has changed its goodwill impairment testing date from January 1 to October 1. So, MCK's net income can be hit by an impairment charge in Q4 2020. The company estimates that the goodwill of its McKesson Canada operating unit, which was valued at $1.4 billion as of March 31, 2020, is at risk of material impairment.
The impairment will drive down profits but will not impact MCK's cash flows. It is at best a short-term sentiment-negative.
The Opioid Settlement
U.S. states have filed opioid-related lawsuits against major drug distributors and are seeking $21.14 billion in compensation from three drug distributors, including MCK. As of March 31, 2020, MCK was a defendant in 3,000 such legal proceedings.

Image Source: MCK's SEC Filing
In October 2019, a proposal was floated that MCK's opioid-related liability be settled at $6.9 billion, payable over 18 years. Talks were continuing as of June 30, 2020.
If the states agree to the proposal, MCK will face a cash outflow of approximately $383 million ($6.9 billion/18) per year. The liability could be higher if its arm is twisted.
Let's take a look at how MCK's annual cash flows can cope with this outflow: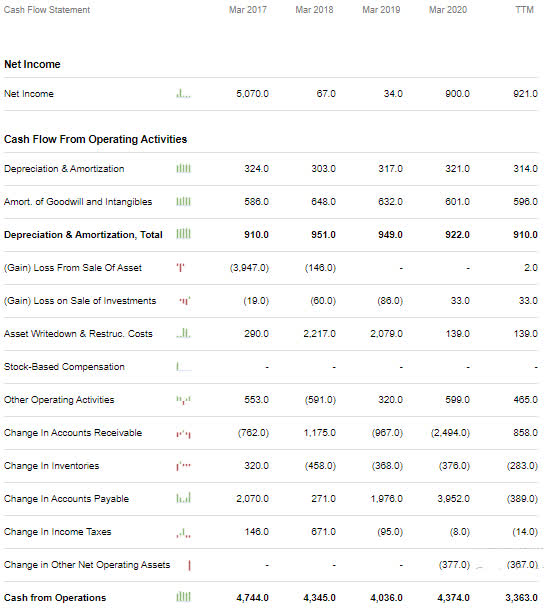 Image Source: Seeking Alpha
The company has generated more than $4 billion in operating cash per year between 2017 and 2019. Its TTM operating cash flows as of June 2020 dived to $3.36 billion because of the pandemic's impact on the supply chain.
The annual cash flow numbers indicate that MCK can easily absorb the opioid-related hit.
MCK's Financials
With a Forward Price–Earnings ratio (GAAP) of 11.61 as compared to the sector median of 33.90, a low TTM Price–Earnings–Growth ratio of 0.43 as compared to the sector median of 0.82, and a super-low TTM Price–Sales ratio of 0.12, MCK seems reasonably valued at $154.32 as of September 3, 2020.
The company earns a 13.84% return on common capital and a 9.94% return on total equity and is a sector outperformer in these crucial areas.
The company's long-term debt was $7.4 billion as of Q2 2020 as against an additional paid-in capital of $6.7 billion and retained earnings of $13.38 billion, implying a very healthy debt–equity ratio.
Summing Up & Rating
Impairment of goodwill is a non-cash charge and is not likely to dampen investor sentiment in a big way when it is booked in Q4 2020.
Though the opioid settlement will drain the operating cash flows somewhat, the company can easily manage the outflows if its current proposal is accepted by the states. In fact, a settlement will be regarded as bullish because it will kill uncertainty.
Other than these riff-raff hits, MCK seems like a slow and steady performer that will get bumper vaccine distribution business in Q4 2020. The sentiment around the stock is likely to receive a boost as the vaccine distribution day gets closer, and it can outperform by the end of October 2020. Also, MCK consistently pays a dividend and repurchases stock.
*Like this article? Don't forget to hit the "Follow" button above!

Subcribers told of melt-up March 31. Now what?
Sometimes, you might not realize your biggest portfolio risks until it's too late.
That's why it's important to pay attention to the right market data, analysis, and insights on a daily basis. Being a passive investor puts you at unnecessary risk. When you stay informed on key signals and indicators, you'll take control of your financial future.
My award-winning market research gives you everything you need to know each day, so you can be ready to act when it matters most.
Click here to gain access and try the Lead-Lag Report FREE for 14 days.
Disclosure: I/we have no positions in any stocks mentioned, and no plans to initiate any positions within the next 72 hours. I wrote this article myself, and it expresses my own opinions. I am not receiving compensation for it (other than from Seeking Alpha). I have no business relationship with any company whose stock is mentioned in this article.
Additional disclosure: This writing is for informational purposes only and Lead-Lag Publishing, LLC undertakes no obligation to update this article even if the opinions expressed change. It does not constitute an offer to sell, a solicitation to buy, or a recommendation regarding any securities transaction. It also does not offer to provide advisory or other services in any jurisdiction. The information contained in this writing should not be construed as financial or investment advice on any subject matter. Lead-Lag Publishing, LLC expressly disclaims all liability in respect to actions taken based on any or all of the information on this writing.