U.K.-listed household and personal care goods manufacturer McBride (OTC:MCBRF, OTC:MCBDY) has unveiled a new company strategy. It is not as strong as I hoped, but it does have ambition and also gives the company some focus. I expect that alone to help the company's financial performance, which in turn should boost the lagging share price, so am now turning mildly bullish on the name and expect a run-up in price over 2021.
McBride's Unimaginative but Useful New Strategy: Revenue Growth
The goal of the new strategy is to increase revenue to one billion euros in the next five years (a slightly odd start, as McBride is a U.K. company reporting in pounds).
Revenue in the year just ended fell slightly to £706.2m. That is approximately 780m euros. So the new strategy calls for an additional 44m euros of revenue per year for each of the next five years, roughly £40m per year. (Typing that I am already tiring of translating all the company's numbers into euros. I wonder how much internal time that will waste in the coming five years).
That is something the company has done before, as for example between 2017 and 2018. But it is not something that the company has done on a consistent basis, so to achieve that level of revenue increase on average for five years on the trot would indeed be a step-change in the company's performance.
Chart compiled by the author using data from company annual reports
The company notes that the European household market is expected to grow 2% per annum in the next five years. So, while McBride is exposed to the private label not just branded sector – which have different recent growth rates – if it mirrors this broad market growth, it will get to 860m euros after five years based on the most recently reported revenue (which is already lower than the past couple of years, making for a less demanding baseline for comparison).
I also note that the five-year vision is "Grow revenues to €1 billion in the next 5 years through focused divisional strategies"; the mention of profit only comes later in the deck. That is a mistake. Anyone can grow revenue, the challenge is always growing revenue while maintaining or improving profitability, not just buying low-quality revenue growth.
The presentation mentions "profitability increase," but gives no details, which is disappointing. The results announcement, which gave some details on the new strategy, also gave no details on profitability targets. The new chief executive has had months to work on the strategy, so it is unimpressive to turn up with the big new strategy, long-awaited, and to focus so much on revenue without getting into profitability. That matters in general, but I would contend that it matters particularly for a company in McBride's line of business. Private label manufacturing is a price-sensitive business, so cutting prices (and thus profitability) is an easy way to grow revenues, for some fairly undifferentiated basic products. The strategy needs – and lacks – a detailed goal for profitability, not just revenue.
The Company Will Focus on Product Category Divisions
The centrepiece of the strategy, beyond the contemporary boilerplate guff about culture, "ESG" and so on, is to structure the company around five divisions, four of which are by product category and one by geography.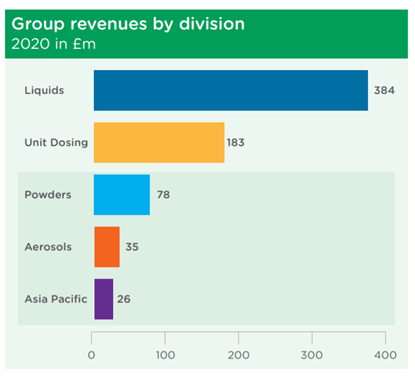 Source: Company strategy presentation
Asia Pacific I regard as a distraction short and long term and am sad that company didn't take the chance to focus on getting rid of it and to focus on fixing its core European business.
Focusing on divisions could be good or bad. It could bring focus and accountability, for example. However, end users think in terms of needs (e.g. washing dishes) more than formats (e.g. liquids or unit dosing), so focusing on divisions arranged by product format may make the company less responsive to end-user needs. In the short term, if that allows more focus on operating efficiency and profitability, that could be a price worth paying, although for now it remains to be proven whether a focus on a division can improve the company's returns.
What I don't understand is what the growth drivers will be. As the presentation notes, the largest division by far (liquids) is already "#1 or #2 in main markets", so to grow either it needs to raise prices (tricky), steal share from competitors (possible but hard when it is already a market leader), grow consumption (difficult to do for items like detergent or cleaning products, use of which is fairly non-discretionary for the most part) or increase the share of private label (which I think is a broad market dynamic largely outside one manufacturer's control unless it has compelling product technology or value proposition). So, where will the company find the incremental revenue? I think more detail is needed on that key point; the sooner the better in terms of credibility for the strategy. The company said it is working on detailed divisional strategies in the last quarter of this year, but their absence even at a summary level in the strategy unveiling was a miss.
Similarly on improving profitability, the strategy already calls out cost as a competitive advantage for McBride in liquids, powders and unit dosing. Driving more costs out of the company will be a challenge.
The Strategy is Better Than Nothing
I feel the strategy is lacking in key details, specifically profitability and how the company will drive either demand or pricing to help its revenue goal. The lack of such basic thinking in a strategy which took months to prepare does not inspire confidence.
Writing in May, I noted my concern over the new chief executive's limited background in the sector and opined that "someone with a background dealing with grocery retailers would perhaps have better understood how to extract value in pricing, which seems to be McBride's perennial key challenge." I think the strategy review, focused on internal cost optimisation even with a revenue headline, vindicates that for now.
In short, the strategy is disappointing in some regards, which is not a promising start for a supposed turnaround story. However, there are also grounds for optimism. While the path to the revenue goal isn't clear, the goal (confusingly expressed in a non-reporting currency for the company) is something to focus on, stretching but achievable, and if the company achieves it, then it will be the best period of growth in its history, which would be very positive for the shares.
McBride: Up From Here
Despite feeling that the strategy is underwhelming, its mere existence and resulting focus in the company mark the start of an attempted turnaround. The shares, trading at around 60-61p prior to the announcement exactly where they were when my May piece was published, went up to around 67p before falling back to 64p, a small bounce but a bounce nonetheless, whether due to the strategy or the full-year results.
The company declared a dividend of 1.1p, so even in the current environment, it continues to yield 1.7% although that will be paid in scrip unless a shareholder elects to receive it in cash.
While the company only included adjusted diluted EPS in its earnings presentation (annoyingly), the earnings announcement showed basic EPS of 3.6p, so the current P/E is approximately 18x. That is not cheap, but it does not price in much improvement in profit, in my view. If the strategy delivers and EPS starts to increase (or even just retraces to where it was in better recent years such as 2016 or 2018), P/E could fall to single digits on the current share price.
The company remains a strong player in its field and has demonstrated resilience over decades. So I expect that there is limited downside, but the new strategic focus could help unlock some upside, which would be reflected in an improved share price.
At a recent price of 64p, although I see shares as a weak buy, I do think they are a buy. As evidence comes in in the first half of next year on the first impacts of the new approach, I expect that if it is positive, the shares will rally decently.
Conclusion: Worth Giving McBride a Go Again
I am not that excited by McBride, but I think its basic business is solid and the new strategy will probably at worst be neutral for the company. It gives it some focus, at least. On that basis, I expect the shares to continue to move around a little, but to trace upwards over the next year, so see now as a buying opportunity.
Disclosure: I/we have no positions in any stocks mentioned, and no plans to initiate any positions within the next 72 hours. I wrote this article myself, and it expresses my own opinions. I am not receiving compensation for it (other than from Seeking Alpha). I have no business relationship with any company whose stock is mentioned in this article.