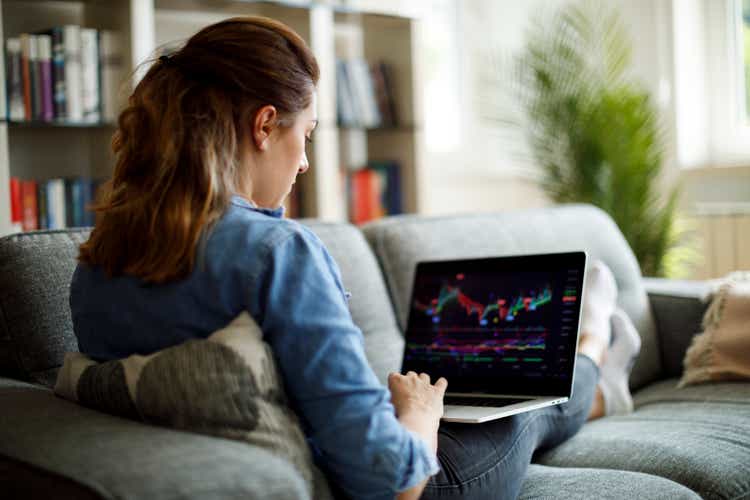 MarketAxess (NASDAQ:MKTX) and Tradeweb (NASDAQ:TW) operate leading platforms for the electronic trading of corporate bonds and related instruments, such as credit derivatives. They are both set to benefit from the long-term tailwinds arising from the move from traditional trading approaches to electronic trading.
Looking at the investment highlights for MarketAxess, we see that it has grown its revenue, operating income, and EBITDA in the double digits since 2016.
Similarly, Tradeweb has been growing very quickly, particularly its EBIT and EBITDA which have both been growing in the low 20's since 2016. What is important to understand about both companies, is that they have reached enough scale to have the critical mass to be attractive to most customers. Other potential entrants might find it incredibly hard to reach this critical scale to compete, and as such, this is likely to remain a market controlled by a handful of firms.
Fixed-income markets globally are moving away from voice negotiated trading towards electronic platforms in part because liquidity and execution improvements are lowering costs and improving operations. This has represented a significant tailwind for both companies, and we expect it to continue for at least a few more years. Currently most fixed-income trading is still primarily voice-based. As such, both Tradeweb and MarketAxess have long runways of growth ahead of them.
Competitive Advantages
These trading networks have strong competitive advantages thanks to network effects. The more liquidity there is available on an electronic network, the more attractive it becomes to traders, drawing in even more volume. Once enough scale is reached, this creates a virtuous cycle that is difficult to stop, or for new entrants to compete with. Market participants will tend to flock towards the one or two largest networks, creating a powerful network effect for these firms. There is another competitive advantage gained from scale, and that is the amount of data available to the firms, which they can use to improve their products and share insights with market participants.
There is therefore a competitive moat from increased liquidity, which drives more trading volumes, attracting a higher number of clients, generating better performance and solutions for participants, and resulting in deeper and wider datasets.
Both firms are well aware of this powerful network and flywheel dynamics, sharing some slides to highlight the power of their networks. For example, MarketAxess considers that today they have an all-to-all network, with over 1,700 investors and dealer firms participating.
Tradeweb also appears to have reached critical mass with over $1.0 trillion traded daily across their global marketplaces, and with ~2,500 clients.
Financials
Tradeweb has generated higher revenue compared to MarketAxess in the last year, and appears to be growing more quickly as well.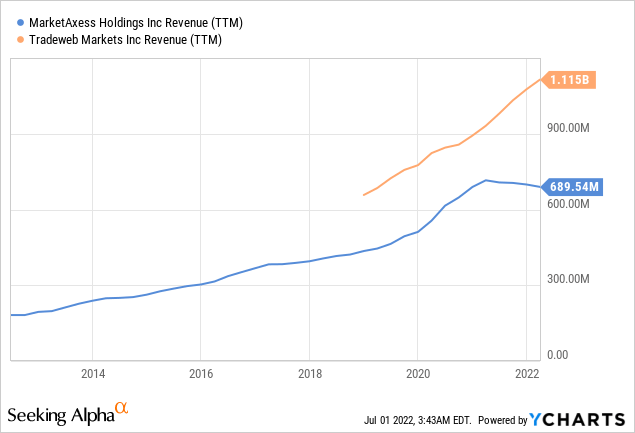 However, MarketAxess has more attractive profit margins, although clearly both companies enjoy competitive moats that make them highly profitable.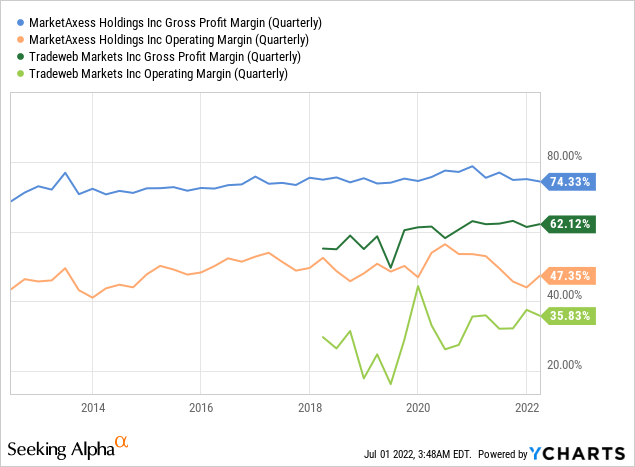 Approximately 61% of Tradeweb's revenue is from the US, with 39% being international. This reflects the growing importance of emerging market bonds, Eurodollars, etc.
MarketAxess is a little bit more US focused, with 72% of revenue from North America, and 28% international, but has the objective of reaching an even split between North America and International revenues.
Growth
Both companies believe this is just the early innings for fixed-income electronification, with many products still in the mostly-voice category, and some like Eurobonds, US High Grade, and US High Yield in the early phases of moving towards electronic trading.
The growing corporate debt outstanding, and expanding government debt, should significantly increase market volume growth. As the percentage of bond trading going electronic increases, that should result in very attractive long-term growth for both companies.
Tradeweb has been growing a little faster compared to MarketAxess, and it has particularly outperformed during the last year. This should be monitored closely going forward, as it could mean Tradeweb's competitive position is getting stronger in relation to MarketAxess.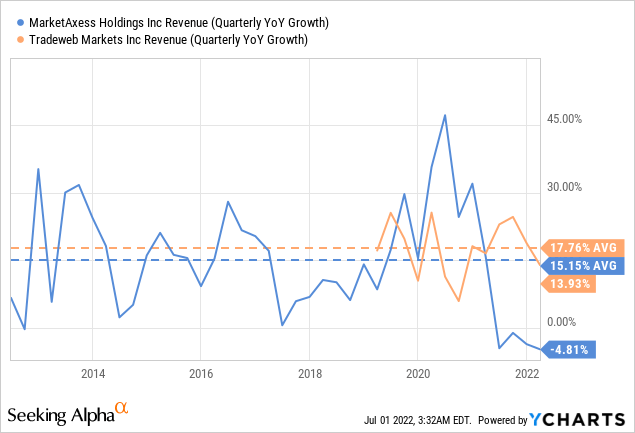 Balance Sheet
Both companies have very strong balance sheets, with basically no long-term debt, and significant cash and short-term investment positions. We are therefore not worried about the liquidity of either firm.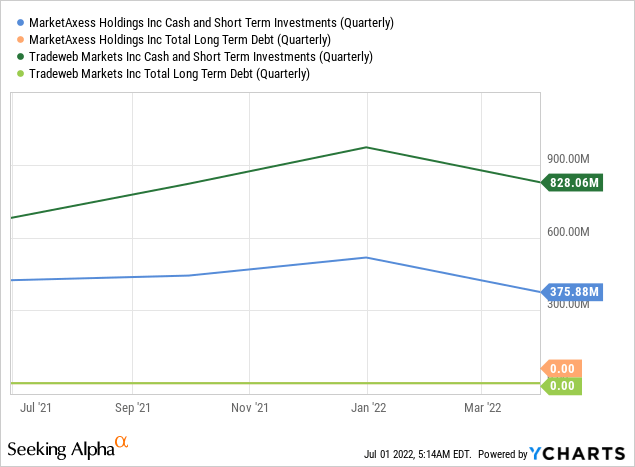 Valuation
MarketAxess used to command a premium valuation over Tradeweb, but given Tradeweb's recent growth out-performance, the valuation gap has dissipated, and now both firms are trading with very similar EV/EBITDA ratios of around 24x.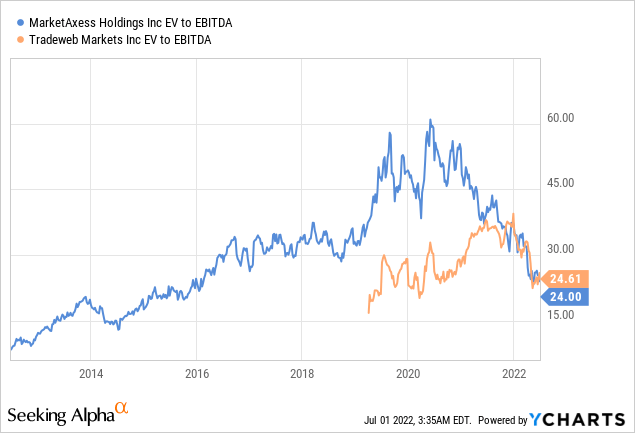 Both companies pay a dividend, with MarketAxess yielding about twice that of Tradeweb. Since both companies are still in growth mode it is not surprising to see that their dividend yields are relatively small.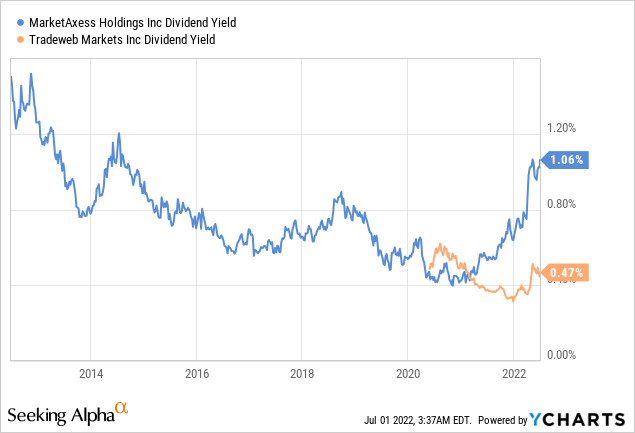 They are both trading with elevated price/earnings ratios, both having a forward p/e of ~36x, which reflects the growth expectations investors are putting into both companies.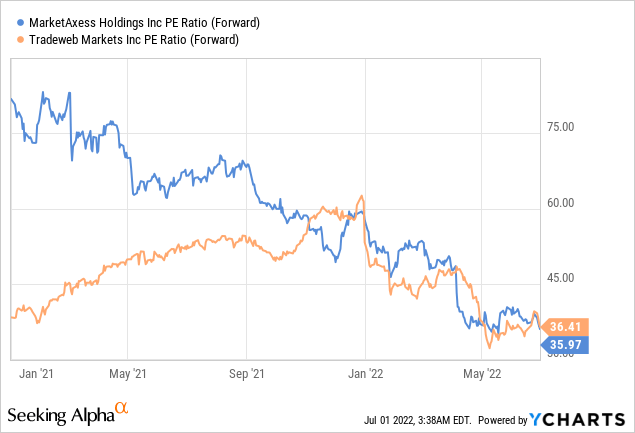 Risks
We believe the main risk for both companies is that of a relatively high valuation, reflecting the growth expectations investors have for them, and the risk would be if either company posted disappointing growth. In terms of balance sheet strength and liquidity, we believe both companies have a very solid position. Their Altman Z-scores are significantly above 3.0, and as we saw, they both have comfortable net cash positions.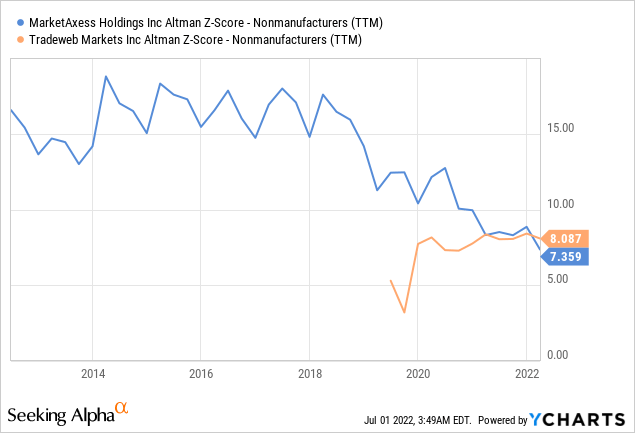 Which is the better option?
It is difficult to choose one over the other, especially when both are trading with very similar valuations, and both appear to have reached critical mass in terms of their marketplaces. While MarketAxess pays a higher dividend, if we had to choose only one, we would probably go with Tradeweb, since it has been growing more quickly recently.
Conclusion
MarketAxess and Tradeweb operate attractive fixed-income products marketplaces that are poised to benefit from the transition from voice trading to electronic trading. They both benefit from strong network effects, having reached critical mass, and it will be increasingly difficult for new entrants to reach the necessary liquidity and network size to compete. Their valuations are high, reflecting the growth expectations the market has for both firms, but we believe they are not unreasonably high. They are both worthy of investment consideration, but if we had to choose one right now we would go with Tradeweb given its higher growth in recent quarters.