Proptech firm Latch (NASDAQ:LTCH) helps buildings become more secure. The company does this through a smart access system named LatchOS, a combination of hardware and software that manages who gains access to a building. With revenue for the New York-based company rapidly ramping, its bulls argue that Latch is opening up clear market leadership on the back of a strong technology stack. With LatchOS being used in more than 1 in 10 newly built U.S. apartments, this argument likely rings true. The company counts many large real estate development firms as partners, including AvalonBay (AVB), Brookfield (BAM), and Toll Brothers (TOL).
The market for access control and building software is growing, with a number of public firms like SmartRent (SMRT) and private startups such as Dwelo and BeHome247 all competing for market share. Latch's management has placed this market at $54 billion in the United States, with an estimated 47 million rental homes. With LatchOS currently serving less than one per cent of this figure, the company's management has guided for significant revenue growth ahead.
An ambition to fully capitalize on this market drove the company to go public in June 2021 with a merger with a Tishman Speyer blank check company. The transaction was completed at a $1.56 billion valuation, and Latch raised gross proceeds of $453 million from a long investor list that included Social Capital's Chamath Palihapitiya.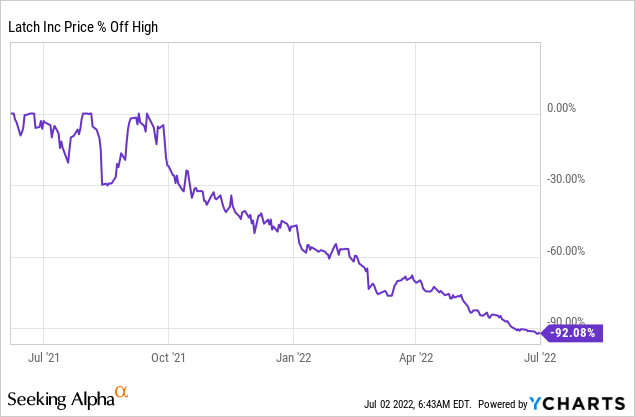 Latch's common share prices have since collapsed by 92% as growth stocks fell alongside a market pullback of historic proportions. Inflation running at multi-decade highs has forced the FED to become extremely hawkish in their roadmap for raising interest rates, bringing an end to an era of cheap liquidity. However, with Latch recording revenue of just $13.7 million for its last reported earnings period, its go-public valuation of $1.56 billion was always a stretch.
Bears point to the extreme euphoria and excess of the SPAC market boom of early 2021, when Latch initially announced it would go public, as a critical factor in embedding overly optimistic revenue multiples to technology-related upstarts. The good times were never meant to last, hence Latch's public adventure presented an inherent exit for its private investors and a terrible deal for its early public backers.
Cash Burn Rising As Revenue Ramps
The company last released earnings for its fiscal 2022 first quarter, which saw total revenue come in at $13.7 million, a 106% increase from the year-ago period but a miss by $350,000 on consensus estimates. Software accounted for 22% of total revenue and grew by 88% year-over-year, as annual recurring revenue grew by 137% to reach $7.9 million.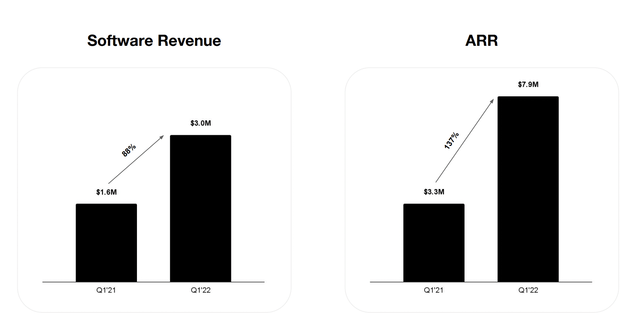 The company sees hardware sales as a loss-leader for higher-margin software sales. Indeed, sales of its physical locks were completed at a -21% gross margin during the quarter, compared to a gross margin of 89% for its software sales. However, and perhaps most alarming, net loss for the period grew to reach $44.2 million, up from $38.1 million in the year-ago quarter. This came as operating expenses grew by 61.5% from its year-ago figure.
Negative free cash flow during the quarter was at $44.5 million, up from a cash burn of $14.6 million in the comparable year-ago period. This meant cash and equivalents continued its decline, reaching $264 million at the end of the quarter. With no real debt on its balance sheet, Latch's enterprise value stands at -$100 million, materially lower than its current market cap of $163.73 million. A negative enterprise value is rare and highlights just how much sentiment towards the company's stock has collapsed.
Latch is guiding for full-year 2022 revenue to be in the range of $75 million to $100 million. This would place its price to forward revenue multiple at 1.87x, using the middle of this range. Whilst somewhat low for a company growing revenues at triple digits, the company is doing so by taking on heavy losses, leaving its balance sheet poorer on a sequential basis.
Built For Every Door
Latch is an interesting company operating in somewhat of a niche area of the market. The company's go-public valuation was heavily buoyed by excess. Now the pendulum seems to have swung entirely the other way, with the enterprise value of Latch now falling deeply negative.
The continued growth of its high-margin software sales and corresponding ARR is a positive and should help future quarters become more profitable. However, this will take some time to filter through to underlying profitability, as software still accounts for 22% of total revenue. It's hard to predict the future direction of common shares, but its valuation might get a boost if net losses come in lower than expected in the quarters ahead.