Introduction
The hunt for income during recent years has been widely discussed across countless articles, one potential investment is Magellan Midstream Partners (MMP), which currently offers a very high 11% distribution yield. Whilst many double-digit yields are skating on thin ice, thankfully their management has been taking sensible steps to keep it secured going forward.
Executive Summary & Ratings
Since many readers are likely short on time, the table below provides a very brief executive summary and ratings for the primary criteria that was assessed. This Google Document provides a list of all my equivalent ratings as well as more information regarding my rating system. The following section provides a detailed analysis for those readers who are wishing to dig deeper into their situation.
Image Source: Author.
*There are significant short and medium-term uncertainties for the broader oil and gas industry, however, in the long-term they will certainly face a decline as the world moves away from fossil fuels.
**Whilst the oil and gas industry which they service has high economic sensitivity, given the more stable nature of the midstream sub-industry this was deemed to be average.
Ratings Summaries & System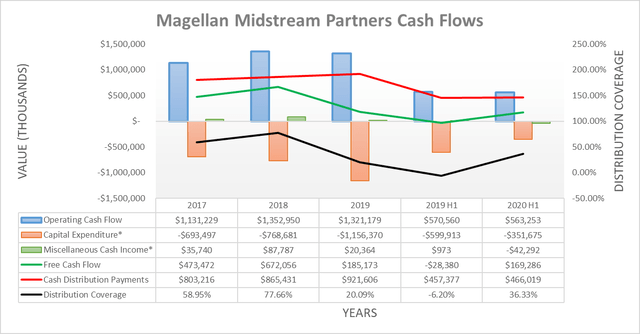 Image Source: Author.
Instead of simply assessing distribution coverage through distributable cash flow, I prefer to utilize free cash flow since it provides the toughest criteria and best captures the true impact to their financial position. The main difference between the two is that the former ignores the capital expenditure that relates to growth projects, which given the very high capital intensity of their industry can create a material difference.
When reviewing their historical cash flow performance it can be seen that a significant portion of their distribution payments have been debt-funded since their distribution coverage only averaged 52.23% during 2017-2019. Looking ahead it appears that this should finally change for the better from management significantly reducing their capital expenditure, as stated below during their second quarter of 2020 results conference call.
"We're going to have incremental capital opportunities. We're working on. But the ones we are actively working on are relatively small in size, $10 million to $50 million. So, it's likely that $40 million budget is going to increase, but it's not likely it's going to get to $500 million or billion or what it was historically."
-Magellan Midstream Partners' Q2 2020 Conference Call.
Once their capital expenditure is further reduced, it seems reasonable that their $932m per annum of distribution payments should be adequately covered by free cash flow. Even if their operating cash flow of $1.321b during 2019 did not ever increase, it still provides scope to cover a decent portion of capital expenditure in tandem with their distribution payments. Although this is very positive and helps immensely for securing their double-digit yield, it nonetheless is still important to review their capital structure and leverage to ensure that they are not required to deleverage.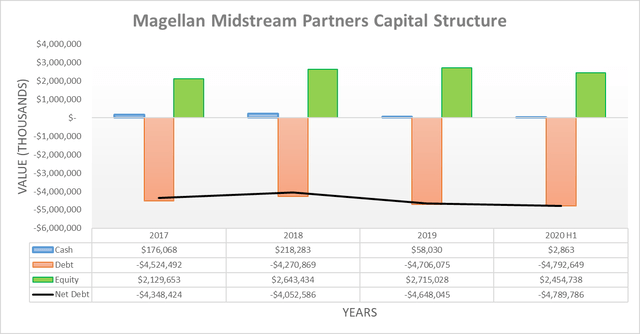 Image Source: Author.
Overall their capital structure is fairly standard with nothing particular standing out since the end of 2017. The only variable that saw a relatively sizeable change was their cash balance, however, they are a large organization with easy access to credit facilities and thus this is not a reason for concern, despite not being ideal.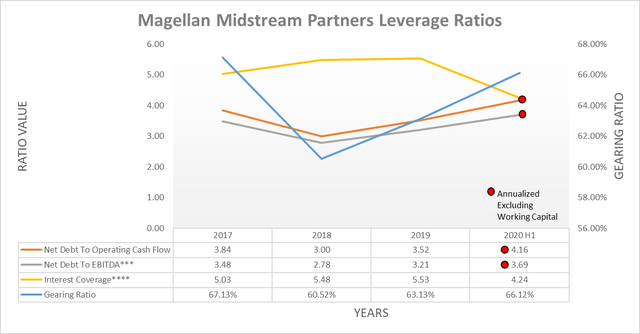 Image Source: Author.
It can be seen that at the end of 2019 their leverage was moderate with net debt-to-EBITDA of 3.21, but this has now just edged above 3.50 into the high territory throughout the turmoil during the first half of 2020. Since their net debt has essentially remained the same during this period of time, it feels reasonable to still deem their leverage as moderate.
This situation means that not only are they financially stable but their double-digit distribution yield is further secured as they can afford to continue paying a large portion of their free cash flow to unitholders since deleveraging is not required. It was also very positive to see management remaining committed to keeping their leverage moderate, when asked about their willingness to increase leverage during their second quarter of 2020 results conference call they had the following commentary.
"The answer is no. We haven't raised our leverage level. We don't think, from a long term perspective, that that's the right thing to do."
-Magellan Midstream Partners' Q2 2020 Conference Call (previously linked).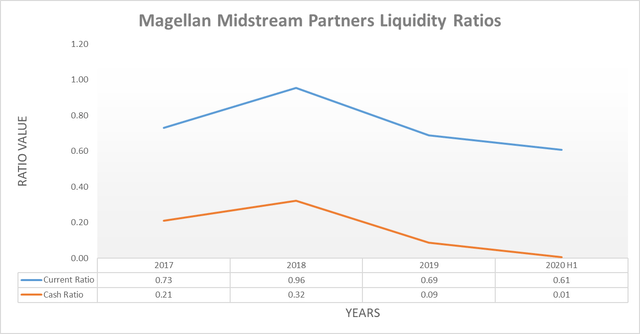 Image Source: Author.
The only downside is their liquidity is slightly lacking with current and cash ratios of only 0.61 and 0.01 respectively. Normally this would warrant a weak rating but since they are a large fundamentally viable organization with only moderate leverage, they should have zero issues accessing debt markets to provide liquidity and refinance any debt maturities when required and thus their liquidity remains adequate.
Conclusion
Even though the double-digit yielding space is often filled with junk and zombie yields that are about to be reduced, thankfully this situation stands out favorably. A combination of lower capital expenditure and solid financial health should keep this very high distribution yield secured and thus I believe that a bullish rating is appropriate.
Notes: Unless specified otherwise, all figures in this article were taken from Magellan Midstream Partners' Q2 2020 10-Q, 2019 10-K and 2017 10-K SEC Filings, all calculated figures were performed by the author.
Disclosure: I/we have no positions in any stocks mentioned, and no plans to initiate any positions within the next 72 hours. I wrote this article myself, and it expresses my own opinions. I am not receiving compensation for it (other than from Seeking Alpha). I have no business relationship with any company whose stock is mentioned in this article.