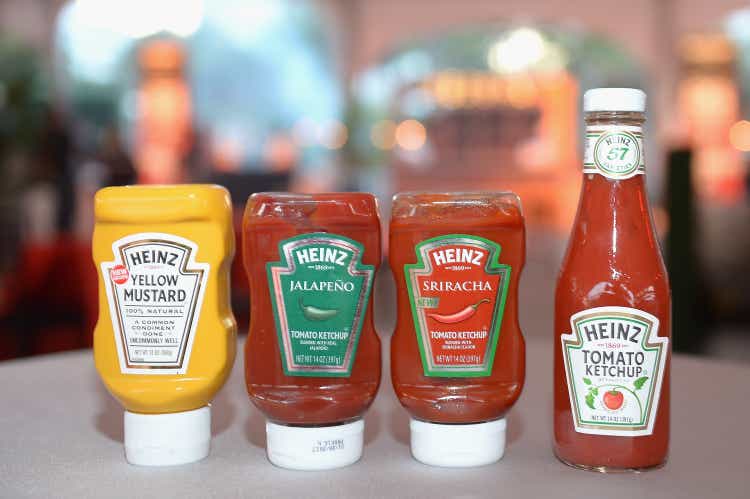 Investment Thesis
Over the past few months, the odds of a recession in the United States have increased. Investors are starting to lose confidence in the United States economy as inflation wreaks havoc on consumers, primarily driven by higher commodity-related prices (especially oil). This was shown in the bond market as yields inverted on the 10 and 2-year treasury notes, a typical precursor to a recession. As the macro backdrop continues to remain uncertain, I advocate that investors begin to deploy capital into more defensive names that will be resilient in the face of an economic downturn.
My top pick is The Kraft Heinz Company (NASDAQ:KHC), a staple within the packaged food industry. Kraft Heinz Company gushes free cash flow, continues to pay down debt, and can raise prices on its (already inexpensive) products to offset the impact of inflation. Based on my DCF-based calculation, the stock has a fair value of $51.82, suggesting ~31% upside from current levels.
Business Overview
Kraft Heinz is an iconic food and beverage company that operates globally. In 2021, the company had a total $26B in sales and owns a broad portfolio of well-recognized consumer brands. The company operates through three reportable segments: United States, International, and Canada. In 2021, the United States made up 71% of total sales, Canada made up 7% of total sales and International made up the remaining 22% of sales. The company also reports its sales across six different platforms: Taste Elevation, Fast Fresh Meals, Easy Meals Made Better, Real Food Snacking, Flavorful Hydration, Easy Indulgent Deserts, and "Other." Below you can find a breakdown of the company's net sales from each of these product platforms.
In terms of management, the company is headed by Miguel Patricio and is headquartered in Chicago, Illinois.
Recession-Proof
Over the past few months, the odds of a recession have increased in the United States.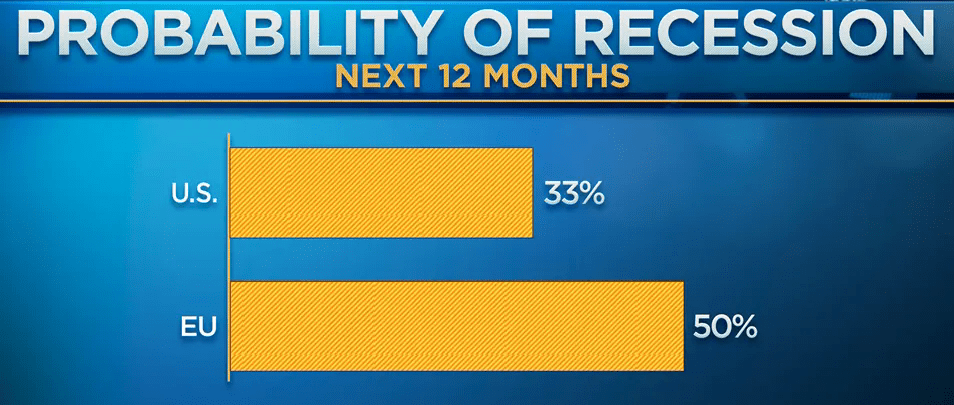 Source: CNBC recession survey
According to a CNBC survey released on March 15th, the odds of a recession in the United States have jumped to 33%, a 1/3 chance. We recently also saw a yield curve inversion, which is typically a precursor to a recession as well. As shown in the chart below, a recession has occurred 6/6 times that the 10/2-year bond yields have inverted since 1980.
But what sectors perform well during recessions? Are there any stocks that could potentially benefit?
Taking a look at the chart below, you can see that recessions have actually acted as a catalyst for the consumer staples sector.
Source: Business Insider
(Note: COVID-19 Induced Recession Not Included In Data).
Given this macro outlook, I sought to find the best company in the sector. Behold, The Kraft Heinz Company.
Kraft Heinz is recession-proof due to its strong suite of well-recognized brands in the food and packaging industry that retain demand even in times of recession.
Source: money.com
Household names such as Jell-O, Ore Ida, Oscar Meyer, and Lunchables are just a few standouts of Kraft Heinz's plethora of owned brands. These brands cover several product categories including condiments and sauces, cheese and dairy, frozen and chilled foods, and meats and seafood. Below you can find a breakout of the company's net sales by product category.

Taking a look at the table, the company has been very consistent in generating an even mix of product sales over the past three years, despite a global pandemic and economic recession. This consistency is a marking of resilience for the company as sales are generated evenly and are less susceptible to external economic factors.
Inflation-Proof
Not only is the company recession-proof, but it's also uniquely protected from inflation as the company has been able to raise prices to offset higher commodity prices. This dynamic, known as pricing power (or operating leverage) allows Kraft Heinz to pass on costs to customers. Per the company's CFO Paul Basilio in the company's Q4-21 earnings call, "we are expecting to see the benefit of our sales growth, the combination of pricing plus efficiencies that we have in our plan, mitigating the inflation, the higher inflation that we are seeing." Maintaining the company's already solid 33.39% gross margin is crucial to the company's profitability as most of its costs are embedded in its COGS. For reference, Kraft Heinz has an "A" profitability ranking from Seeking Alpha.
I am confident that management will maintain the company's high profitability despite high inflation, as it offsets costs with higher prices on its consumer goods with inelastic demand.
Gushing Free Cash Flow
Kraft Heinz Company has maintained its revenues from pre-COVID levels as shown below.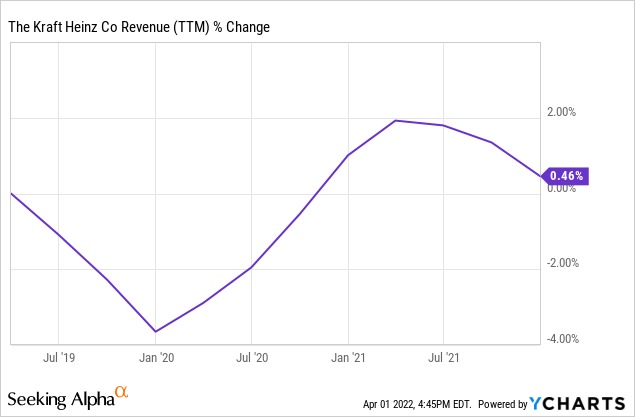 While revenues have not skyrocketed by any means, they have rebounded materially from their pandemic low. Instead of focusing on revenues, however, what I believe is the more important metric to look at is the company's free cash flow growth over the past year.
Free cash flow has nearly tripled from the pre-pandemic period, and this has allowed the company to maintain capital distribution to shareholders in the form of dividends ($1.60/share) and service its large debt load.
Reducing Debt Load
On February 24th, 2020, Warren Buffett said in an interview that "Kraft Heinz should pay down its debt." This makes sense, given that the company at the time had net debt of $25.73B. Since then, the company has significantly reduced its total debt as a result of its excess free cash flow. Pictured below is a chart of Kraft Heinz's total debt load over the prior five years with a forecast for the next five.
The company has paid down its debt over the past five years at a ~6% compounded annual rate, with a ~22% reduction from 2020 to 2021. Given that free cash flow trends continue, the company should be able to keep servicing its debt at a steady rate. This leads me to my forecast for the next five years, reducing debt by ~6% annually. Once the company feels it has materially deleveraged, more free cash flow can go to reinvesting into the business or raising the dividend, both of which are shareholder-friendly initiatives.
KHC Valuation
My DCF-based valuation is primarily driven by my revenue assumptions, which can be found below.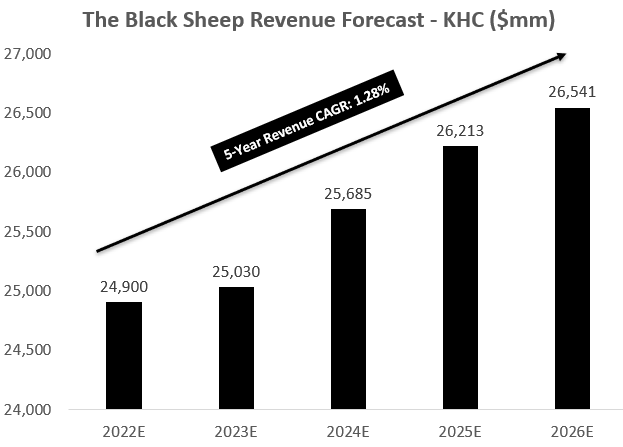 I believe revenues will grow at a modest 1.28% 5-year CAGR. Investors don't need the company to deliver a stellar top-line, as long as the company continues to maintain its profitability and free cash flow metrics. My full DCF model can be found below.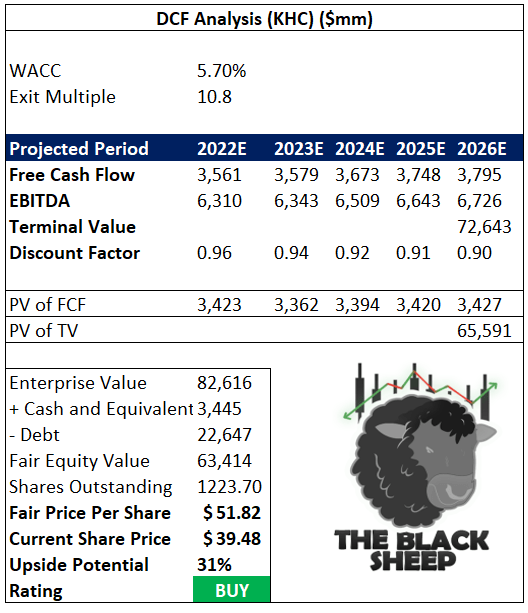 After summing the free cash flow and EBITDA I anticipate the company to make over the five years, applying a 10.8x exit multiple on year five EBITDA, adding net debt, and dividing by total shares outstanding, I arrive at a fair share price of $51.82.
Kraft Heinz is also cheap on a multiple basis, trading at 15.18x forward earnings. For a company that is making all the right moves to increase shareholder value and manage its large debt load, I believe the market is not properly discounting where Kraft Heinz can be in just a few years. Adding to this, I would expect the market to place a higher multiple on the company's forward earnings expectations as the chances of a recession have only increased in the past months. Assuming my thesis is correct, I believe the multiple will expand and Mr. Market will give Kraft Heinz more credit for the leaps and bounds it has taken over the past few years.
Golden Cross Technical Setup
It's great when a company's fundamentals are improving at the same time its technical posture is screaming "BUY!" This is the case with Kraft Heinz as the company recently had a "golden cross."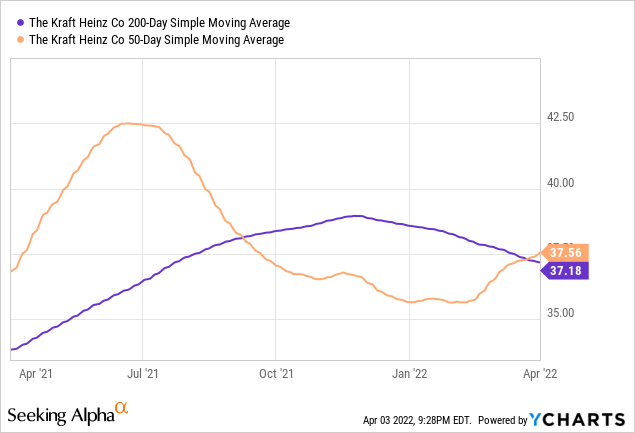 A golden cross occurs when the 50-day SMA crosses over the 200-day SMA. This technical posture has a history of signaling buying opportunities and just occurred for Kraft Heinz's stock.
Balance Sheet Analysis
Kraft Heinz's weak link is its balance sheet. However, the company is working to improve it. Below you will find a table of some of Kraft Heinz's important balance sheet metrics and how they have changed Y/Y.
As mentioned previously, the company still has a high debt load, with a total of $22.647B as of Q4-21. Putting this in a broader context, however, the company was able to shrink total debt by 22% from the year prior which shows the company is moving in the right direction in terms of deleveraging. Current assets shrank 17% and current liabilities increased 12%, which led the company to have negative working capital of $70m. Cash and inventories remained relatively the same from the prior year.
Overall, I am not worried about the company's balance sheet because its free cash flow metrics are improving and the extra cash will work to strengthen it.
Competitive Landscape
Kraft Heinz has several competitors that are worth mentioning. Below is a table of some Kraft Heinz competitors to which I will draw direct comparisons.
While competitors exist, none have nearly the level of brand awareness that Kraft Heinz's plethora of known brands do. Regardless, I have provided a chart that shows Kraft Heinz's superiority in free cash flow versus its competition.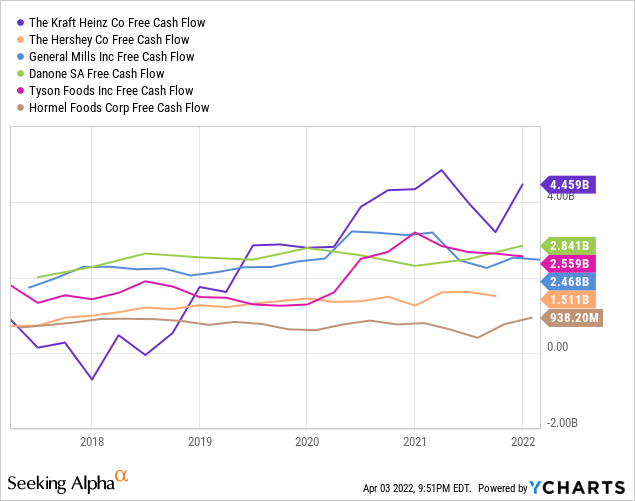 Clearly, Kraft Heinz is the winner in free cash flow. What is more impressive to me, however, is how much the company has been able to grow its free cash flow over the past five years.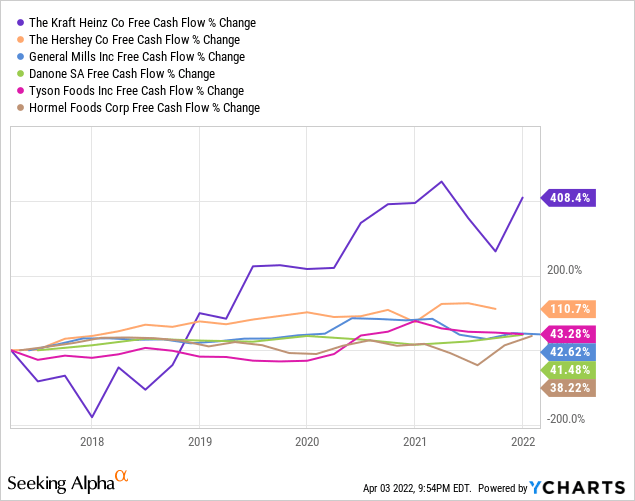 This free cash flow superiority and growth have uniquely positioned Kraft Heinz as a leader amongst its peers. The stock is cheap compared to its peers as well, being the second cheapest of the bunch on a forward P/E basis.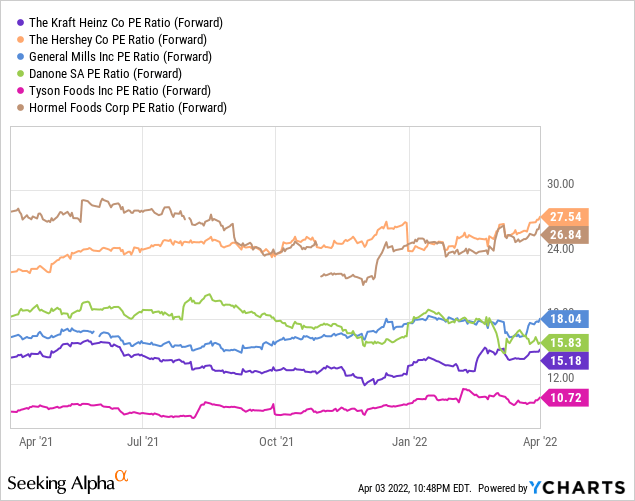 Couple its cheap valuation with its strong brand awareness and I see Kraft Heinz staying on top of its competition over the coming years.
Final Thoughts: KHC Stock Is a Strong Buy
Overall, Kraft Heinz is set to benefit whether the United States enters a recession or we avoid it. At its crux, my thesis on Kraft Heinz is that the company has strong brands, is servicing its debt, increasing its operating metrics, strengthening its balance sheet, and, at a 15.18 forward P/E, is currently cheap.
Recession or not, the company is still making all of the right moves and driving shareholder value. Based on my DCF model, the company is ~31% undervalued, providing a healthy margin of safety that I am comfortable with. The golden cross technical breakout is icing on the cake and a signal that investors should take advantage of a cheap stock with strong prospects to drive shareholder value moving forward. I rate the stock as a "strong buy."