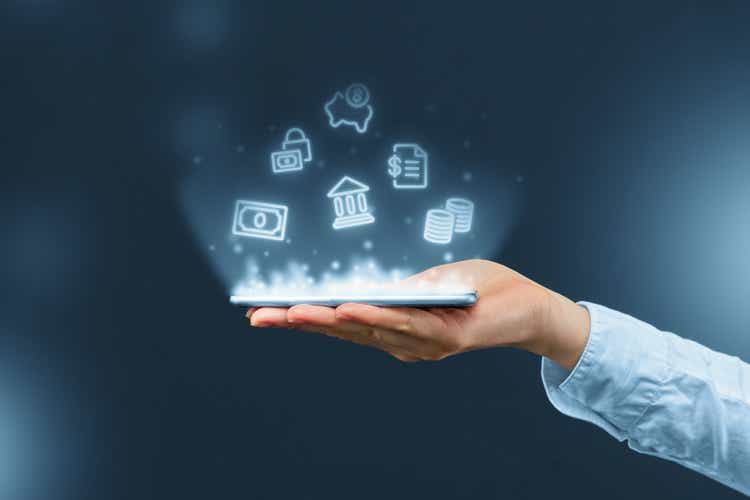 Introduction And Disclosures
Peter Lynch is generally acknowledged as one of the most successful investment fund managers. During the 13 years, he ran Fidelity's Magellan fund, the average annual return was 29.2%. Lynch was also noted for his advice to "Invest in what you know.", although he later clarified that famous quote by stating that it should only be a starting point. I bring this up because I have had a Home Equity Line Of Credit (or HELOC) at a Kearny Financial (NASDAQ:KRNY) branch for more than two decades.
I didn't exactly choose Kearny, but a predecessor bank – Pulaski Savings – which was merged into Kearny in 2002. I initially chose the bank because the rate offered was 5/8% below the prime rate, and an eighth of a point less than the rate I was paying for my previous HELOC. The HELOC also had an added feature of providing up to three free checks each month to draw on the line of credit. That restriction was subsequently lifted, as well as the limitation that the checks be for a minimum of $500. As a "customer", I found these features attractive, and I would often recommend the bank to friends and family. However, I never even considered that the bank was a publicly traded entity or thought about investing in a small community bank.
So, what changed? Seeking Alpha began offering guaranteed minimum payments for articles on undercovered stocks. While looking over the list, I noticed Kearny Financial, and since I was already familiar with the bank as a customer, I decided it might be interesting to take a further look as a potential investment. That look eventually resulted in my first article on Kearny, and a recommendation as a "Buy" when the price was $9.54 in November of 2020.
Also, as a result of that research, I decided to follow Lynch's advice and "invest in what you know". I opened a small position in Kearny, and have subsequently added to it through additional purchases and dividend reinvestment. At the time of the first investment, the annual dividend was $0.32 for a yield of 3.4%, and the dividend has since been increased to $0.44. The share price rose as high as $13.89 earlier this year before the recent selloff dropped the price as low $10.91 in June.
I make every attempt to present balanced views in my articles, although being long could result in an unintended bias.
Background
Kearny has most of its 45 branch locations in New Jersey, although it has two additional ones in Brooklyn, NY and one on Staten Island, NY. In late 2019, it agreed to acquire another small NJ bank with four branches in two of the wealthiest counties in NJ. Following the closing of the transaction in mid-July 2020, the shares outstanding would climb to more than 91 million, but would quickly be brought back down. Below is a table showing some of the historical key metrics:
For The Years Ending June 30th

(In Thousands, Except Percentage and Per Share Amounts)

Fiscal Years Ending June 30th

2021

2020

2019

2018

2017

Net Income /Share (Basic & Diluted)

$0.77

$0.55

$0.46

$0.24

$0.22

Weighted average number of common shares outstanding (in thousands)

Basic

82,387

82,409

91,054

82,587

84,590

Diluted

82,391

82,430

91,100

82,643

84,661

Cash dividends per share*

$0.35

$0.29

$0.37

$0.25

$0.10

Dividend payout ratio (1)

45.1%

52.8%

80.8%

102.9%

45.0%

(1) Represents cash dividends declared divided by net income

* Note: The above chart includes special dividends of $0.12 in October of 2017 and $0.16 in October of 2018.
Source: Company 2021 10-K (Reformatted by author)
While most companies announce share buybacks in terms of dollars, Kearny has announced them in very specific share counts. More importantly, they have achieved those exact figures. As an example, the 10-Q for the quarter ended September 30, 2021 included the following (note the highlighted text that set the buybacks with very specific share totals):
On September 20, 2021, the Company announced the completion of its seventh stock repurchase plan which authorized the repurchase of 4,064,649 shares. Such shares were repurchased at a cost of $50.5 million, or an average price of $12.43 per share. On September 22, 2021, the Company announced the authorization of its eighth stock repurchase plan, which authorized the repurchase of up to 7,602,021 shares, or 10% of the shares then outstanding. Through September 30, 2021, the Company repurchased a total of 213,139 shares under this plan, at a total cost of $2.6 million and at an average cost of $12.41 per share.

During the quarter ended September 30, 2021, the Company repurchased a total of 3,157,788 shares of its common stock which were repurchased in conjunction with the Company's seventh and eighth repurchase plans. Such shares were repurchased at a total cost of $39.0 million and at an average cost of $12.35 per share.
By April 29, 2022 (the date the company's fiscal third quarter 10-Q was filed), the shares outstanding had declined to 70,421,270. This significant reduction in shares outstanding should benefit owners of Kearny shares in two ways. First – all other factors being equal – the income per share will increase even if the income doesn't rise. Second, the share reduction should allow the bank to continue increasing its dividends without increasing the cash used to pay those dividends or increasing the payout ratio.
Looking Ahead
As a HELOC customer, my interest expense has been somewhat volatile the past few years. As 2019 began, the rate rose to 4.875%. By mid-year, it began to drop and finished the year at 4.125%. By April 1, 2020, the rate bottomed out at 2.625%, and remained there until moving up to 2.875% on April 1st of this year. It has continued to move higher as the Fed has raised rates, and on our last statement it reached 3.375%. I expect to see another rate increase on my next statement, as it continues to move higher with increases to the prime rate.
The bank's nominal rates for traditional fixed rate mortgages (for those with a minimum 740 credit score) are currently:
4.875% for a 15 year,
5.125% for a 20 year, and
5.125% for a 30 year.
My HELOC rates remain at prime minus 0.625%. New 15 year HELOCs are currently marketed as prime plus 1.00% (or 5.75%). Other fixed rate home equity loans are currently being offered at rates of 4.25% for five years to 5% for 20 years. This gives the bank a nice spread over its cost of capital, which is currently significantly less than 1% on most of its deposits. The one exception is an introductory rate on 19 month CDs with a 2% APY.
As with almost any investment, there are risks. Perhaps the largest one is the price of residential housing in the NJ market. In Q1 of 2021, NJ saw average home prices jump dramatically:
The average price of a single family home in New Jersey has increased almost $100,000 in the past year, according to data from New Jersey Realtors.

The average home price for the first quarter of 2021 was $500,628 or 24% more than the $403,785 for the first quarter of 2020, the data shows.

"It has jumped dramatically," said Robert White, President-elect of New Jersey Realtors and Managing broker at Coldwell Banker Realty in Spring Lake.
Several articles suggest that housing prices rose by a much smaller double-digit increase in 2021 and that they are still rising at a single digit rate in 2022. That should work well for Kearny and its shareholders.
Rating
I expect Kearny to continue to do what it does best – make small accretive acquisitions and continue to buy back shares. As a result, I remain bullish on Kearny and view the recent market decline as a buying opportunity. With the price closing this past week at $11.24, the dividend yield is just under 4%. With the expectation of continued increases in the dividend, look for the share price to rise back above $14 over the next 12 months. That's enough to warrant a Strong Buy.