(Source: Jervois Mining April 2020 Investor Presentation)
Investment Thesis
Jervois Mining (OTCQB:JRVMF) represents an intriguing play on rising cobalt consumption, driven in part by the rise of electric and hybrid vehicles. Its main cobalt property is located in Idaho, USA, which gives the company a distinct advantage in the form of potential support from the US government and environmental and social governance, or "ESG", standards. There are some key catalysts in the next few months that have the potential to drive the stock price further short term and a strong long-term case for appreciation. I recommend that the risk-tolerant investor add Jervois to their portfolio.
Jervois Mining
Jervois Mining is a Australian-based mining company with a focus on battery metals, particularly cobalt. The marque asset for Jervois is the Idaho Cobalt Operations facility near Salmon Idaho. It also owns a nickel and cobalt deposit called Nico Young near Young, New South Wales, Australia, as well as some large properties in Uganda. The company is in late development stage, and a near-term Bankable Feasibility Study for the Idaho property is a key catalyst for the equity.
Capital Structure
| | |
| --- | --- |
| Shares Outstanding | 641.63m |
| Options/Warrants | 100.39m |
| Fully Diluted Shares Outstanding | 742.02 |
| Share Price (US OTC) @ 9/3/2020 | 0.215 |
| Market cap (fully diluted) | $159.53m |
| Cash (USD converted from $5.8m AUD) | $4.22 |
| Debt | $0 |
(Source: Author's Calculation based on company's public reports)
Idaho Cobalt Operations ("ICO")
The ICO property has benefited from over $100 million in investment in the past 20 years. It was acquired by Jervois as part of its merger with the previous owner, eCobalt Solutions. The site is environmentally permitted since 2009 (Plan of operation) and is in advanced stage of development for purposes of production. For cobalt, the site has 5.24 million tonnes of resource measured and indicated at a grade of 0.44%/t. The 0.44% grade makes it one of the five highest-grade cobalt projects in the world.
The key near-term catalyst is a Bankable Feasibility Study, or "BFS", that the company hopes to have complete by September 30, 2020. This will pave the way for final mine completion to be financed. The BFS will help make clear the value of Jervois and should serve a positive catalyst to move the project forward, with production from ICO expected in 2022.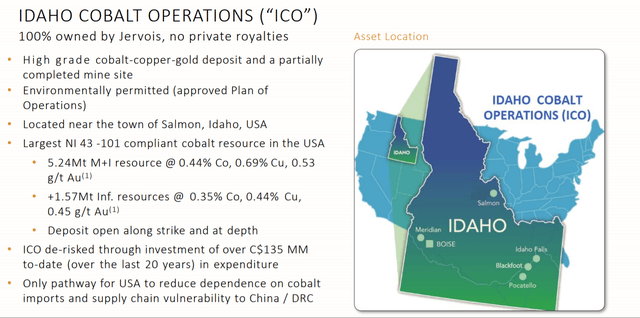 (Source: Jervois Mining April 2020 Investor Presentation)
In addition, the company is in discussions for off-take agreements with Korean and Japanese battery makers and has been engaged with the US government on possible financial support to develop a non-Congo and non-Chinese source of cobalt.
Cobalt
Cobalt is an important industrial metal that is used in many alloys and is important in the production of lithium-ion batteries. Cobalt is generally produced as a by-product of copper and nickel mining, and the vast majority of cobalt consumed in the world is mined in the Democratic Republic of Congo and processed in China. Congo also holds about one-half of the world's known reserves of cobalt.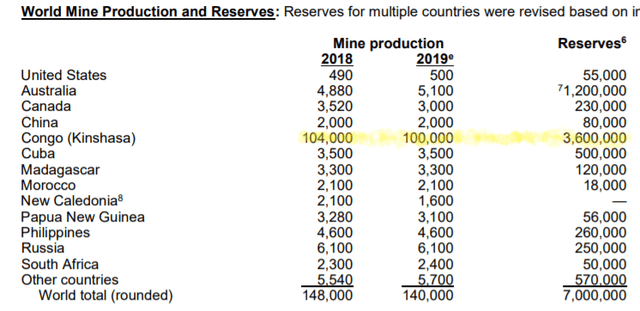 (Source: US Geological Survey)
Market excited about electric vehicles
Against this backdrop of concentrated supply sources comes strong anticipated growth in the need for cobalt, driven by growth in electric and hybrid vehicles. Electric vehicles and EV companies have been quite the rage in the US, with Tesla (TSLA) and Nio (NIO) experiencing tremendous share price gains this year, and SPAC funding has been established for Lordstown Motors (RIDE). Kensington Capital Acquistion Corp., a SPAC backed by Bill Gates, just announced that it will be taking solid-state battery development company QuantumScape public.
I believe that some of this excitement is overdone and that share prices of Tesla and Nio may have gotten ahead of the underlying fundamentals of the business. However, it is clear that electric vehicles are taking larger market share, particularly in Europe. The market share of electric-only hybrid vehicles in Europe climbed to 7.2% in Q2 2020 from 6.8% in Q1 2020. Europe has established tough emissions standards that compel auto manufacturers to produce electric vehicles. Traditional Auto OEMs have ambitious plans to bring EVs to the market, such as Ford (F) marketing an EV version of its iconic Mustang or Porsche (OTCPK:POAHY) making a splash with the introduction of its high-end Taycan. Volkswagen (VWAGY) is particularly aggressive in its drive to bring more EVs to market with plans to leverage its ID.3 platform to bring more than 1.5 million EVs to market by 2025.
Growth in Electric and Hybrid Vehicles will drive growth in use of cobalt
The increased volume of electric vehicles will drive an increased need for cobalt, as it is a key component in almost all forms of batteries and chemistry used in EVs and hybrids.
These two charts from a recent McKinsey study highlight the potential growth in cobalt demand and show anticipated growth in demand for cobalt of 60%+ from 2017 to 2025.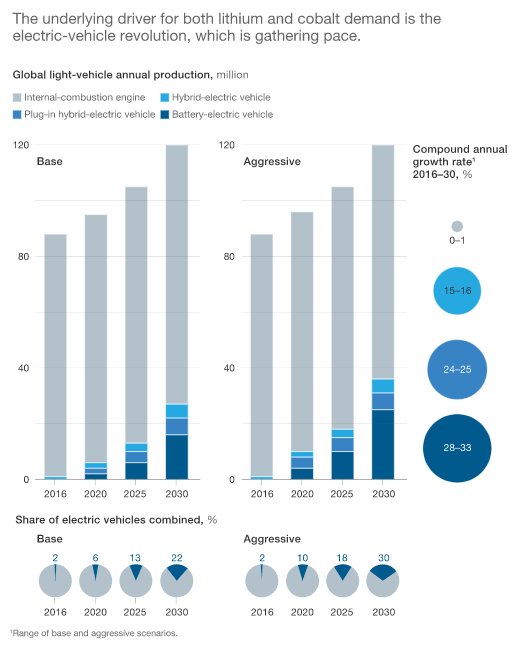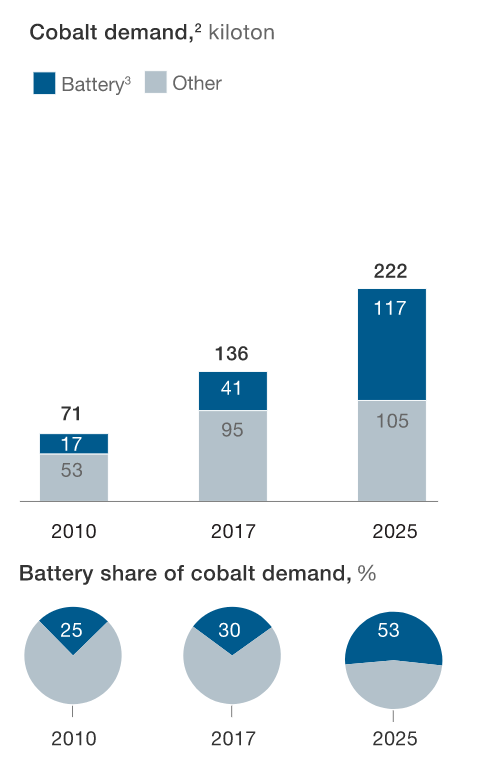 (Source: McKinsey Sustainable Mobility Initiative)
ESG Concerns
Cobalt mining has a long and troubled history with respect to human rights and environmental stability. Most recently Apple (AAPL), Google (GOOG, GOOGL), Microsoft (MSFT), Dell (DELL) and Tesla were sued by the non-profit organization International Rights Advocate for being complicit in the death and maiming of children in Congo. There are also reports that cobalt mining in the Congo pollutes rivers and drinking water. Much of this is driven by extreme poverty and the need of the local populace to work and support themselves. Ultimately, these companies are scrambling to save face and adhere to ESG standards. This comment from a Google spokesperson captures the general public stance of these companies with respect to this controversy.
"We are committed to sourcing all materials ethically and eliminating child mining in global supply chains,"
Supply Security Concerns
Important industrial users of cobalt are highly dependent upon supply from the Democratic Republic of Congo and for chemical processing from China. An estimated 80-90% of cobalt produced in Congo is exported to China. As for battery cell production, almost 75% occurs in China. This makes the world dependent upon both Congo and China for the vast majority of supply. The US government is aware of this, and Jervois actually presented to them on the subject in December 2019. Large users of cobalt, such as Apple, Google and Tesla, as well as other emerging EV manufacturers, are no doubt aware of the situation.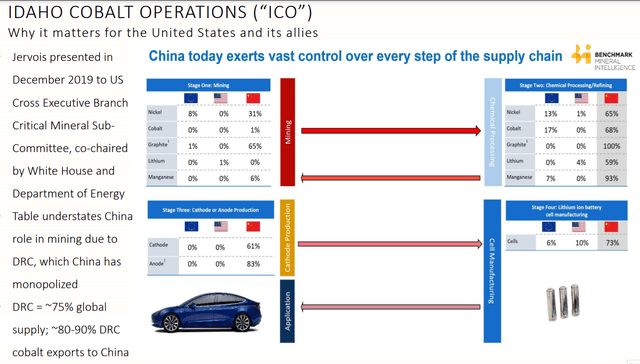 (Source: Jervois Mining April 2020 Investor Presentation)
SA Author John Peterson coined the term "Cobalt Cliff" and discusses the significant supply risk to cobalt users in this article. Cobalt supply security is a real issue for some of the most valuable companies in the world.
Cobalt Prices
Cobalt pricing is relatively volatile, primarily due to the uncertain political and social situation in Congo. Recently, it is trading at about $15.00 per pound ($33,000 per tonne).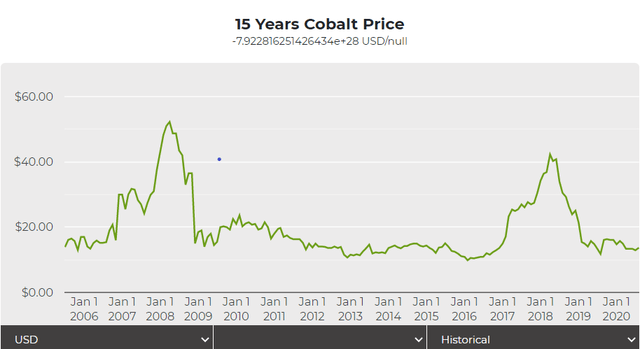 (Source: Mining.com)
The cobalt market is governed by dynamics that lend themselves to the potential for significantly higher prices, if the large demand needs forecast by McKinsey and others were to materialize.
The cobalt market is not very liquid, and most cobalt is purchased based on negotiations between producers and users. Like many commodities, even a small supply and demand deficit can cause a spike in pricing, as there aren't many near-term alternatives for cobalt users.
For two reasons, Jervois may have some additional pricing power that is not common for commodities.
Source of supply can 100% be deemed to not include child labor that has been an issue with Congo-sourced cobalt due to the large amount of artisanal mining that makes its way into the supply chain.
Security of supply. Supply from Idaho, USA, is likely deemed more secure than cobalt sourced from Congo. China also controls over 2/3rd of the chemical processing of cobalt and cell production for cobalt. Approximately 80-90% of cobalt produced in Congo is exported to China.
Cobalt prices seem destined to increase, even if users do not assign value to the Jervois-specific attributes noted above
My expectation is that because of significantly increased demand from EVs, cobalt is likely to have a long-term price of $25+ USD per lb.
Valuation Estimate
This is a hazardous proposition as there are still a number of details that are unknown, and thus why the Bankable Feasibility Study needs to be complete. I present 3 models – conservative, base and aggressive – using the assumptions noted below and present them in summary format. The only change in assumptions is the price of cobalt. Please keep in mind, I have given little value to the other assets owned by Jervois in this analysis, but there is likely upside potential in those assets as well to the case presented here.
Assumptions:
Revenue: Operations from ICO only using cobalt and any related copper sales as an offset to the "All-In Sustaining Cost" (AISC)
Life of Mine: 20 years
Terminal Value: $0
Cobalt prices: $15 Conservative, $25 Base, $40 Aggressive
Daily Processing: 1,200 short tons
Discount Rate: 10%
Additional Investment required: $70 million (original estimate for 800 short tons was $50 million)
All-In Sustaining Cost: 60% (similar to Glencore (GLCNF) cobalt mines)
Estimated NPV of other existing assets: $70 million (Australia and Uganda)
| | | | |
| --- | --- | --- | --- |
| Scenario | Conservative | Base | Upside |
| NPV (millions USD) | $196.89 | $328.15 | $525.03 |
| Fully diluted shares (millions) | 742.02 | 742.02 | 742.02 |
| Implied value of shares | $0.27 | $0.44 | $0.71 |
| Current Market Price | $0.21 | $0.21 | $0.21 |
| % Change | 26% | 111% | 237% |
As you can see, the economics are very attractive, particularly in a world with a need for more cobalt.
Please note that this valuation essentially gives very little value to the other assets owned by Jervois. The Nico Young deposit in Australia is a very real option on higher nickel prices, and the Ugandan assets have been under development for some time and likely have value as copper, cobalt and even gold assets.
Risks
Jervois Mining is not without risk. Here are some of the risks that could affect the valuation:
The upcoming Bankable Feasibility Study is not as favorable as hoped and third-party project financing is not available or is more expensive.
It is possible/likely that a portion of the funding for the completion of the Idaho Cobalt Operations Mine will entail an equity raise, and thus, some equity dilution for shareholders.
Cobalt supply from Congo is overly abundant relative to demand and cobalt prices do not rise. The "conservative" scenario presented above is valued at or below current spot cobalt prices.
There is a disruptive technology that replaces current lithium-ion battery cells and does not require cobalt or requires less.
Conclusion
Jervois Mining is a very intriguing pure play on ethically sourced cobalt. The soon-to-be-completed Bankable Feasibilty Study should be a near-term catalyst for the name. Longer term, the Idaho Cobalt Operations should generate cash flow that will allow Jervois to generate additional value from its other properties. I recommend that risk-tolerant investors add the stock to their portfolio.
Disclosure: I am/we are long JRVMF. I wrote this article myself, and it expresses my own opinions. I am not receiving compensation for it (other than from Seeking Alpha). I have no business relationship with any company whose stock is mentioned in this article.
Additional disclosure: Please do your own research before making any investment decision. Opinion expressed is that of the author only.