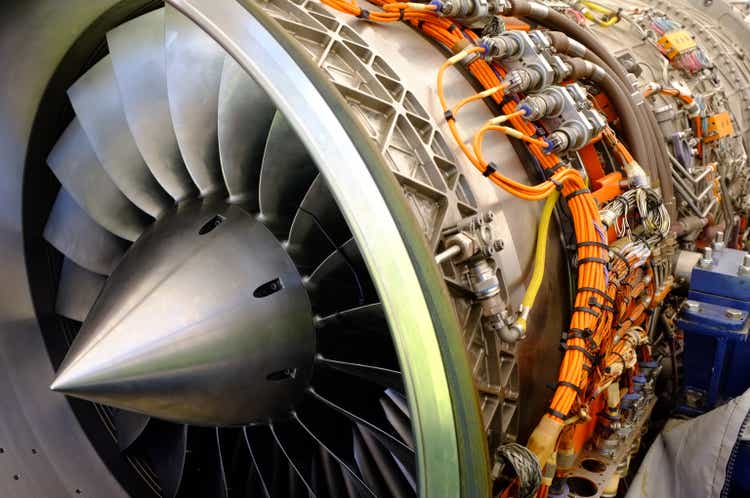 A great feeling is finding a company that is often under-appreciated and that makes for a great investment prospect. Sadly, not every company that you examine will make for a strong opportunity. Some firms just are bound to be mediocre. An example of one such business can be seen by looking at ITT Inc (NYSE:ITT). Between its recent financial performance and some additional pain the company is experiencing this year, fundamentals could be better. It would be a different story if shares of the company were trading on the cheap. But that also does not appear to be the case. Given all of this, why all the company is far from a bad prospect, it certainly is not anything special. More likely than not, investors can find more appealing prospects on the market.
A diverse engineering firm
The best way to understand the degree to which ITT Inc is a diversified company is to analyze it based on its three primary segments. The first of these is known as Motion Technologies. According to management, this unit operates as a global manufacturer of highly engineered and durable brake pads, shock absorbers, and damping technologies for the automotive and rail markets. The company has a variety of well-known brands under its belt such as ITT Friction Technologies, Axtone, KONI, Galt, and others. Products sold under this segment include those dedicated to both the traditional internal combustion market and to the electric vehicle space. Many of its products are sold to original equipment dealers, as well as to independent aftermarket networks. In addition to catering to regular consumer vehicles, some of its parts, such as those under its KONI brand, are made available for car and racing enthusiasts who modified their cars for increased handling performance and comfort. During its 2021 fiscal year, this segment accounted for 49.5% of the firm's revenue and for 55.3% of its profits.
The next largest segment is referred to as Industrial Process. Through this, the company produces and sells industrial pumps, valves, and monitoring and control systems for the energy, chemical, petrochemical, pharmaceutical, general industrial, mining, pulp and paper, food and beverage, and other related markets. Naturally, the segment also provides aftermarket services for customers who purchase these products. Last year, this segment was responsible for 30.5% of the company's revenue and for 27.2% of its profits. And finally, we have the Connect & Control Technologies segment. Representing just 20.1% of the company's revenue and 17.5% of its profits, it is the smallest of the company's three key segments. Through this, the business sells harsh-environment connectors and critical energy absorption and flow control components. These are largely marketed to the aerospace, defense, and industrial markets.
Top line performance achieved by ITT Inc has generally improved year after year. For instance, between 2017 and 2019, revenue at the company rose from $2.59 billion to $2.85 billion. Due to the COVID-19 pandemic, revenue dropped to $2.48 billion in 2020 before rebounding some to $2.77 billion last year. While the company did benefit from foreign currency fluctuations to the tune of $48.1 million for the year, organic revenue increased by 9.6% thanks to both its Motion Technologies and Connect & Control Technologies segments. The company benefited tremendously from attractive growth in its Friction business to the tune of 21%, while its Wolverine business grew by 17% thanks to strength in the demand for sealings. Another strong point was the growth the company saw in connector sales, with revenue rising by 20% year over year. The firm's improvement has continued into the current fiscal year, with revenue in the first quarter of 2022 coming in at $726.2 million. That represents an increase of 4% compared to the $698.4 million generated the same quarter one year earlier.
The trend for profitability for the business has been a bit more volatile in recent years. After rising from $115 million in 2017 to $332.4 million, net income flatlined for two years before dropping to $68.5 million in 2020. Then, in 2021, profits rose back up to $314.8 million. Other profitability metrics have been similarly volatile. Operating cash flow did manage to rise from $247.2 million in 2017 to $435.9 million in 2020. But in 2021, the company saw cash flow plunge to negative $8.4 million. Even if we adjust for changes in working capital, the metric would have worsened, but the downturn came earlier. After peaking at $458.5 million in 2019, the metric dropped to $385 million in 2020 before plunging to $83.6 million last year.
Unfortunately, weakness on the company's bottom line has continued into the 2022 fiscal year. Net income in the first quarter came in at $74.8 million. That compares to the $86.2 million generated the same time one year earlier. Operating cash flow went from a positive $70.8 million to a negative $2.7 million. But if we adjust for changes in working capital, it would have dropped more modestly from $124.3 million to $116 million. Also experiencing a decline was EBITDA. It dropped from $140.8 million in the first quarter of 2021 to $121.9 million the same time this year.
When it comes to the 2022 fiscal year, management expects revenue to continue climbing. Sales should rise by between 7% and 9%. At the midpoint, this would translate to revenue of $2.99 billion. Earnings per share are expected to be between $4.07 and $4.50. At the midpoint, this should translate to net income of $357.8 million. Management has not provided any guidance when it comes to operating cash flow. My own estimate has the number coming in at $398.6 million, while I believe that EBITDA should be somewhere around $476.6 million. These estimates are based on an extrapolation from the first quarter results the company experienced.
Using this data, the company is trading at a price-to-earnings multiple of 16.2. This is down from the 18.5 reading that we get using 2021 results. The price to adjusted operating cash flow multiple should be 14.6. That compares to the 69.5 reading we get if we use 2021 results. And finally, the EV to EBITDA multiple should increase from 10.2 to 11.7. As part of my analysis, I also decided to compare the company to five similar firms. On a price-to-earnings basis, these companies ranged from a low of 12 to a high of 154.1. Two of the five companies were cheaper than ITT Inc. On a price to operating cash flow basis, the range was from 13.2 to 346.4. In this case, using our 2021 results, four of the five companies were cheaper than our prospect. But if we use the 2022 estimates, only one such firm ends up being cheaper. And finally, the EV to EBITDA multiples of the firms range from a low of 8.8 to a high of 45.4. Only one of the five companies are cheaper in this regard.
| | | | |
| --- | --- | --- | --- |
| Company | Price / Earnings | Price / Operating Cash Flow | EV / EBITDA |
| ITT Inc. | 18.5 | 69.5 | 10.2 |
| Chart Industries (GTLS) | 154.1 | 346.4 | 45.4 |
| Donaldson Co (DCI) | 19.6 | 25.9 | 12.1 |
| RBC Bearings (ROLL) | 92.9 | 28.0 | 35.5 |
| Crane Holdings Co (CR) | 12.0 | 13.2 | 8.8 |
| The Middleby Company (MIDD) | 15.3 | 21.3 | 11.8 |
Takeaway
What data we have today suggests that ITT Inc has been a somewhat volatile company but has still managed to grow consistently if you ignore the COVID-19 pandemic. Revenue growth has continued this year but profits do look to be under pressure. Management's own forecast is for the company to make up for this from an earnings perspective, but my own model assumes that the company's other profitability metrics will worsen a bit. Overall, shares of the company are not priced incredibly low. But between some of the pressures to the company has seen and the cash flow troubles it experience in 2021, I don't think that this business is a great prospect. I can certainly understand why investors would buy into the firm, especially considering that management just bought $186 million worth of shares totaling 2% of all stock outstanding in the latest quarter alone. But on the whole, I do believe there are probably better prospects to be had on the market today.