Article Thesis
Steel prices are high, which is why United States Steel (X) had a great 2021 and will likely have a very strong 2022 as well. This allows the company to return a lot of cash to its owners, while United States Steel can also make progress in strengthening its balance sheet. Valuations are very low based on this year's expected results, but investors should account for the fact that profitability will most likely not be this high beyond 2022.
Why Did U.S. Steel Stock Fall?
Looking at the company's share price performance over the last year, we see that X hit a peak in summer 2021, at around $31. Since then, shares have come down quite a lot, dropping to as low as $18 in late January. Looking at the movements in the EPS estimates for United States Steel, this is somewhat surprising:

We see that EPS estimates for the current year, fiscal 2022, have risen dramatically over the last six months. In summer 2021, analysts predicted EPS of around $5 for the company in 2022, while current estimates stand north of $10. The share price decline from last year's highs was thus not driven by a worsening near-term outlook. On the contrary, U.S. Steel's near-term outlook is excellent, as the company should be extremely profitable this year.
Investors were spooked by a couple of news items, which likely explains why X saw its shares decline — as did other steel manufacturers, despite strong profits. In early 2022, the market worried about falling steel prices and a build-up in inventories, even though those were only the results of seasonal effects that do not impact the 2022 outlook. Market participants also worried about a slowdown in China, although it looks like that was, at least partially, caused by efforts to improve air quality ahead of the Olympic Games. With China cutting back on emission regulation and iron ore prices soaring again, it looks like demand in China is coming back in a big way, which bodes well for global steel demand. This likely explains why U.S. Steel and its peers have rebounded from their January lows already.
Is X Stock A Good Steel Stock?
U.S. Steel isn't the largest steel company in North America, but it is a highly capable one. Its margins are at the top end of the peer group when we compare them to the margins generated by Cleveland-Cliffs (CLF) and Nucor (NUE):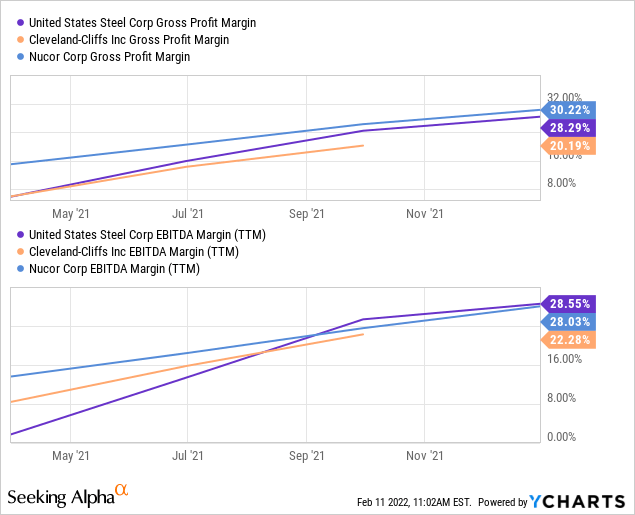 With its product portfolio, X doesn't hold an especially advantaged position — CLF, for example, seems to be better-positioned from an ESG perspective and is the leader in the high-value automobile segment.
U.S. Steel has a pretty strong balance sheet, however. This is primarily the result of huge efforts in 2021 to improve debt levels: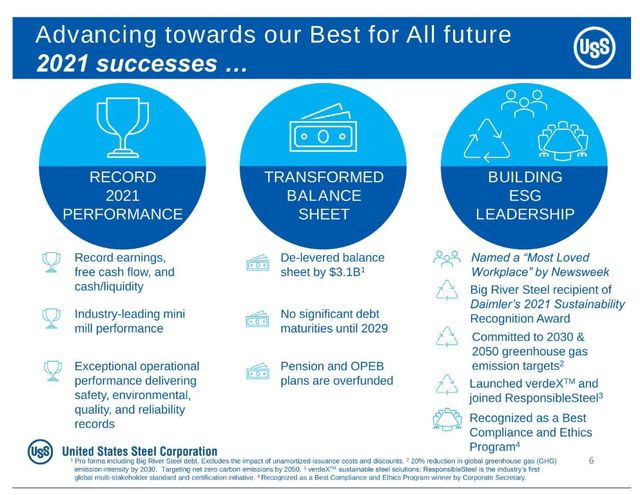 Paying down $3.1 billion in debt in 2021 has transformed the balance sheet and reduced U.S. Steel's net debt to $1.37 billion at the end of the fourth quarter. This is, for reference, equal to just 0.3x the company's cash flow that it recorded last year. 2021 was an outlier year, of course, thus EBITDA and cash flows will not always be this high. But even if EBITDA were to decline to $2.0 billion over the next couple of years, net debt would still be quite low, at just 0.7x EBITDA. The fact that U.S. Steel has pushed out its debt maturities to 2029 and beyond further de-risks the balance sheet and results in huge shareholder return potential. With net debt being low and no meaningful near-term maturities, U.S. Steel can put large amounts of cash towards shareholder returns. With the dividend standing at just $0.05 per share, the focus is clearly on buybacks. The company has just announced a new $500 million buyback program, together with $100 million left over from the old $300 million program, U.S. Steel can thus now buy back $600 million worth of stock. The company's market capitalization stands at $6.4 billion today, which means that U.S. Steel can buy back around 10% of its market cap at current valuation levels.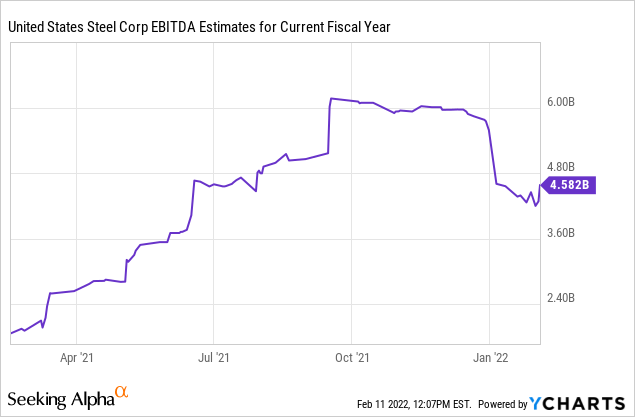 U.S. Steel is forecasted to generate EBITDA of around $4.6 billion this year. If we adjust this for forecasted (per management) capital expenditures ($2.3 billion), pension payments ($0.1 billion), and cash interest expenses ($0.2 billion), we get to free cash flow of around $2 billion for the current year. Not only does this compare very favorably to the current market capitalization of $6.4 billion (FCF yield of around 30%), but the high expected free cash flow for the current year also indicates that shareholder returns could rise further. The $600 million buyback program will not eat up all of U.S. Steel's free cash flow, nor will the dividend that costs about $60 million a year. U.S. Steel could thus either reduce its net debt dramatically this year or announce additional buybacks during the second half of the year. I do believe that a combination of both is likely — $2 billion of free cash could be used for $1.3 billion in buybacks while further cutting the net debt in half.
Is United States Steel A Good Investment For 2022?
U.S. Steel is highly dependent on the pricing of steel and steel products, thus it isn't surprising that its share price will be tied to that to some degree. Recent guidance by CLF's management indicated that 2022 will be a year of attractive steel prices as well, and U.S. Steel's own management also sounded positive when presenting earnings in late January. Still, U.S. Steel and its peers are obviously dependent on factors such as economic strength and demand for builders, automobile manufacturers, etc.
That being said, with shares trading at an inexpensive valuation and with huge tailwinds from share repurchases, U.S. Steel does not seem like a bad pick for 2022 at all.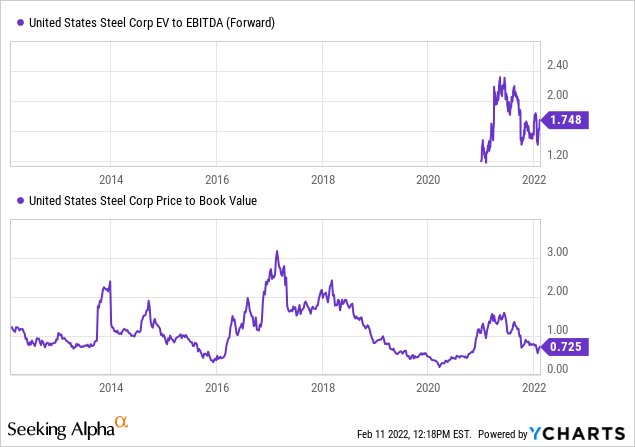 U.S. Steel trades at just 1.7x EV to EBITDA right now, which is an ultra-low valuation in absolute terms. EBITDA will not remain this high forever, of course, but even if EBITDA were to fall to one-third of the current level, shares would not be expensive at around 5x EBITDA. U.S. Steel also looks inexpensive relative to its book value, as the book value multiple stands at just above 0.7 right now. As we can see in the above chart, this is close to the bottom end of the historic trading range.
Since U.S. Steel will be highly profitable this year, which will increase its book value, and since X will repurchase shares at a strong pace this year, which will boost value further (due to them trading below book value), investors can expect that book value per share will continue to rise throughout 2022. This will either result in share price gains, at a constant book value multiple, or it will result in an even lower book value multiple a year from now — which would be surprising, as X generally doesn't trade at large discounts to book value for extended periods of time.
Is X Stock A Buy, Sell, Or Hold?
U.S. Steel is impacted by overall economic strength, infrastructure spending, etc. One thus cannot look at shares in a vacuum. If one is at least moderately bullish on economic growth in the US, U.S. Steel seems like a solid pick, I believe. The company has a healthy balance sheet, is highly profitable, trades at an inexpensive valuation, and will offer compelling shareholder returns this year.
There are risks, of course. If the Fed hikes rates too aggressively, a recession could commence, which naturally would destroy steel demand, thereby hurting U.S. Steel's profitability. Likewise, X and its peers are also impacted by environmental regulation, which could theoretically be a headwind in the future. I do not consider these risks to be very large, however.
X was, in retrospect, an excellent buy at $18-$20 a couple of weeks ago during a short-lived market panic. At $24, shares do not offer a comparable risk-return outlook, but X still seems like a very solid holding, I believe.