Grifols S.A. (GRFS) is a Spanish multinational pharmaceutical and chemical company that engages in procurement, production, preparation, and sale of blood plasma-based products. The company serves public but also private customers and was founded in 1940 and is headquartered in Barcelona.
After the recent downgrade by JPMorgan (NYSE:JPM) and consequently slump in stock price, we have decided to double-check JPMorgan Chase's comments and provide our view. The US bank has estimated that the second half of 2021 will be "worse than expected given that they have less product to sell" which could reduce their income by around 9% year-on-year. They forecast that Grifols EBITDA margin will be cut "sharply" thanks to the decrease in sales, going from 25% in the first quarter of last year to 15% for the second half of 2021. Aside from JPMorgan analysis, here are some other negative points:
High leverage,
Business concentration in blood plasma-derived products,
Lower plasma collection capacity due to COVID-19 restrictions,
Aggressive and frequent acquisitions.
Although Grifols shares have already underperformed the healthcare sector, we remain cautious in the short term; however, our internal team believes that the worst-case scenario is already priced in and we have not lost confidence in the evolution of Grifols' business for the upcoming years.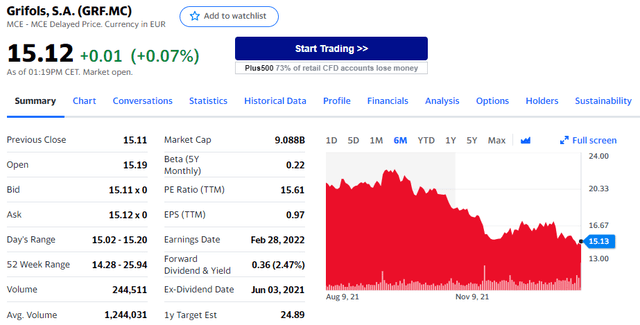 Source: Yahoo Finance
Looking ahead to the results (scheduled for the 28th of February) and after our update on European pharmaceutical companies, we provide a deep dive into Grifols and its latest acquisition Biotest AG.
Biotest AG Investment
In late October 2021, Grifols announced the Biotest acquisition for approximately €1.6 billion ($1.9 billion) with the aim to strengthen its position in the plasma therapies sector. The deal is expected to close by the end of the first half of 2022.
Raimon Grífols Roura, co-CEO of Grifols, noted that the purchase "will expand our current portfolio of plasma-derived therapies and accelerate the development of new products" Biotest currently markets 12 products and in the fiscal year 2020 has generated a turnover of €484 million. The company has a production capacity of up to 1.5 million litres of plasma per year, which it expects to double thanks to the acquisition, while its network of plasma centres includes 26 European sites.
Grifols said the purchase will allow it to improve the plasma business and revenue per litre by leveraging currently unused proteins and its global network of plasma centers. The company indicated that there are "significant" revenue and cost synergies from the deal, and expects combined revenue of more than €7bn by 2024. Co-CEO Víctor Grífols Deu said the deal will increase its earnings by €300 million in 2024 and by €600 million in 2026.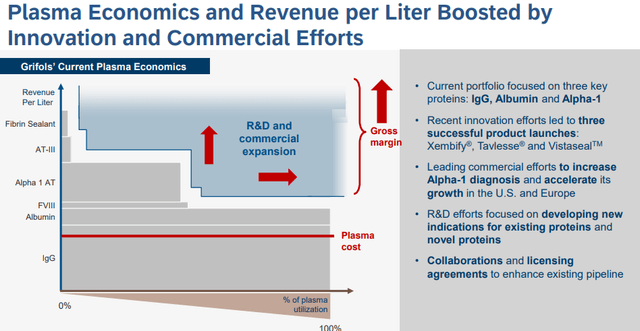 Source: Biotest AG Investment
Our team thinks that the deal makes strategic sense and that Grifols will continue to scale internationally and the ability to consolidate the existing plasma oligopoly should help reassure the company's ability to overcome upcoming competitive pressures.
We model the bolt-on acquisition with the following details:
a lower revenue forecast vs management expectation, enhancing their plasma business thanks to a higher utilization rate
10% increase in top-line sales per plasma litre
gross margin improvement by 10%
lower CAPEX requirement
cost-saving €50 million run rate until 2026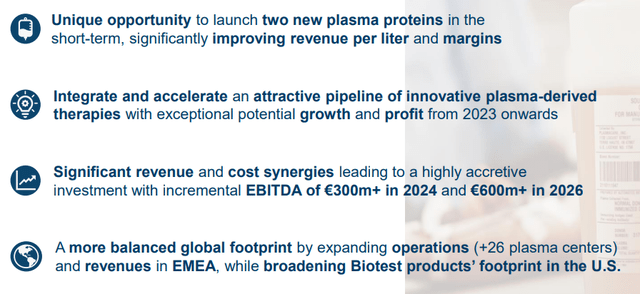 Source: Biotest AG Investment
Conclusion
Thanks to the Biotest acquisition, Grifols will also accelerate its product development pipeline. Biotest is currently conducting studies on plasma-derived fibrinogen BT-524 for the treatment of congenital and acquired disorders, as well as evaluating Trimodulin, also known as BT-588, a plasma-derived IgM concentrate for the treatment of patients with severe acquired pneumonia. In addition, the Biotest pipeline also includes several plasma-derived resources and we believe this has not been priced in. We see a strong rationale for the Biotest acquisition and we are confident in the anti-trust review in Austria, Spain, Turkey, and Germany. The Spanish pharmaceutical company has a successful track record of M&A deals and it is currently trading on a 2022 P/E of 16.5, implying a 30% discount to European specialty pharma and a 55% discount to CSL, the Australian competitor.
For our readers, we have provided a recent update on our EU Pharma coverage:
Novartis: A Good Long-Term Pick
Sanofi: Our Next Value Pick
Editor's Note: This article discusses one or more securities that do not trade on a major U.S. exchange. Please be aware of the risks associated with these stocks.