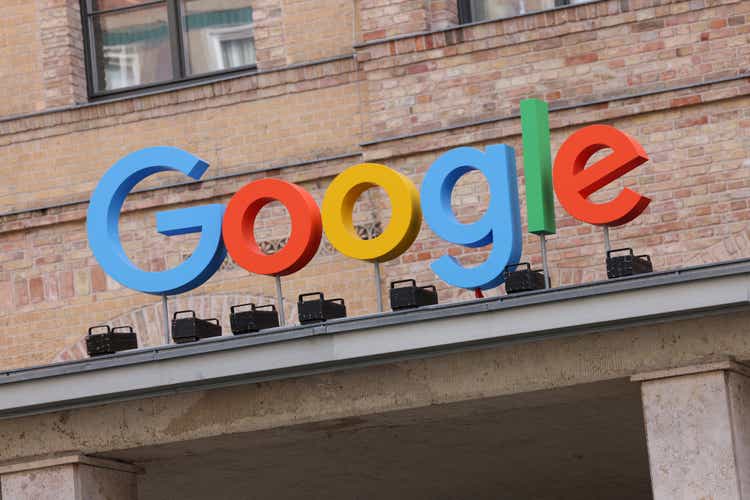 Alphabet or Google (NASDAQ:GOOGL) is the "Backbone of the Internet" and dominant leader across a multitude of categories from internet search and advertising to Video (YouTube), Mobile Operating systems (Android) and even Email (Gmail). Over 2 Trillion searches are performed on Google each year and the company has developed a strong Data moat, which is a treasure trove for advertisers. The stock price has slid down by 26% since the high's December 2021. I believe this was driven mainly by the high inflation and rising interest rate environment, which has caused a decline in all growth stocks including the $1.44 trillion mammoth that is Google. Despite this the company's Cloud segment is growing at a blistering pace and jumped by 45% in the first quarter. The stock is currently undervalued intrinsically and relative to historic multiples. Let's dive into the Business Model, Financials and Valuation for the juicy details.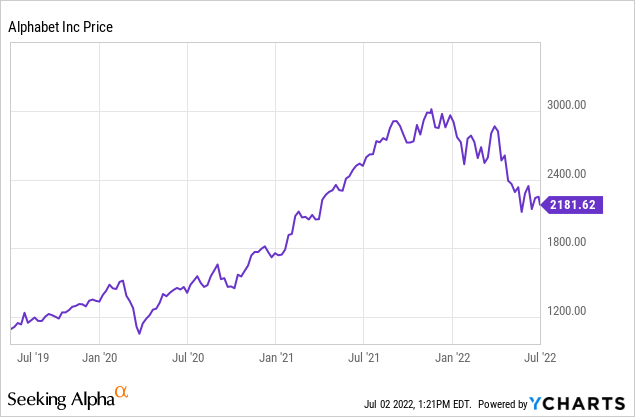 Dominant Business Model
Alphabet's Vast Business Model Can Be Split Into Three Main Segments: Advertising, Cloud and "Moonshots." Let's Dive Into Each.
1. Advertising (90% of Revenue)
The global digital advertising market was worth over half a trillion in 2021, this is forecasted to reach $600 billion this year and over $876 Billion by 2026. Google and Meta Platforms (META) are in an advertising duopoly and capture over 50% of global digital spending.
Google has the largest slice of the digital ad pie with a 28.6% market share as of 2021. For Alphabet, its dominance is made possible by it's vast market share across a variety of distribution channels, these include:
Google Search (85% of all searches are made on the platform)

YouTube (World's most popular video platform)
The company's services also includes, the most popular map app by downloads (Google Maps) and even Gmail, the most popular email client.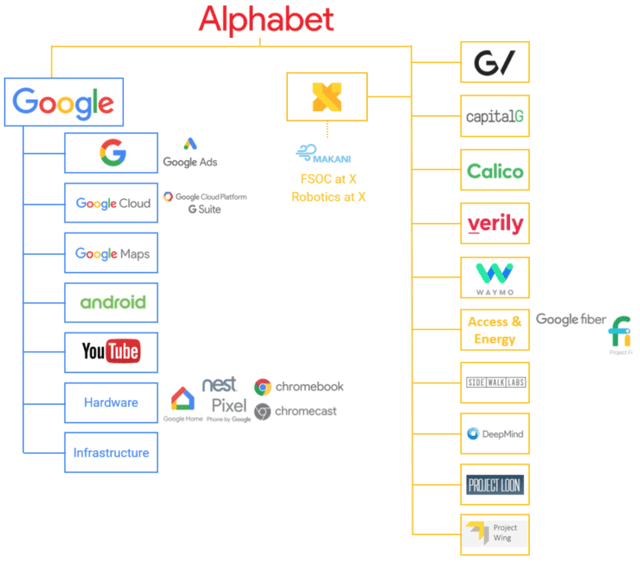 Google's vast range of "owned" distribution channels give them a substantial moat and competitive advantage over any other player in the industry. While it's "Big Data Moat" is enhanced daily by the 8.5 billion searches performed on the platform per day. Google has vast insight into people's daily wants, needs and desires, this is extremely powerful and has many applications, many of which, we are not even scratching the surface of yet. For example, Google's search platform has even been the case of many studies where the search data of people searching for flu symptoms in a short period of time, around a certain location can be used to predict pandemic outbreaks. For advertisers, this "Big Data" means best in class technology and targeting via the Google Advertising platform. As a Digital Marketing consultant and Investor, I can attest to the advanced targeting possible inside the platform, you can target demographics, interests and even people with a certain household income. Thus it's no surprise advertising makes up the bulk (90%) of Google's monster revenue base.
2. Google Cloud (7.4% of Revenue)
Google Cloud is the third largest cloud infrastructure provider with a 10% market share, behind AWS and Microsoft Azure. Third place is not bad, given the Cloud Infrastructure market is forecasted to be worth a staggering $1.95 trillion by 2032. Google has even built out a vast network of submarine communications cables, which truly makes it the "Backbone of the Internet", these connect the following locations;
California to Chile (2019)

USA with France (2020)

Lisbon with South Africa

New York to Spain (2022)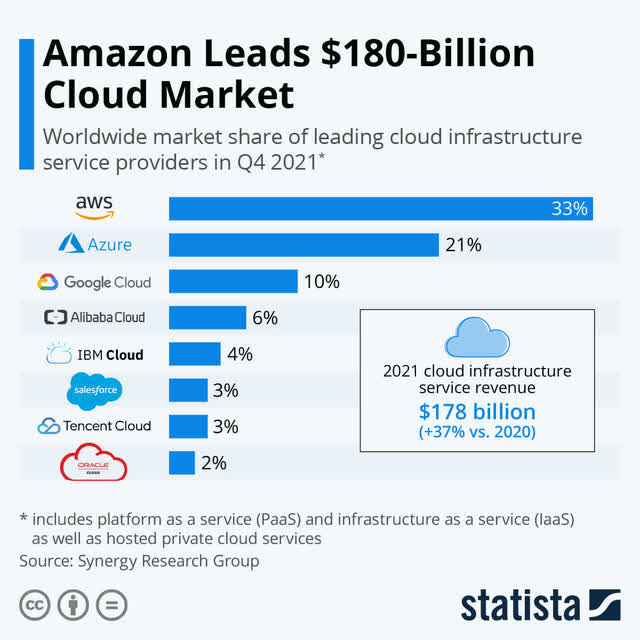 3. "Moon Shots" (0.2% of Revenue)
The "Moon Shots" are the most exciting parts of Google's Business model and offer huge future potential. The company has had a culture of "experimentation" since the early days when PhD students Larry page and Sergey Brin tried to "download the entire internet". Google hasn't wavered from this Moonshot thinking and are currently investing a staggering $31 Billion per year into a series of bold bet's, which are set to change the world as we know it.
In technology, we need revolutionary change, not incremental change. – Larry page (Google Co-Founder)
Here is a short list of some of the major "Moonshots" Alphabet is working on, that are starting to gain major traction.
Waymo (Self Driving Vehicles)
Waymo is Alphabet's Self-Driving Vehicle unit. For a few years now the platform has been operational in Arizona. There you can download the Waymo One App and hail an autonomous vehicle to take you wherever you want to go. The company has also recently rolled out services in San Francisco.
The worldwide autonomous vehicle market was valued at $76 Billion in 2020 and is forecasted to reach a staggering $2.1 Trillion by 2030. This makes the industry one of the fast growing globally with a 40% CAGR predicted. Self Driving cars are set to disrupt multiple industries from ride hailing to car ownership and even rail. They are also set to act as a backbone for a whole new economy which takes advantage of an automated driving lifestyle.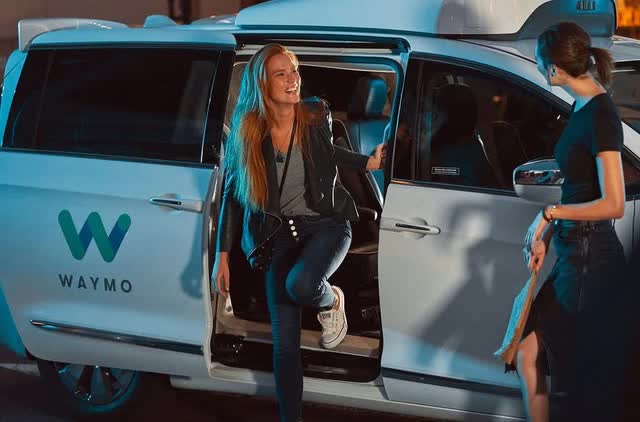 Autonomous Trucking is another huge growth area, due to the shortage of truck drivers and our increasing demand for instant Ecommerce. Waymo is already testing its Autonomous trucks (Waymo Via) in Texas (with a human driver) behind the wheel for safety. The company has formed a partnership with Logistics giant CH Robinson and UPS to test its autonomous trucks across a 240 Mile route between Dallas-Fort Worth and Houston.
They also recently partnered with Wayfair (W) to offer the delivery of furniture to your home via an autonomous truck. "Coopetition" has also been happening is the industry as Waymo partnered with Uber Freight to integrate into Uber's logistics app. Waymo, Uber, Aurora and others are also pressuring the Californian government to lift its ban on Autonomous trucks for testing.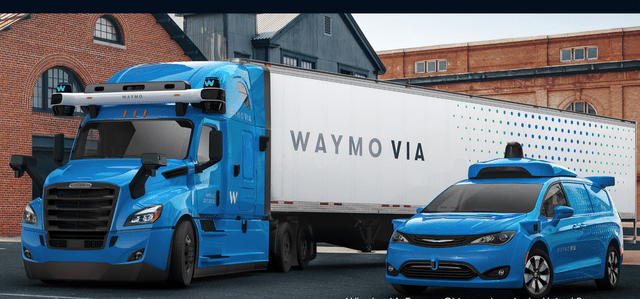 Quantum Computing
A few years back Google created a quantum computer which achieved "quantum supremacy". This means it outperformed a traditional computer on a complicated calculation. Alphabet has plans to build a commercial ready quantum computer by 2029 at its recently opened a quantum computer R&D center.
Other Moonshots include Delivery Drones (Project Wing), Smart Contact Lens, Internet beaming hot air balloons, a Pill that can detect cancer and many more. LaMDA AI Google's AI chat platform was even recently called "sentient" by a former employee, who believed the software had developed consciousness and should be treated as a person (although Google denied this). Although, alphabet's many Moonshots only make a small section of revenues (0.2%) they offer major "Optionality" for the stock long term.
Growing Financials
Alphabet produced strong earnings for the first quarter of 2022. They generated revenue of $55.3 billion, up 23% year over year and Operating income of $20 billion, up 21% compared to the equivalent quarter last year. These results were primarily driven by Search and Cloud. Google's Cloud segment generated $5.8 Billion in revenue up a rapid 45% year over year.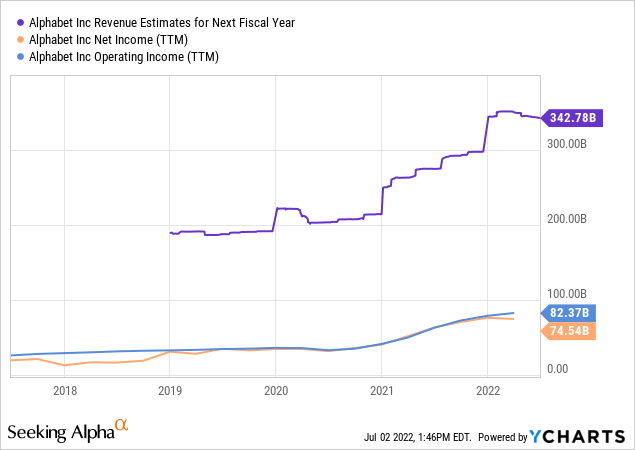 The company's gross margin was strong at 56% and operating margin was stable at a healthy 30%.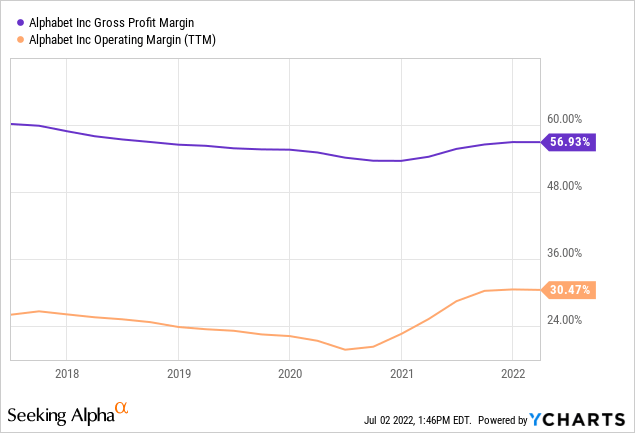 Alphabet's Balance Sheet is a fortress with $134 Billion in cash and just $12.8 billion in long term debt. Management showed confidence and the board authorized a substantial $70 Billion in stock buybacks.
Google Stock – Advanced Valuation
In order to value Alphabet, I have plugged the latest financials into my advanced valuation model, which uses the discounted cash flow method of valuation. I have forecasted 10% revenue growth per year for the next 5 years, which is conservative given the 23% growth in the last quarter, 41% growth in the prior year and 13% growth pre-pandemic.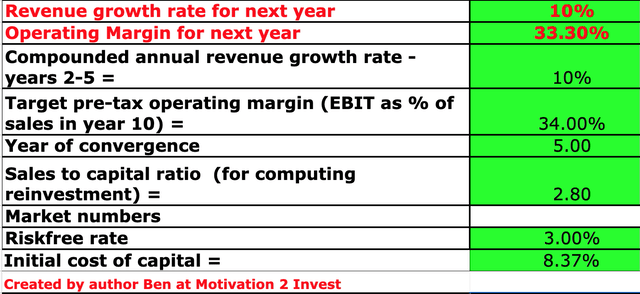 I have forecasted the operating margin to increase slightly from 33% (which includes R&D add back, explained next) to 34% over the next 5 years as the cloud business starts to make up a greater percentage of revenues.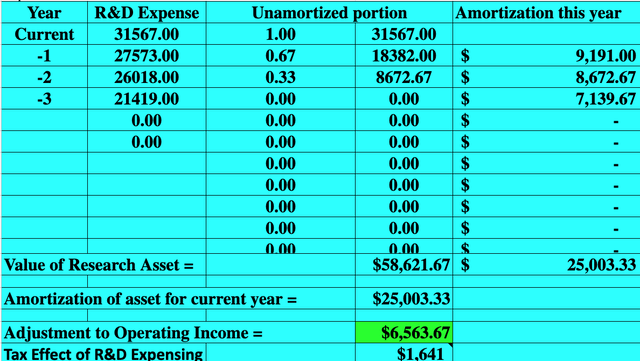 To increase the accuracy of the valuation, I have capitalised the company's R&D expenses, which has resulted in a $6.56 Billion adjustment in operating income.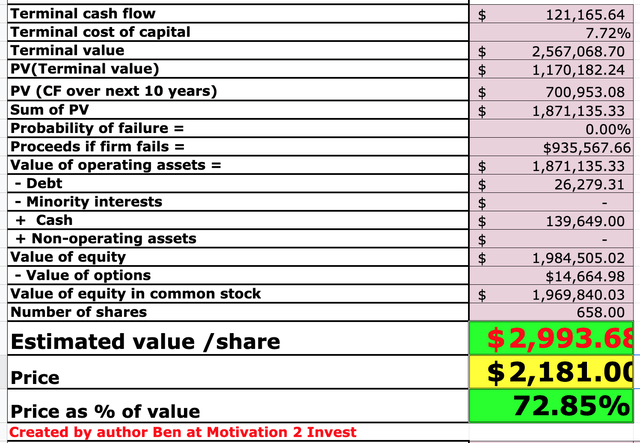 Given these factors, I get a fair value of $2,993 per share, the stock is trading at ~$2,181 per share at the time of writing and is thus is ~27% undervalued, which offers a significant margin of safety.
Monte Carlo Simulation
As Google is a company which offers a range of potential outcomes especially from long tail "Moon shots", I have done a Monte Carlo simulation of the valuation model. There, I have predicted revenue growth of 8% per year for the next 2 to 5 years as a slow growth scenario and 20% revenue growth per year for the high growth scenario.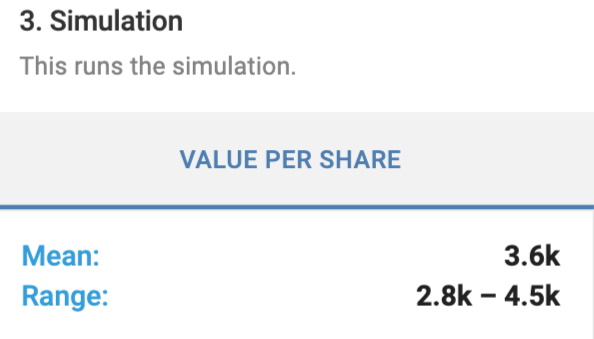 Give these factors I get a range of share prices between $2,800/share under the "slow growth" scenario and $4,500 per share under the high growth scenario. I get a mean of $3,600 per share, given the stock currently trades at ~$2181 per share, it has an upside of approximately 65%.
Alphabet is also trading at an EV to EBITDA (forward) = 4.8 and Price to Sales ("PS") = 10.9 which is lower than historic levels.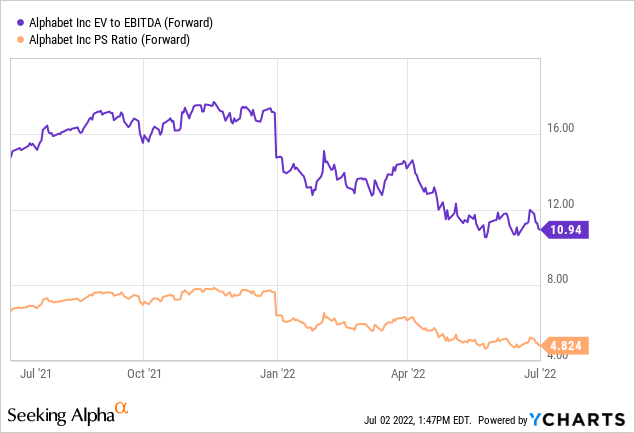 Risks
High Inflation, Rising Rates
I believe the main risks from investing into Alphabet includes the macroeconomic environment of high inflation and rising interest rates, which will squeeze the consumer and may cause a slowdown in advertising spend.
Advertising Spend Slowdown
As Alphabet makes ~90% of its revenue from advertising, a recession would have a significant impact on the company's Financial position. Advertisers pulled advertising spend in 2020 and we saw the stock take a dive then, so Wall Street may have baked this scenario into their predictive models.
Competition
There is plenty of disruptive competition in the digital advertising industry. These include players such as The Trade Desk (TTD) which has plans to create an "open internet" and disrupt large players such as Google. Other platforms include close rival Facebook or Meta (META) and even Amazon (AMZN) which is rapidly increasing its market share and has a $31 Billion Ad business. Other players include TikTok which now has over 1 billion daily active users, Outbrain (OB) and even small cap PubMatic (PUBM) which I covered recently.
Final Thoughts
Alphabet is a tremendous company which is truly the backbone of the internet. They have a big data moat from internet search and various "Moon Shot" programs offer significant "optionally" for the future. The recent pullback in share price means the stock is now undervalued intrinsically and a great long term investment opportunity.