Gladstone Land (LAND), one of only two farmland-focused real estate investment trusts in the United States, has a well-earned reputation for growth. This is especially true in the second half of the year, which typically sees the company make more acquisitions than it does in the first half of the year. This may make sense on the surface since crops are frequently planted in the spring and harvested in early autumn while farmers work on improving their farms in the winter months, but many of Gladstone Land's properties grow perennial crops that do not need to be planted every year so this dynamic may not apply. The company continued this pattern earlier this week by acquiring farmland in Maryland and Delaware.
About The Acquisition
On Sept. 1, 2020, Gladstone Land acquired farmland in Maryland's Eastern Shore and Delaware for $7.4 million. This was an interesting purchase as it's outside of the area where the company usually invests. As I have mentioned in past articles on the company, Gladstone Land focuses on investing in farms growing specialty crops such as fruits, vegetables, and nuts. Many of these farms require fairly mild weather to thrive. As such, most of Gladstone Land's farms are located in California and the southern states:
This acquisition represents the company's first entry into Maryland and Delaware, a fact which CEO David Gladstone noted in the press release:
With this acquisition, Gladstone Land now owns farms in 12 different states and 25 different growing regions across the U.S. We are seeing increasing opportunities in this region for high-value farmland growing potatoes, peppers, sod, and other high-value crops. We hope to be able to take advantage of certain of these opportunities to increase the overall diversification within the list of farms owned by the company.
The farmland that the company obtained in this acquisition grows vegetables and sod so certainly fits in with the opportunities that Mr. Gladstone sees. Vegetables can grow reasonably well in colder climates because they are an annual crop that need to be replanted every spring while sod is a fairly hardy perennial that can survive both cold weather and snowfall, so there's no reason why these types of farms need to be in warm climates. Thus, Maryland and Delaware are reasonable locations for farms of this sort.
This farmland also provides Gladstone Land with certain diversification benefits. We have seen over the past few years why this can be important. In the spring of 2019, much of the Midwest along the Missouri and to a lesser extent the Mississippi Rivers suffered from widespread flooding that caused $2.9 billion in property damage and rendered at least one million acres of grain-producing farmland unusable for the year. We see a similar thing in California right now, where wildfires have destroyed at least 1.66 million acres, although it's admittedly not all farmland. By spreading its operations across a wide variety of states and regions, Gladstone Land can limit the percentage of its acreage that's exposed to these natural disasters. If, for example, all of its farmland was located in California, then these wildfires could threaten the company's existence. Thus, the increasing diversification is a true benefit for the trust.
The acquisition of this property will support the company's growth as will be discussed in more detail later. The reason for this should be fairly obvious. Gladstone Land already has secured a 10-year lease with a large sod and vegetable farmer in the region so it would be providing revenue and cash flow to the trust going forward. This stimulates growth for the trust.
Farmland Investment Thesis
As already mentioned, Gladstone Land is one of only two farmland-focused real estate investment trusts in the market today. Thus, an investment in Gladstone Land can be thought of as an investment in farmland. There are reasons to like farmland as an investment class, one of which is protection against inflation.
As I pointed out in past articles, such as this one, the response of the federal government and global central banks to the COVID-19 outbreak has greatly expanded the money supply. This is clearly visible here:

Source: Federal Reserve Bank of St. Louis
We also can see this by looking at the balance sheet of the Federal Reserve. Prior to the 2008 recession, the Federal Reserve generally had a balance sheet of around $800 billion. Since that time, it has climbed to around $7 trillion. About half of that increase was this year:

Source: Federal Reserve Bank of St. Louis
While the definition of inflation is a broad-based increase in prices, it's caused by the money supply increasing more rapidly than the production of goods or services in the economy. This is because there's now more currency available to purchase each unit of production. The law of supply and demand would imply that price levels must necessarily rise. In 2008, the United States had a GDP of $14.56 trillion, which has grown to $19.49 trillion today. This is a 33.86% increase. The supply of money has obviously increased much more than that. Clearly then, conditions are ripe for inflation.
Farmland acts much like precious metals in that they serve as a hedge against inflation. This makes sense since the supply of farmland is limited so a rising amount of money available to purchase it should push up the price of it. That has indeed happened. Over the 2000 to 2019 period, California farmland has been one of the best performing of any asset class: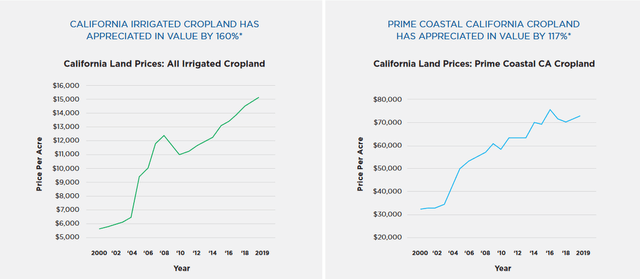 Source: USDA, California ASFMRA, Gladstone Land
In fact though, unlike precious metals that do have their supply slowly increase, the supply of farmland steadily decreases globally. This is mostly due to the rising world population. As the population grows, the number of people demanding jobs, homes, and government services increases. This results in farmland being converted into these purposes:

Source: United Nations, Gladstone Land
Thus, not only should farmland prices increase with inflation but should actually beat it. This does in fact happen. In fact, farmland has beaten both the MSCI REIT index and the S&P 500 since 2005: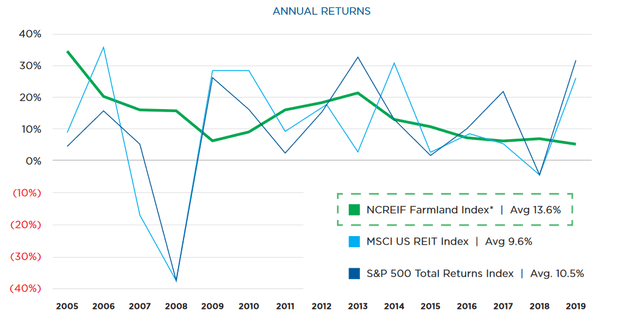 Source: National Council of Real Estate Investment Fiduciaries, Gladstone Land
These returns are enhanced by the fact that farmland is necessary for human life. After all, we all have to eat in order to survive. Thus, in many cases people will pay whatever they need to in order to acquire food. This allows farmland to be somewhat resistant to inflation and outperform many other things, especially when we consider that demand is falling.
Gladstone Land Growth Opportunity
As is the case with all real estate trusts, there are two ways by which Gladstone Land derives growth. The first way is by purchasing or constructing it. As farmland cannot really be constructed, purchasing it as the trust did a few days ago is the only real option. The other method is by raising rent. The company uses this method as well. It typically manages to secure at least one rent increase every quarter. This leads to steady growth in rental income from each of its properties. The trust has on average grown its rental income by 3.46% annually on a per property basis since 2013:

Source: Gladstone Land
Gladstone Land also has a history of steadily growing its earnings as well as its adjusted funds flow per share. It does this through both of the aforementioned methods: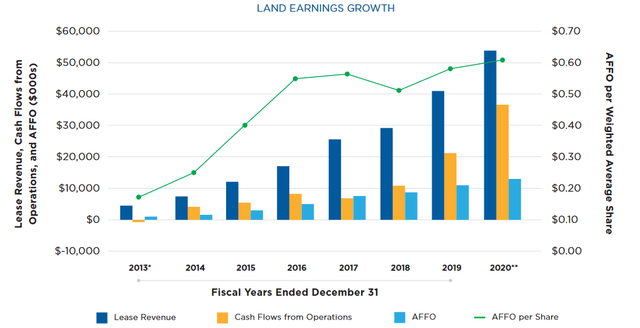 Source: Gladstone Land
Most investors purchasing shares of real estate investment trusts do so because of the dividends that these companies pay out. Gladstone Land is no exception to this. In fact, Gladstone Land is one of the only real estate trusts that pays out its dividend on a monthly basis. This is nice for compounding purposes since monthly compounding periods result in more money over time that quarterly compounding periods. The company's strong history of earnings growth has allowed it to steadily grow dividends over time. We can see this clearly here: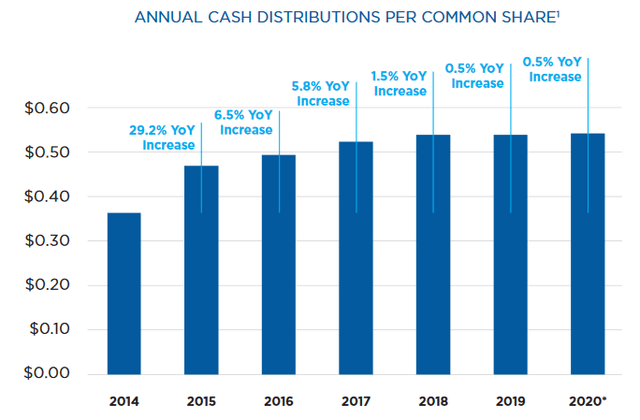 Source: Gladstone Land
This will likely appeal to those who need a regular source of monthly income that grows over time such as retirees and those seeking a high level of monthly compounding. Gladstone Land pays a 3.51% yield at the current level, which is certainly reasonable in today's low interest rate world.
Conclusion
In conclusion, Gladstone Land has a long history of steady growth. The company's latest acquisition of farmland should only help the company continue this. The overall investment thesis for farmland is very strong right now due to declining supply and the potential for inflation. Gladstone Land usually uses its steady growth to steadily grow the dividend, and when we combine that with its monthly payouts, this looks like a very solid purchase for any investor.
At Energy Profits in Dividends, we seek to generate a 7%+ income yield by investing in a portfolio of energy stocks while minimizing our risk of principal loss. By subscribing, you will get access to our best ideas earlier than they are released to the general public (and many of them are not released at all) as well as far more in-depth research than we make available to everybody. We are currently offering a two-week free trial for the service, so check us out!
Disclosure: I am/we are long LAND. I wrote this article myself, and it expresses my own opinions. I am not receiving compensation for it (other than from Seeking Alpha). I have no business relationship with any company whose stock is mentioned in this article.