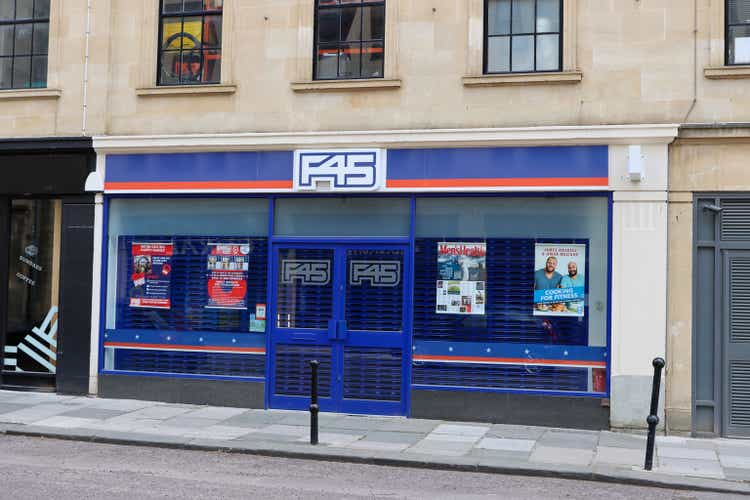 Personal health is viewed by many as incredibly important. After all, if you don't have your health, what do you have? Understanding this, it should be no surprise that the global gym membership space is incredibly large. In 2019, there were an estimated 184.6 million members of gyms globally, with 64.2 million of them in the U.S. market alone. Total global revenue for the industry that year was $96.7 billion. Such a large market necessitates the existence of a number of players. And for companies with a good business model, growth can be impressive. One great example can be seen by looking at F45 Training Holdings (NYSE:FXLV). Although I am generally hesitant to view rapidly growing companies in a favorable light because they tend to hemorrhage cash and trade at levels that normally don't make sense, this particular player looks set to not only grow into its valuation, but to grow so much in the near term that it might actually be trading on the cheap on a forward basis. Risks do still exist, namely the risk of failing to meet expectations. But for investors who don't mind accepting this risk, upside potential could be meaningful over the next couple of years.
A workout for your portfolio
According to the management team at F45 Training Holdings, the company operates as the fastest-growing fitness franchisor in the world. Although the company provides a variety of options, it mostly offers its customers 45-minute workouts that management claims are effective, fun, and community-driven. These workouts usually combine elements of high-intensity interval, circuit, and functional training, all for the purpose of providing the maximum return on the time and energy a customer puts in. The company delivers its workouts largely through its digitally connected global network of studios and it has also built out a technology-enabled platform that allows it to create and distribute workouts to its global franchisee base.
Unlike traditional in-person fitness companies, which tend to focus on the facility and equipment first, F45 Training Holdings is focused largely on technology. After opening its first location in 2013, the company began emphasizing its technology to create a different kind of experience for both the members at the locations it would have and to the franchisees. As of the end of its latest fiscal year, the company had expanded its global footprint to over 3,301 Total Franchises spread across 67 countries. That includes 1,749 Total Studios. For context, Total Franchises refers to the total number of signed franchise agreements that the company has sold and the total number currently in operation, while Total Studios are defined as the cumulative openings the company has calculated through the date in question. Management believes that it can eventually grow to over 23,000 studios worldwide, almost all of which will be franchised.
Today, F45 Training Holdings is a global company. However, there is no denying that the largest chunk of its revenue currently comes from customers in the US. In all, 65.8% of its revenue is from this market. Its second-largest market happens to be Australia, which contributed 14.6% of the company's revenue last year. In terms of revenue composition, the company does get the majority of its sales, representing about 55% in all, from its franchise arrangements. The remaining 45% comes from equipment and merchandise sales and financing. Recently, the company has embarked on some interesting financial arrangements aimed at growing the company further. In May of this year, the company nabbed a combined $250 million in financing facilities that it can use to issue capital to individuals looking to open an F45 Training Holdings location. That number can be increased by a further $150 million under certain circumstances. Despite concerns over the economy, management has high hopes for the near future. For the 2022 fiscal year, the company now anticipates new franchises sold totaling 1,500 locations. That's up from the 1,000 previously expected. The company also expects total studio openings of roughly 1,000 for the year.
Over the past few years, the management team at F45 Training Holdings has done a fantastic job growing the company's top line. Revenue at the business skyrocketed from $25.5 million in 2017 to $134 million in 2021. The only down year was in 2020, when revenue dropped modestly from $92.7 million to $82.3 million. Naturally, the leading cause of this increase has been an expansion in the number of members and facilities the company has. On this, we only have data covering the past two or three years. From 2019 to 2021, the number of Total Franchises sold increased from 1,892 to 3,301, while the number of Total Studios rose from 1,140 to 1,749. In 2020, the company had 20.44 million visits across its system, generating for the entire system $302.4 million in revenue. In 2021, these numbers increased to 26.79 million and $410.3 million, respectively.
Although this upside is tremendous, the company's losses have also been large. The business went from generating a modest net profit in 2017 and 2018, with the best year being net income of $12.8 million, to generating large and ever-growing losses. The net loss for the company in 2021, for instance, came in at $182.7 million. Operating cash flow has also worsened in recent years. The metric went from a positive $12.6 million in 2017 to a negative $37.7 million in 2021. The only real bright spot has been adjusted EBITDA. Data for this shows the metric dipping from $30.7 million in 2019 to $25.5 million in 2020 before jumping to $52 million last year.
So far, the 2022 fiscal year is looking up for the company. Revenue of $50 million in the first quarter of this year dwarfs the $18.2 million generated the same time one year earlier. This was due, in large part, to an increase in system-wide visits from 6.78 million to 7.22 million. The company also benefited from an increase in Total Franchises sold from 3,301 at the end of last year to 4,007, while the number of Total Studios increased to 1,866. This increase in revenue also brought with it an improvement in profitability. The company's net loss of $36.8 million in the first quarter of 2021 turned into a profit of $2.5 million the same time this year. Operating cash flow did worsen, going from a negative $0.2 million to a negative $45 million. But if we adjust for changes in working capital, it would have risen from a negative $0.8 million to a positive $8.2 million. Meanwhile, adjusted EBITDA more than tripled from $5.3 million to $17.7 million.
For the full 2022 fiscal year, management expects revenue of between $255 million and $275 million. At the midpoint, that would translate to a year-over-year improvement of 97.8%. The company also expects EBITDA of between $90 million and $100 million, with free cash flow of between $50 million and $60 million. No estimate was given when it came to operating cash flow or capital expenditures. But if we just strip out interest expense from EBITDA and use the result as a proxy for operating cash flow, then investors can expect a reading of roughly $94.5 million. This makes it very easy to value the company. On a forward price to adjusted operating cash flow basis, the company is trading at a multiple of 5.1. Meanwhile, the EV to EBITDA multiple should come in at 5.2. I would prefer to use data from 2021. However, given how rapidly the company is growing and how fast its bottom line is changing, looking at the business from a forward basis makes the most sense to me. To put this in perspective, I decided to compare the company to two similar firms. These companies traded at price to operating cash flow multiples of 25.9 and 96.5. The EV to EBITDA multiple of one of them was 33.3, while the other did not have a positive reading. Clearly, F45 Training Holdings is the cheapest of the group.
| | | |
| --- | --- | --- |
| Company | Price / Operating Cash Flow | EV / EBITDA |
| F45 Training Holdings | 5.1 | 5.2 |
| Planet Fitness (PLNT) | 25.9 | 33.3 |
| Life Time Group Holdings (LTH) | 96.5 | N/A |
Takeaway
Based on the data provided, I will say that I find F45 Training Holdings intriguing. If the company can achieve the targets set by management, I believe that shares could warrant tremendous upside potential. I do think that investors should be cautious about this because there are no certainties about the future. But because of how cheap shares look on a forward basis if management does achieve these targets, investors who don't mind some speculation regarding the future might be wise to pick up some shares in the enterprise.