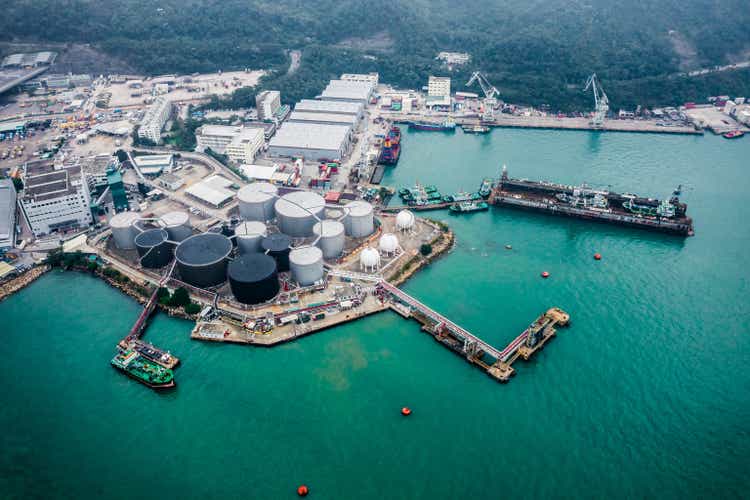 Exxon Mobil (NYSE:XOM) has seen its share price drop almost 20% from its 52-week highs, with its dividend yield now back up over 4%. With a strong continued focus on shareholder returns and an improving portfolio of assets, the company's recent potential earnings blowout, show its continued ability to continue driving shareholder returns.
Exxon Mobil 2Q 2022 Earnings
Exxon Mobil has announced the potential for incredibly strong 2Q 2022 earnings supported by strong margins.
The company has highlighted the guidance for $5.3 billion in refining profit jump at the midpoint, counting unsettled derivatives, along with upstream profits driving roughly $2.9 billion at the midpoint. That points to $8.2 billion QoQ in earnings jump, or $17 billion in earnings for 2Q 2022, pushing the company's annualized earnings to almost $70 billion or a P/E of roughly 5.
There's no denying that this is a blowout quarter for the company. If you've been wondering about the consistent lower gas prices the last time oil was at >$100/barrel, that difference is going (mostly) into these refining margins. Integrated oil-producing companies, that control every step of the value chain, have been doing incredibly well.
At the end of the day, putting this all together, expect not only a blowout quarter for the company but at least mid to strong performance for the next several quarters.
Exxon Mobil Carbon Capture & Storage
Exxon Mobil is looking to rapidly expand its carbon capture and storage program as it looks to become a world leader in the business.
In the last 2 weeks, Exxon Mobil has announced 4 new carbon capture and storage projects alone. The company is working to become a world leader in carbon capture and storage, and the company sees the total market opportunity as being $4 trillion by 2050. The company currently has some of the largest operations here, and it's looking to grow substantially.
The Gulf Coast, where the company has substantial operations, represents a potential source of massive opportunity here. That's important because CO2 capture costs go up dramatically by density. At 95+% CO2, the company can do the complete CCS process for $75/tonne. At <=1%, that becomes $600+. Long term, the company is hoping to get $50-100/tonne.
Carbon capture is one part of solving climate change, but it's a big part, and it's a part where we actually have the scale to make a substantial difference. What happens remains to be seen, but the company's capex here is expanding rapidly from almost $2 billion annually currently to almost $4 billion in 2027. The company expects this to drive billions in additional revenue.
Exxon Mobil Assets
Exxon Mobil has an incredibly strong portfolio of assets that'll enable continued growth and returns.
Exxon Mobil is investing heavily in its business and the Permian Basin represents one of the strongest and lowest-cost sources of growth for the company's business. The company expects more than 800 thousand barrels/day in 2027 production, almost doubling from current levels, and we can see it ramping up even faster than that.
In Guyana, the company is adding a FPSO/year, each at more than 200 thousand barrels/day in production where the company has a 45% stake. The company's stake adds roughly 100 thousand barrels/day of production per FPSO. By 2027, production is expected to hit almost 1.5 million barrels/day and we can see it hitting 2-3 million barrels/day.
The company is driving growth in all segments of its business with 10s of billions worth of capex that it consistently stuck with in the last several years as other companies cut their spending.
The above graph shows how the company's earnings can increase without changing actions. Cost reductions and increased growth mean its earnings can increase significantly by 2025, alone without other changes. That means that not only does the bull market continue, but improvements in the company's other segments will increase overall profits.
Exxon Mobil's unparalleled assets here help make it a valuable investment.
Exxon Mobil Shareholder Return Potential
Exxon Mobil recently dramatically increased its share buyback program to $30 billion through the end of 2023, however, it looks like the company's 2Q 2022 earnings will be enough to cover more than half of that. That means the company could conceivably comfortably repurchase 10% of its shares by the end of the year, giving it room to expand its buyback program.
The company has substantially reduced its debt, so its overall financial portfolio is quite strong.
Exxon Mobil has the potential to be a FCF giant. At $60/barrel Brent, the company should earn almost $200 billion in FCF, and at $50/barrel, that's still expected to still be roughly $165 billion. At current Brent prices, that's expected to be closer to roughly $400 billion or more than the company's entire current market capitalization.
Should prices not change, the company can pay its dividend and complete its entire share repurchase program within 2022. Debt pay-down will enable the company to significantly reduce its interest expenditures. Regardless of how the company spends its money, the potential for substantial shareholder returns is clear.
Thesis Risk
The largest risk to the company's thesis is oil prices. The company is profitable at a Brent crude price of roughly $50/barrel as seen in the above chat. We expect prices to comfortably remain above that level through 2026, however, below that, the story begins to change. If prices remain lower than that for long, the company becomes a much worse investment.
That's a risk we feel willing to take, but with volatility in oil prices, it's one worth paying close attention to.
Conclusion
Exxon Mobil has a unique portfolio of assets. The company is growing rapidly, and it is a profit machine at current prices. Given strong margins in the refining markets, the company is seeing strong financial performance in all segments of its business. The company's forecast 2Q 2022 earnings show a P/E of roughly 5.
The company has the ability to repurchase almost 10% of its outstanding shares, and we expect it to have taken advantage of recent weakness in the market. The company's dividend is now back over 4%, and the company is protecting its longevity with CCS investment. In our view, this combination makes the company a valuable investment.