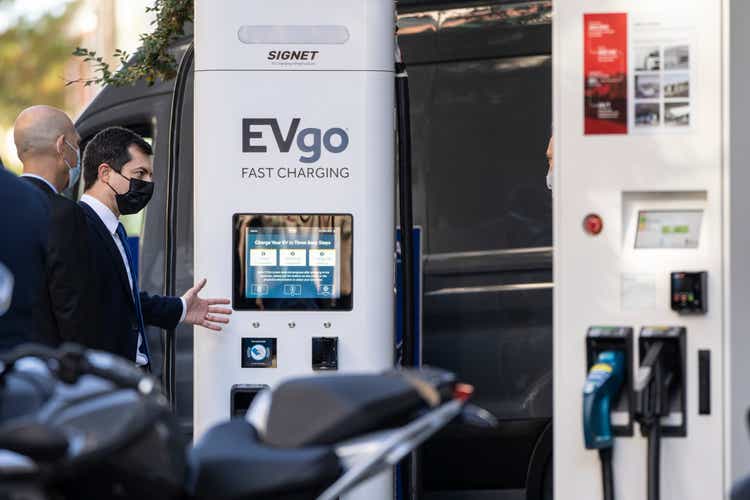 Investment Thesis
EV fast-charging leader EVgo, Inc. (NASDAQ:EVGO) stock has been battered recently as it was struck by a bearish report by Fuzzy Panda Research. The research firm called EVgo "a broken 'ESG' company connected to Jeffrey Epstein." It also cited several instances of "broken chargers" and low network utilization, which EVgo has refuted. Notably, JPMorgan (JPM) also came to EVgo's defense as it highlighted that utilization metrics were consistent with the revenue reported.
Notwithstanding, it has not stopped the market from forcing EVGO to a new low last week. Given EVgo's deeply unprofitable business model, investors holding the bag must be ready for significant volatility as the market parses on how to value EVGO.
Our price action analysis highlights the lack of a discernible trend and, therefore, is more suitable for nimble and experienced investors/traders.
As a result, we believe less experienced should stay away from EVGO and consider other opportunities to gain exposure to the EV space.
EVgo's Highly Speculative Operating Model
The Street is generally bullish on the company's growth profile. Despite macro headwinds, the consensus estimates continue to project aggressive growth rates through FY24. Moreover, we believe that the company's exposure to the multi-trillion TAM EV space helps underpin its growth estimates.
Furthermore, the company also updated in June that it's "on track to hit 2022 guidance," driven by the EV tailwinds. Notably, its adjusted EBIT profitability is projected to improve significantly as it scales, given its fixed costs leverage.
Notwithstanding, we believe its lack of profitability is a major red flag. Also, its ability to scale rapidly, given its CapEx requirements, is a significant factor for investors to consider.
As seen above, EVgo's free cash flow (FCF) profitability is deeply in the red even as it scales. The consensus estimates suggest it could post an FCF margin of -58.1% in FY24, well above FY22's -497.3%.
As a result, the company's current cash and equivalents of $441.1M is unlikely to sustain its cash burn through FY24. Therefore, investors should be prepared for additional financing that could potentially dilute their holdings moving forward.
Also, we believe such estimates remain highly speculative and could be subjected to significant changes. Therefore, forming a robust valuation opinion on EVGO is highly challenging without some crystal ball gazing. Investors also need to have very high conviction in the company's ability to deliver its path to profitability.
EVGO – Its Price Action Can Unveil Clues On The Market's Perspective
So when fundamental valuation is complicated by its underlying metrics, we urge investors to use the "market's valuation" framework.
Through price action analysis, investors can glean the series of bull traps (significant rejection of buying momentum) and bear traps (significant rejection of selling momentum).
These price structures offer investors helpful clues into how the market perceives its valuation of EVGO.
For example, opportunistic investors can use bull traps to execute directionally bearish set-ups to benefit from potential price declines. They can also reverse their set-ups when bear traps are observed. Investors can then execute directionally bullish set-ups to capitalize on the potentially bullish upside.
Notwithstanding, we urge investors to use appropriate risk management strategies to protect against steep drawdowns if the trades go against their intended price targets (PTs).
For EVGO, we observed a series of lower highs, which formed its respective near-term and intermediate resistance levels. Therefore, we posit that the market trend has turned bearish in EVGO since forming a massive bull trap in November 2021 after the signing of the infrastructure bill.
Therefore, investors are urged to interpret price action and not merely follow the news. The market could use such opportunities to attract investors for the "kill." November's significant bull trap demonstrated the market's prowess and astuteness.
Despite the bearish flow, we noticed that last week's sell-off could potentially form a subsequent bear trap. Its price action is emblematic of a set-up to shake out weak hands, forcing a rapid liquidation. Therefore, the price action signals in EVGO are tentative for now.
Is EVGO Stock A Buy, Sell, Or Hold?
We reiterate our Hold rating on EVGO stock.
We urge investors to be nimble when adding exposure, using appropriate PTs to protect gains (possibly buttressed with trailing stops), and risk management strategies to protect against steep drawdowns.
Experienced investors can also use the lack of a discernible trend in EVGO by leveraging long/short strategies, capitalizing on the bear/bull traps.
However, given its deep unprofitability and high speculative metrics, we don't encourage investors to hold the bag. Furthermore, EVGO's trend has also turned bearish, even though it could set up a near-term bottom due to last week's steep liquidation.