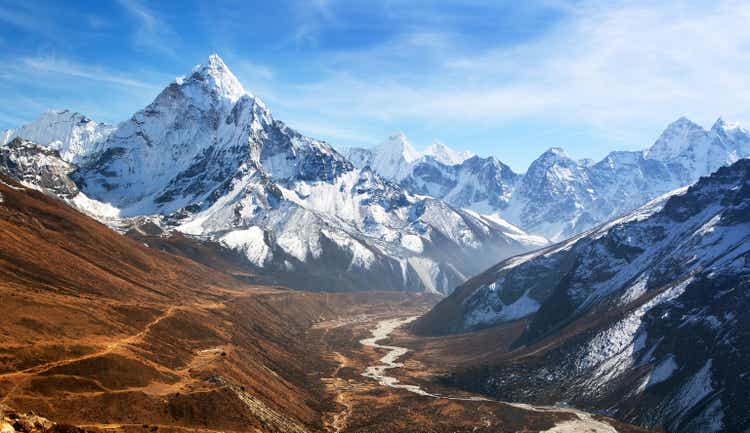 Eaton Vance Tax-Advantaged Global Dividend Income Fund (NYSE:ETG) is a closed ended equity mutual fund launched on 30th January 2004, by Eaton Vance Management. The fund has an asset under management (AUM) over $1.58 billion which it has invested in public equity shares of dividend paying stocks of renowned companies. This fund has been paying steady monthly dividends since its inception. ETG's current yield is 7.53 percent, and it has recorded an average yield of 7.68 percent over the past ten years. Throughout its average annual yield has ranged between six percent to nine percent. Compared to average income generating funds, this yield is attractively high.
With an objective of providing a high level of after-tax total return, it has invested in equity shares across the globe, with 45 percent of its equity invested in the US stock market, followed by 34 percent of equity investments in European markets. Eaton Vance Tax-Advantaged Global Dividend Income Fund invests in companies engaged primarily in the business of information technology (20 percent), financials (17 percent), healthcare (12 percent), industrial (12 percent) and consumer discretionary (10 percent) sectors. Together these five industries account for more than 70 percent of ETG's portfolio. Remaining funds are invested in companies in materials, real estate, energy, utilities, communication services, and consumer staples sectors.
ETG's price returns have been strong too. Over the past 10 years, ETG successfully mimicked its benchmark index – MSCI World Index, an unmanaged index of equity securities in the developed markets. During this period, ETG's market return was very healthy at 14.78 percent. Over the past 3 years and 5 years, ETG recorded an average market price growth of 28 percent and 18.5 percent respectively. In 2021, ETG's stock grew by an astonishing 33 percent. However, being a fully diversified global close ended fund, its expense ratio is extremely high at 1.27 percent. This reduces the fund's lucrativeness to some extent.
A detailed analysis of top 60 percent of ETG's equity investments reveals that although the fund invested 17 percent in the financial sector, none of those investments are more than 1.1 percent of the entire portfolio. This may be the prime reason behind ETG delivering high growth despite the financial sector performing poorly. Only one fourth of such investments are in basic industries – Materials, Utilities, Industrials, Energy, Real Estate and Consumer Staples. This fund has relatively big exposure in information technology & Communication (ITC), consumer discretionary and healthcare companies. Despite that, during the past 10 years, ETG has recorded double digit growth seven times. Moreover, it has been able to record double digit growth in 2020, successfully overcoming the pandemic-related market crash. It suffered a significant loss only in 2018, when the US stock market took a major hit due to higher tariff, interest rate hikes, and tax cuts.
Eaton Vance Tax-Advantaged Global Dividend Income Fund has outperformed its equity benchmark, the MSCI World Index, on a regular basis. Surely the portfolio of holdings has been able to generate strong and steady returns on a consistent basis. The top contributions were derived from the industrials and health care sectors, whereas the top underachievers came from consumer discretionary and the information technology sector. A comparison with Eaton Vance Tax-Advantaged Dividend Income Fund (EVT), and Eaton Vance Tax-Advantaged Global Dividend Opportunities Fund (ETO) also reveals that all these dividend income funds of Eaton have been very consistent in their price growth. This signifies the managerial efficiency of Eaton Vance Management.

The US market witnessed considerable volatility during the past five years. Unemployment, higher tariff, interest rate hikes, tax cut, inflation, all played their roles. On top of that COVID-related supply chain disruptions and worker shortages made things worse. Despite all these, this close ended dividend income fund has performed exceptionally well. Global distribution of equity investments and significant fixed income investments are two reasons working in the fund's favor. Overseas, developed economies triumphed over the twin headwinds of the virus and inflation. The pandemic, though hit the US market hard in March 2020, the impact was not as severe as people would have feared. As has been said by the New York Times, "each bout of pandemic-driven volatility in the stock market since February 2020 has been shorter than the one before, and followed by a recovery to a new high."
Despite being well diversified, and selecting high dividend paying stocks, the portfolio has generated strong and steady growth. This close ended fund has also been successful in utilizing its borrowings (17.5 percent of its total holdings) to generate high returns. Historically it has generated a price growth between 15 to 28 percent over the medium and long term. Generating close to 10 percent price growth since its inception in 2004, is surely impressive. ETG, in my opinion, will continue to provide a high yield, not very different from its historical yield between six to nine percent. On top of that its global spread of equity investments makes this fund less susceptible to economic recession in a particular market. As the major global economies are recovering from the covid-19 pandemic, and overcoming supply chain issues, stock markets will reciprocate. Thus, there is no reason why ETG will not be able to continue its historical growth, and generate a steady total return close to 20 percent over a longer time horizon. Eaton Vance Tax-Advantaged Global Dividend Income Fund, in my opinion, is a sure shot investment option within my portfolio of investments.
About the TPT service
Thanks for reading. At the Total Pharma Tracker, we offer the following:-


Our Android app and website features a set of tools for DIY investors, including a work-in-progress software where you can enter any ticker and get extensive curated research material. 
For investors requiring hands-on support, our in-house experts go through our tools and find the best investible stocks, complete with buy/sell strategies and alerts.
Sign up now for our free trial, request access to our tools, and find out, at no cost to you, what we can do for you.