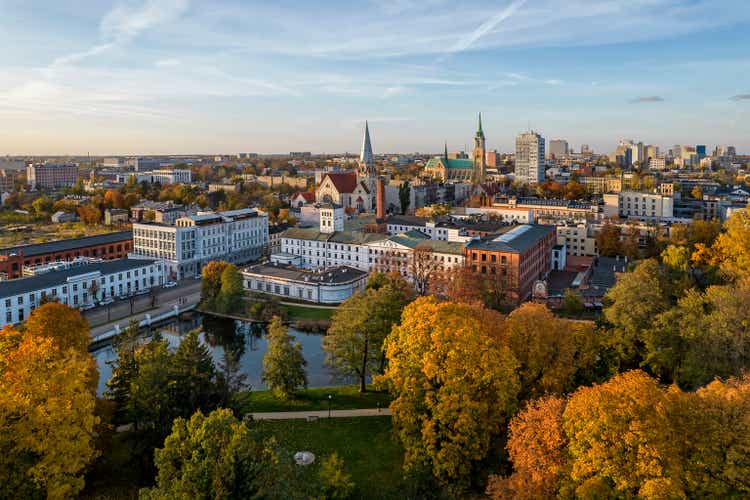 Introduction
The Polish equity market has risen over 50% since the last calendar year quarter of 2022 till today. In comparison, the S&P 500 Index (SP500) has gone up just a bit less than 17%. That implies 33% alpha. Note that these numbers are based on total shareholder return and hence include dividends.
I missed this initial leg of alpha, but that's alright; I rarely catch bottoms. The positive momentum got me interested to investigate further to see if there are strong fundamental tailwinds driving this trend.
Taking the iShares MSCI Poland Capped ETF (NYSEARCA:EPOL) as the instrument of analysis for the Polish equity market, I arrive at the following conclusion: this alpha rally is not reliable for continuation, as it seems to be driven mostly by cheap valuations offsetting weak fundamental drivers.
EPOL Exposure Mix
Sector Mix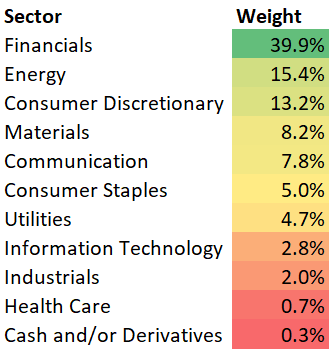 EPOL has a rather cyclical exposure, with 76.7% exposure to sectors that display moderate to high cyclicality; financials, energy, consumer discretionary, materials and industrials. This makes consideration of the major exposures important to ascertain where EPOL is in its cycle.
From an exposure perspective, the exchange-traded fund ("ETF") is disproportionately weighted toward financials, which primarily includes banks and insurance companies.
Top 5 Holdings

The top 5 EPOL holdings include Polski Koncern Naftowy Orlen SA (OTC:PSKOF), Powszechna Kasa Oszczednosci Bank (OTCPK:PSZKY), PZU SA, Bank Pekao SA and KGHM Polska Miedz SA (OTCPK:KGHPF).
EPOL is moderately concentrated, with its top 5 holdings making up 46.2% of the overall index. Moreover, 25.9%, that is 56% of the overall top 5 exposure is geared toward the financials sector. This makes consideration of the Polish banking ecosystem a key requirement for effective evaluation of EPOL's future prospects.
Fundamental View on EPOL
Considering its sector exposure, I have two key hypotheses that I believe matter most to EPOL's future performance:
EPOL has headwinds to its major energy exposure
Weaker banking metrics also drag back EPOL.
EPOL has headwinds to its major energy exposure
EPOL's largest holding – PKN Orlen – has most of its EBITDA exposure coming from upstream O&G and refining activities: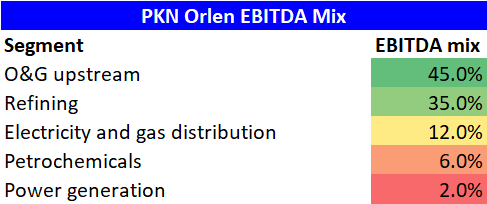 Upstream operations
I have a slightly bearish to cautious outlook on oil due to dampened demand and expanding supply. My article on the K-1 Free Crude Oil Strategy ETF (OILK) explains my fundamental driver affecting this segment in more depth. So far, my assessment has been accurate; since publication of that article, OILK has fallen 2.54%, compared to a rise in the S&P500 of 4.54%.
Refining operations
According to BP's (BP) 2022 Statistical Review of World Energy and the US Energy Information Administration (EIA), global refinery capacity is expected to expand in 2023 by 1.6% driven by a combination of restart and expansion projects in China, the Middle East, Malaysia and India. This is expected to reduce prices of refined products in the global market as noted by Kevin Hack from EIA:
The new refinery projects would increase production of refined products, such as gasoline and diesel, and in turn, they might reduce the current high prices for these products.

– Kevin Hack, EIA.
Contracting PMIs
The industrial and manufacturing sector is a major user of crude oil and gas in an economy, typically making up 20-25% of overall usage. Hence, the manufacturing PMIs are useful leading indicators of future demand. In previous articles, I have noted how major global economies such as the United States, China and Japan all have contracting manufacturing activity. Poland shares the same characteristic with a contracting manufacturing PMI print below 50 for 9 consecutive months:
Takeaway
I anticipate the combination of worsening supply-demand dynamics in both upstream and downstream (refined) O&G to act as major headwinds for PKN Orlen over the upcoming months and quarters. As this company carries a 15.4% weight in EPOL, I expect a negative spillover effect to impact the Poland ETF as well.
Weaker banking metrics also drag back EPOL
Poland banks' net interest margins have seen a decline to decadal lows. As banks make money on the net margins spread, this is a performance drag on EPOL's financial sector, which makes up almost 40% of total exposure.
The chart above shows the amount of loans disbursed to the private sector. Here too, Polish banks have seen an almost 2% drop MoM in December.
I believe these weakening signs of banking activity present another headwind for EPOL.
Technical Analysis
If this is your first time reading a Hunting Alpha article using Technical Analysis, you may want to read this post, which explains how and why I read the charts the way I do, utilizing principles of Flow, Location and Trap.
Relative Read of EPOL vs SPX500
On the relative chart of EPOL vs S&P 500 (SP500), the ratio price is reacting of a strong resistance area. The incumbent downtrend continues to make lower lows and lower highs; this suggests a lack of buyer reversal thus far. The lack of an equal high print is further confirmation that a change in the trend has not yet occurred. Thus, I anticipate a move back down toward monthly support.
Absolute Read of EPOL
Although EPOL has shown a sharper buyer reaction since late 2022 here, prices are encountering the same issue of resistance at $16.78, which coincides with historically relevant levels. Thus, I anticipate a return back toward the monthly support at $14.06.
But valuation is cheap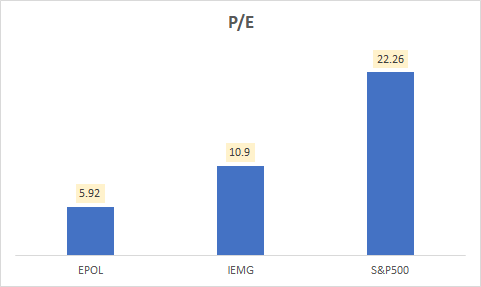 On a P/E basis, EPOL is trading at a 45.7% discount to the iShares Core MSCI Emerging Markets ETF (IEMG) and a 73.4% discount to the S&P 500.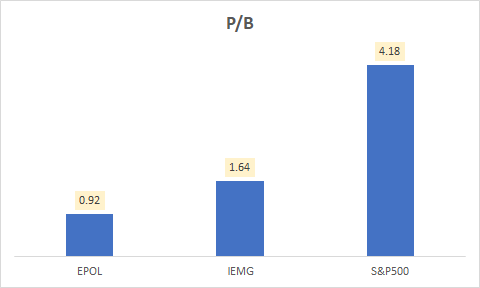 On a P/B basis, the story is similar; EPOL is trading at a 43.9% discount to IEMG and a 78.0% discount to the S&P500.
This is not enough to turn me bullish since I very rarely invest based purely on valuations; I require positive momentum and catalysts in my favor. However, the cheap valuations do convert me from a "sell" to a "hold" bias on EPOL.
Positioning
Although iShares MSCI Poland Capped ETF has generated 33% alpha since October 2022, my analysis of the key fundamental drivers – Poland's banking sector metrics, upstream O&G and refinery activity, weak domestic and global PMIs – indicate a lack of bullish drivers for EPOL based on its key ETF exposures.
The only solace is the Polish equity market's almost mid-40% valuation discount to the broader emerging markets group. Valuation alone is not sufficient to turn me bullish on iShares MSCI Poland Capped ETF, but it does sway my opinion from bearish to neutral. Hence, I conclude with a "hold" outlook on EPOL.
Editor's Note: This article discusses one or more securities that do not trade on a major U.S. exchange. Please be aware of the risks associated with these stocks.