Thesis
DocuSign (DOCU) operates in the digital signing market, which has surprisingly been bigger than expected. This beachhead allows DocuSign to expand across the life cycle of documents in a way that is being underappreciated by the market. Further, disciplined execution and the recent dip in share price present a compelling short-term investment opportunity in a well-run company.
Source: DocuSign
Financial Performance
Recent Q2 '20 performance showed slight acceleration due to COVID-19. Although I would not consider DocuSign a secular COVID winner, I do think it is a beneficiary and the customers it gets will be stickier than some of the other platform plays. This is due to the nature of document signing in large organizations, where products can get entrenched. We saw this with Adobe (NASDAQ:ADBE) and will see it with DocuSign.
In the recent quarter, DocuSign posted slight acceleration and beats to estimates that I believe will be a tailwind for the company for several quarters as the nature of work remains more remote than before the pandemic.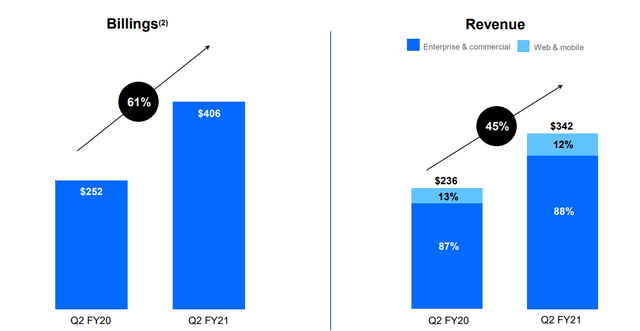 Source: DocuSign
Further, DocuSign's move into the enterprise gives more visibility to its revenue base, which naturally deserves a multiple premium. A contract duration of 14 months is significant.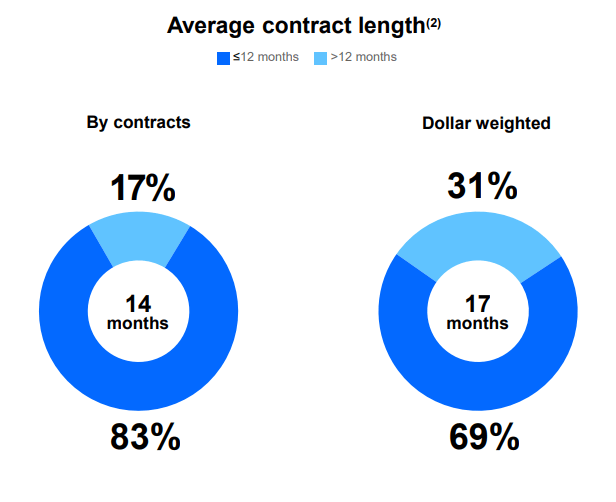 Source: DocuSign
Growth Vectors
The real story is in the enterprise customer growth count at 55%. I believe this is still an untapped market opportunity with upsell potential that can help DocuSign monetize its add-on M&A.
HelloSign and OneSpan (NASDAQ:OSPN) are competitors in the market, but DocuSign is the best capitalized with the biggest brand recognition. I believe these are actually durable moats, and DocuSign can acquire innovative tools and technology to further build its technology moat.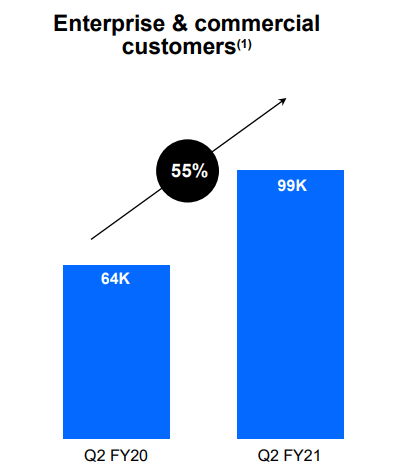 Source: DocuSign
DocuSign is already moving to expand its existing accounts in the enterprise by building out its enterprise feature set. Below, we can see some of these features. I believe growth will primarily be through in-house feature expansions and expanding loyal customer accounts.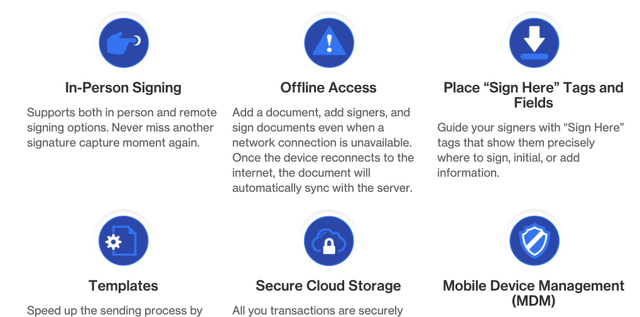 Source: DocuSign
DocuSign's growth can also come from upselling its base with new features that are built in-house or acquired through M&A. DocuSign is taking a relatively conservative approach to acquisitions with its $38m purchase of LiveOak in July 2020. This acquisition allows the company to offer online notarization. In conjunction, the company announced DocuSign Notary as it moves into the notary market.

Source: LiveOak
Further moves within real estate workflows and legal management workflows would make sense for DocuSign. This would expand the TAM and these verticals are just as sticky as its core market of real estate signing today. Using artificial intelligence to autofill documents and other innovative features could also drive up ARR per customer and further growth in the enterprise, where the real revenue growth is accelerating today.
A large part of the opportunity moving forward is continued M&A integration across the value stack with in-house and bought technologies. The runway is massive and expands the addressable opportunity significantly.
Risks
As with any investment in high-growth technology, multiple and valuation is always a consideration. The market has largely appreciated the DocuSign story and the supply of easy money from the Fed and retail story frame the expansion in multiple.
I still recommend a buy on DocuSign given its disciplined market expansion, strong enterprise customer growth, and tailwinds from COVID-19. I believe maintaining these multiples is likely on a backdrop of easy money, but I would watch out for the Presidential elections and any changes from the Fed.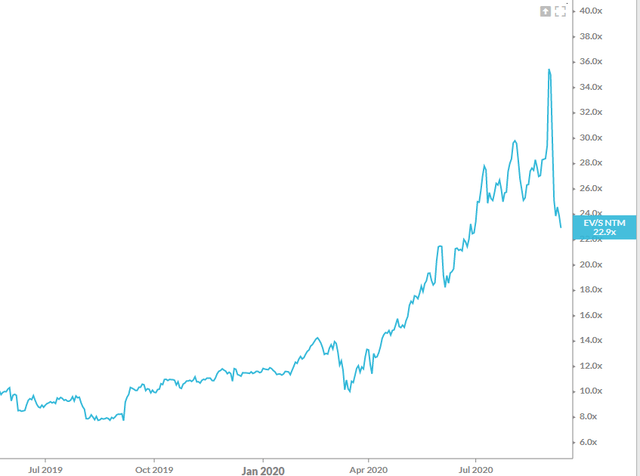 Source: KoyFin
Disclosure: I am/we are long DOCU. I wrote this article myself, and it expresses my own opinions. I am not receiving compensation for it (other than from Seeking Alpha). I have no business relationship with any company whose stock is mentioned in this article.