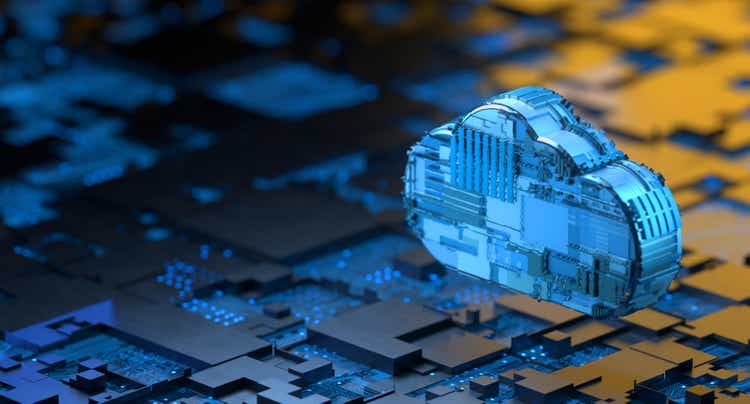 Investment Thesis
DigitalOcean Holdings (NYSE:DOCN) had been on a tear after its IPO back in March. However, its fortunes seem to have faded, with its share price tumbling 60% since its peak in December 2021. Growth and technology stocks such as DOCN have had to contend with inflation and a federal reserve on the cusp of accelerated rate hikes with treasury yields inching upwards. Does the stock deserve to be brutally beaten down since its peak of $133 in Dec?
I believe that DOCN is an excellent stock with a unique assembly of attributes that should put it in good stead for future growth. The company does indeed operate in a highly competitive environment. Still, it operates principally in the segment of the cloud market (Small to Medium Businesses) that it has primed itself well for, and that market in itself is growing at a rapid rate of knots.
Company Description
DigitalOcean is a cloud infrastructure provider. The company has 600k customers in over 185 countries, making it a truly global company. Its platform provides on-demand infrastructure and tools for developers, start-ups, and small-to-medium-sized businesses.
Where simplicity is a valuable commodity
DOCN's niche is the small to medium business (SMB) segment. These companies are principally set-ups that are not necessarily tech-savvy but see the need to bring their trade online. The e-commerce imperative has been made all the more apparent since the pandemic where the only route for survival has been for SMBs to ply their business online or face extinction, as it were.
DOCN has been a lifeline for such companies as what it offers is simplicity in what can be a daunting prospect for many entrepreneurs with great ideas but face some form of technophobia. Large-scale cloud providers such as AWS and AZURE cater to big enterprises with IT teams deciphering the complexities of operating and building using their platforms. DOCN has been generally touted as a platform that is easy to use by SMBs, hence their unique appeal.
Beginners need not fret – Nurturing ecosystem
DOCN also offers a nurturing culture through its extensive database of tutorials and a community of developers who can help those who are less experienced. There will always be some part of a platform that poses problems regardless of its simplicity. DOCN has thousands of video tutorials and documents to cover a wide array of developers' issues. This is an added value that the likes of Amazon do not provide.
Transparent and predictable pricing
Fees are, of course, foremost in the minds of SMBs. It is useful to know what you are paying for and paying for JUST what you need. DOCN dovetails nicely with the basic necessity of a transparent pricing structure. DOCN clients can anticipate costs as they pay for what they choose, which induces a sense of loyalty.
What is the nature of the SMB market?
One must examine the nature of the market DOCN operates in to understand the growth opportunities DOCN has.
According to DOCN's 4Q presentation, the SMBs represent an addressable market of $72 billion set to grow at a CAGR of 27% and reach $145bn in 2024. This is an incredibly rapid rate of growth that a company with DOCNs track record can easily exploit. In fact, it is not even market share that matters as the size and growth rate of the addressable market are ample to enable DOCN to reach its target of 30% revenue growth for 2022. Its revenue as a share of the addressable market share of $72 billion may be a drop in the ocean. Still, its accelerating revenue growth of 37% in the most recent quarter should put the company in good stead to expand market share rapidly, given its first-mover advantage.
Investors also have to consider just how important an economic base the SMBs represent. SMBs make up nearly 99% of ALL US businesses. The pandemic has undoubtedly hit these small businesses hard. Unfortunate as it may sound, DOCN has benefited from a secular trend to digitize that has been accelerated by Covid. 71% of SMBs in a survey done by Salesforce have stated that they have survived because of digitization. According to DOCN management, they see 14 million SMBs being added to the 100 million SMBs already present globally.
Given that getting online is an existential imperative, as the pandemic has shown, I believe that DOCN has tremendous market opportunities in the future. DOCN's revenue as a percentage of the total addressable market remains a drop in the ocean. Still, I am convinced the company has an edge because SMBs make up a very large portion of companies globally. Most of them look for simplicity, which DOCN offers in spades along with transparent pricing and an ecosystem of support.
This ecosystem is what really nurtures loyalty. Developers can learn and exchange ideas with other DOCN customers. This forum is not restricted just to subscribers but is open to those who are not customers even. The online tutorials are gratis and have just about ANYTHING an SMB would need to get set up and operate on the cloud. SMBs generally cannot afford large IT teams, and this ecosystem of free support and education gives DOCN an altruistic edge that ultimately serves a fiduciary purpose. This "community" acts as a great marketing tool where many early-stage developers and SMBs come to know of DOCN through word of mouth. For a company with a small market share and a nascent one at that, DOCN spends surprisingly little on sales and marketing, which accounted for 10% of revenues.
4Q Results – The Metrics Do Not Lie
The key metrics (latest 4Q) to look at when examining DOCN are as follows:
Annual run-rate revenue

Management's target has been revenue of $1 billion by 2024. Topline growth for Q4 increased by 37% year on year.
EBITDA Margin

One factor that stands out for DOCN as a company with an accelerating growth rate is its profitability. In Q4, the company generated $37.8 million of adjusted EBITDA, translating to a margin of 31%, pointing to an inherent efficiency of the company's business model. In Q3, management stated that EBITDA margins could have been higher, but they were willing to hold back on margin expansion to continue investing in future growth. DOCNs extremely respectable margin was held back by DOCNs decision to invest in go-to-market strategy and product development. We believe this is a promising strategy for a company looking to grow.
Customer additions driving NDR and ARPU

DOCN has a large customer base of around 600,000 users. On a granular level, it is not just the quantity that stands out here, but the make-up of the customer base, which is promising. DOCN has successfully attracted more extensive and rapidly growing SMBs to its platform. These larger customers represent around 15% of the total customer base but generate 85% of the total revenue. This is evidence that these SMBS are scaling on DOCNs platform and driving overall company average revue per user (ARPU). These larger customers have on their own accounted for ARPU growth of 50% and an NDR of 118%. To wit, the company's average ARPU and NDR are 29% and 116%, respectively, for Q4
Increasing NDR and Average Revenue per User

Management had also stated that the more extensive customer base's growth rate is faster than the overall customer growth rate. More importantly, these larger customers tend to buy multiple products from DOCN as they expand and have a higher NDR. If this trend continues, the larger customers should make up a more significant share of the overall revenue mix. All this makes management's target of 30% revenue growth feasible.
The increased NDR of 116% over the same quarter last year indicates that existing clients are consuming more products and churning less. This customer retention is critical, I believe, in driving revenue growth. We have seen this affirmation in DOCN's impressive ARPU growth of 29% year on year for 4Q21.
The company's share price had taken a beating, but so did the rest of the technology and growth sector. In DOCN's case, I do not see any fundamental problem associated with the company itself to warrant the fall in its share price. Of course, at $133 back in December, valuations would have looked unrealistic, but at current levels, we feel the numbers could still be lofty. Still, I believe that solid growth present, like in the case of DOCN, can justify these numbers, and a buying opportunity appears on the horizon.
Conclusion
I believe that the recovery in the company's stock price after an impressive quarter and the financial year is an affirmation of a solid growth story caught up in a stodgy and uncertain macro environment. There certainly is plenty of competition within the SMB segment that DOCN caters to, but as mentioned, the total addressable market is expanding at a rapid pace, which should enable DOCN to achieve its 30% revenue growth 2024 target of $1 billion looks entirely doable. On a price-to-sales basis, the company trades 12 times the company's 2022 projected revenue but drops to 7 times when the 2024 $1 billion target is considered. According to TipRanks, the average target price stands at $92.17, implying an upside of 65% for the share over the coming year. I find this entirely plausible given the quality of the stock and the pedigree of the management. The recent beatdown of its share price and good 4Q results presents an excellent opportunity to enter DOCN.