Six months ago, SA published article of mine entitled, "The Imperative Of Freshwater". In it, I explored the forces that are stressing that precious resource including overuse coupled with the depletion of groundwater and aquifers as the result of drought (global warming).
The purpose of that article was to point investors to the opportunity in French water management giant Veolia (OTCPK:VEOEY) that was in the process of acquiring #2 Suez. Following approval by the European Commission in December, the two companies consummated their deal on 01/18/2022. They are in the process of combining to bring strength to sales/revenue while driving operating leverage down through its P&L and over to cashflow. Both stock/ADR prices were rising going into year-end, and since their merger date that of VEOEY has held its own against the poorly performing equity markets – Alpha.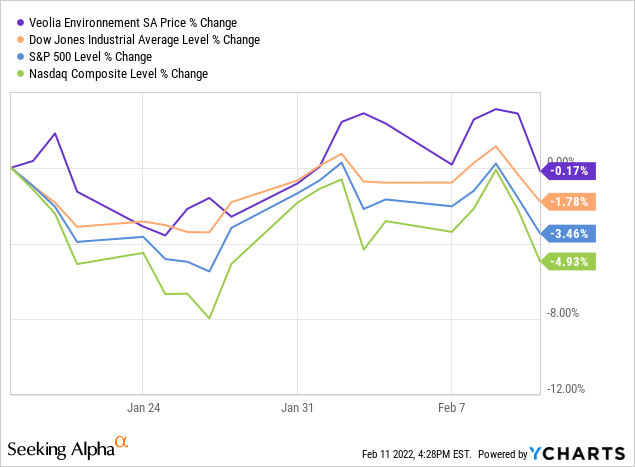 Hybridizing for Drought
This article extends that earlier one to focus on seeds. The topics are interrelated because farmers are reliant on rainwater, well water, and canal water to irrigate their crops. And, with demand > supply, crops in some areas are under stress, even failing, represented by lower yields and higher prices. The National Center for Biotechnology Information, of the NIH, frames the issue this way:
"During the ontogenic cycle [origin and development] of crop plants, each development stage, such as seed germination, seedling establishment, vegetative root and shoot growth, flowering, pollination and seed and fruit development, is specifically sensitive to dehydration."
Beyond stretching the available supply of water, this group states that, "Introgression of suitable alleles [alternative genes arising from mutation] from wild relatives into commercial cultivars might improve the ability to grow with less water."
Enter the major seed companies that include four who are said to control 60% of the global market. However, given Syngenta's current ownership by the Chinese National Chemical Corporation, it is off to the side for the purposes of this article. This leaves us with three major investible seed companies – BASF (OTCQX:BFFAF) (OTCQX:BASFY), Bayer (OTCPK:BAYZF) (OTCPK:BAYRY), and Corteva (CTVA) owners of such iconic brands as DEKALB and Pioneer.
Said in slightly different ways, these three companies as Bayer puts it are taking, "…plant breeding one step further, studying seeds and traits before plants even begin to grow. When we understand the genetics of a seed, we can better understand the environments and resources most suited to the varieties of that seed." In greater or lesser concentrations, they dominate seed production of alfalfa, canola, corn, cotton, potatoes, rice, sorghum, soybeans, sugar, sunflowers, wheat, as well as most fruits and vegetables.
These companies also develop and offer technological and chemical solutions including insecticides, herbicides, and fungicides. It is in this latter area that, together with genetically modified (GMO) seeds, they have gotten into trouble. For example, in 2018, Syngenta settled a class-action suit to the tune of $1.5 billion brought by farmers who claimed that the company's GMO corn seeds cut off access to Chinese markets causing prices to drop. More notably, while admitting no wrongdoing, Bayer / Monsanto Roundup settled a class-action lawsuit involving over 120,000 claims, for over $10 billion. Most recently, the company prevailed in court declaring that, "The verdict was consistent with decades of science and research showing the safety of glyphosate, the main ingredient in Roundup."
Industry Oversight
In weighing such risks, investors should keep in mind that, in addition to internal controls, in the US three branches of government regulate GMO seeds and agricultural chemicals – the Food & Drug Administration, Environmental Protection Agency, and Department of Agriculture. Working in concert, many people help ensure that these products are safe for humans, wildlife, other plants, and in the environment overall. The EU and other countries also oversee seeds and chemicals.
Nevertheless, no one can prevent someone or a group from filing a lawsuit claiming damages no matter how frivolous. Moreover, no one can predict what a jury will decide. However, investors can watch for trends in verdicts and judgments as a foundation for evaluating whether a company may be materially impaired by defective product before backing away and waiting for things to shake out (as I did during Bayer's Roundup fiasco).
Overall, though, such risks are worth taking against the mandate to deliver drought-tolerant seeds in the wake of persistent and growing shortages of freshwater. Moreover, in BASF, Bayer, and Corteva, I see three companies that are solid financially and whose stocks /ADR's are still trading at reasonable multiples while paying dividends. In other words, they currently meet my standard for being growth, value, AND income investments.
Solid Financials
We see this strength down the P&L's, across to cashflow, and in their balance sheets. Because Corteva has already reported their 12/31, the table below includes their full-year numbers. BASF and Bayer will not report for another few weeks, so I've aggregated their four previous quarters and compared them to the preceding four quarters for the purpose of calculating the growth statistics; "n/a" indicates the previous period was negative. All is courtesy of SA except for dividend yields and Forward PEs that I've gathered from Peeksoft.
| | | | |
| --- | --- | --- | --- |
| | Corteva | BASF | Bayer |
| Revenues | $15.7B | $88.4B | $50.9B |
| Y/Y Growth | +10% | +36% | +7% |
| Gross Profit | $6.4B | $22.2B | $35.4B |
| Y/Y Growth | +13% | +33% | +37% |
| Operating Inc. | $1.3B | $12.2B | $36.4B |
| Y/Y Growth | +9% | n/a | n/a |
| Net Income | $1.8B | $6.8B | 154.5M |
| Y/Y Growth | +139% | n/a | n/a |
| Op. Cashflow | $2.7B | $7.2B | $3.3B |
| Y/Y Growth | +32% | n/a | -61% |
| Current Ratio | 1.6x | 1.7x | 1.1x |
| Liabs. to Equity | 0.7x | 1.1x | 2.7x |
| Dividend Yield | 1.1% | 5.1% | 3.8% |
| Forward P/E | 17.6x | 3.0x | 7.9x |
Across the board, coming off COVID, we see: a) top line, margin, bottom line, and operating cash flow growth, b) good liquidity and reasonable leverage, and c) dividends on top of attractive valuations.
As for professional analyst ratings reported by MarketWatch: a) 16 have CTVA as a "buy", 1 as an "overweight", 4 as a "hold" with one each as an "underweight" or "sell" with an average price target of $56, 10% above the stock's recent close, b) 13 have BASFY as a "buy", 1 as an "overweight", 7 as a "hold" with again one each as an "underweight" or "sell" and average price target of $23 not quite 20% above the ADR's current price, with c) BAYRY not reported.
'Deconglomeration' Required
However, there is another more subtle but important message here concerning the smaller size of Corteva and the lower multiples of its larger rivals. Recall that, in 2019, DowDuPont split into three companies setting up Corteva as essentially a pureplay in agricultural sciences. BASF and Bayer haven't followed suit but should.
Experts have observed that conglomerates have failed to live their promise and, by breaking them up, the component parts may do better. Putting Bayer aside because of the Monsanto/Roundup burden over the last few years, a comparison of CTVA and BASFY demonstrates that the former has done much better since its spinoff date of 06/01/2019 including having delivered alpha against the Dow and S&P 500.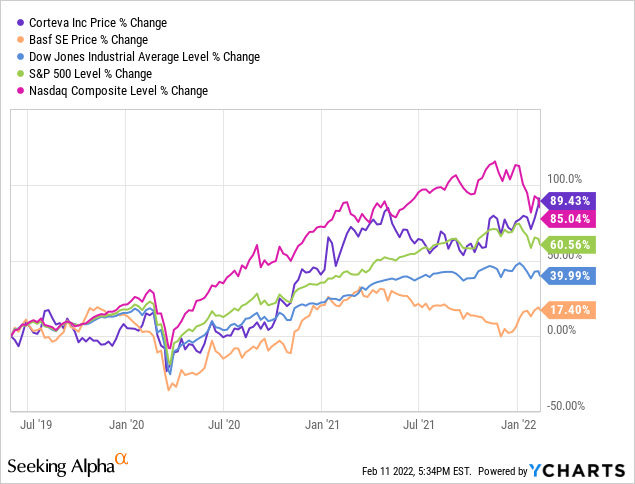 Aside from the example set by DowDuPont / Corteva, there is one other reason to believe that BASF and Bayer might consider 'deconglomeration'. Namely, venerable German companies have pursued the tactic with success including, notably, Siemens (OTCPK:SMAWF) (OTCPK:SIEGY).
If this were to happen, I would divest of Bayer's health business(es) but, barring new news, I would stick enthusiastically with agricultural science. As for BASF, I would likely continue with their agri-science company as well, but I would also hold tight with its plastics business that is a global leader in moving toward eco-friendly alternatives such as biopolymers. In all cases, I could see the multiples approaching that of Corteva that would make for nice uplifts. Finally, having owned Syngenta before ChemChina acquired it, I would consider buying it again when they complete their IPO.
Just as the "ABCDs" – Archer-Daniels-Midland (ADM), Bunge (BG), Cargill (private), and Dreyfus (private) – have long been considered the "Merchants of Grain", the four companies mentioned in this article should be considered the 'Merchants of Seed' noting that they not only sell seeds, they develop them. BASF, Bayer, Corteva, and Syngenta are at the top of the supply-chain; their germinations produce our food, feed, and fiber. Especially considering the pressing freshwater and climate challenges – as well as financial market volatility – I consider them core investments that are both offensive and defensive.