CloudMD Software & Services Inc. (OTCPK:DOCRF) is a Canada-based healthcare technology company offering software solutions for medical clinics to provide telehealth services. The company has been presenting exceptional growth driven by several strategic acquisitions along with this year's dynamic during the COVID-19 pandemic accelerating the penetration of telehealth among consumers. The stock is up over 150% in the past month following its latest quarterly results, which showed strong accelerating user gains and operating momentum. While DOCRF with a market cap of $185 million remains speculative given large recurring losses, the growth premium may be justified on a relative basis compared to a peer group of telehealth stocks. This is an exciting market segment and we believe CloudMD has upside with a long-term positive outlook.
(Source: Seeking Alpha)
CloudMD Background
CloudMD's proprietary software-as-a-service "SaaS" platform utilizes artificial intelligence combining a virtual assistant to connect patients in an online platform with physicians along with related electronic medical records and billing software. CloudMD includes several operating brand names including Patients can get a one-on-one video consultation with a qualified Canadian doctor that can provide general medical advice, review lab and test results, make referrals, and provide prescriptions for various conditions. Patients benefit from convenience while payments are covered by the various Canadian public and government-run health insurance plans.
The company's strategy has been to grow by acquiring emerging technologies in the field along with brick and mortar medical practices which expands the reach of the telehealth services to a growing user base.

(Source: Company IR)
While the company was incorporated back in 2016, and previously known as "Premier Health", CloudMD in its present form began trading in May following a bought-deal public offering where it raised CAD 10 million. Shares have a primary listing on the Canadian Stock Exchange with U.S. shares trading on the over the counter market.
A recent development is an announcement on September 2nd that the previously announced bought deal has been upsized to raise aggregate proceeds of CAD 18 million expected to close on September 22 which includes an over-allotment option to further upsize the deal in the next 30 days. The company intends to use proceeds for strategic growth opportunities and general working capital.
DOCRF Q2 Earnings Recap
CloudMD reported its Q2 earnings on August 31st with revenues of CAD 2.8 million, a massive 163% increase compared to the period last year. While a significant portion of the growth here is related to acquisitions of brick and mortar medical practices over the past year, the SaaS digital platform revenue of CAD 460k grew 35% compared to CAD 340k in Q2 2019, more indicative of strong organic growth.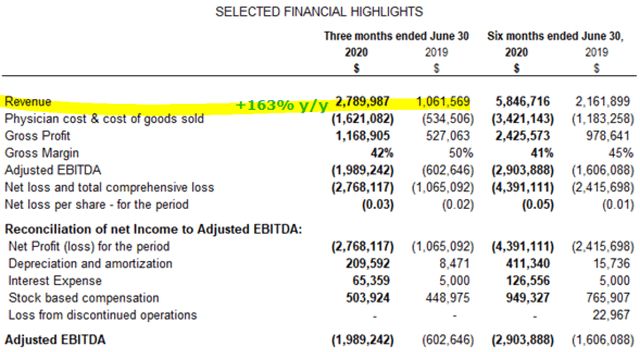 (Source: Company IR)
In terms of financials, the gross margin for the operation declined from 50% last year to 42% this quarter. The idea here is that as the telehealth service expands, the company's cost is largely related to paying the fees for the physicians on a contract basis. The Company expects the gross margin to improve going forward, benefiting from scale and efficiencies while supported by some new higher-margin sources like digital services, pharmacy kiosk partnerships, and telehealth visits.
The net loss of the quarter of CAD 2.8 million or CAD 0.03 per share represented approximately $0.022 per share. The adjusted EBITDA, which excludes executive share-based compensation, was also a loss of CAD 2.0 million, widening from CAD 602k loss in Q2 2019. Management explains that the adjusted EBITDA would have been a narrower CAD 1.0 million when excluding the elevated levels of marketing, consulting, and legal expenses associated with launching services in the Ontario province along with the higher level of acquisition activities. Keep in mind that most of the acquisitions are structured through a combination of share issuances and smaller cash outlay.
One of the most positive developments this quarter was an announcement that its "Livecare" standalone telehealth branded platform was added to the preferred vendor lists of leading Government associations across Canada which represent over 20,000 practitioners. Back in April, CloudMD announced it had over 100,000 registered users on its telemedicine platform which has likely grown since then although the actual figure is not disclosed. The current network of clinics provides a market reach of approximately 3 million patients which are effectively the potential users.
The balance sheet ended the quarter with CAD 13.8 million in cash and equivalents against CAD 1.9 million in long-term debt. Working capital of CAD 12.6 million highlights overall solid liquidity that is set to be further supported by the latest upsized bought-deal transaction.
On September 14th, CloudMD announced its largest acquisition to date in "iMD Health Global Corp.", which is a platform used by healthcare professionals for medical information and resources through a digital library. iMD is backed by privately held Apotex Pharmaceuticals, the largest generic drug manufacturer of Canada, which currently has an 18% stake in iMD. The deal totaling CAD 10 million includes a combination of shares, cash, and performance incentives.
Analysis and Forward-Looking Commentary
The attraction of CloudMD is its unique market position in Canada which includes partnerships with the government-run healthcare system and aggressive expansion trajectory. The company continues to seek strategic opportunities and is regularly announcing new deals to grow its network. The stock provides exposure to favorable trends in telehealth which has gained importance this year during the COVID-19 pandemic with consumers avoiding the doctor and hospital visits for minor ailments given social distancing concerns.
According to a study by the consultancy firm Frost & Sullivan, telehealth is expected to grow sevenfold by 2025, a 5-year average annual growth rate of 38.2%. The coronavirus pandemic has accelerated awareness among consumers for the virtual healthcare option as a secular trend. As described by CEO Dr. Essam Hamza in the earnings press release, CloudMD is benefiting from these positive tailwinds in telehealth.
We are currently in the worst public health crisis of our lifetime and as a front-line physician for over 20 years I acutely understand the toll it is taking on our healthcare system and the importance of access to quality health care. Our CloudMD platform is well equipped to increase access through the availability of our seamless virtual care solutions that allow patients to access quality health care from anywhere.
Valuation Check
Investors should recognize that given the company's small size with a market cap of under $200 million and sales over the past year at just $8 million, this is an overall high-risk stock with an uncertain profitability outlook. That being said, when compared to some other players in the telehealth segment, the valuation multiples for DOCRF have some precedence.
Teladoc Health Inc. (TDOC) is the largest direct play in the group with a market cap of $15 billion through global operations. The company reported revenue growth of 85% y/y in its last quarter which was driven by similar trends in telehealth along with acquisitions impact. There is also 1Life Healthcare Inc. (ONEM) with a market cap of $3.5 billion and $303 million in revenue over the past year and 475k members. ONEM last reported revenue growth of 18% y/y in the last quarter. There is also Livongo Health (LVGO), iRhythm Technologies (IRTC), and DexCom Inc. (DXCM) each with varying business models but benefiting from similar dynamics in the growth of virtual care. It's worth mentioning that American Well Corporation (AMWL) "Amwell" in the U.S. has recently filed an IPO to raise $525 million representing another telehealth stock.
Based on a price to sales multiple of 19.7x, DOCRF trades at a similar valuation compared to Teladoc and DexCom, while at a discount to iRhythm Technologies Inc. and Livongo Health as the most "expensive". Given the earlier stage of its growth cycle, the metrics are not necessarily directly comparable but help place CloudMD in context. DOCRF stands out as reporting the highest headline revenue growth among the group in the last quarter at 163% year over year as described above.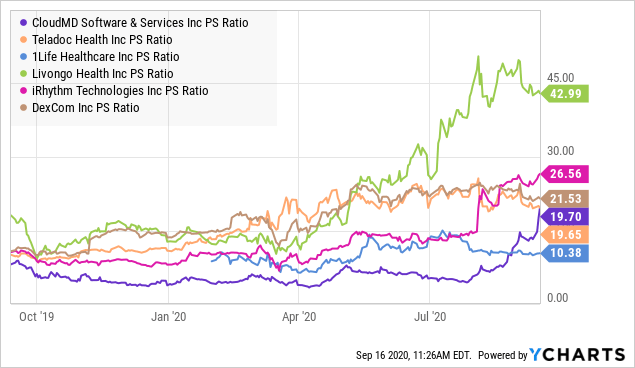 According to management, CloudMD is on track to reach a run rate of revenue approaching CAD 16 million this year and CAD 23 million including recently announced acquisitions. Indeed, according to consensus estimates, CloudMD is expected to grow revenues 161% for the full year 2020, 124% in 2021, and 54% in fiscal 2022. On a 2-year forward basis, the price to sales ratio falls to a more reasonable 4.2x assuming CloudMD can do $44 million that year, at which point it's possible that growth could continue above 10-20% per year over the next decade.

(Source: Seeking Alpha, estimates in USD)
Risks and Monitoring Points
Again, there are a lot of uncertainties dependent on company level execution. The challenge is that telehealth remains a competitive landscape with several larger players vying for the same market position as CloudMD. Beyond Teladoc Health which also operates in Canada, there are also other private health software-based telemedicine service providers while traditional healthcare providers are also offering their own branded services. CloudMD investors here need to be making assumptions going out over the next decade.
One risk in the segment continues to be a changing regulatory landscape and compliance standards. While the ongoing pandemic has helped fast-track availability, future changes to standards could impact fees and cost structure of the business. CloudMD management has mentioned they expect the gross margin to improve going forward, and the next couple of quarters will be important to observe the results.
Takeaway
CloudMD Software & Services is one of the fastest-growing healthcare technology companies in the market benefiting from strong trends in telemedicine. The company is an important player in the Canadian market supported by industry partnerships and acceptance within the government-run healthcare system.
We rate shares of DOCRF as a hold at the current level balancing the exceptional operational momentum and positive outlook against what is a pricey valuation. We expect some near-term volatility given the sharp increase in the share price over the past month likely capturing much of the positive near-term developments. The stock trading around a 20x sales multiple is comparable to peers in the sector but represents a high-risk investment given the expectation for recurring losses for the foreseeable future.
Add some conviction to your trading! We sort through +4,000 ETFs/CEFs along with +16,000 U.S. stocks/ADRs to find the best trade ideas. Click here for a two-week free trial and explore our content at the Conviction Dossier.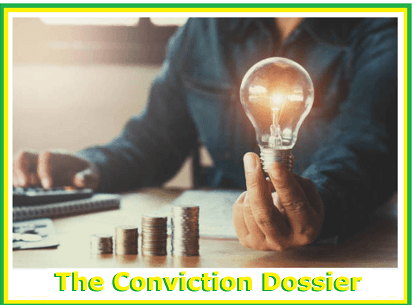 Disclosure: I/we have no positions in any stocks mentioned, and no plans to initiate any positions within the next 72 hours. I wrote this article myself, and it expresses my own opinions. I am not receiving compensation for it (other than from Seeking Alpha). I have no business relationship with any company whose stock is mentioned in this article.