In my last article on Church & Dwight (CHD) at the end of July right before Q2 earnings were announced, I noted that: "Demand is likely to have been at all-time highs in Q2-20 but is far from being sustainable." As predicted, CHD came in strong in Q2-20, reporting a 10.6% net sales growth rate and an 8.4% organic growth rate over the prior period. Gross margin was up to 46.8% (up by 220 basis points), while net income per share (diluted) and adjusted EPS showed 36.4% and 35.1% growth, respectively, on a year-over-year basis.
Thesis: The stock is too expensive to expect a reasonable total return in the short to medium term. Wait for a better entry point, which may well come in the absence of near-term M&A activity. In fact, the fate of the stock in the short term could hinge on whether or not an acquisition is announced in the next 2-3 quarters.
As I mentioned in my previous article, the then-current price of $85 already showed a downside. Since then, the downside risk has gotten even bigger as the stock trades at a forward earnings multiple of around 33. The short-term gains we're seeing during the pandemic aren't going to last indefinitely; they could last up to a few more quarters but, eventually, organic growth will come back to the ~3-4% historic levels.
Source: CHD presentation at the Barclays Global Consumer Staples Conference
In and of itself, that's not an insignificant figure for a company in the highly competitive consumer staples segment. However, that's far below what the stock is currently priced for.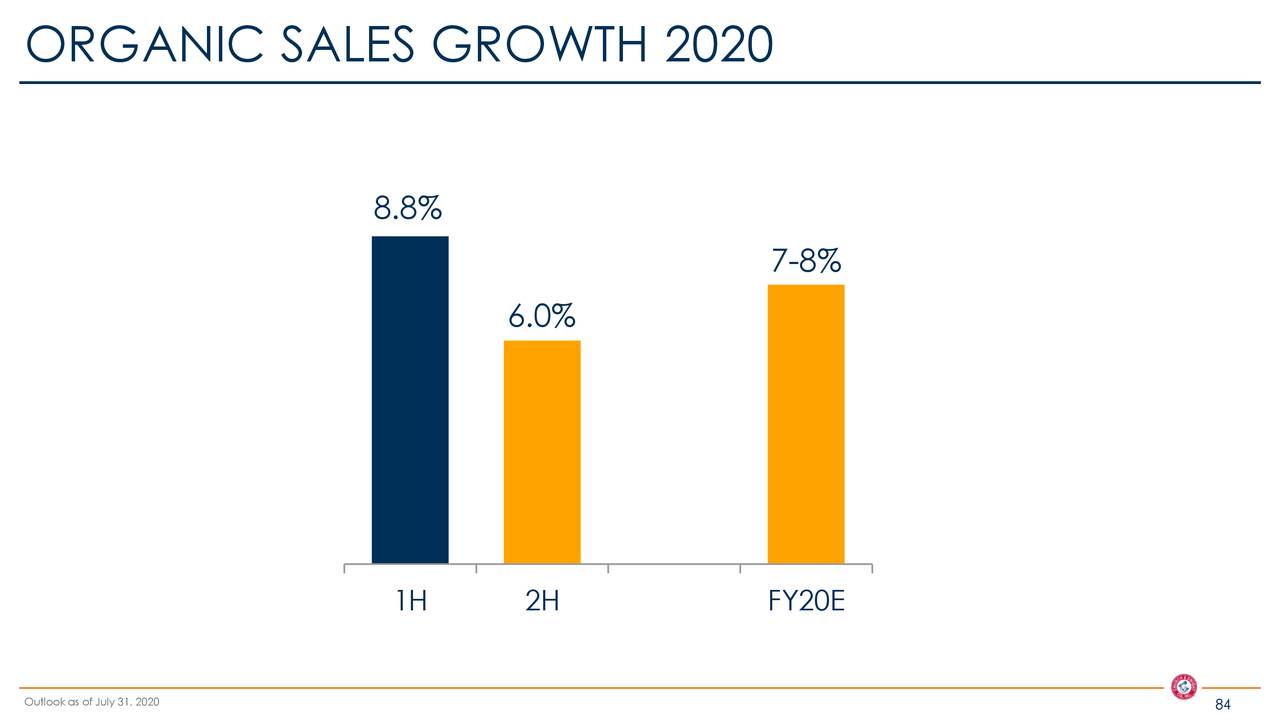 Source: CHD presentation at the Barclays Global Consumer Staples Conference
The company expects organic growth to be at 7-8% for FY-20 but specifically projects a 6% organic growth rate in H2-20 over the prior period, which will effectively offset the abnormal growth seen in the first half of 2020. That indicates a slowdown as we gradually see the dissolution of pandemic-driven consumer buying trends. Going by past trends, it is highly likely that this will further slow down in FY-21 and eventually return to the 3-4% average levels of the past decade.
How does that affect earnings?
CHD's ability to grow earnings comes from organic growth, top-line growth as a direct result of M&A activity, and bottom-line expansion as a result of leveraging its manufacturing and supply chain capabilities when integrating these acquisitions.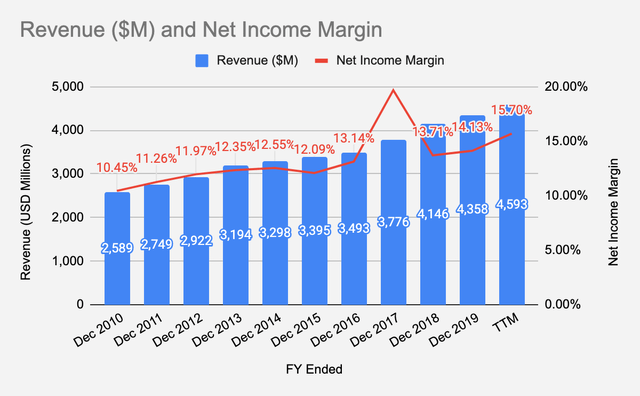 Source: Data from Seeking Alpha
Organic growth has generally stayed within the 3-4% figure for the past several years, as we saw. With Flawless now a part of organic figures after lapping a year in May 2020 and organic sales themselves on a decline toward historical levels, CHD will need to look for another major brand that can meaningfully contribute to top-line growth and margin expansion over FY-21. CEO Matt Farrell's comments at the Q2-20 call show that this clearly remains the strategy moving forward:
We're coming off one of the best first half we've ever had and are entering this downturn in a position of strength and with a strong balance sheet. And with a strong balance sheet, we continue to be open to acquire in a TSR accretive businesses.
Acquisitions have consistently helped boost net sales; now, however, it has become imperative that CHD seek and close a major acquisition before the end of the calendar year, or at least during the first half of FY-21, in order to justify the high valuation levels. The fact that CHD has been dependent on acquisitions to grow revenues and earnings in a strong way has never been more evident than now. In fact, its aggressive M&A stance could very well be the reason that the current price of CHD stock represents a higher level of risk than ever before, with the pandemic-driven demand further exacerbating the problem.
Investor's angle
And that's where the real risk lies when it comes to investing in the stock at the current valuation level. Even for a company that primarily grows its revenues through acquisitions, a forward earnings multiple of +30x is excessive.

Source: Seeking Alpha Charting
More to the point, if you look at the past several years, the market has repeatedly corrected CHD's price whenever the trailing twelve-month P/E multiple has gone over the 30x level, bringing it down to about 25x. Right now, it's so high that even a correction to 30x could cause the stock price to dip significantly. Even in such an optimistic scenario, we're looking at a potential downside risk of ~5% at the current price using Q2-20 TTM basic earnings per share of $2.93, which is about 4% higher than analysts' estimates for FY-20. If the price is forced down to a 25x TTM earnings multiple, we're looking at a downside risk of +20% at the current price.
Realistically speaking, that might not happen in the near term because investors are clearly ecstatic about CHD's prospects; however, the signs can't be ignored, and my belief is that only a strategic acquisition announcement in the near term can help sustain the market's enthusiasm.
I'd like to make it amply clear that CHD is most certainly a solid long-term investment. Even if you invest at the as-of-writing price of ~$93, it will still yield a strong total return in the long run.
That's because the company is not likely to alter its "Evergreen Business Model", which uses acquisition as a key growth driver for revenues and earnings. That model has worked for two decades and is not about to change.

Source: Seeking Alpha Charting
That's not the issue here at all. The company will continue to invest in TSR-accretive acquisitions as long as its cash flows and balance sheet remain strong. It has proved, quite unarguably, that it can show meaningful growth and impressive total shareholder returns over the long term while keeping its cash reserves strong and debt at manageable levels.
The issue right now, though, is that, at the current price, it's going to take a lot longer to realize a worthwhile return. As such, waiting for a better entry point under $88 might be a prudent move. That's still high, but if you think the stock can sustain its momentum in the medium term, it might be a good entry point for you. For a wider margin of safety, and in the absence of a major acquisition being announced in the next 2-3 quarters, I'd recommend getting in as close to $75 as possible. Patience is the key.
Disclosure: I/we have no positions in any stocks mentioned, and no plans to initiate any positions within the next 72 hours. I wrote this article myself, and it expresses my own opinions. I am not receiving compensation for it (other than from Seeking Alpha). I have no business relationship with any company whose stock is mentioned in this article.