Introduction
Choice Properties (OTC:PPRQF) is an interesting Canadian commercial REIT benefiting from its very strong ties with the Loblaw group (where it was spun out off a few years ago). As most of its tenants operate essential stores, the Q2 rent collection rate was pretty high at 89% and this increased further to 94% in July. The REIT offers a monthly dividend and the current dividend yield based on a unit price of C$12.50 is approximately 5.9%.
I would strongly recommend to trade in Choice's units through the facilities of the Toronto Stock Exchange where it's trading with CHP.UN on the main board. The average daily volume in Canada exceeds 400,000 units per day which is clearly superior to the 2,000 shares per day on the US exchange. There are currently 700.4M units and exchangeable units outstanding which gives the REIT a market capitalization of almost C$9B. All relevant documentation and filings can be found here.
Decent rent collections are protecting the future of the REIT
In the second quarter of the year, Choice Properties reported a net loss of almost C$96M, which was entirely caused by a C$217M impairment charge on the book value of its properties.
We need to have a closer look at Choice's rental revenue as this also includes the recovery of taxes and operating expenses. In the second quarter of the year, the total base rent revenue was C$216.5M, just 0.5% lower than in the first quarter. This means that approximately a third of the top-line revenue is the recovery of certain expenses:

Source: Financial statements
What's important for commercial REITs these days are the rent collection percentages. During the second quarter of 2020, Choice was able to collect 89% of the rent from its tenants and this percentage increased further to 94% in July. I think it's fair to assume an average rent collection rate of around 95% for the current quarter as the economy is opening up again.

Source: press release
These rent collection numbers are very strong, and this could be entirely explained by Choice's strong tenant mix. Over half of its rental income is generated by affiliated companies like Loblaw (OTCPK:LBLCF) with its Superstore and Shoppers Drug Mart brands. The remainder of the top 10 tenants does read like a who's who of strong companies with a national and international presence.

Source: Management Discussion & Analysis
The strong affiliation with Loblaw (Choice Properties is a spinout from Loblaw which used to own its own real estate assets) and the well known other tenants helped to insulate Choice from the COVID-19 fallout as the vast majority of its tenants were qualified as "essential services" so they could remain open and pay their rent.
The payout ratio is getting high, but the dividend remains fully covered
REIT investors shouldn't care at all about a net loss. What really matters are the Funds From Operations and the Adjusted Funds From Operations. As the net loss was caused by impairment charges and expenses related to the revaluation of the real estate assets, the funds from operations were substantially higher than the net loss: In Q2 the FFO was C$140.6M or C$0.201/share.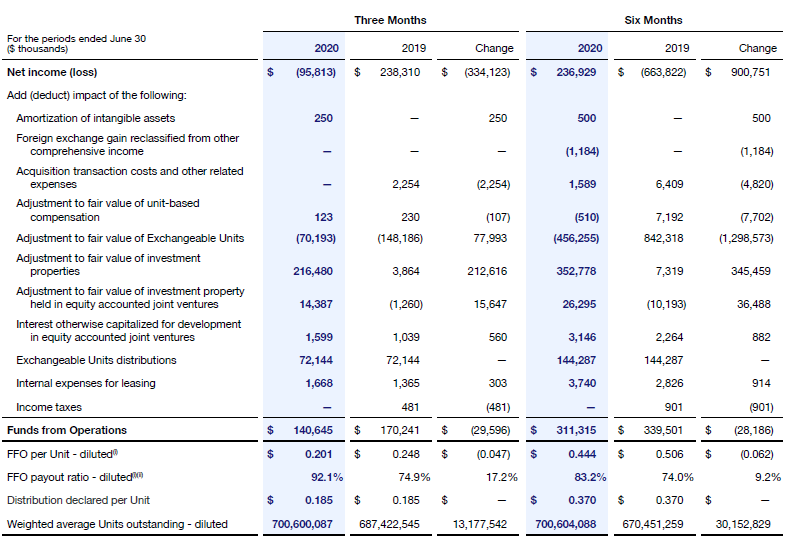 Source: Financial statements
Looking at the image above, the FFO in Q2 was C$0.201/share while the total amount of dividends declared and paid came in at C$0.185 which means the payout ratio based on the FFO was just 92.1%. The AFFO in Q2 came in at C$132M or C$0.187/share for a payout ratio of 98.8%.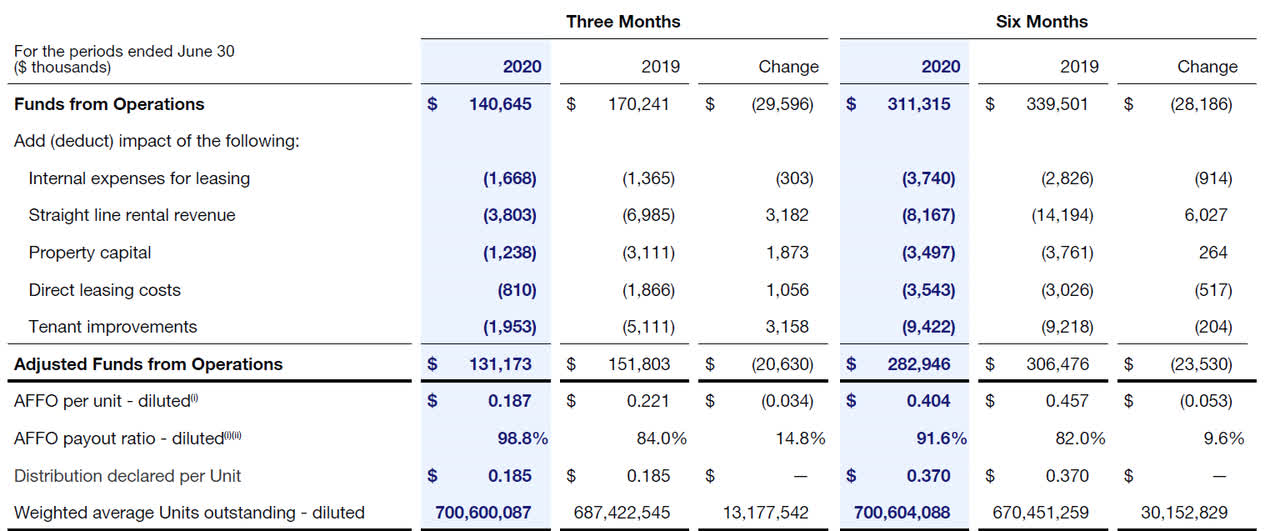 Source: Financial statements
When Choice Properties announced its financial results, one reaction on the SA update was stunning. Reader "Guy at Work reading SA" was getting worried about a dividend cut:

Source: Seeking Alpha
If you would just look at the payout ratio based on the AFFO (the 98.8%), we have to agree with Guy at Work. But he cut a few corners and should have read the press release and financial statements thoroughly. A part of the Q2 rent was deferred to H2 2020 (and as this was a deferral, the rental income is still included in the FFO and AFFO), another portion of the rent was forgiven and written off as a bad debt. Allowing some of the tenants to drop a portion of the rent was a requirement for Choice to participate in the government backed scheme to protect landlords and the C$14M earmarked as "bad debt" should be a one-time item.
This also means that amount was deducted from the AFFO as a one-time item, and adjusting the AFFO for the rent forgiveness, the Adjusted Funds From Operations in Q2 would actually have come in around C$145M, or C$0.207, which means the payout ratio based on the underlying and normalized AFFO performance of Choice Properties is 89.4%. I'm convinced we will see the payout ratio drop in the current quarter as the one-time items should have a much lower impact.
My own NAV calculation
The official book value per unit (assuming the exchangeable units will be converted at the same value as their book value) was C$11.67/share as of the end of June. I always like to run my own numbers to make sure the property valuations and NAV/share remain within a reasonable range from the market price.
We have established the base rent was C$216.5M in Q2, and on an annualized basis, this is C$866M. The occupancy rate is 96.8% and I will use a required rental yield of 6.61% which is a mark-up of 6% on top of the 10-year Canada government bond. I feel this mark-up is pretty reasonable.
Source: author compiled table, based on publicly available information
As you can see above, Choice is trading at a 15% premium to my fair value, but I'm obviously more conservative considering my base case scenario uses a 6% mark-up to the risk-free interest rate. If I would use a mark-up of 5%, the NAV/share would increase to C$14.45/share. If you feel a lower mark-up is warranted, then Choice Properties remains very attractive.
Investment thesis
While the payout ratio appears to be very high based on the reported AFFO in Q2, I'm very confident there will be no dividend cut. The AFFO was reduced by approximately 10% as Choice Properties had to forego collecting some of the rent as a requirement to participate in a government guarantee scheme, and this was a one-time item.
At the current unit price of Choice, the dividend yield is approximately 5.9% and more than fully covered by the incoming rental revenue of which a large portion comes from affiliated companies. This doesn't mean Choice Properties is cheap and I think the company is currently trading at its approximate fair value. While you can't expect too much in terms of capital gains, the almost 6% dividend yield is sufficiently attractive to give Choice Properties a very good look.
I currently don't have a position in Choice Properties, but this Canadian REIT is now ranked high on my wish list.
Consider joining European Small-Cap Ideas to gain exclusive access to actionable research on appealing Europe-focused investment opportunities, and to the real-time chat function to discuss ideas with similar-minded investors!
NEW at ESCI: A dedicated EUROPEAN REIT PORTFOLIO!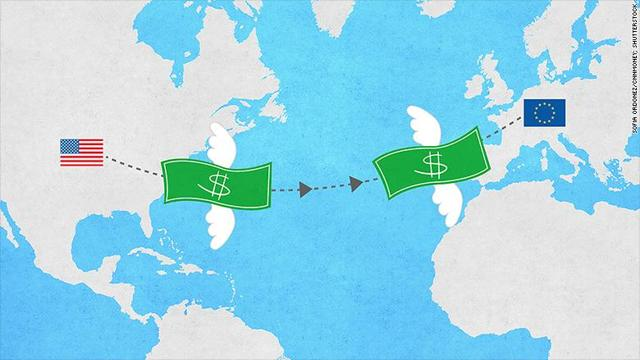 Disclosure: I/we have no positions in any stocks mentioned, but may initiate a long position in PPRQF over the next 72 hours. I wrote this article myself, and it expresses my own opinions. I am not receiving compensation for it (other than from Seeking Alpha). I have no business relationship with any company whose stock is mentioned in this article.