The Hotel industry has been one of the most beaten down sectors during the current recession. While this sector is well-known for its cyclicality, buying well-managed landlords in this space at a good valuation may prove to be rewarding for investors who are willing to be patient. In this article, I'm focused on the hotel REIT, Chatham Lodging Trust (CLDT), which has seen a material drop in its share price this year. I evaluate whether if it makes for an attractive investment at the current valuation; so let's get started.
(Source: Company website)
A Look Into Chatham Lodging Trust
Chatham Lodging Trust is a Hotel REIT with a strategy of owning and acquiring extended-stay and premium-branded, select-service hotels. It has a strategic relationship with Island Hospitality, which is a well-recognized operator of the types of hotels that Chatham owns. Island Hospitality manages all of Chatham's wholly-owned hotels, all 47 hotels in the Innkeepers joint venture, and 34 of the 48 hotels in the Inland joint venture.
COVID-19 has been especially challenging for the hotel sector, as both vacation and business travel have been severely impacted. As seen below, this has had a material effect on Chatham's stock price, which has posted a -56% decline on a YTD basis.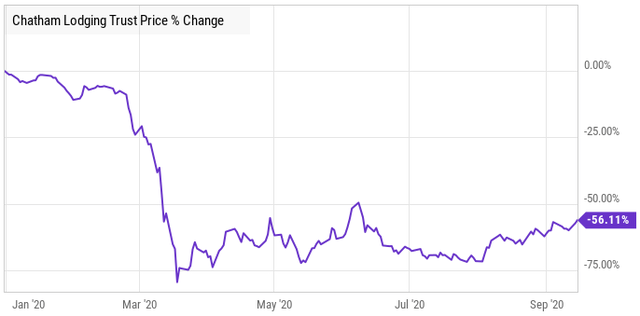 (Source: YCharts)
While the share price continues to be substantially below where it traded at earlier this year, early signs of a recovery are beginning to emerge. The company's RevPar (revenue per available room) has steadily increased since the early stages of the pandemic, and management believes that it can get back to 2019 revenue levels sooner that most of its peers. However, from a timing standpoint, a full return may not be fully realized until a vaccine is made available. This was noted by the CEO during the last conference call:
"Looking past the summer, we have seen some corporate demand percolating, but only time will tell if in fact that comes to fruition. And I could say that the corresponding rate is well down from the prior year, but slightly improved from the second quarter. I firmly believe that given our portfolio attributes, we believe that we will be able to return to 2019 revenue level levels sooner than most of our lodging REIT peers, but the full return of the corporate transient traveler will be predicated on the availability of a vaccine."
What I find encouraging is that since the July conference call, the business has continued to show improvements. As seen in the September investor presentation below, both the daily room revenue and occupancy metrics have continued to claw upwards. Based on the graph below, it appears that the daily occupancy now sits at ~65% at the high point, with in-week swings due to weekdays/weekends. This represents a significant improvement since the end of Q2, at which the average daily occupancy stood at ~50% at the high point.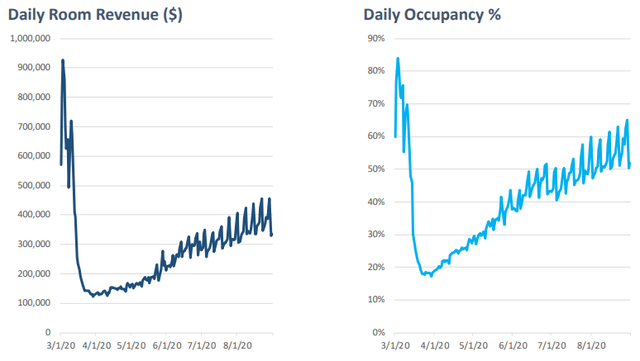 (Source: September Investor Presentation)
Furthermore, Chatham's focus on extended stay hotels (representing 59.4% of its portfolio), helps it to keep more of its rooms occupied. This is further supported by Chatham's geographic focus on corporate-heavy locations, including its strong presence in Silicon Valley, where 24% of its properties (by last 12-months' EBITDA) are located. This, in turn, results in a higher RevPar than its peer group, which includes REITs with more expensively-priced hotel properties. As seen below, Chatham led its peer group with the highest RevPar during Q2'20.

(Source: September Investor Presentation)
Since the end of Q2, the company has continued to make progress on its RevPar performance. As seen below, the RevPar for August currently sits nearly 36% above where it was for the month of June, and 84% above the aforementioned average $33 level achieved during Q2.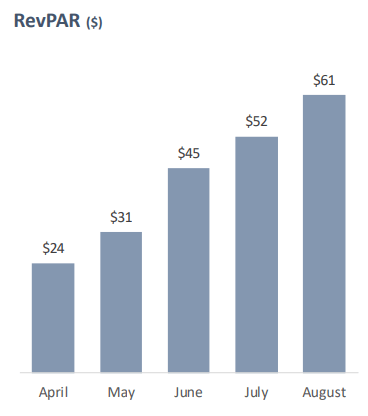 (Source: September Investor Presentation)
One of the advantages to Chatham's focus on limited-service hotels is the lower operating cost structure that comes with it. Management estimates that it needs to achieve a $75 RevPar in order to break even on its monthly cash flows. Based on the trend above, it appears that the company is on its way to achieving this near-term goal. This also represents a reduction from the previous estimate of $90 RevPar needed to achieve break even cash flows. This reduction was helped by the 50% pay cuts that the CEO and COO took, as well as a 25% reduction in pay for all corporate employees, and unfortunately, a broad 25% headcount reduction across the company.
In the meantime, Chatham has ample liquidity, with nearly $37M of unrestricted cash, and $77M in remaining availability on its credit facility. Per management's estimate, the total $114M in liquidity would cover cash needs for 41 months even if performance does not increase from June levels. By all accounts, the company's performance has increased since June. In addition, the company has no significant debt maturities until 2023. This gives the company plenty of time to ride out the storm.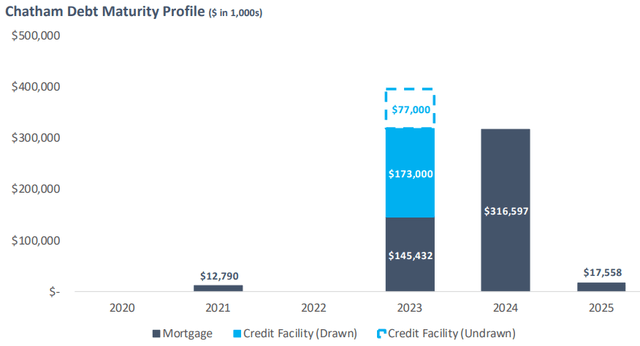 (Source: September Investor Presentation)
Since Chatham is currently seeing negative cash flows, I use tangible book value to measure its valuation. Currently, tangible book value sits at $14.89, which is 8.3% lower than where it was at the end of 2019. While Chatham's tangible book value has dropped due to negative cash flows in the recent quarter, I expect the drop in the second half of this year to be less substantial, as the company's RevPar approaches the cash flow breakeven point.
At the current price of $8.04, it appears that shares are undervalued based on Price to Tangible Book Value, even if we assume a drop in tangible book value to $14 by the end of the year. Management appears to agree that the shares are undervalued, as the CEO has made aggressive purchases this month, at price levels that are not too far off from the current price.

(Source: OpenInsider)
Investor Takeaway
Chatham Lodging Trust is a Hotel REIT with a strategy of owning and acquiring extended-stay and premium-branded, select-service hotels. While COVID-19 has presented significant challenges to the business, the recent trends suggest that a recovery is underway, with the RevPar approaching the company's cash flow breakeven point. In the meantime, the company has ample liquidity to face near-term challenges, with no significant debt maturities until 2023.
The shares appear to be undervalued at the current price of $8.04, even if we assume a continued drop in tangible book value to $14 per share by the end of the year. Due to this discount to tangible book value, and the recent improving performance trends, I have a favorable view of the stock and see upside potential from the current price.
Disclosure: I/we have no positions in any stocks mentioned, and no plans to initiate any positions within the next 72 hours. I wrote this article myself, and it expresses my own opinions. I am not receiving compensation for it (other than from Seeking Alpha). I have no business relationship with any company whose stock is mentioned in this article.