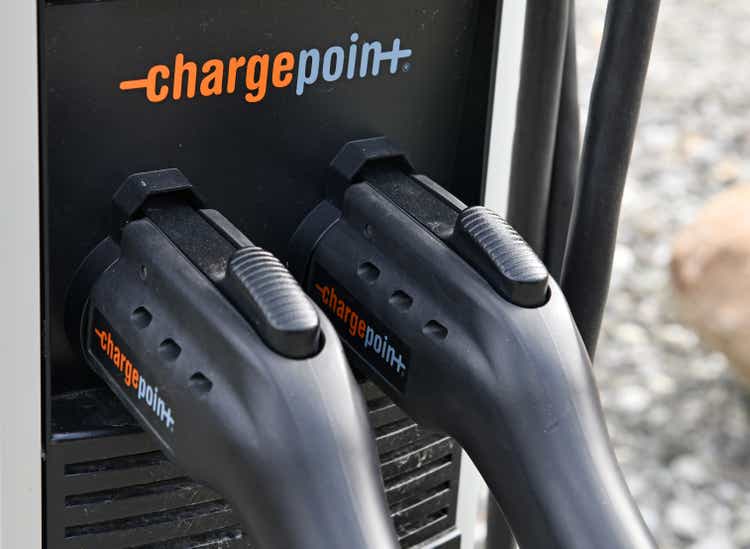 Investment Thesis
ChargePoint Holdings, Inc. (NYSE:CHPT) reported its FQ4 earnings early last month. While it easily outperformed its revenue guidance, it missed its adjusted EPS estimates. Nevertheless, CHPT investors have been focusing on its topline growth commentary. Therefore, it was still a solid performance for the EV charging leader.
Furthermore, the company offered confident FY23 revenue guidance that demonstrated its leadership in adoption. It is still in the infancy of its market penetration, and robust guidance is therefore highly constructive.
However, we thought its weaker-than-expected gross margins guidance was a red flag that investors should note. Back in January, we presented our Buy rating (up 38% at writing), given the steep fall in its valuation and improving gross margins.
Therefore, we are concerned whether the ongoing conflict could further impact its gross margins and worsening supply chain snarls. In addition, CHPT stock has also reversed markedly from its bottom in January, heading into a critical resistance zone.
As such, we believe there are sufficient confluence factors for us to revise CHPT stock from Buy to Hold.
What Was The Hit To Its Gross Margins?
ChargePoint reported broad-based growth in its revenue segments, as seen above. As a result, consolidated revenue increased by 90.3% YoY. However, the strength was dominated by its lower-margin hardware segment, as revenue grew by 94.4%. In contrast, subscriptions revenue "only" increased by 37.8%.
However, investors should note that subscriptions revenue is recognized ratably. Furthermore, ChargePoint added color that its billings growth is robust, up 95% YoY and 20% QoQ. Hence, we are assuaged by its strong billings growth. Given the Street's aggressive growth estimates for ChargePoint, it's imperative that the company continues to execute well.
Nevertheless, we need to point investors' attention to its gross margins. Notably, its adjusted and GAAP gross margins fell markedly from Q3's performance. ChargePoint reported an adjusted gross margin of 24% (FQ3: 27%) in FQ4. Its GAAP metric was 21.7% (FQ3: 24.7%).
Therefore, it was a pretty significant hit to its already relatively low gross margins. Given that ChargePoint is still a highly unprofitable company, we didn't quite welcome its inability to pass through costs to its customers without affecting its topline growth. Such a dilemma was evident in management's commentary. CFO Rex Jackson articulated (edited):
As Pasquale (ChargePoint's CEO) mentioned, we are focused on the assurance of supply to land new customers and to expand with existing ones.

While this places pressure on our gross margin, we believe this is the right and necessary strategy. Once we land a customer, they tend to grow with us over time and also provide ongoing subscription revenue.

So it's very important to keep our focus on delivering products and locking customers in. We estimate higher purchase price variances and logistics costs represented approximately 4 margin points net of our efforts to pass-through costs where we can through higher prices and logistics fees. (ChargePoint's FQ4'22 earnings call)
Therefore, we think management has been leveraging the strong adoption cadence of EVs, given the currently elevated oil prices. Tesla's (TSLA) strong delivery cadence for Q1'22 profoundly demonstrated the momentum driving EV adoption. Prices across the EV line-up have increased. But, consumers have certainly moved further ahead with EV adoption, given better demand/supply dynamics and a renewed focus on total costs of ownership.
What's The Outlook For FY23?
ChargePoint is still very much in the red given its relatively low gross margins and high OpEx spending. Therefore, a declining gross margins profile isn't helpful to its outlook, especially in an inflationary environment.
Furthermore, ChargePoint guided adjusted gross margins of 24% in FY23. Management accentuated that it has factored in the impact emanating from its supply chain challenges. In addition, it guided that it was still confident of improving operating leverage moving ahead.
However, we implore investors to be more circumspect about highly unprofitable companies in a highly uncertain supply chain environment. If the challenges are more significant than what ChargePoint has projected, investors must be prepared for steep value compression.
Is CHPT Stock A Buy, Sell, Or Hold?
CHPT stock's NTM revenue multiple is broadly in line with our analysis in January. However, the stock has also recovered markedly from its January bottom, as highlighted earlier.
But, the headwinds have also intensified, as explained above. Moreover, its gross margins profile has also been downgraded. Furthermore, the stock has also moved markedly ahead of its more conservative consensus price targets (PTs). Back in January, it traded below its most conservative PTs. Therefore, investors are reminded not to consider the average PTs, as they have been highly inaccurate over the past year.
In addition, we also observed CHPT stock moving into a trendline resistance zone, which could draw marked selling pressure.
Consequently, we think there are sufficient headwinds for us to revise our rating on CHPT stock from Buy to Hold.