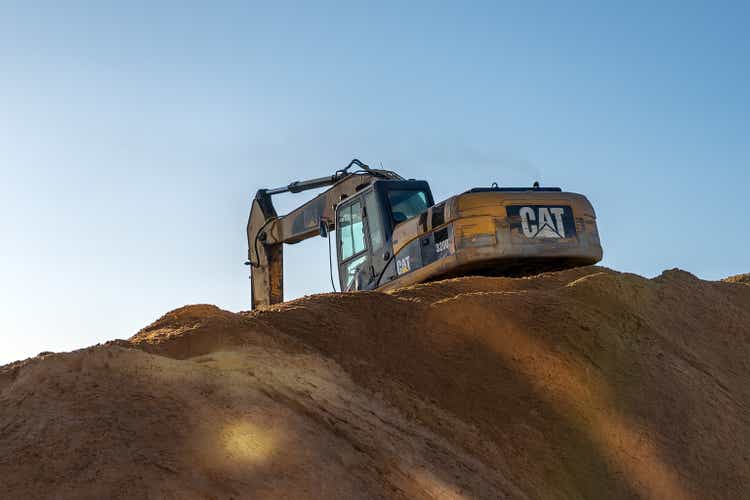 Introduction
As a dividend growth investor, I am constantly looking for different growth opportunities that still supplement my income stream. Sometimes I add to existing positions while other times I start new positions. The current market volatility serves as an opportunity for dividend growth investors to acquire shares in blue-chip companies that suffer from price decline despite their strong performance.
One of the most interesting sectors is the industrial sector. Companies in this sector tend to be cyclical as clients buy industrial machinery for example when the demand is growing. Therefore, investors may be reluctant to deploy capital in this segment. Some companies have a long track record of dealing with this cyclicality with success, and their price decrease may be an opportunity. In this article, I will look into Caterpillar (NYSE:CAT).
I will analyze the company using my methodology for analyzing dividend growth stocks. I am using the same method to make it easier for me to compare analyzed stocks. I will look into the company's fundamentals, valuation, growth opportunities, and risks. I will then try to determine if it's a good investment.
According to Seeking Alpha's company overview, Caterpillar manufactures and sells construction and mining equipment, diesel and natural gas engines, and industrial gas turbines worldwide. Its Construction Industries segment offers asphalt pavers, backhoe loaders, and more. The Energy & Transportation segment offers reciprocating engines, generator sets, integrated systems and solutions, and more. The company's Financial Products segment provides operating and finance leases.
Fundamentals
Caterpillar has seen its sales grow by more than 30% in the last five years. The graph below shows how cyclical the revenues of Caterpillar are, and despite that challenge, it manages to grow its sales in the long term. The growth is primarily organic as the company sells more equipment. Going forward, the consensus of analysts, as seen on Seeking Alpha, expects Caterpillar to keep growing sales at an annual rate of ~7% in the medium term.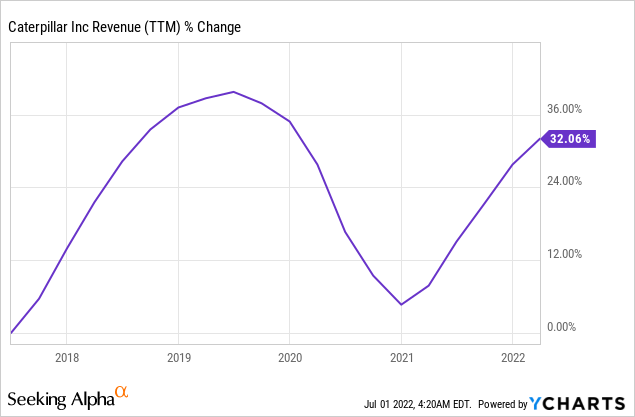 The company's EPS (earnings per share) has grown at a much faster pace, but it is also extremely cyclical. EPS is very sensitive to the business cycle, and therefore we see such massive volatility. Caterpillar's EPS growth is fueled by sales growth together with buybacks and margin improvement during the business cycle. The operating margin has more than doubled between 2016 and 2021. Going forward, the consensus of analysts, as seen on Seeking Alpha, expects Caterpillar to keep growing EPS at an annual rate of ~14% in the medium term.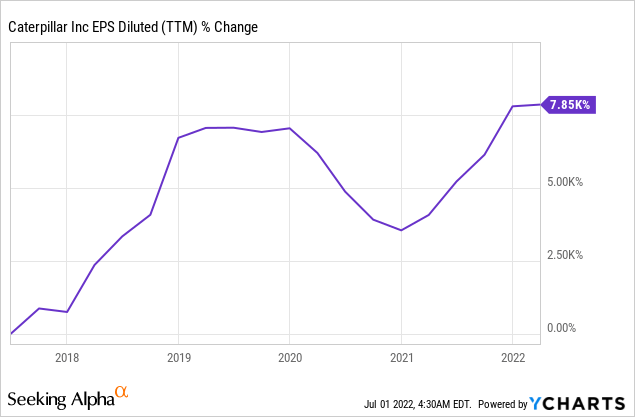 The company's growing EPS is fueling its dividend growth. Caterpillar is a dividend aristocrat with a streak of 28 years of constant growth. The latest increase was this month and it was a decent 8% increase. the company's dividend yield is 2.7%, and the dividend is safe as the company pays roughly one-third of its earnings in the form of dividends. Higher cyclicality is making the payout erratic, but Caterpillar constantly manages to keep it safe.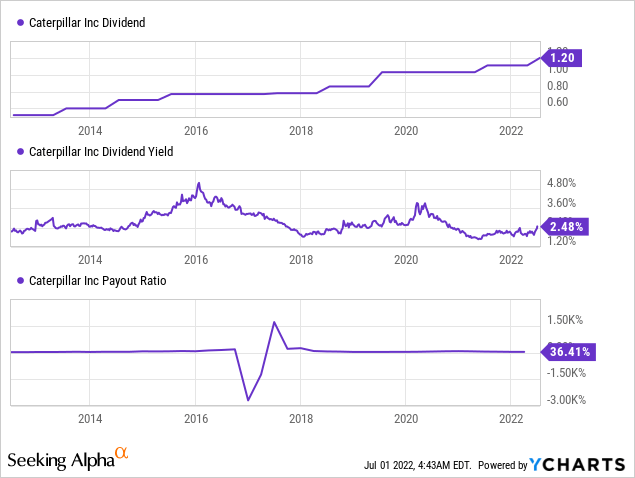 In addition to dividends, Caterpillar is also returning capital to shareholders using buybacks. The company has reduced the number of shares outstanding by almost 20% over the last ten years. Buybacks when implemented by a growing company support EPS growth, and improve the total return that shareholders get. The company announced this year a $15B buyback plan that is equal to 15% of its market cap.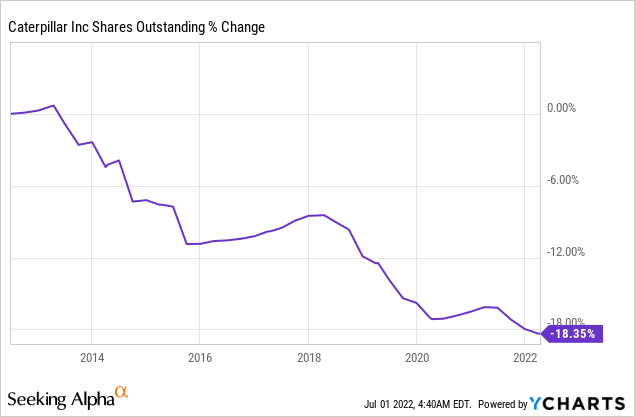 Valuation
The company's P/E (price to earnings) ratio of Caterpillar is slightly above 14 when using the forecasted EPS for 2022. This is an attractive valuation as the graph below shows. This is the lowest valuation that Caterpillar was trading for over the last twelve months. Paying 14 times earnings for a company that is forecasted to grow at a double digits rate is attractive even when taking into account the valuation.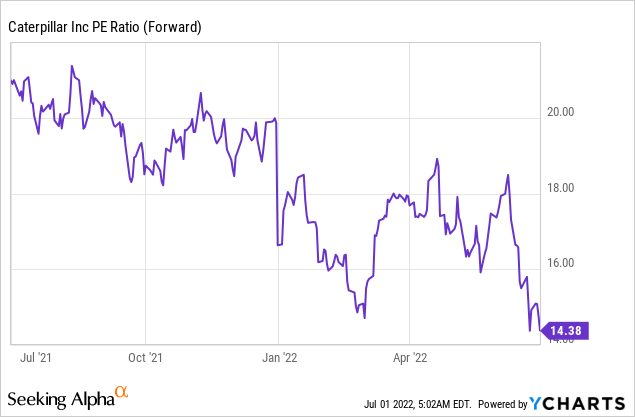 The graph below from Fastgraphs emphasizes that Caterpillar is an attractively valued company. The average valuation over the last twenty years was a P/E of 17.5. Therefore, the current P/E of 14.38 implies that the shares are trading at a discount. Moreover, the company's growth rate historically was 11.6%, and it is lower than the current growth forecasts. Therefore, I believe that Caterpillar is attractively valued.
To Conclude, Caterpillar is a very resilient company. Despite the cyclical nature of its sector, it manages to grow sales and EPS over the long term. The growth leads to a growing dividend and more buybacks as the company focuses on returning capital to shareholders. This great package comes at what I believe to be an attractive valuation with a P/E ratio below its average ratio.
Opportunities
The first growth opportunity for Caterpillar is the hot housing market. The increasing prices of houses lead to higher demand for houses, and Caterpillar is delivering the machinery. Moreover, the infrastructure bill passed by Congress is stimulating even more construction and investments in the U.S, and it is forecasted to support growth in Caterpillar's sales.
Moreover, at the moment, we see many commodities at a very high price compared to the last several years. Caterpillar's mining segment will enjoy greatly from this trend. Mining companies are investing heavily in increasing their output to deliver, capitalize on the high demand and increase their profits. Caterpillar is one of the leading vendors to assist in increasing production.
Another opportunity for Caterpillar is its track record of success and execution. The company managed to deal with the recession and cyclicality in the past. It also has a very flexible balance sheet and a very low debt level. This is protecting the company from higher rates, and lower risks, and opens the door for future M&A activities if other companies will be in distress in the short and medium-term.
Risks
Interest rates worldwide are on the rise. A higher interest rate will make it more expensive for developers to raise capital for projects. It will also make it harder for consumers to buy houses. Therefore, higher interests are expected to lower the demand for Caterpillar's heavy machinery. If rates climb very fast, we may see a faster than expected decline, and Caterpillar may have to lower prices or offer better terms in its financing arm.
In addition, the higher rates may lead to a recession. A recession will hurt the demand for construction machinery as there will be higher uncertainty with higher rates and negative growth. Moreover, a recession usually comes with lower commodity prices, and it will lower the demand for Caterpillar's mining equipment.
China is a risk for Caterpillar for several reasons. In the short term, the company is dealing with lock-downs in China that decreases demand. We already saw in the latest quarterly report a decline in sales in Asia. Moreover, the company is also dealing with a long-term risk. There is uncertainty regarding the real estate sector in China. We know that there are ghost neighborhoods as well as companies like Evergrande that are struggling.
Conclusions
Caterpillar is a great company in the industrial sector. The company has a long track record of success with increasing sales and EPS. The company is also a dividend aristocrat which is forecasted to continue and reward investors in the future. The company is trading for 14 times earnings, and I believe that this is an attractive valuation.
The company has several growth prospects in the mining and construction business. These are long and short-term opportunities that will propel EPS growth. The risks are mostly for the short and medium-term due to the higher level of uncertainty. Therefore, I believe that the company is well-positioned to grow in the long-term, and believe that Caterpillar is a BUY.