Fannie Mae (OTCQB:FNMA) and Freddie Mac (OTCQB:FMCC) have been retaining capital since September of last year as part of the government's plan to end their conservatorships. They are regulated by the Federal Housing Finance Agency (FHFA). Mark Calabria is the director of FHFA. Mark Calabria recently was in front of the Financial Services Committee. There, he told those present (virtually) that Fannie and Freddie are required by law to recoup the $6B in projected losses resulting from the pandemic. That was news to me. As such, Mark Calabria is using the law as a reason to temporarily increase the income of Fannie and Freddie in order to manage their earnings as the companies retain earnings heading into their equity-only restructuring that will prepare them to raise capital. If there is a housing crash, the restructuring may cease to be equity-only, at which point receivership may be an option. If there is a stock market crash, the capital raise would likely be delayed. I see both of these risks as remote possibilities, and the upside of an equity restructuring is enormous.
Investment Thesis
Junior preferred shares like OTCQB:FNMAS have been weak lately. The prevailing rumor that I'm hearing is there is a large seller out there that has been selling for the past two weeks. I'm not sure how large the seller is or how much of what they need to sell has already been sold. I'm also not sure what would be motivating the seller to sell now when the equity restructuring is scheduled to begin immediately after the elections, and I expect 100% gains in the preferred, assuming the senior preferred liquidation preference gets written down as contemplated by Craig Phillips. After 100% gains, I expect further gains as preferred are converted to common and appreciate as capital begins to be raised around July. In the near term, I expect both Fannie and Freddie to be uplisted to the NYSE around November/December. If Biden wins the presidency, I expect Calabria to use a consent decree to prevent Biden from derailing this recapitalization plan. Thus, I don't see political risk, but this concept of political risk is the only excuse I can envision for whomever is unloading preferred the past few weeks. I figure common shares raise capital at valuations of around $4-7 in July of next year, but before that reverse split like 10:1 in order to trade around $40-$70 or something like that as part of uplisting to the NYSE.
SCOTUS – Wednesday, December 9 – Table Of Contents
It's been years in the making, but the Supreme Court of the United States has set aside an hour to listen to the Collins v. Mnuchin case where plaintiffs contest several government actions during conservatorship:
The Collins plaintiffs recently delivered their opening brief to the U.S. Supreme Court. A few highlights from someone who has read all the Fannie and Freddie legal claims (thousands, if not tens of thousands of pages), if you will. The plaintiffs cover the temporary accounting writedowns that FHFA imposed on Fannie and Freddie to artificially inflate the government's Senior Preferred Stock Liquidation preference: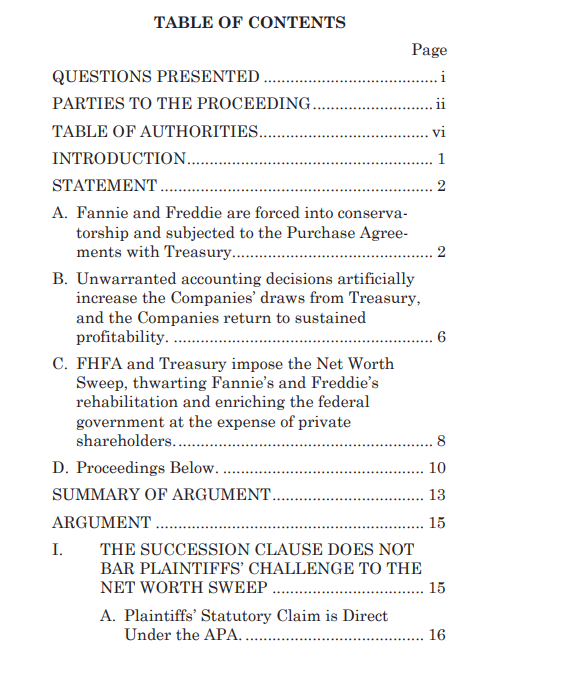 The plaintiffs also argue that the net worth sweep is antithetical to FHFA's conservatorship mission and that liquidating assets is the opposite of preserving and conserving them: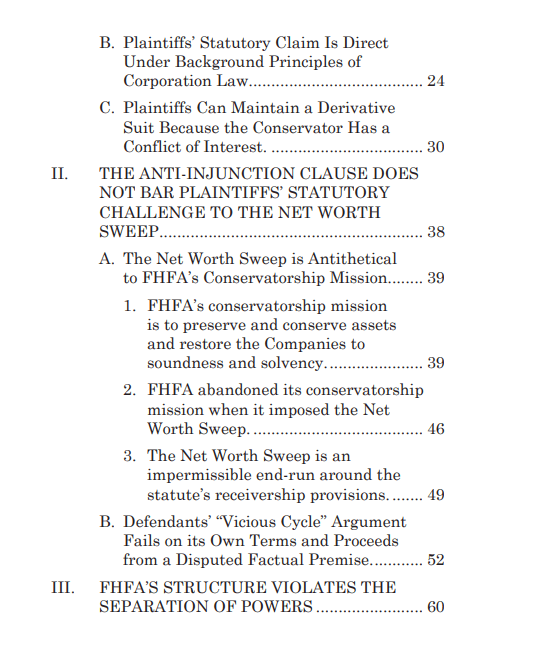 Lastly, plaintiffs argue that FHFA is unconstitutionally structured when the net worth sweep was put into place, and so the net worth sweep must be set aside: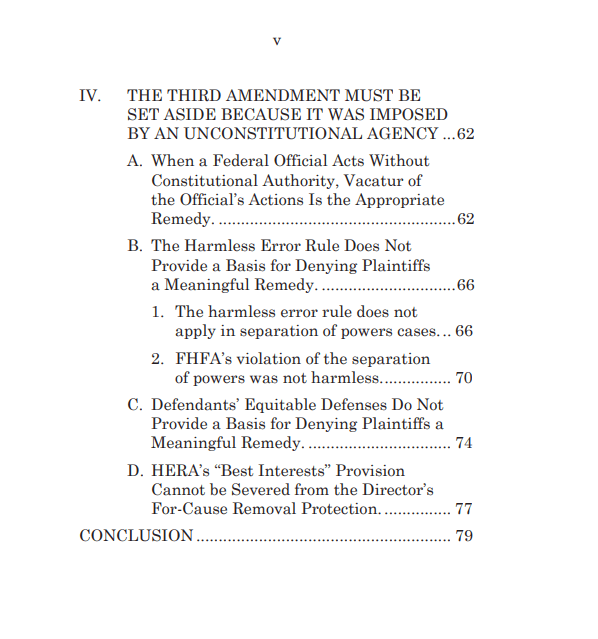 SCOTUS – Accounting Fraud Explainer
Hat tip to David Fiderer, Adam Spittler, and Mike Ciklin for being all over this and getting key parts of this into court. Now, it has made its way to the Supreme Court: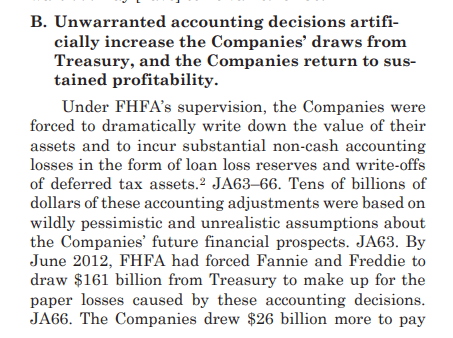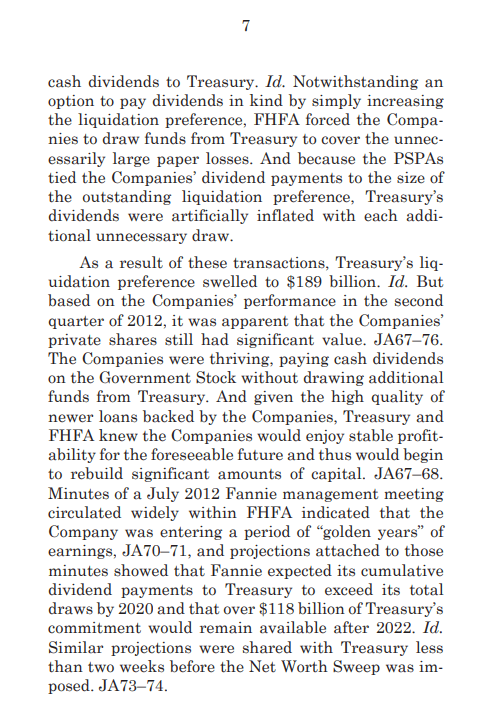 Long story short, here is how this went. The FDIC is governed by the FDIA, and FHFA is governed by HERA. The FDIC regulates banks, and FHFA regulates Fannie and Freddie. If you can imagine Fannie and Freddie are a building for accounting purposes. FHFA came in and, every quarter, systematically took enough of the billions of dollars sitting on the shelves upstairs and took them downstairs into the basement in order for Fannie and Freddie to report net losses in the years 2008-2011. It's not that these billions didn't exist, it's just that FHFA was declaring them worthless in order to inflate Treasury's liquidation preference and justify the takeover in 2008. The problem is accounting rules only allow you to take down so many billions into the basement. Housing was in a strong recovery. FHFA and Treasury were in communication with Fannie and Freddie who were telling them that these billions that they had hid in the basement needed to come back up and be put on the shelves again. FHFA and Treasury didn't want to lose control of these conservatorships. No one had anticipated that Fannie and Freddie would not just survive but would thrive and come out strong. FHFA and Treasury decided on the net worth sweep on behalf of Fannie and Freddie, so that, when they were bringing these billions back up from the basement, they wouldn't stay upstairs. Instead, all of the money FHFA hid in the basement would come up from the basement and out the door to Treasury. This genius plan was arranged so that there was no consideration given to Fannie and Freddie: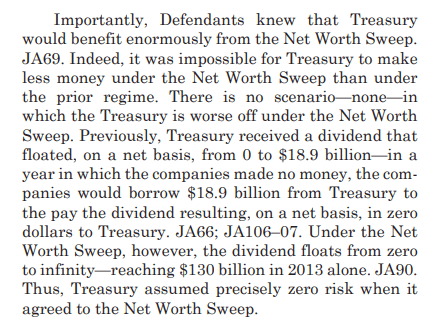 People who owned stock in Fannie and Freddie were furious when the money that they could see was hidden in the balance sheets (basement) of Fannie and Freddie all not only got sent to Treasury but also the entirety of all future profits of Fannie and Freddie.
Legal Landscape
Dozens of lawsuits were filed, and rulings favored the government early on, but now, their pleas have made it to the Supreme Court. In addition, contract claims have been remanded to Lamberth's courtroom, which are the elephant in the room, according to Tim Pagliara, who is a lawyer, shareholder, and money manager out of Tennessee.
Given that oral arguments for the Supreme Court are slated for December 9 and that Calabria and Mnuchin want to get Fannie and Freddie on the road out of conservatorship, it will be interesting to see if the cases get settled beforehand. The premise is that, if the Supreme Court case is settled, it could make it significantly harder for a Joe Biden presidency to fire Calabria. It remains unclear what firing the first Director of FHFA who actually follows the law and who used to go around the offices telling everyone to follow the law (pre-COVID-19) would accomplish in any case.
All of this litigation makes it extremely difficult to raise money. My understanding is that, outside of the reversal of the net worth sweep, the only claims left that need to be resolved in order to raise capital are the breach of contract claims in Lamberth's court. The theory is that converting the preferred to common both settles these claims as well as clears the capital structure to raise more capital for Fannie and Freddie via issuances of new preferred stock early to mid-2022, achieving some milestone of capital requirements. These capital requirements are still TBD. Mark Calabria has proposed a capital rule. The comment period has ended, and presumably, he is working to finalize it. This is especially true because of how often he uses the word 'capital' during hearings. For example, when I search the transcript of the House Committee on Financial Services for the word 'capital', I get 145 hits. Upon finalization of the capital rule slated for late October/early November, the real work of restructuring the equity of Fannie and Freddie can begin.
Summary and Conclusion
It seems like there is a pretty large seller out there, and your guess is as good as mine as to why that's happening.
It does seem like we are in a 45-day period where I largely expect nothing to happen. FHFA is expected to work to get the capital rule finalized and then move onto the final PSPA modification as contemplated in the Treasury Housing Finance Reform Plan.
Casual reminder that Treasury's Mnuchin said fixing Fannie and Freddie was a top 10 priority of his Treasury department back in 2016. He even said that they would be able to restructure Fannie and Freddie "reasonably fast." The problem, as I understand, is that the restructuring itself is pretty easy to do, but the difficult part is getting all the pieces in place to do it. I expect that, once all the pieces are in place, the actual restructuring will be done in a month or two. The financial advisors have already been retained to educate all the parties involved, and Milbank was the law firm brought in to advise FHFA on how to end the conservatorships. When asked to jump, you need to know "how high", and that's what finalizing the capital rule gets us to. Then, FHFA and Treasury can restructure the equity in such a way that new money will be willing to invest. New money always makes the rules.
I expect preferred stock to make 100% returns in the next 2-4 months as the equity is restructured. Commons should fare similarly. If the capital rule that is currently proposed is lowered, commons should benefit significantly from my share price estimate range to higher than what I'm forecasting. My thought there is that it seems like those running FHFA want a capital regime for systemic risk and national security reasons (future utility structure) instead of actual business risk (historical competitive business structure).
Disclosure: I am/we are long FMCCH, FMCCG, FMCCI, FMCCJ, FMCCL, FMCCM, FMCCN, FMCCP, FMCCS, FMCKP, FNMFO. I wrote this article myself, and it expresses my own opinions. I am not receiving compensation for it (other than from Seeking Alpha). I have no business relationship with any company whose stock is mentioned in this article.