There is a whole strand of academic research around the idea of links between the thoughts of Charles Darwin in "natural selection" and "survival of the fittest" to capitalism (to be accurate, the phrase "survival of the fittest" was conjured by Herbert Spencer years before Darwin published his "On the Origin of Species." Darwin was aware of the phrase, but he favored his own terminology). That notion of the strong feasting on the failures of the weak has been employed to describe the tough conditions in oil and gas exploration, and the proverbial shoe seems to fit. The very pioneer of fracking, Chesapeake Energy (OTCPK:CHKAQ) filed for bankruptcy protections, just one of several to go under this year. The whole exploration and production side of the oil and gas energy sector is setting up for some serious shaking out, and that will have implications across the oil patch. This shakeout, I think, will be generally positive for those in the mineral rights royalties business.
(image source: OklahomaMinerals.com
Brigham Minerals: A Quick Synopsis of 2020 So Far
Brigham Minerals (NYSE:MNRL), a buyer and lessor of mineral rights primarily in oil and gas lands in the Permian Basin and other North American reserves, has really hit the skids through 2020: the price of oil has been so low that fewer wells are pumping, exploration companies are going belly-up, and Brigham has needed to cut its dividend in line with getting less cash coming in from the royalty agreements. On top of those factors, Brigham shareholder Warburg Pincus recently initiated a secondary share offering (arranging to sell some 4.37 million shares), and that process has underwritten the shares priced at $8.20, which is about 15% lower than the market value leading up to the sale. Reasonably, this is roughly where shares have settled after making that announcement, although Brigham is not getting cash. Apart from the effect of the offering, it would be tracking the exploration and production players almost perfectly. Why Warburg Pincus has decided to sell at this particular moment is unknown, but obviously, it does not set a bullish signal.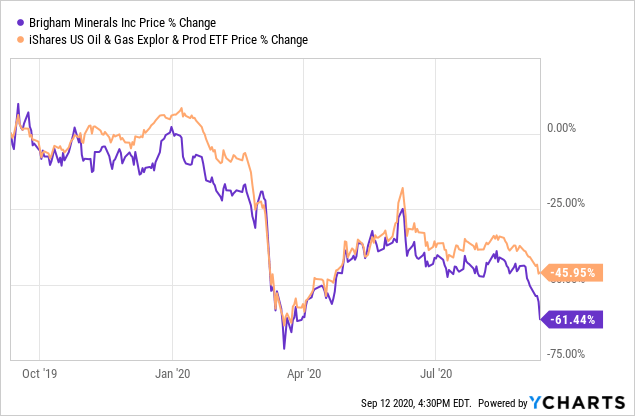 However, while many of the exploration and production names are burdened under loads of debt during this extended low-price environment, Brigham has until now managed to stay debt-free and liquid, putting it in position to ride out the challenging period and potentially benefit. Consider the debt to EBITDA ratios of some of the top names that lease rights from Brigham.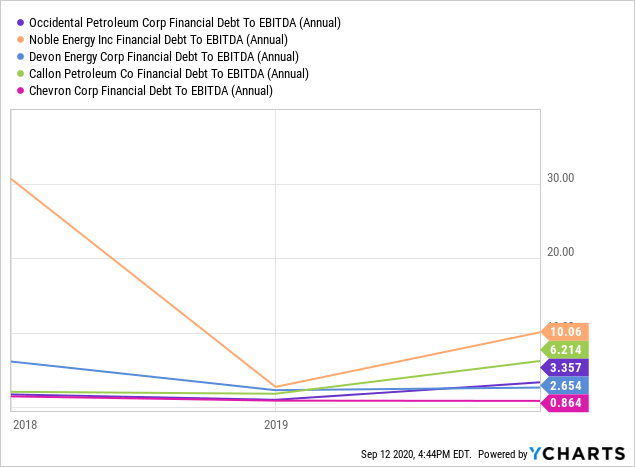 Of those picked for the chart above, the variance in leverage is substantial, and the impacts are already being felt. Chevron (NYSE:CVX) is buying Noble Energy (NASDAQ:NBL) in what Brigham CEO Ben Brigham referred to in the last earnings call as the "Darwinism of the oilfield," and Callon (NYSE:CPE) and Devon (DVN) are both seen as possible targets for being acquired.
For Brigham, it may seem that the biggest concern would be Occidental (OXY), which accounts for a significant portion of its net revenue exposure, more than 10%. Seeking Alpha contributor The Value Portfolio just published a deep analysis of Occidental's debt picture and has reasons to like what he sees. I won't duplicate that work and encourage readers to check it out directly. For Brigham, I am not sure that, for the long term, there is any particularly steep risk from any one individual counter party, as the companies leasing the rights from Brigham will sort themselves out as seen in the Chevron deal for Noble Energy. Ultimately, that process just leaves Brigham with more exposure to financially healthier partners.
What Brigham Is Doing While Activity Is Standing Still
Management reported Q2 results last month and provided some key updates as to how it was attempting to adapt and where it sees opportunities developing. I believe the key development is a relatively simple one, although one imbued with risk. As the company had no existing debt, a cash position of $16 million and borrowing capacity of $135 million with historically low interest rates, Brigham is likely to attempt to expand more aggressively, picking up more rights and wells at attractive valuations. In fact, on the earnings call for Q2 that was held on August 13, CEO Ben Brigham reported that, already in the third quarter, the company has lined up approximately $15 million worth of new deals, so now, a month later, it should not surprise anyone to see Q3 end up with a portion of the revolver drawn, and heading into Q4 or Q1 of 2021, the possibility of capital raise would not come as a shock. Management is very transparent about this – they see this moment as a time to be opportunistic, and this will be their strategy.
We have been patient and are now seeing a number of potential sellers come back to us … we continue to engage in the evaluation of larger transactions and believe that similar to the consolidation we're seeing among E&P operators, we're going to see a wave of consolidation in the mineral space. In our view, it's important to achieve scale and nobody is better positioned to accomplish that in the premier liquids rich basins than we are. I also want to point out that it's in stress periods like this, when companies are challenged by macro headwinds that dispersion and relative performance is most evident. While others are holding back distributions to fortify their balance sheets, we as promised are distributing 100% of our distributable cash flow. Further with no net debt, we are loaded up to acquire, while others are impaired in the sweet part of the cycle.
The goal is to be on pace for $50 million per quarter in acquisitions of new rights, with the current quarter around half that level, Q4 at about $37 million, and then hitting that stride in the first half of 2021. Getting there is going to come at a cost, and Brigham is clear that it will be combination of debt and equity financing. If leveraging up and selling more equity during a down cycle is prudent or foolish is ultimately what makes a market, clearly, Brigham thinks it is a bullish opportunity to make a play and consolidate more rights.
Even with that much telegraphing of intentions, I would still expect more attractive entry points for shareholders to present themselves in Q4 or early next year, the primary wild card being the price of oil itself over the next few months. If Brigham intends to hold off on raising equity financing until oil prices have moved higher (and thus, presumably raising Brigham's existing equity value and ability to raise new financing at a better valuation), then it is feasible that buying now would still work out well as a short-term trade. However, that same benefit would also obviously raise the prices on the very assets they are trying to get, so I am not expecting them to take a "wait until conditions are better" sort of approach, but to raise what cash they can in the near future and put it to work as efficiently as possible.
Conclusions
With the Darwinism of the oilfield playing out in the exploration and production side of oil, long term, I believe Brigham will benefit from having its rights leased to stronger players who will hopefully have their own profit incentives to have wells in production, keeping the royalty payments flowing to Brigham. I expect Q2 of 2020 to be a historic low point, with production already starting to bounce back. That likely means more cash available for distribution back to shareholders, but that super-clean debt-free balance sheet will be out the window over the next few quarters, and due to Brigham's ambitions, shareholders can expect at least one more round of dilution in that same time frame.
I am not accumulating more at the moment, in the expectation that Brigham will drop further, but I am actively monitoring for news related to drawing on debt and issuing new shares in order to add to my current position, which remains very small at about 15% of a full position.
Disclosure: I am/we are long MNRL, RDS.B, CEQP.PR. I wrote this article myself, and it expresses my own opinions. I am not receiving compensation for it (other than from Seeking Alpha). I have no business relationship with any company whose stock is mentioned in this article.