USDBRL appears to have successfully posted a lower high despite the recent decline in risk appetite globally, which is a very positive sign that the top in the pair may be in. We noted back on May 12 at the very peak of the dollar's rally that Brazilian assets looked attractive (see "Brazilian Assets Look Worth The Risk"), based largely on a weak real effective exchange rate and high real interest rates. Despite 11% total return gains since then, these supportive factors remain in place, while the surge in iron ore prices has added an additional reason to be bullish.
The Top In USDBRL Looks To Be In
USDBRL has broken and held below short-term uptrend support from the January lows after registering a lower high last month, suggesting a potential trend change and a run at the July low of 5.08. Recent price action looks similar to that seen at other major tops for the currency pair which occurred in 2002 and 2015. The ongoing contraction in Brazil's sovereign credit default swaps provides further indication that risk appetite is returning to the country.
USDBRL Short Term
USDBRL Long Term

Source: Bloomberg
The recent strength in the real is also being confirmed by the performance of the MSCI Emerging Market Currency Index – a total return basket of EM FX. The index has recovered strongly from the March crash, and with the real holding its recent lows relative to the index, a change in fortunes for the Brazilian currency looks increasingly likely.
BRL vs. MSCI EM FX Index (total return performance)

Source: Bloomberg
Real Yields Remain Highly Attractive
Brazilian 10-year real (inflation-linked) bonds currently yield 3.1%, compared with the -1.0% in the U.S. Considering the negligible level of default risk owing to the Brazilian government's net creditor position, this 4.1% spread is highly attractive. Breaking it down, 10-year inflation expectations are 2.3% higher in Brazil, while 10-year yields are 6.4% higher. This suggests that even if the real exchange rate remains at current lows, the currency should see just 2.3% annual depreciation, which would be more than offset by the much higher carry.
Terms Of Trade Rebound Suggests Appreciation
While nominal appreciation is not needed for real holders to see gains given the much higher carry, there is a rising likelihood that investors will benefit from both, resulting in strong total return gains. We have seen a 50% increase in global iron ore prices over the past four months, which has sent Brazil's terms of trade index (the ratio of export over import prices) to five-year highs. This improvement in terms of trade alone is enough to expect real gains, as the chart below shows.
BRLUSD vs. Terms Of Trade Index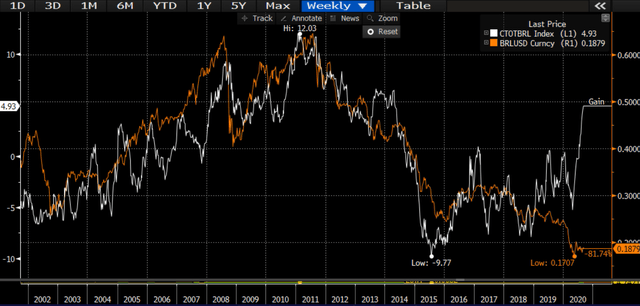 Source: Bloomberg
Sharp rises in the price of Brazil's exports relative to its imports have tended to help drive gains in the real, as increased dollar inflows put direct upside pressure on the currency and help support real GDP growth by boosting savings and investment rates. Recent trade figures show that the country is running a near-record trade surplus, suggesting that investment flows are currently heading out of the country. We expect the combination of rising export revenues and a return of speculative inflows to result in further upside pressure on the Brazilian real over the coming months.
Brazil Trade Balance, USD million

Source: Bloomberg
Disclosure: I am/we are long EWZ. I wrote this article myself, and it expresses my own opinions. I am not receiving compensation for it (other than from Seeking Alpha). I have no business relationship with any company whose stock is mentioned in this article.